Tibet Railway
The Qinghai Tibet Railway began operation on July 1st, 2006. The total size of Tibet railway is 1 ,956 km. You'll find six trains that connect different parts of China to Lhasa: Beijing to Lhasa, Shanghai to Lhasa, Guangzhou to Lhasa, Chengdu to Lhasa, Chongqing to Lhasa and Xining to Lhasa.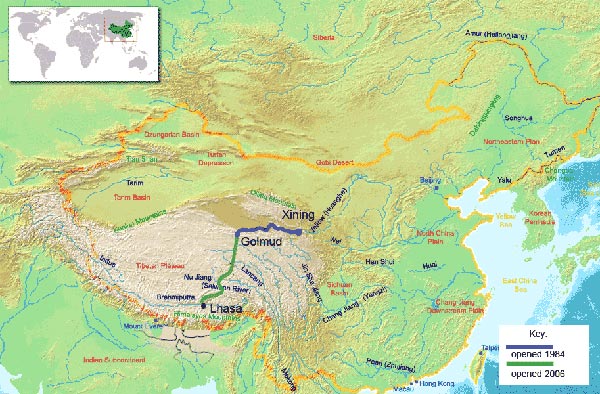 The railway from Xining to Lhasa, across the 'roof of the world', is a great achievement and a modern wonder in both China's and the world's railway history.
The line incorporates the Tanggula Pass which, at 5,072m, is the highest in the world. The Fenghuoshan tunnel would be the highest tunnel on the planet at 4 ,905m . The Guanjiao tunnel will be the longest tunnel from Xining to Golmud as well as the Yangbajing tunnel could be the longest tunnel from Golmud to Lhasa. Over 80% of the Golmud-Lhasa section is at an elevation greater than 4 ,000 m. In total over 675 bridges exist among the Qingzang railway and about 550 km of the tracks are laid on permafrost
Extending 1,956 kilometers on the Qinghai-Tibet Plateau, the Qinghai-Tibet Railway connects, Xining, capital of Qinghai Province, and Lhasa, capital of Tibet. It ends Tibet's history without railway, and sets a new record for the world's highest railway.
As 960 kilometers of it sits at 4,000 meters above sea level, the designers and engineers of this railway had to solve various difficulties in its construction. The three major challenges faced were the fragile ecosystem, the lack of oxygen, and permafrost. Many foreign experts had thought that it was impossible for the Chinese to conquer these difficulties. However, a few years later, they were shocked at this man-made world wonder, and reputed it as a miracle in engineering.
Since its operation, the Qinghai-Tibet Railway has become one of the busiest railways in Asia. Millions of travelers flock to the Qinghai-Tibet Plateau to experience this great work on the snowfields. In order to help travelers know more about it, China Tibet Train has collected abundant information about the highest railway in the world, including how the engineers overcame the challenges of its construction, where travelers can take a train to Lhasa, how to book train tickets to Tibet, what travelers can experience along the railroad, and the impacts of the railway, etc.