Tibet Train Hard Sleeper
For tourists who want to experience a sleeper train journey to Tibet, the hard sleeper is the economical option without compromising the comfort.
Also known as the second class sleepers, hard sleeper on Tibet trains is provided with friendly facilities and relatively soft beddings. It is the best option for budget travelers as it is cheap and comfortable.
There are totally six berths in each hard sleeper cabin, and no door is provided for private room. But the hard sleepers on Tibet trains remain more quietness and safety compared to the hard seats.
Although there are plenty of hard sleeper berths available to book on each Tibet train, it is still recommended to make an early reservation, especially during the high travel season.
As the leading tour operator with years of experience, we can help to get your hard sleeper train ticket as well as the required Tibet Travel Permit, to let you enjoy a hassle-free train journey to Lhasa.
Read the following passage to know more about Tibet train hard sleeper, and how to get a Tibet train ticket for hard sleeper berth, and more details you may need to know before boarding your Tibet train.
Hard Sleeper on Tibet Train
Hard Sleeper is not so "Hard"
Tibet trains, like any other regular train in China, have three kinds of seating - soft sleeper, hard sleeper, and hard seat. The hard sleeper is one of the two sleeper cabins on Tibet trains, and is usually regarded as the second-class cabin.
As a matter of fact, hard sleepers on Tibet trains don't necessarily mean that the berths are hard. Despite the mattresses are not as thick as those of the soft sleepers, the hard sleeper berth is indeed quite soft to ensure passengers a comfortable overnight sleeping.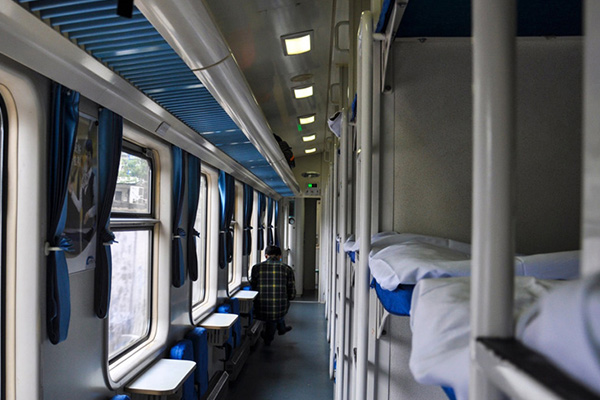 Hard sleepers on Tibet trains are open to the corridor.
Normally, a Tibet train is provided with 8 to 11 hard sleeper carriages and each carriage contains 11 compartments. Each compartment has 6 berths and is open to the corridor with no lockable door. Just like the soft sleeper, the hard sleeper beds are fixed on shelves which are strong enough to bear a weight up to 300 kg.
Upper Berth, Middle Berth & Lower Berth
There are 2 upper berths, 2 middle berths and 2 lower berths in each hard sleeper cabin. Each hard sleeper berth is 60 cm wide and 180 cm long. The upper berths and middle berths have the same height of 65 cm, while the lower berth is 90 cm high.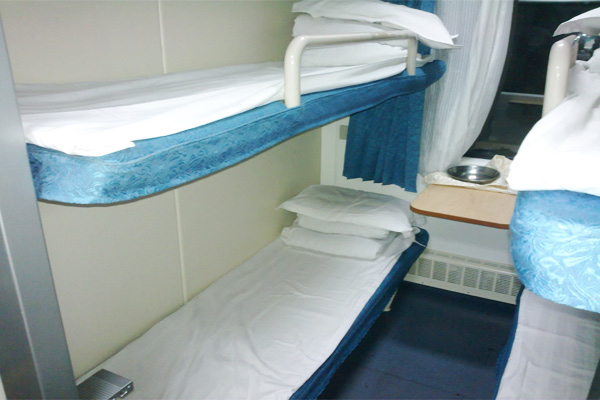 There are totally 6 berths in a hard sleeper cabin.
Among the three kinds, the lower berth is usually the most popular one among the three, mainly because it has larger space and is much easier for passengers to get off and into the beds. The lower berth also enjoys a wider view of outside scenery.
However, other passengers of the same cabin will probably sit on your lower berth during the daytime. For senior passengers or those travelling with children, the lower berth will offer more convenience.
The upper berth of the hard sleeper cabin is kind of opposite to the lower berth, as it is provided with a narrow space and is not easy for one to climb up and down. Also, one can hardly sit straight or freely turn around on upper berth. But the upper berth can ensure more privacy, suitable for solo traveler unwilling to be disturbed by others.
As for the middle berth, it is an in-between option for passengers to enjoy much privacy and less space. If you think the upper berth is too high to get and the lower berth is too messy and noisy, the middle berth could be your perfect choice.
One thing to be noted is that, as the ticket system gives random booking results for hard sleeper train ticket, one cannot choose which berth to book. But you can cancel and change your booking, at most 3 times per day, when you are not satisfied with your booking result.
How to Find My Berth?
You can find your hard sleeper berth according to your train ticket. The hard sleeper train ticket will show corresponding information about carriage number, berth number and Chinese of upper berth, middle berth or lower berth.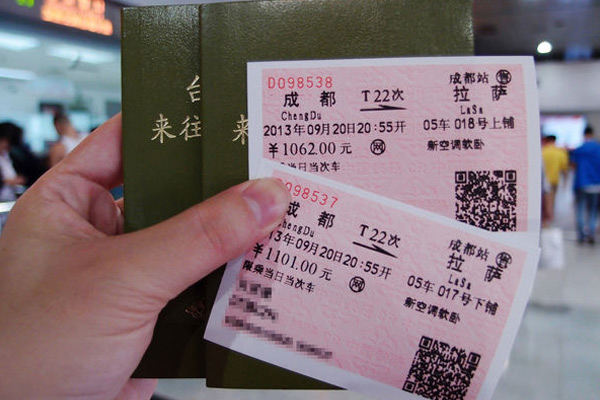 Your hard sleeper train ticket will show you the information of your berth location.
Firstly, find your hard sleeper carriage while you board the Tibet train, which is shown as "XX车" on your ticket. Then in your carriage, you can find your compartment according to the number shown as "XX号". Usually, Number 1 and Number 2 are in the first cabin of the carriage, the Number 3 and Number 4 are in the cabin next door, and the rest can be down by the same manner.
And in Chinese, "上铺" refers to upper berth, "中铺" to middle berth, "下铺" to lower berth. So you can tell which kind of berth you will take based on the Chinese. Besides, you can also directly consult with the trainman if you have difficulty in finding your berth.
Facilities in Hard Sleeper Cabin
The hard sleeper on Tibet trains is provided with some friendly facilities for passengers. Firstly, each berth in the hard sleeper cabin is placed with beddings as cotton-padded mattress, quilt and pillow. Normally, the beddings are clean for use, but you can also prepare your own towel to put on the pillow.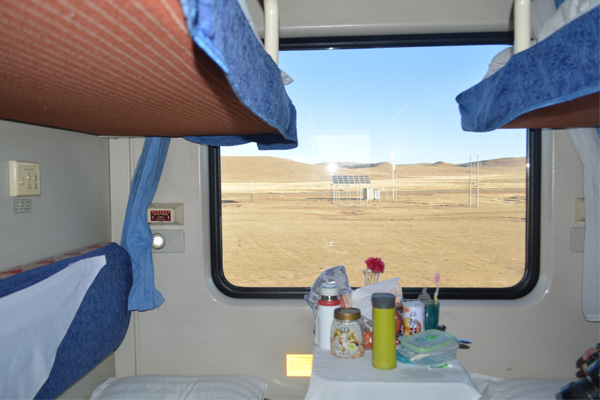 Hard sleeper on Tibet trains is equipped with basic facilites like a small table for each cabin.
There is also a small table installed between two lower berths, for passengers to eat, read or use laptops etc. There is also a thermos and a dustbin. Each berth also has a hook fixed on the wall above the bedside to hang coats or bags.
Luggage Space in Hard Sleeper Cabin
In the hard sleeper cabins there are two places you can keep your luggage: one is the luggage rack above the window by the aisle side, which is about 53 cm wide and has enough space to keep a large suitcase; the other is the space below the lower berths which is 30 cm high and 80 cm wide.
In addition, it is advisable to keep your valuable belongings in a handbag with you all the time. If you have backpacks you can keep it in your berth itself.
Oxygen Supply in Hard Sleeper Cabin
All Tibet trains have oxygen supply systems onboard to cope up with the high altitude travel. There are two ways how oxygen is dispersed in the cabins:
One is through air conditioners in the carriages. The oxygen dispersion system through air conditioners is started as the altitude gets higher, after the train passes Golmud Railway Station.
The other is the independent oxygen supply outlet installed in each hard sleeper compartment. There are disposable tubes that can be attached to these outlets and used when you get a headache or other altitude sickness symptoms.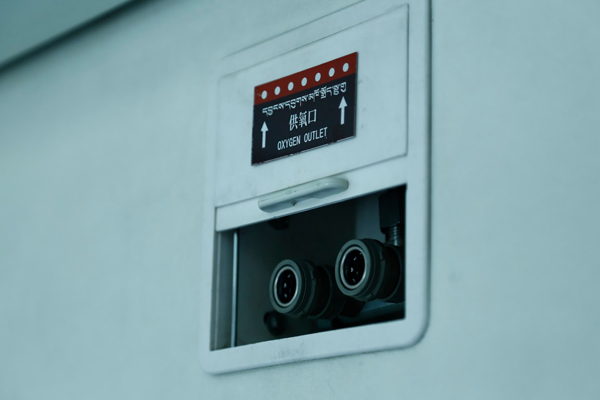 Oxygen supply outlet in hard sleeper cabin can be directly used by passengers.
Is there Power Socket Available to Charge Batteries?
In hard sleeper carriages, the charging sockets are available in the side of the aisle. Remember to bring an adapter in case it doesn't suit your device. Since there is only a limited number of charging sockets, it is advisable that you bring portable chargers, or make your mobile phones or iPads fully charged before boarding.
Also, since there is no WIFI available currently on Tibet trains, you'd better downtown some movies or novels beforehand in case your mobile data will not work or become slow on the train.
Public Facilities on Tibet Train
Dining Car
There is a separate dining car in the middle section of the train where there are tables and chairs, where you can comfortably sit and eat. The menu offers limited Chinese and Tibetan dishes. There are also food trolleys that have snacks, energy bars, and drinks.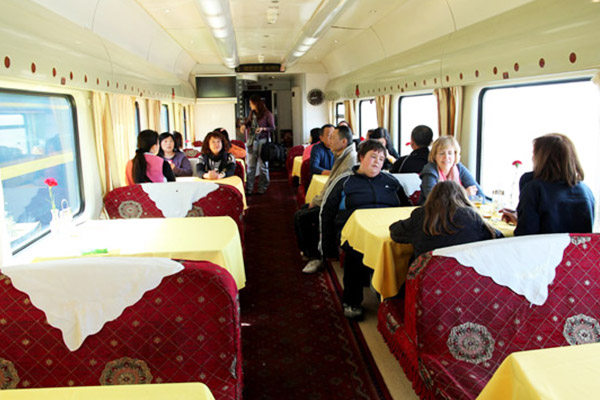 Dining car offers three meals of Chinese and Tibetan dishes on Tibet trains.
The price of the food items is always two times more expensive than the normal price. It is a common practice for travelers to buy food items like instant noodles and drinks before boarding the train to cut costs.
Toilet
There are two toilets at the end of each carriage. In the hard sleeper carriages there are only squat toilets. Ensure that you have prepared toilet paper before boarding the train as they get over very fast in the trains.
If you are travelling alone, do take your hand baggage with you. There are 3 washbasins at the end of every carriage, and the water is always and cold and no toiletries will be provided. Tissues, soap, tooth paste, brushes and more washing tools should be brought by yourself.
Drinking Water
There are drinking water dispensers at the end of every carriage from where you can get hot water for free. You can store them in the thermos available in each compartment. You can also buy bottled water from the food trolleys that frequent your carriages.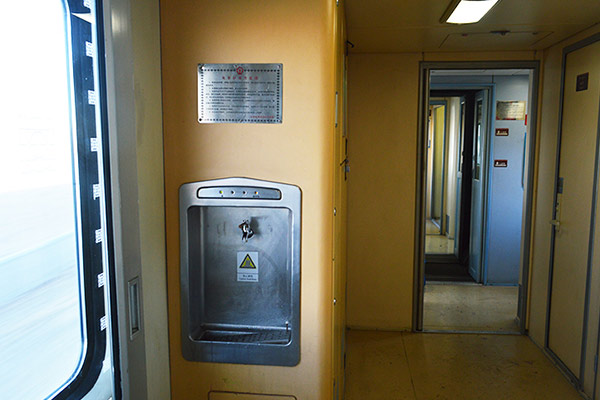 Hot water on Tibet trains is free to get for passengers.
Smoking Area
It is prohibited to smoke inside the carriages and those who violate will be heavily fined. You can smoke in the designated smoking areas in the train which is the connecting space between two carriages. Also, smoking will be forbidden after it starts to provide oxygen supply on the Tibet train.
Difference between Hard Sleeper and Soft Sleeper
Travelling to Tibet by train is indeed a long journey and sometimes takes as long as 2 to 3 days. So it is advised to take a sleeping berth, either the hard sleeper or soft sleeper, to enjoy a more comfortable and pleasant train experience onboard.
The main difference is that hard sleepers have 6 berths (3 each side) in each compartment and soft sleeper has only 4 berths in each compartment. Also, the soft sleeper cabin is provided with a door to keep privacy.
As for hard sleeper, it is cheaper and a little less cozy than a soft sleeper. When you choose hard sleepers you are also much closer in proximity to the locals as many locals travel in hard sleepers and hard seats. This way you can interact with the locals, exchange stories, and know more about their culture.
The soft sleeper on Tibet trains, on the other hand, is provided with good privacy and quite environment, owing to its lockable door for each cabin. But it is much more expensive to take a sleeper berth train.
Difference between Soft Sleeper and Hard Sleeper
| Category | Berth Number | Sleeper Size | TV | Door | Ticket Price |
| --- | --- | --- | --- | --- | --- |
| Soft Sleeper | 4 | 70cm * 19cm | Yes | Yes | High |
| Hard Sleeper | 6 | 60cm * 180cm | No | No | Medium |
Get Hard Sleeper Ticket on Tibet Trains
What's the Price of Hard Sleeper Berth on Tibet Train?
Among the three classes of Tibet train tickets, the hard sleeper ranks between the soft sleeper and hard seats in terms of the ticket price. Currently, tourists can get hard sleeper tickets for Tibet trains to Lhasa from mainland China, including Beijing, Chengdu, and Xining etc. And the ticket prices of hard sleeper will vary from each train route based on the different travel distance.
| Route | Price from (subject to change) |
| --- | --- |
| Beijing- Lhasa | CNY 720 |
| Chengdu- Lhasa | CNY 668 |
| Shanghai- Lhasa | CNY 611 |
| Xining- Lhasa | CNY 495 |
| Lanzhou- Lhasa | CNY 522 |
| Chongqing- Lhasa | CNY 680 |
| Guangzhou- Lhasa | CNY 865 |
Note:
1. The above ticket price is just for your reference. Please contact us for exact soft sleeper ticket price for your Tibet train journey.
2. Prices listed in the table above are all net prices and will probably rise during the peak travel season.
How to Book Hard Sleeper Ticket on Tibet Train?
The Tibet train ticket booking should not be left till the last minute as there is constant flow of tourists to Lhasa. Of all the modes of transport to Lhasa, the train is the most popular one. It is recommended to book at least 30 days in advance, especially during peak tourism months, from August to early October.
There are two ways for foreign travelers to book a hard sleeper train ticket. You can go directly to the railway station which offers a train to Lhasa or book your Tibet train ticket online. As a better choice, we can help to get your hard sleeper train ticket according to your needs, to ensure you a worry-free Tibet train journey without any complicated procedures.
How to Change from Hard Sleeper to Soft Sleeper?
In some cases, it is feasible to upgrade your berth from the hard sleeper to the soft sleeper on Tibet trains. When there are unreserved soft sleeper berths available on the train you are boarding, you can ask the train conductor for berth change. Of course, you need to make up the price difference and will probably pay some commission fee.
If it is the occasion when you haven't get on the train, passengers can directly change your hard sleeper ticket to soft sleeper ticket online under the condition that you haven't collected the paper ticket and there are surplus soft sleeper tickets for booking.
If you are travelling with your friends or families in a group, but you get your hard sleeper berths separately in different cabins. You can try to exchange your berth with other passengers to make all of your members together in the same cabin. Actually, this kind of practice is quite common in China.
Get Tibet Travel Permit before your Tibet Train Tour!
Without the Tibet Travel Permit, you cannot board any train to Tibet, even collect your train ticket at the railway station. As the entry permit for all foreign tourists coming to Tibet, the Tibet Travel Permit can be only applied through a local travel agency.
See how to get your Tibet Travel Permit by 4 simple steps with us!
Tips on Taking the Hard Sleeper Train
1. If you want to get out of the berth to stretch your legs, you can go to the corridor where is equipped with a folding chair and small table. The ticket window of the corridor is also much larger to get a better view of the outside scenery.
2. Remember to take a water bottle so that you can get hot water to make tea or coffee, or eat instant noodles.
3. The lights will be turned off during the sleeping time at night. But it is recommended to take a sleeping eyeshade and soundproof earplugs to ensure yourself a better sleeping onboard.
4. Get up early in the morning so that you will not queue up for too long to brush teeth and wash the face.
5. You can take a pair of comfortable shoes or slippers, to make it more convenient for you to get on or off your bed, especially for the middle berth and upper berth.
Conclusions
Compared to the soft sleeper on Tibet trains, the hard sleeper is less expensive and also provides comfortable sleeping experience for passengers. Thus, it is a good option for travelers who don't care much about privacy.
When taking a hard sleeper train, you can choose from the lower berth, middle berth and upper berth. The lower berth has more space, while the middle and upper berth ensure more privacy.
It is advised to book your hard sleeper train ticket through us. We will also help to obtain the Tibet Travel Permit which is required for collecting the ticket and boarding the Tibet train.
If you have more questions about hard sleeper on Tibet trains, or other information about taking a Tibet train journey, please feel free to comment below or contact us for professional help.
Recommended Tibet Train Small Group Tours