Tibet Train Hard Sleeper
Tibet trains, like any other regular train in China, have three kinds of seating - soft sleeper, second class sleeper, and hard seats. The second class sleepers are also known as hard sleepers. Most of the travellers choose sleeper berths especially for long, over night journeys from mainland China to Tibet.
Basic Information about Hard Sleeper Cars on Tibet Trains
Hard sleepers on Tibet trains don't necessarily mean that the berths are hard; the mattresses are just not as thick as soft sleepers. Hard sleepers are still the best option for budget travellers as it is cheap and comfortable.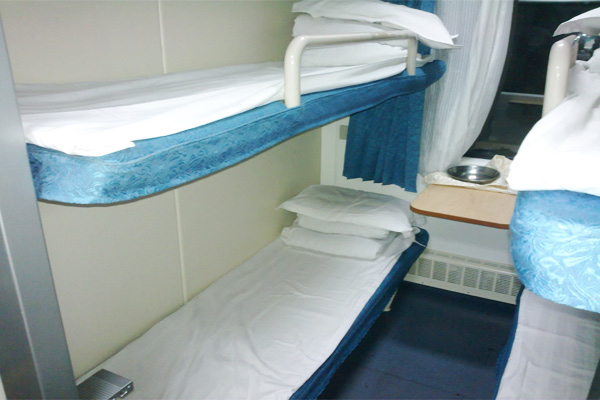 Hard sleeper berths on Tibet train
A Tibet train has 8 to 11 hard sleeper carriages and each carriage has 11 compartments. Each compartment has 6 berths. In any regular Tibet train there are about 480 hard sleeper berths and hence plenty of seats to book. But during peak tourism months, especially from August to early October, it is always safer to book your Tibet train ticket in advance.
The hard sleepers are 60 cm wide and 180 cm long. The main difference from soft sleeper apart from thinner mattresses is that hard sleepers have 6 berths (3 each side) in each compartment and soft sleeper has only 4 berths in each compartment.
Ticket Price of Hard Sleeper Berths on Tibet Trains
The Tibet train ticket booking should not be left till the last minute as there is constant flow of tourists to Lhasa. Of all the modes of transport to Lhasa, train is the most popular one. It is recommended to book at least 30 days in advance and prices may fluctuate sometimes depending on the season.
| Route | Price from (subject to change) |
| --- | --- |
| Beijing- Lhasa | CNY 720 |
| Chengdu- Lhasa | CNY 668 |
| Shanghai- Lhasa | CNY 611 |
| Xining- Lhasa | CNY 495 |
| Lanzhou- Lhasa | CNY 522 |
| Chongqing- Lhasa | CNY 680 |
| Guangzhou- Lhasa | CNY 865 |
Please Note: The above ticket price is just for your reference. Please contact us for exact ticket price for your Tibet train journey.
Where to Put luggage in the Hard Sleeper Cabin?
In the hard sleeper cabins there are two ways how you can keep your luggage:
•Luggage rack above the window by the aisle side which is about 53 cm wide, which has enough space to keep a large suitcase.
•The space below the lower berths which is 30 cm high and 80 cm wide.
It is advisable to keep your valuable belongings in a hand bag with you all the time. If you have backpacks you can keep it in your berth itself.
Why to Choose Hard Sleeper?
Travelling to Tibet by train sometimes take as long as 2 to 3 days. It is cheaper and a little less cozy to take a hard sleeper than taking a soft sleeper. When you choose hard sleepers you are also much closer in proximity to the locals as many locals travel in hard sleepers and hard seats. This way you can interact with the locals, exchange stories, and know more about their culture. Hard sleeper is the most economical option without compromising the comfort. The most comfortable place to sleep is the lower berths.
Oxygen Supplement in Hard Sleeper Cabin
All Tibet trains have oxygen supply systems onboard to cope up with the high altitude travel. There are two ways how oxygen is dispersed in the cabins:
•Through air conditioners in the cars. The oxygen dispersion system through air conditioners is started as the altitude gets higher.
•There is an independent port for oxygen supply in each compartment. There are disposable tubes that can be attached in these ports and used when you get a head ache or other altitude sickness symptoms.
Other Facilities on Tibet Trains
Dining Car
There is a separate dining car in the middle section of the train where there are tables and chairs, where you can comfortably sit and eat. The menu has limited Chinese dishes. There are also food trolleys that have snacks, energy bars, and drinks. The price of the food items is two times more expensive than the normal price. It is a common practice for travellers to buy food items like instant noodles and drinks before boarding the train to cut costs.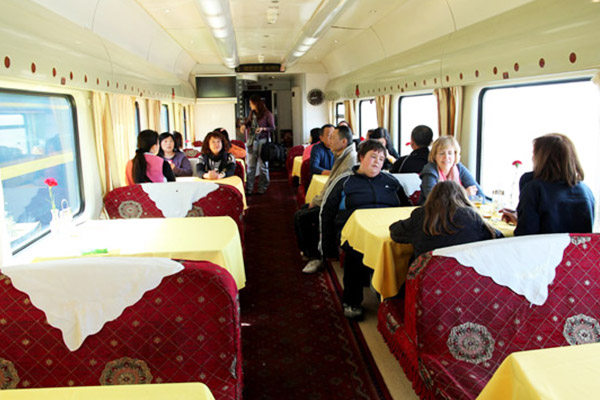 Dining Car on Tibet train
Toilet
There are two toilets at the end of each carriage. In the hard sleeper carriages there are only squat toilets. Ensure that you buy toilet paper before boarding the train as they get over very fast in the trains. If you are travelling alone take your hand baggage with you. There are 3 washbasins at the end of every carriage, the water is always and cold and no toiletries will be provided. Tissues, soap, tooth paste, brushes all should be brought by you.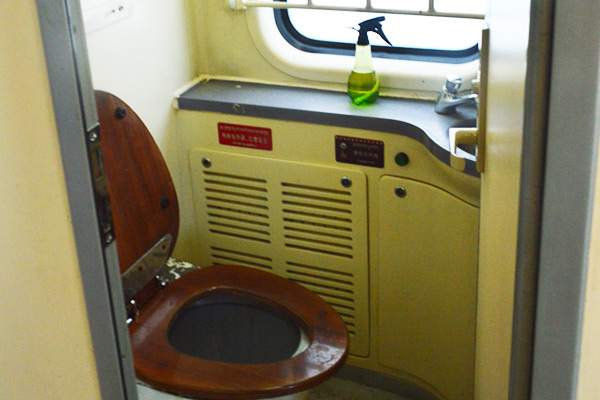 Western style toilet on Tibet train
Drinking Water
There are drinking water dispensers at the end of every carriage from where you can get hot water. You can store them in the thermos available in each compartment. You can also buy bottled water from the food trolleys that frequent your carriages.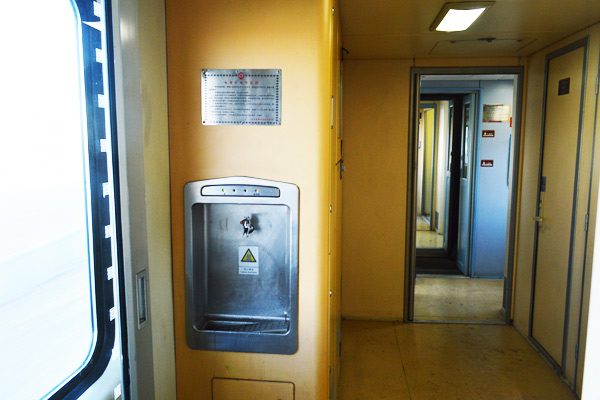 Hot water on Tibet train
Smoking Area
It is prohibited to smoke inside the carriages and those who violate will be heavily fined. You can smoke in the designated smoking areas in the train which is the connecting space between two carriages.
Charging Sockets
In hard sleeper carriages, the charging sockets are available in the side of the aisle. Remember to bring an adapter in case it doesn't suit your device. Since there is only limited number of charging sockets, it is advisable that you bring portable chargers.
Real Photos of Hard Sleeper Cabins on Tibet Trains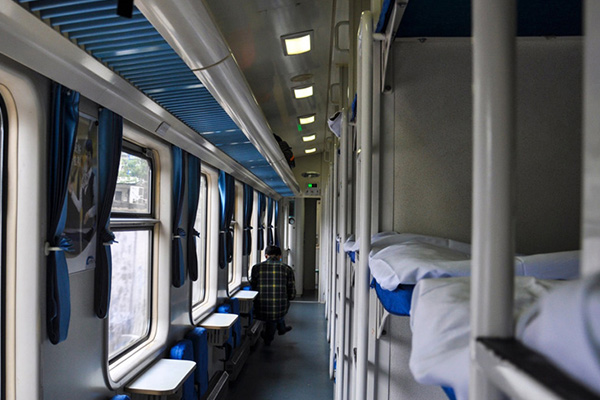 Note that there are no doors in hard sleeper cabins!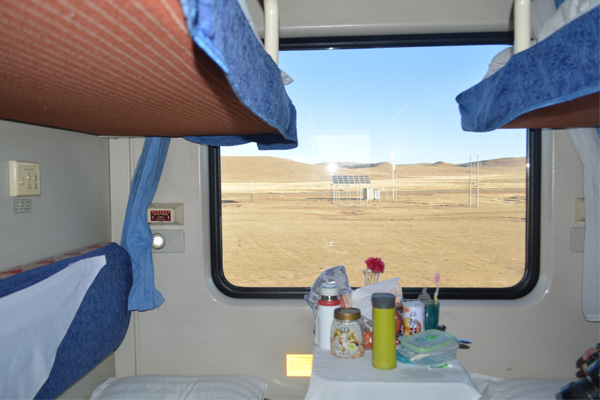 Real photos of hard sleeper on Tibet train