Mount Kailash Travel Permit: Required Documents for Mount Kailash and Manasarovar Tour
As the most sacred mountain in Tibet, Mount Kailash attracts an endless stream of visitors every year from both home and abroad. Since it is located in the frontier military-controlled area in Ngari Prefecture, it requires several necessary permits to take a tour to Mount Kailash. Apart from the Tibet Travel Permit, foreign travelers need to obtain another three kinds of permits: Alien's travel Permit, Foreign affairs permit, and Military permit, which are issued by different government departments.
Besides, independent travel to Tibet and Ngari Prefecture is not allowed for foreign tourists. Travelers can only use the service from a local authorized tour agency of Tibet and let them apply the permits on behalf of you. ChinaTibetTrain can provide all-in-one service for you, to arrange all the travel permits at a time and customize your Mt. Kailash tour.
Tibet Travel Permit
Everyone who holds a non-Chinese passport must apply the Tibet Travel Permit (also known as Tibet Visa) before entering to Lhasa and travelling around Tibet. No matter where you are scheduled to visit in Tibet, you should first obtain your Tibet Travel Permit, which is also needed when you board flights or trains to Tibet.
Tibet Travel Permit
The permit is issued by the Tibet Tourism Bureau in Lhasa and travelers cannot apply the permit on their own. You can only let a local authorized travel agency to obtain the permit on your behalf. By giving us your passport copies and travel plans, we can help you to easily apply the Tibet permit. Normally, it takes 1-10 business days, depending on how you plan on entering Tibet. The costs of Tibet permit vary depending on your departure city, and there is no expiration date for the permit.
Aliens Travel Permit and Military Permit
Besides Lhasa, there are other 6 prefectures in Tibet, including Shigatse, Ngari, Lhokha, Nagchu, Nyingchi, Chamdo. If you want to go outside of Lhasa and visit some "unopened" areas, like Mount Kailash in Ngari, you need to apply the Alien's Travel Permit issued by the Tibetan Local Public Security Bureau. It can only be applied after you arrive in Tibet, since the original passport, Chinese visa and Tibet Travel Permit are needed. But it usually just takes several hours and cost CNY50 per person to get one.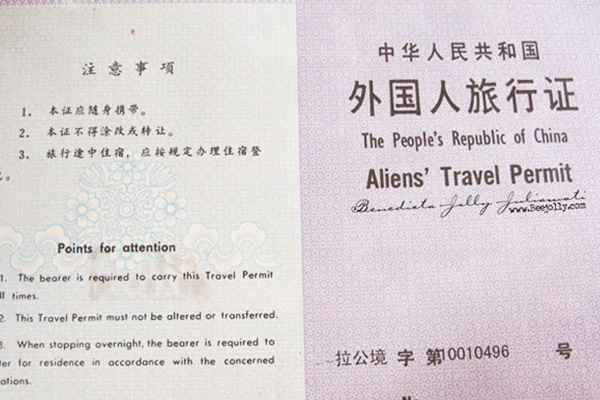 Aliens Travel Permit
Since Ngari Prefecture is regarded as the military sensitive area in Tibet, you should also obtain the Military Area Entry Permit (Military Permit) and Foreign Affairs Permit before your trip to Mount Kailash and Lake Manasarovar. The Military Permit is issued by the Military Office in Lhasa while the Foreign Affairs Permit is issued by the Foreign affairs office in Lhasa. We will need your passport and Tibet permit to apply them for you. It normally takes 10-15 working days to get them all.
How to Apply for the Permit if You Take Mount Kailash Tour from Nepal?
If you want to take a Kailash tour from Nepal, the requirements of permits and the corresponding application will be a bit complicated. According to the laws of Chinese Government, travelers who travel to Tibet from Nepal should apply for the Group Tourist Visa through the Chinese Embassy in Kathmandu. Also, this can only obtained by your tour operator. Thus, you need to obtain both Group Tourist Visa and Tibet Travel Permit before leaving for Tibet from Nepal. After enter Tibet, we will arrange the Aliens Travel Permit and Military Permit for you to tour Kailash.
Following the guidelines below to apply for the permit:
1. Prior to your departure from Nepal to Tibet, confirm you travel itinerary with us and send your passport copies to us. We will help you to get the Tibet Travel Permit and visa invitation letter in about 5-7 working days.
2. After you arrive in Kathmandu, contact our local office and give your passport to us. We will help to apply the Chinese Visa. It will take 3 full working days for the visa process.
3. Once the visa is issued, we will deliver the visa to you. Remember to bring your Chinese Visa, photocopies of Tibet Travel Permit, and the application form when you leave for Tibet.
4. After you enter Tibet, our tour guide will help you to arrange the Aliens Travel Permit and Military Permit in Lhasa or Shigatse. Then you can start your Kailash tour.
>> Check for the detailed information on Apply Tibet Visa from Nepal
How do Indian Pilgrims Apply for the Tibet Permit?
As Mount Kailash is a holy place for Hindus from India, a great number of Indian pilgrims come to Tibet for pilgrimage around Mt. Kailash and Lake Manasarovar every year. However, the application procedure of Tibet Permit for Indian pilgrims is quite different from those of other foreign nationalities. Permit for Indian pilgrims needs to be verified and issued jointly by the Foreign Affairs Office of Tibet Autonomous Region, Tibet Military Region, Armed Police Tibet Frontier Corps and the Department of Public Security of Tibet Autonomous Region.
Currently, only two organizations can authorize Tibet permits for Indian pilgrims to take Mt.Kailash pilgrimage tour. One is Foreign Affairs Office of Tibet Autonomous Region (governmental); the other is Pilgrim Center, short for Tibet-India Pilgrim Reception Center (non-governmental). Other organizations and travel agencies are not allowed to receive pilgrims.
As the official agent of Pilgrim Center, ChinaTibettrain is authorized to provide free Tibet tour consultancy service for Indian pilgrims. Thus, you can also contact us for free consultancy and we will gladly help your to customize your Tibet tour.