Cycling Tibet
Tips to Know Before Your Tibet Bike Tour
For those people of you who will be unfamiliar with all the situation of biking in Tibet, the first thing you should know is that every foreign tourist need to visit Tibet on an organized tour, either a private or a group through a Tibet local travel agency, who will help you apply for your Tibet Travel Permit.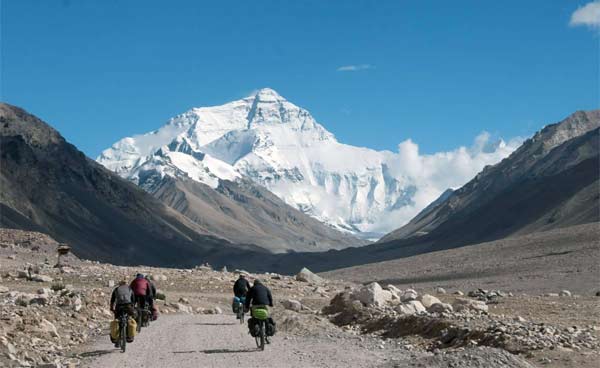 Cycling from Lhasa to Mt.Everest will be a life-time Experience.
Except for Tibet Travel Permit (also known as Tibet Visa), you may need other travel permits when you visit some restricted regions, such as the Alien's Permit for visiting Everest Base Camp.
The last but not the least thing is that make sure you can handle it. It may be an adventure to cycling in Tibetan plateau at such an altitude. Pay attention to a reasonable allocation of physical strength, and control your riding speed. The elevation will slow you down, but it won't stop you.
Most cycling trips in Tibet take about days to weeks, you can tailor your own cycling route according to your time and interests.
Popular Tibet Cycling Routes
6 Days Lhasa city and Ganden Monastery biking Tour
This is a light biking trip around Lhasa city. After two days city sightseeing in Lhasa, you can cycle eastwards to visit Ganden Monastery, which ranks the first among the six largest monasteries of Gelugpa. You can stay overnight in Gaden Monastery, and ride back to Lhasa in the next day.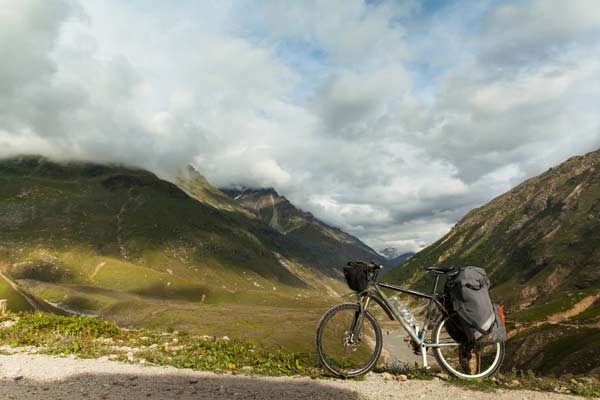 Enjoy the countryside landscape around Lhasa through the biking way to Gaden Monastery.
The single way ride from Lhasa to Ganden Monastery is about 53km, which takes 3 to 4 hours. And the most difficult part is riding up to Mt.Wangpo, which is 3800m high.
8 Days Biking from Lhasa to Namtso
Cycling from Lhasa to Namtso Lake is one of the most popular short cycling journeys in Tibet. You will ride along the well-built Qinghai Tibet road, and crossing the Qiangtang grassland. This life-time experience will offer you wonderful landscapes all the way, like the vast grassland dotted with sheep and yaks, never-melt snowy mountains, the Nyenchen Thanglha and trains running through the world's highest railway – Qinghai Tibet Railway.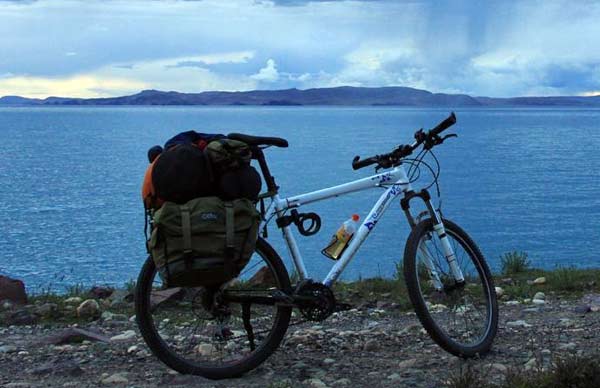 Sceneries along the way from Lhasa to Namtso Lake is amazing.
Cycling Distance in each day
Day 1: Lhasa to Damxung – 155 km along well-conditioned Qinghai-Tibet highway
Day2: Damxung to Namtso – 75 km. The most difficult ride of today is to climb to Mt.Nagenla Pass at 5190m. The 4WD could take you and your bike to over the mountain pass if you need help.
Day3: Namtso Lake to Yangpachen – 123 km.
Day4: Yangpachen to Lhasa – 75 km
22 Days Lhasa to Kathmandu Bike Tour
There is nothing like cycling all the way to Everest Base Camp or to the Nepal border from Lhasa, and this route combines them together. It will be a challenge and adventure.
After getting acclimated to the high altitude in Lhasa for two days, you start your ride to Shigatse via Yamdrok Lake and ancient Gyantse. You can take a visit to Tashilhunpo Monastery in Shigatse, which is an abiding place for the successive Penchen Lamas. Then continue your bike journey southwards along Friendship Highway to Mt. Everest. It will be a great experience to stay overnight at Everest Base Camp, and enjoying the amazing view at the top of the world. Afterwards, riding southwards along the way and finally arrive in the border port from Tibet to Nepal.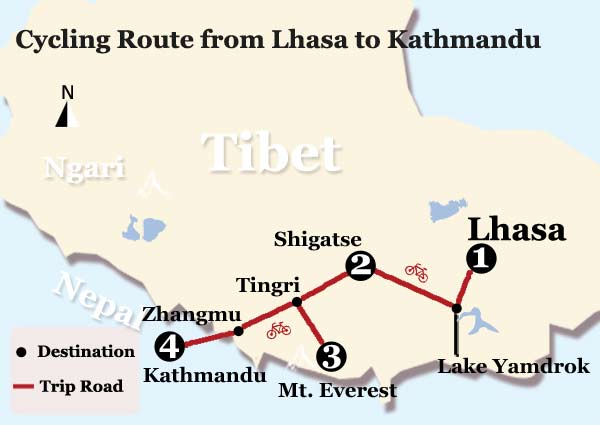 See the route map of the cycling Trip from Lhasa to Kathmandu.
If you are planning to cycle in Tibet, please feel free to contact us for detailed Tibet bike tour information.