Cycling in Tibet is the best way to explore the true beauty of Tibet. You can ride along the well-built Qinghai-Tibet highway to enjoy the wonderful landscape all the way, like the vast Qiangtang grassland dotted with sheep and yaks with never-melt snowy mountains, the Nyenchen Thanglha running passing by. Or you can just take a light biking trip from Lhasa city to Ganden Monastery.
For real adventures, there is nothing like cycling all the way to Everest Base Camp or to the Nepal border from Lhasa, which could be a great challenge and adventure, but a lifetime memory.
If you are planning to cycle in Tibet, no matter you just at the first stage, or already have your travel idea, here is the right place for you. We offer various kinds of Tibet tours with biking experience at different levels. Our professional travel experts can help you customize your own Tibet tour with a biking journey as you want.
Recommended Tibet Cycling Tours
Here we offer you the best
cycling trails in Tibet at different activity ratings
, such as a light trip around Lhasa city and the most popular mountain bike tour from
Tibet to Nepal
via the Everest Base Camp.You can choose the best one that suit your interests and ability.
Or, you can tailor your own cycling route according to your time and needs. Please feel free to contact us for detailed Tibet bike tour information.
Know before Your Tibet Cycling Tour
1. When is the best time to take a cycling tour in Tibet?

The best time to take a Tibet cycling tour is normally in the spring and autumn seasons, which run from April to June and late September to November.

The spring is one of the most stunning times to travel to Tibet, as the new growth after the cold harsh winter is blooming through, and the landscapes appear to be fresh and revived. The skies are also clear and bright, and while it is not yet hot, it is pleasant enough for cycling, although it can get a little colder at night still.

Autumn is also an ideal time, as the landscape is still lush and green from the summer rains, and the weather is cooling down, though it can still be a little humid in early October.

In late October, the leaves change color and start to fall, covering the ground with a rustic-colored carpet. The temperatures are mild and comfortable until the end of November, and there is very little chance of rain or snow.

2. What is the fitness demand for a Tibet Cycling Tour?

For some of the cycling tours of Tibet, you do not need a high level of fitness, but must be able to cycle for at least 50-100 kilometers a day.

Most Tibet cycling tours start at a moderate level, which requires you to be of an average level of fitness.

For some of the longer and more arduous tours, a higher degree of fitness is required, as cycling at high altitudes up the sides of mountains can be exhausting, and can induce altitude sickness if you are not suitably fit and properly acclimatized.

Fitness demand of Popular Tibet Bike Tours

Easy: Lhasa Ganden Monastery Bike Tour
Moderate: Lhasa to Namtse Lake Bike Tour
Moderate to Strenous: Lhasa to Kathmandu Bike Tour
Strenous: Lhasa to Everest Base Camp Bike Tour

3. How to avoid altitude sickness when taking a cycling tour in Tibet?

The first thing to do is to acclimatize for a couple of days in Lhasa before you head out on the cycling tour. This allows your body time to adjust to the higher altitude, and reduces the risk of altitude sickness once you start the tour.

You should also remember the adage on altitude, and always sleep lower than you have reached that day. Always drop down a few hundred feet before stopping for the night, as it helps to keep altitude sickness at bay.

You should also not ascend to fast or too high, and around 500 meters per day is a good average.

4. What to carry while we ride?

Your main pack with your food and clothing, etc., can be carried by the support vehicle, which is required for all international cyclists touring in Tibet.

However, you will want to carry some things with you, for the daily needs while you are riding.

It is essential to carry water on your bike, as well as some food as snacks while you are riding, to help keep your energy levels up.

You should also carry a light sweater to put on when you stop for a break or for sightseeing, as you can cool down quickly once you are stopped.
Bike Guide for Tibet Cycling Tour
What kind of bike is suitable for a Tibet bike tour?
While you can do some Tibet tours on a racing bike, it is better to bring or hire a mountain bike for the tour.
Much of Tibet has had new road surfaces along its main highways over the last several years, and the roads are much better, especially the road from Tingri to Gyirong Port.
However, there are still patches of highway that are not yet resurfaced, and while the work is ongoing, it is not definite when it will be completed.
On these rough stretches of highway, a road bike will be no good, as you will have to get off and walk or ride the 4x4, because the ground is too rocky and bumpy for the thin tires to cope with.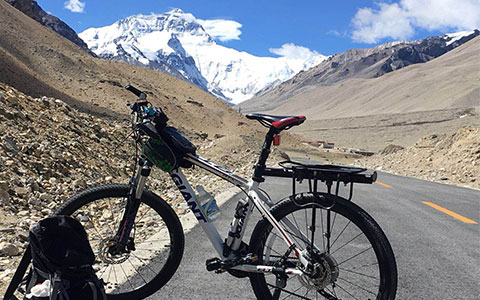 Should I bring my own bike on a Tibet cycling trip?
It is up to you if you bring your own bike or hire one here. Bikes can easily be hired in Lhasa for the tours we currently have, and are probably going to be cheaper than transporting your own mountain bike across countries or continents.
You can pack your bike up to take Tibet flights or Tibet trains, and the bike is not included in your luggage allowance on the train, though you may have to pay for additional cargo luggage for the flights.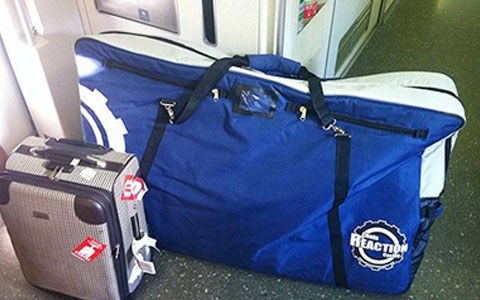 Where to rent a bike in Tibet?
You can easily rent a mountain bike in Lhasa, once you arrive. Lhasa has several stores that handle bicycle rentals across the city, and for the average mountain bike, with gears, it is relatively cheap when compared to bringing your own mountain biked to Tibet.
On average, it costs around 50-60 yuan per day (1-2 US dollars) to hire a mountain bike, which can be returned at the end of the tour. For a trip to Lake Namtso, which requires four days f riding, your rental cost will be around 200 to 240 yuan, which converts to around 28 to 35 dollars for the entire trip.On average, it costs around 50-60 yuan per day (1-2 US dollars) to hire a mountain bike, which can be returned at the end of the tour. For a trip to Lake Namtso, which requires four days f riding, your rental cost will be around 200 to 240 yuan, which converts to around 28 to 35 dollars for the entire trip.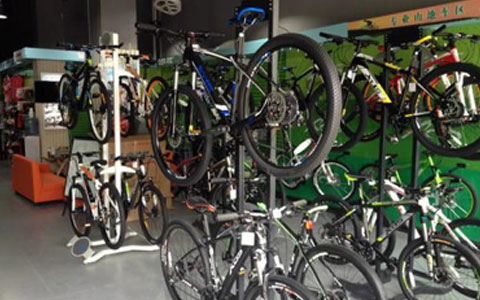 Tibet Cycling Tour Photos from Our Customers
The real photos from our customers, who experienced their cycling journey in Tibet with our professional team.
What We Offer to Support Your Tibet Cycling Tour
Tibet Travel Permit Application

All foreign tourists required the Tibet Travel Permit, also known as Tibet Permit or Tibet Entry Permit, to enter Tibet. And for cycling in Tibet, espacially to some remote regions outside Lhasa city, you need other travel permits, such as the Alien's Permit for visiting Everest Base Camp.

To travel with our Tibet Bike tour, you don't need to worry about your permit, as all required Tibet permits will be included in our Tibet tour packages.

We offer the most classic cycling tours in Tibet, which will lead you to explore the real beauty of Tibet at the best safety guarantee.

All of our tours can be customized based on your needs. Just tell us your travel plan, such as the route you are interested in, and other service required, we will manage to make your lifetime bike journey in Tibet come true.

Professional Supporting Team

Our professional travel advisor will answer all your questions about cycling in Tibet and help you arrange your Tibet bike tour.

During you journey, our experienced support team will lead you to explore the real beauty of Tibet at best safety guarantee.

Whatever happened on the way, you can contact us immediately. A 24/7 service is available any time.