Guangzhou to Lhasa Train Book
For any people taking their first trip to Tibet, and for most of those for whom it is not their first visit, China is their gateway to the Himalayas. Most visitors to this high-altitude region travel by train to Lhasa, from any one of seven cities in China. Guangzhou is another of the seven major cities in China from which trains to Tibet start. Set in the southwest of the country, the trains from Guangzhou take around 53 hours to cross the 4,980km to Lhasa. Trains run from Guangzhou to Lhasa daily, and like all trains to Tibet, they have all the facilities you would expect. We have the most up-to-date information for 2017-2018 at ChinaTibetTrain.com.
Guangzhou to Lhasa Train Ticket Online Booking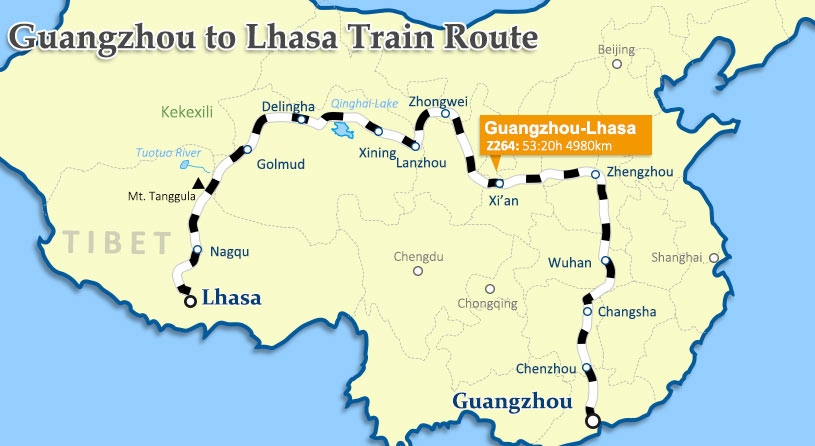 Guangzhou Lhasa Train Ticket Price & Online Booking
Train No.
From / To
Dep. / Arr.
Duration
Distance (km)
Frequency
Hard sleeper Ticket
Soft Sleeper Ticket
Z264
Guangzhou/Lhasa
11:45/17:05
53:20
4,980
Every Day
CNY865
CNY1468
Z266
Lhasa/Guangzhou
13:00/20:00
55:00
4,980
Every Day
CNY865
CNY1468
Book the Train Now
Note:
1.The ticket price of the train from Lhasa to Guangzhou is the same.
2. The ticket prices above are the net price. Since the demand of Guangzhou to Lhasa train tickets always far exceeds the supply in peak season, tourists have to pay more than the net price to buy tickets. The actual price is subject to the market fluctuation.
3. A small service fee will be charged for Ticket-Only service. No service charge on booking train tickets if you also book a Tibet tour package with us.
4. Your submitted reservation is not an order but just an inquiry. The reservation need to be confirmed by Chinatibettrain.Com. An early reservation is recommended for the limited supply of Tibet train tickets.
Most Recommended Guangzhou Tibet Train Tours
>> Check more about Guangzhou Tibet train tour packages here.
Timetable of Guangzhou to Lhasa Train - No.Z264
| Station | Altitutde | Arrival | Departure | Stop Time | Days | Distance |
| --- | --- | --- | --- | --- | --- | --- |
| Guangzhou | 21 m | -- | 11:45 | -- | Day 1 | -- |
| Chenzhou | 189 m | 15:32 | 15:36 | 4 min | Day 1 | 374 km |
| Changsha | 63 m | 19:09 | 19:17 | 8 min | Day 1 | 707 km |
| Wuchang | 28 m | 22:38 | 23:58 | 20 min | Day 1 | 1,069 km |
| Zhengzhou | 108 m | 03:33 | 03:40 | 7 min | Day 2 | 1,605 km |
| Xian | 385 m | 09:37 | 09:45 | 8 min | Day 2 | 2,116 km |
| Lanzhou | 1,520 m | 16:35 | 16:50 | 15 min | Day 2 | 2,792 km |
| Xining | 2,200 m | 19:25 | 19:45 | 20 min | Day 2 | 3,008 km |
| Golmud | 2,780 m | 02:37 | 03:02 | 25 min | Day 3 | 3,838 km |
| Nagchu | 4,500 m | 12:28 | 12:34 | 6 min | Day 3 | 4,658 km |
| Lhasa | 3,650 m | 17:05 | -- | -- | Day 3 | 4,980 km |
Timetable of Lhasa to Guangzhou Train - No.Z266
| Station | Altitutde | Arrival | Departure | Stop Time | Days | Distance |
| --- | --- | --- | --- | --- | --- | --- |
| Lhasa | 3,650 m | -- | 13:00 | -- | Day 1 | -- |
| Nagchu | 4,500 m | 16:41 | 16:47 | 6 min | Day 1 | 322 km |
| Golmud | 2,780 m | 03:00 | 03:25 | 25 min | Day 2 | 1,142 km |
| Xining | 2,200 m | 10:30 | 10:50 | 20 min | Day 2 | 1,972 km |
| Lanzhou | 1,520 m | 13:25 | 13:41 | 16 min | Day 2 | 2,188 km |
| Xian | 385 m | 21:49 | 22:03 | 14 min | Day 2 | 2,864 km |
| Zhengzhou | 108 m | 04:01 | 04:07 | 6 min | Day 3 | 3,375 km |
| Wuchang | 28 m | 08:37 | 08:52 | 15 min | Day 3 | 3,911 km |
| Changsha | 63 m | 12:07 | 12:13 | 6 min | Day 3 | 4,273 km |
| Chenzhou | 189 m | 15:42 | 15:46 | 4 min | Day 3 | 4,606 km |
| Guangzhou | 21 m | 20:00 | -- | -- | Day 3 | 4,980 km |
Why take Tibet train from Guangzhou?
Guangzhou is known as the southern gateway to China, and sits near Macao and Hong Kong, on the South China Sea. The third-largest city in China, it is a thriving metropolis of business and enterprise, and is the home of 39 foreign consulates. It is a major air, rail, and sea hub, and is an economic, educational, and scientific hub for industry. Its port on the Pearl River gives easy access to the South China Sea, giving rise to a shipping industry that is the best in the country.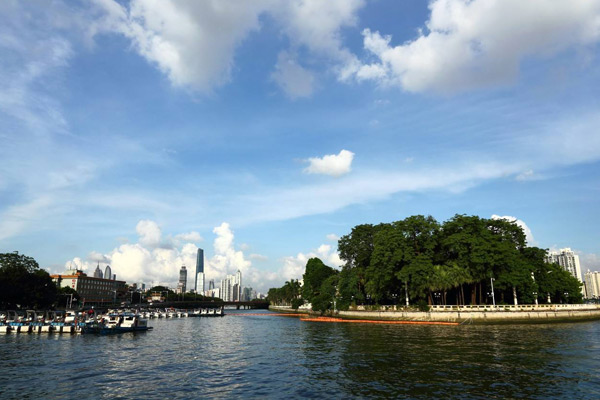 Guangzhou city scenery
As well as being a hub of industry, it sports many attractions for tourist, both in the city and the surrounding countryside. While they may not be as well known as those in Beijing or Shanghai, they are well worth a visit. For those with an eye for modern architecture, the Canton Tower is a must see. And there are many parks and temples dotted around the city, as well as several good museums.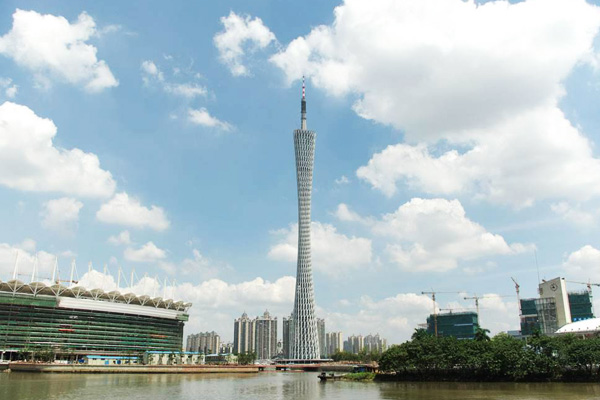 Guangzhou Canton Tower
The Pearl River is a popular tourist attraction, with its night cruises, as is the opera house, which features many of the most popular operas from the Guangzhou Operatic Society. And Nanling National Park is a massive expanse of hills and forests outside the city, with steep trails and waterfalls. The nature preserve is the home of many trees and plants that are becoming extinct in the rest of China. The park also includes two high peaks – Shikeng Kong Mountain at 1,902 meters and Shifei Mountain at 1,888 meters – that are tall enough to freeze in the winter, making trekking then harder.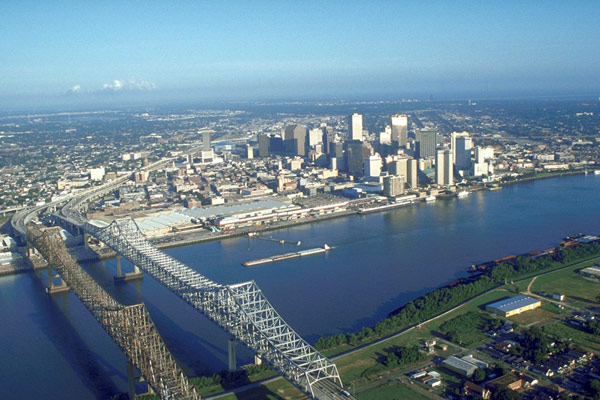 Pearl River flowing through Guangzhou city
If you have some time to spend before your train to Tibet, you would do well to visit some of these attractions. Although they are spectacular, they are not well known as tourist destinations, so they are not as busy and crowded as those in other, more popular, locations are.
Guangzhou Train Station
Guangzhou Railway Station is one of the major transport hubs in China, and it serves trains on both the Guangzhou-Shenzen Railway and the Beijing-Guangzhou Railway. While there are three other stations in Guangzhou, only the main station serves trains to Lhasa, and it has easy access from all other stations as well as the airport and city center.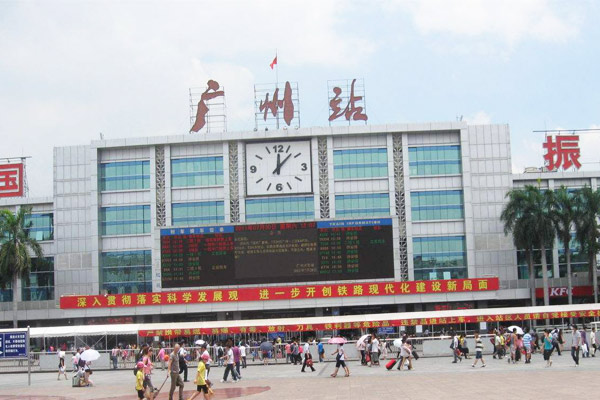 Guangzhou Railway Station
The station itself is a two-story building with a main front square. The ground floor consists of ticket windows, four waiting rooms, luggage storage areas and several fast-food restaurants. The second floor houses another seven waiting rooms, as well as a large shopping area. The ticket hall is at the western end of the building, and passengers can collect their pre-booked tickets from any of the open windows. The windows are open 24/7, and you will need your passport, booking number, and Tibet Travel Permit to be able to collect your ticket.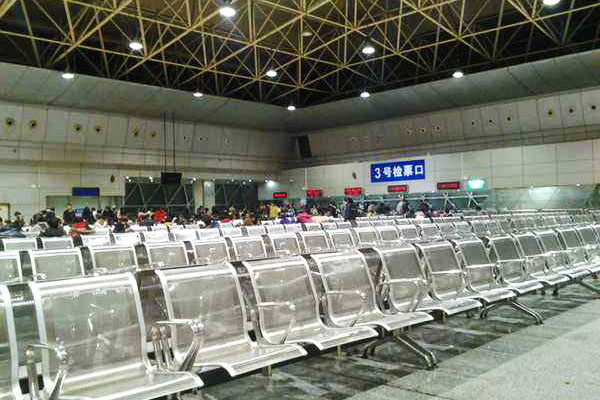 Waiting room in Guangzhou Railway Station
Buses from Baiyun International Airport take around 45 minutes to cover the 30km distance, and cost just CNY18. Buses depart every 20-30 minutes from 5:00am to 11:00pm daily. The Subway line in the city also services the railway station, and Metro line 1 will take you to Jiahewanggang Station, where you change to line 2 for Guangzhou Railway Station. Subway tickets cost CNY7 and take around 50 minutes. Taxis are also available as an option, and cost about CNY90 from the airport to the railway station.
Traveling on the Guangzhou-Lhasa Train
The train from Guangzhou is one of the longest routes to Lhasa, and encompasses three days of traveling. The route is mainly just open countryside for most of the trip through China, though it will pass through some major cities, such as Chenzhou, Lanzhou, Wuchang, and Xi'an, on its route to Lhasa.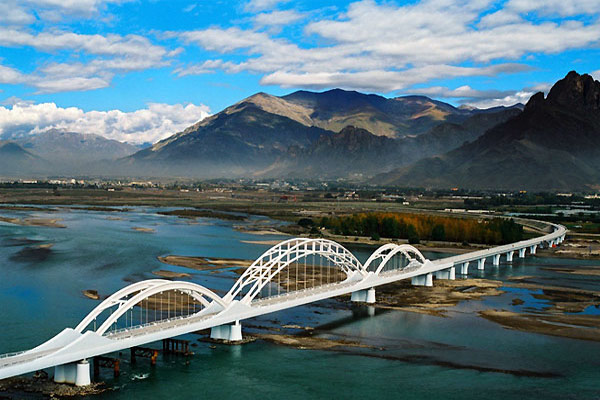 Travel to Lhasa from Guangzhou by train
The train has 24-hour dining in the dining car, and a selection of both Tibetan and Chinese dishes on the buffet trolley. There are over 100 different dishes on offer, which change depending on the season. During the stretch from Golmud to Lhasa, the staff will announce upcoming points of interest for passengers in Chinese, Tibetan, and English, and give a short explanation of the sights and what to look out for.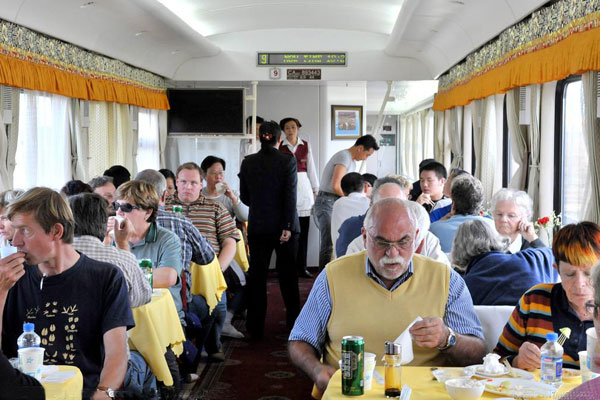 Dining car on Guangzhou-Lhasa train
As with all trains to Tibet, there are three types of tickets available for you to buy. Hard seats are the cheapest, but are not recommended for foreign visitors, as they can get uncomfortable over the three days of travel. Hard sleeper cabins are the next type of on-board accommodation. The cabins contain six bunks with soft mattresses, but have no doors. The best option is the soft sleeper cabin, which sleeps four adults, has a lockable door for security, and a small television that shows local programs.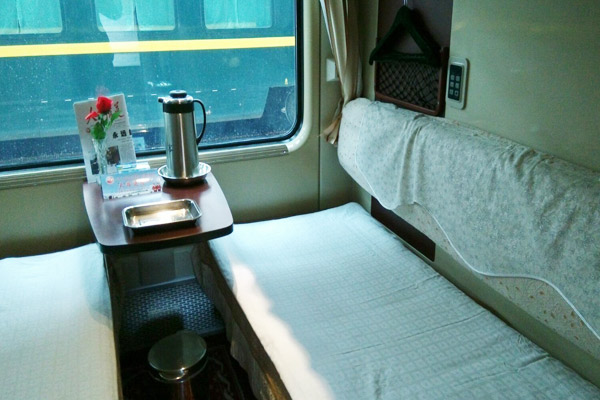 Soft sleeper on Guangzhou-Lhasa train
Oxygen is available in the soft sleepers and the train's corridors in case of altitude sickness during the latter part of the journey, and oxygen tubes can be obtained from the train staff. There is also a medical cabin on the train with a doctor and nurses to treat any ailments along the route.
Flights to Xining – an option to avoid high ticket demand
While it is often possible to get tickets for Tibet from Guangzhou relatively easily in the off-season, in the peak months, especially summer, it can be hard to get a ticket for the required travel date. If you are traveling to Tibet from Guangzhou, one option you have is to take a flight to Xining, and taking the train from there. With a much bigger train running from Xining to Lhasa, and more available seats, there is a better chance of getting tickets for the expected date of travel, especially if you book your tickets through us. We can book your tickets for you, and then you can pick them up from the station windows in Xining Railway Station.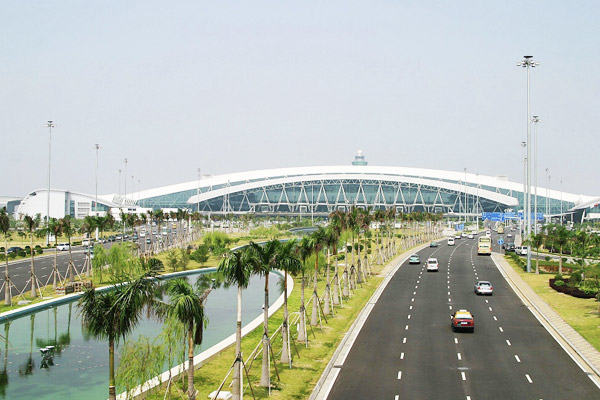 Guangzhou Baiyun International Airport
There are several flights from Guangzhou to Xinging that run daily. The flight takes around five hours, and costs from US$197.00 for economy class tickets, depending on where you book. It is advisable to use multiple search engines for internet bookings, as there are many good deals available, although you should only use recognized online flight brokers.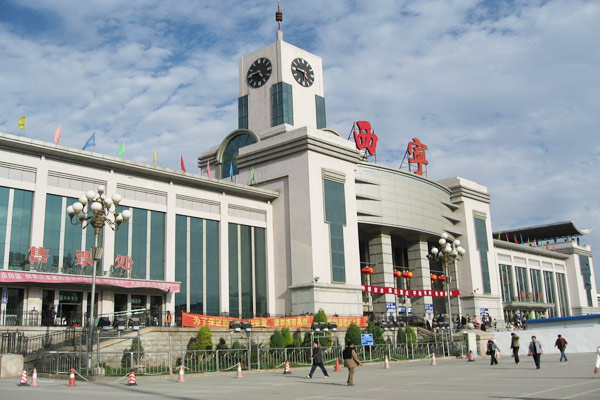 Xining Railway Station
The main advantage of traveling via airplane to Xining and then taking the train from there is that you can save time on the trip, and as Xining is at an elevation of 2,275 meters, you can always spend a day there to help with acclimatizing to the higher altitudes. This can help to reduce the risk of altitude sickness. Moreover, as most of the spectacular scenery is on the train from Golmud (where the train starts its ascent to the Qinghai-Tibet Plateau) you would not be missing any of the best parts of the train journey.