Known as the "South Gate" of China, Guangzhou is the largest coastal city in China with highly-developed economy and profound historic culture. Tourists from overseas can find easy access to Lhasa via Guangzhou. To enter Lhasa, taking a train is a good choice.
Guangzhou-Lhasa train is one of the longest train routes to Lhasa. Taking 53 hours, it runs cross 7 provinces and an autonomous region and stops at 12 cities. It can be said that it crosses half of China. Therefore, riding on train, you can appreciate the contrasting landscapes of China from south to the north, east to the west. Trains from Guangzhou to Lhasa are run daily, and like all trains to Tibet, they have all the facilities you would expect.
Guangzhou to Lhasa Train Schedule
The train from Guangzhou is one of the longest routes to Lhasa, and encompasses three days of traveling. The route is mainly just open countryside for most of the trip through China, though it passes through some major cities, such as Chenzhou, Lanzhou, Wuchang, and Xi'an, on its route to Lhasa.
Timetable of Guangzhou to Lhasa Train - No.Z264
| Station | Altitutde | Arrival | Departure | Stop Time | Days | Distance |
| --- | --- | --- | --- | --- | --- | --- |
| Guangzhou | 21 m | -- | 11:40 | -- | Day 1 | -- |
| Chenzhou | 189 m | 15:31 | 15:34 | 3 min | Day 1 | 374 km |
| Changsha | 63 m | 19:06 | 19:12 | 6 min | Day 1 | 707 km |
| Wuchang | 28 m | 22:38 | 23:00 | 22 min | Day 1 | 1,069 km |
| Zhengzhou | 108 m | 03:34 | 03:46 | 6 min | Day 2 | 1,605 km |
| Xian | 385 m | 09:46 | 09:54 | 8 min | Day 2 | 2,116 km |
| Lanzhou | 1,520 m | 16:45 | 17:00 | 15 min | Day 2 | 2,792 km |
| Xining | 2,200 m | 19:26 | 19:49 | 23 min | Day 2 | 3,008 km |
| Delingha | 2,982 m | 23:51 | 23:53 | 2 min | Day 2 | 3,529 km |
| Golmud | 2,780 m | 02:20 | 02:45 | 25 min | Day 3 | 3,838 km |
| Nagchu | 4,500 m | 12:17 | 12:31 | 14 min | Day 3 | 4,658 km |
| Lhasa | 3,650 m | 16:45 | -- | -- | Day 3 | 4,980 km |
Timetable of Lhasa to Guangzhou Train - No.Z266
| Station | Altitutde | Arrival | Departure | Stop Time | Days | Distance |
| --- | --- | --- | --- | --- | --- | --- |
| Lhasa | 3,650 m | -- | 12:55 | -- | Day 1 | -- |
| Nagchu | 4,500 m | 16:33 | 16:39 | 6 min | Day 1 | 322 km |
| Golmud | 2,780 m | 03:30 | 03:55 | 25 min | Day 2 | 1,142 km |
| Delingha | 2,982 m | 06:22 | 06:24 | 2 min | Day 2 | 1,478 km |
| Xining | 2,200 m | 10:27 | 10:47 | 20 min | Day 2 | 1,972 km |
| Lanzhou | 1,520 m | 13:10 | 13:26 | 16 min | Day 2 | 2,188 km |
| Xian | 385 m | 21:46 | 22:00 | 14 min | Day 2 | 2,864 km |
| Zhengzhou | 108 m | 03:58 | 04:04 | 6 min | Day 3 | 3,375 km |
| Wuchang | 28 m | 08:42 | 09:02 | 20 min | Day 3 | 3,911 km |
| Changsha | 63 m | 12:19 | 12:25 | 6 min | Day 3 | 4,273 km |
| Chenzhou | 189 m | 15:52 | 15:57 | 5 min | Day 3 | 4,606 km |
| Guangzhou | 21 m | 20:17 | -- | -- | Day 3 | 4,980 km |
Please Note:
The timetable and schedule is just for reference. When you make early reservation, please contact us for more details.
How to shorten the Train Journey from Guangzhou to Lhasa?
Guangzhou-Chengdu-Lhasa
Leave from Guangzhou, you can transfer to Chengdu, one of the major hub to Tibet in southwest China. You can firstly take a flight to Chengdu before taking the Chengdu-Lhasa train, the third shortest train journey from mainland China to Tibet, to your destination. Flight from Guangzhou to Chengdu spends 2 hours 30 minutes. And then, you can take the train from Chengdu to Lhasa, which takes 36 hours and still covers the best scenery from Xining to Lhasa. Compared with Guangzhou-Lhasa train, this trip mode will save you about half-day's time.
Guangzhou – Lanzhou – Lhasa
Traveling from Lanzhou to Lhasa is a journey that only takes around 24 hours by train. It's the second shortest route to Lhasa by train. Lanzhou is one of the seven major cities from which trains to Tibet depart, and is an important transport terminal for both the Silk Road and the Eurasian Continental Bridge. Travelers leaving from Guangzhou can take a flight to Lanzhou, which takes 3 hours 20 minutes and then take the Tibet train from Lanzhou to Lhasa. Therefore, you will save at least one day on the road.
Guangzhou – Chongqing – Lhasa
One of the four municipalities of China, Chongqing is the largest of China's inland cities with its plans for both physical and economic growth. It is also one of the major starting points for trains to Tibet. Tourists from Guangzhou to Lhasa can stopover in Chongqing by taking a flight, which takes only 2 hours 20 minutes, and the ticket price can be as low as CNY440 (economy class).
As you leave from Chongqing, you can take the train to Lhasa. This route covers 3,030km, takes around 35 hours. It passes two cities in Sichuan and Lanzhou before entering Tibetan plateau from Xining. The whole journey will save you at least half a day.
Guangzhou Lhasa Train Ticket
Soft Sleeper Train Ticket: 1468 CNY
Hard Sleeper Train Ticket: 865 CNY
What's the Difference between the Soft Sleeper and the Hard Sleeper?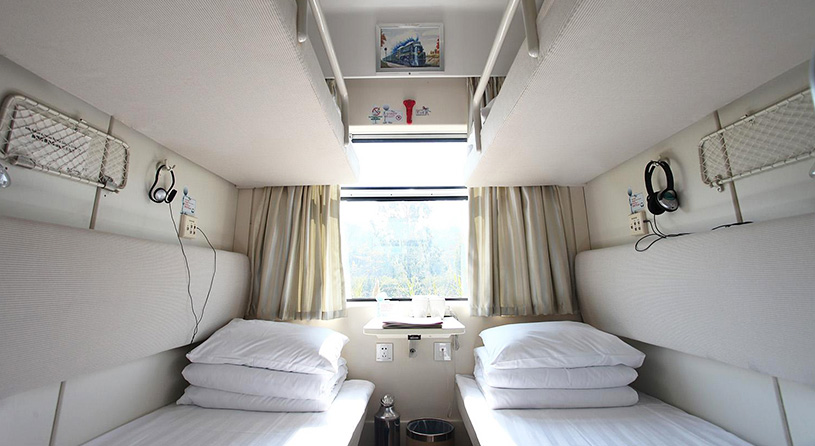 Soft sleeper on Tibet train is provided with 4 berths in each cabin.
The soft sleeper on Tibet trains is provided with the best possible facilities onboard, and could be the optimum choice for passengers caring about good privacy and comfortable travel experience. In each soft sleeper cabin, there are only four berths inside, with a lockable door to ensure a quiet environment.
While for budget travelers, the hard sleeper on Tibet train will be a good option, since it has a lower ticket price and also remains the comfort to some degree. There are 6 berths in each hard sleeper cabin. Although no door is provided for hard sleeper, tourists can have more chance to enjoy the time with locals or other passengers onboard.
How to Book the Beijing Lhasa Train Ticket?
The Tibet train ticket can be booked at the railway station or on the Internet. As a better choice, you can book your Beijing Lhasa train ticket online with us. With professional and trustworthy services on Tibet train tours, we can help to get your ticket of your preferred travel date.
How to Collect the Beijing Lhasa Train Ticket?
For tourists booking your Tibet train ticket with us, we will send the ticket to your address in mainland China. Or under some emergency cases, our staff will hand the train ticket to you at the railway station, before you board the train.
If you need to collect the ticket by yourself, you should go to the railway station in person. By showing your booking number, passport and Tibet travel permit, you can get your ticket from the train conductor. It is suggested to arrive in the station at least two hours earlier to reserve enough time to collect your ticket.
Get Your Tibet Travel Permit in Advance!
To collect your Tibet train ticket, you need to show the Tibet Travel Permit. Apply your Tibet travel permit and train ticket together with us, a real hassle-free Tibet train tour is one click beyond.
Apply for Tibet Permit Online
Guangzhou Lhasa Train Route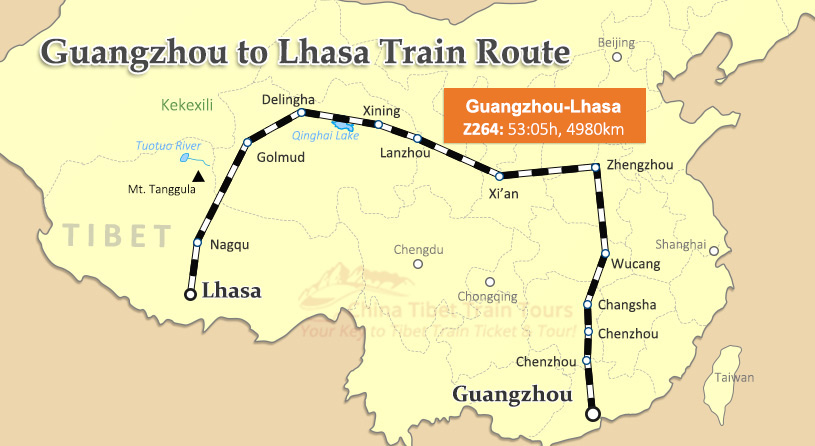 Guangzhou to Lhasa Train Route Map
As one of the best choices for travelers going to Tibet, taking a Tibet train will not only reduce the risk of altitude sickness but also offer you the best scenery along the way, especially on the route from Xining, the start point of Qinghai Tibet Railway, to Lhasa.
As the train traverses the plateau, you'll appreciate the best sights from Qinghai Lake to Gobi Desert, from Yuzhu Peak to Tuotuo River, and the Kekexili Nature reserve to Nagqu Grassland and finally to the fascinating Namtso Lake. You will find there is plenty to see on the journey and never be fed up with the monotonous scene along the way.
Major Stations along Guangzhou Lhasa Railway Route
Changsha (Altitude: 63m)
Changsha is the first major station on your Guangzhou-Lhasa train route. As the capital of Hunan Province, it's also famous as the hometown of Chairman Mao Zedong. Nowadays, it has become a popular tourism city for rich historical heritages and delicious local snacks.
Wuchang (Altitude: 28 m)
Wuchang is in Hubei Province, which is part of the provincial capital Wuhan. Situated near the mountain and by the river, it has a long history. The famous Yellow Crane Tower, reputed as "the best tower in China" is standing in Wuchang. This city has witnessed events and historical progress of China from ancient to modern times.
Zhengzhou (Altitude: 108 m)
As a surging central city in China, Zhengzhou is the provincial capital of Henan. It's also a vital transportation pivot. In the history, it's the birth place of Chinese civilization. Famous world cultural heritage and the origin place of Chinese Kungfu, Shaolin Temple, is situated in Zhengzhou, attracting countless of tourists at home and abroad to explore the charm of mysterious Chinese Kungfu.
Xian (Altitude: 385 m)
For many foreign tourists, Xian is one of the top destinations of China tour. It's the ancient capital of 13 dynasties in China history. With brilliant ancient civilization, nowadays, Xian has become a name card of China. The grandiose Terra-Cotta Warriors are so vivid that you can't even find any two figures totally the same; the precious and assortment of cultural relics in Shanxi History Museum will be a feast to your eyes.
Lanzhou (Altitude: 1520 m)
Lanzhou is the capital of Gansu Province. Located at the entrance of Hexi Corridor, Lanzhou was an important pivot on the 'Silk Road' trade route between Europe and China in the history. Yellow River, the mother river of China runs through this city. The endless loessland adds more atmosphere of rough and desolation to this northwest China land.
Xining (Altitude: 2200 m)
Xining is situated in a remote valley on the eastern edge of Qinghai Province - occupying China's rugged, cold-weather northern "frontier." The city is best known for the Kumbum Monastery (Ta'er Temple), one of the most important Tibetan Buddhist sites in China. The Gelugpa sect was founded here by Tsongkhapa, and the hillside monastery was erected in 1560 in his honor. The Hall of Butter Sculpture includes colorfully-painted yak butter sculptures depicting important events in Buddhist history.
Qinghai Lake, also the first attraction along the railway from Xining, is broad and blue. When summer approaches, it welcomes its most beautiful season with endless grassland, golden rape flower field and clear sky.
Ngaqu (Altitude: 4500 m)
Ngaqu is in the northern Tibet occupying one third of the land of Tibet. As the train passes through this area, you will see the wide expanse of Changtang grasslands. It has some of the most beautiful high desert areas in the world, with rocky outcrops sticking up from the grassy plain, clear, pristine lakes, and lush, green prairie. It's also the home of the Changpa nomads, who have lived here for thousands of years. In the summer, the views of the surrounding mountains are spectacular with gentle winds, mild sunshine, and a vast expanse of lush, green grass.
Tips:
You can't get off the train for few days trip in the cities and then get back on another train to Tibet with the same ticket. If you want a stopover in some city, you need to buy a new ticket to Tibet when departure.
Altitude Changes along Guangzhou Lhasa Railway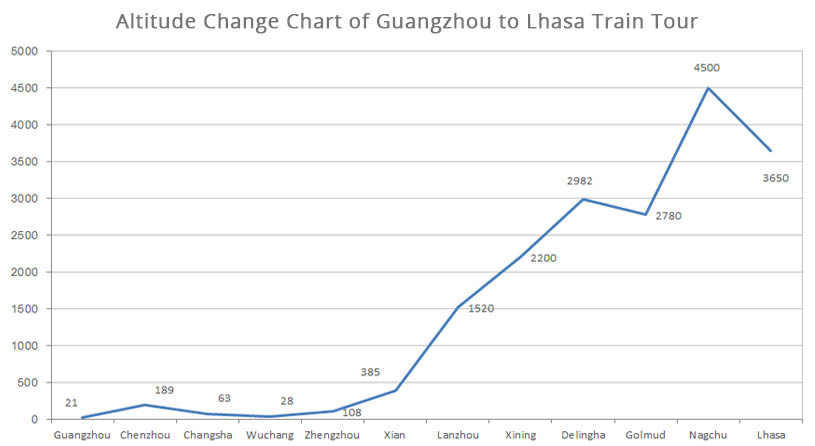 Check the altitude change of Guangzhou-Lhasa train from the graph above.
What is the symptom of altitude sickness?
Usually, when you are hit by altitude sickness, you may have such symptoms like: headache, loss of appetite, nausea, vomiting, excessive flatulence, swelling hands or feet, fatigue, dizziness, and so on.
The more severe symptom of altitude sickness can be High Altitude Pulmonary Edema (HAPE) or High Altitude Cerebral Edema (HACE), which can be life threatening. When such symptoms occur, they must be treated immediately. But generally, ordinary symptoms of high altitude sickness can fade away when you get used to the high altitude.
Compared with flight journey, taking a Tibet train can be less risky to suffer from high altitude sickness since the altitude increase is relatively slower, allowing you more time to acclimatization. But you can still make some preparations to avoid altitude sickness before your departure and during onboard.
Tips:
Before leaving, it's essential to get yourself checked out by your doctor, especially if you have any ongoing medical conditions. Simple illnesses such as sinus infections, colds, flu, bronchitis, and even urinary tract infections can be at greater risk of developing altitude sickness. If medications can be provided for prevention, your doctor can prescribe them for you.
Besides, before your leaving, keep physically and mentally healthy. Regular exercise before departure will help a lot to improve your constitution. But please do not push it too hard. At the same time, take it easy, learn more knowledge about altitude sickness to eliminate your fear and avoid excessive mental stress.
what if I get high altitude sickness on Guangzhou–Lhasa Train?
On Tibet trains, there are two oxygen supply systems designed for a controlled environment and emergency personal use. When the train reaches Golmud, the main system will kick in, dispersing oxygen in the cabin, keeping the required oxygen level in the train and protecting the passengers from high altitude sickness.
Another system is private oxygen supplies. They are located above each bunk as well as walls in the corridors in cabins. In the hard seat carriages, they are found under every seat. Staffs on the train will distribute oxygen tubes to you. When feeling uncomfortable, plug the connector end into the outlet socket, you can take the oxygen pumped through the tubes into your nose to help with breathing and treat the mild symptoms of altitude sickness. If symptoms still don't relief, you can request to be seen by the doctor on the train.
Tips:
Because of the special environmental condition, when the train arrives Xining, passengers need to change the train and board the Tibetan train equipped with oxygen supply systems to proceed your journey.
How to Get to Guangzhou Railway Station
From Guangzhou Airport to the Train Station
Guangzhou Railway Station is one of the major transport hubs in China. You can get an easy access to it no matter from the airport or city center. Buses from Baiyun International Airport take around 45 minutes to cover the 30km distance, and cost just CNY18. Buses depart every 20-30 minutes from 5:00am to 11:00pm daily. Taxis are also available as an option, and cost about CNY90 from the airport to the railway station.
From Downtown Guangzhou
If you leave from Guangzhou downtown, take a subway will be very convenient. Metro Line 1 will take you to Jiahewanggang Station, where you change to line 2 for Guangzhou Railway Station. Subway tickets cost CNY7 and take around 50 minutes. If you take a taxi to it, it spends only about 20 minutes and CNY23.
How to Get to Guangzhou Railway Station from Hong Kong?
Since the Hong Kong- Guangzhou high speed train was formally put into service in September 23th, 2018, it brings great convenience for passengers to shuttle between Guangzhou and Hongkong.
If you are leaving from Hongkong, you can take the high speed train in Hong Kong West Kowloon Railway Station and get off at Guangzhou South Railway Station. Everyday , there are as much as 34 high speed trains leaving from HK to Guangzhou which takes no more than 1 hour to arrive. Ticket price is CNY215 (second-class seat).
How to Get from Guangzhou South Railway Station after Hong Kong – Guangzhou high speed train?
Guangzhou South Railway Station is a high speed railway station located in Fanyu District, Guangzhou. It's 25km away from Guangzhou Railway Station. When you arrives, you can take Metro Line 2 to board at Guangzhou South Railway Station and get off at Guangzhou Railway Station without transfer. It takes around 40 min and CNY6. Then you can board your Tibet train and start the journey.
Guangzhou Tibet Train Tours
Get travel ideas from our best selected Guangzhou Tibet Tours by train. Choosing from the most classic travel itineraries in Tibet, you will enjoy the epic Guangzhou-Lhasa train experience with our one-pack services of guaranteed Tibet train ticket and Tibet travel permit.
Xining City Tour (Suggested 1 to 2 Days)

A city of just over one million inhabitants, Xining is situated at the start point of Qinghai-Tibet Railway. For many tourists to Tibet, it's a transfer station. From here, you can have a stop to better acclimatize the plateau.

This is an open and inclusive city where Muslim, Tibetan and Han people live together harmoniously. Kumbum Monastery (Ta'er) is one of the six major monasteries of the Gelug sect of Chinese Tibetan Buddhism, and it is the birthplace of the Gelug master Tsongkhapa. Lifelike butter flowers, colorful murals and piles of embroidery are known as "the three art of the Ta'er Temple". Dongguan Mosque is the largest mosque in Qinghai Province. Here you can watch the grand worship ceremony of Hui people to experience the unique charm of Muslim.

>> Join in our 11 Days Guangzhou, Xining, Lhasa and Shigatse Tour by Train

Xi'an Sightseeing Tour (Suggested 1 to 2 Days)

Xian is a major stop on the train route from Guangzhou to Lhasa. It's also a hot tourism destination for tourists at home and abroad. You can stop at Xian for few days to experience the profound culture of this ancient city. You can climb on the Bell Tower and Drum Tower, the landmark of Xian to have a bird's eye view of the city. Near to it is the popular Muslim Quarter, the block full of delicacy. Here, you can enjoy the dazzling Xian delights.

To tour Xian, never miss the Terra-Cotta Warriors, listed as the world cultural heritage by UNESCO, it has more than 7,000 warriors and over 100 battle steed pottery figurines made in Chinese Qin Dynasty (BC221 - BC207). Excavated underground, although their color has faded, expressions on the figurines are so vivid. It will bring you to travel across the time to learn the history 2,000 years ago.

>> Join in our 9 Days Guangzhou, Xi'an and Lhasa Tour by Train
Let's Start Your Hassle-free Tibet Train Tour with Us!
From handling and delivery of your Tibet Travel Permit to sorting out the details like itineraries, hotels and booking the Tibet train tickets and flight tickets, we care deeply about your ideas and work 24/7 to ensure you a worry-free and pleasant travel.
Enquire Now
Contact Us for Your Dream Tour Now
Your are enquiring for
Guangzhou to Lhasa Train
Price from
Price upon Request