China Visa for Tibet Travel
Many foreign travelers reckon that Tibet visa (Tibet Travel Permit) is the only document they need to prepare when planning a tour to Tibet. Actually, it's a big misunderstanding. If a foreigner wants to visit Tibet Autonomous Region (TAR), a province of China, he/she should get a Chinese visa first, and then apply to the government of TAR for Tibet entry permit.
China Visa for Tourists
A Chinese visa is a permit issued by the Chinese visa authorities to an alien for entry into, exit from or transit through China. The Chinese visa authorities issue a Diplomatic, Courtesy, Official or Regular Visa to an alien according to his/her status, purpose of visit or passport type. The overseas Chinese visa authorities are Chinese embassies, consulates and other offices authorized by the Ministry of Foreign Affairs of China.
For Tourists Entering Tibet from Mainland China
Generally speaking, Chinese visa should be applied through a Chinese Embassy in your home country or in a third country. If you enter Tibet from Mainland China, DO NOT list Tibet as the travel destination when filling the application form. Otherwise, you might be rejected. It is wise to list cities like Beijing, Shanghai and Chengdu as your travel destination. And all individuals entering China must hold a passport that is valid for at least six months for a single or double entry visa and at least nine months for a multiple entry visa.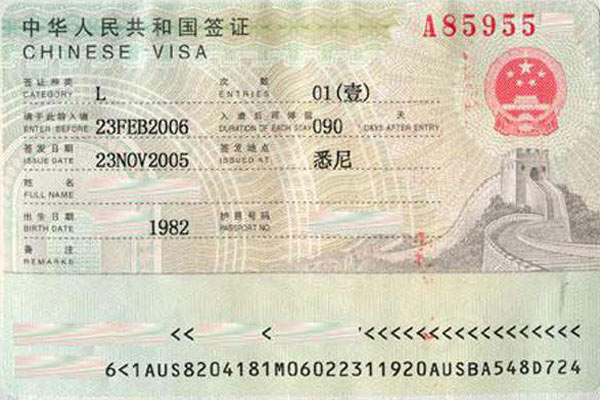 Applying the Chinese visa is your first step to travel to Tbiet.
For Tourists Entering Tibet from Nepal
If you enter Tibet from Nepal, it is not necessary to apply for the Chinese visa in your home country because you need to apply for the visa through Chinese Embassy in Kathmandu. Whether you've already got a Chinese visa in your country or not, you must get a new one in Kathmandu, which is regulated in an official memo between China and Nepal. Once you get Chinese visa in Nepal, your visa obtained before becomes invalid automatically.
China Visa for Expats
For expatriates working in China, you usually have already obtained a work visa (also called Z visa) or a residence permit. In this occasion, you only need to apply for the Tibet Travel Permit for your Tibet tour. You need to contact an authorized travel agency for the application of Tibet Travel Permit before travel to Tibet by train or flight.
The documents required for the permit application include the copies of passport, Z visa or residence permit, as well as the certificate of employment from the working company. If you plan to visit some remote or restricted areas in Tibet, you will also need the military permit and alien's travel permit etc. But don't be worry too much, your travel agency will help you to arrange everything related to your tour.
China Visa for Visa-Free Travelers
Apart from the above situations, there are also foreign tourists who enjoy the visa-free entry policies in China. According to the regulation, no visa is required for ordinary passport holders from Singapore, Brunei and Japan to visit China for up to 15 days for business, sightseeing, visiting relatives and friends or transit. If you are luckily a visa-free traveler to China, you are only required to apply for the Tibet permit for your tour in Tibet.
What is Tibet Travel Permit and How to Apply?
According to the laws and regulations, all non-Chinese citizens, holders of non-Chinese passports and holders of non-Chinese citizen ID cards should obtain the Tibet Travel Permit before entering Tibet. Obtaining a Chinese visa is the first step and one should also apply for the Tibet entry permit. Purposes of visiting Tibet vary according to different people, some for travelling, and some for pilgrimage, some for interview, some for study, some for business, some for charity and some for visiting friends. Tourists need to provide different application documents to different agencies and departments.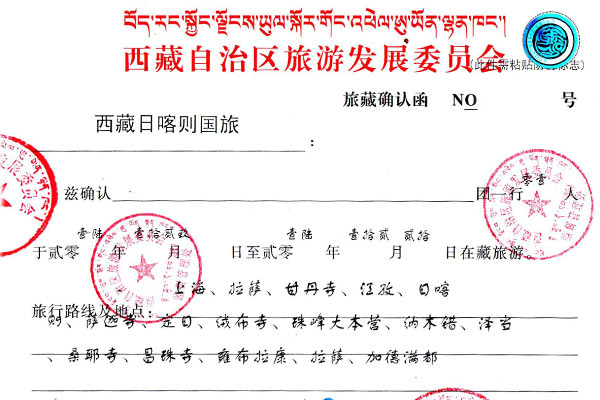 Tibet Travel Permit is a must for foreign travellers to visit Tibet.
The Tibet Travel Permit can only be applied through a local travel agency from the Tibet Tourism Bureau. One should provide necessary documents (basically the passport and China visa) to the agency to apply for Tibet Travel Permit. Only when you get the permit, you are allowed to visit Tibet by train or flight. It is suggested to apply for the Tibet Travel Permit at least 20 days in advance before you leave for Tibet. Normally, the permit can be issued in about 15 days after the summit of the application. And then it will take several days for your travel agency to send the permit to your hotel in other cities of China.
More FAQ about China Visa for Tibet Travel
1. Do I need two entries for visa or will a single entry work for my China tour including Tibet?
If you plan to enter Tibet from Mainland China and return to Mainland China after travel, there is no need to get a two entry visa. Since Tibet is a part of China and you will never leave the territory of China while travelling in Tibet. One thing you should note is that you will also need a Tibet travel permit when travelling in Tibet, apart from your China visa.
2. I already have a work visa. Is a separate visa required to enter Tibet?
For foreigners who have obtained a work visa in China, you are still required to get the Tibet permit to enter Tibet, as long as you are holding a non-Chinese passport. You need to hand over the copy of your passport and visa to a local travel agency for the permit application.
3. Will the Chinese Visa application require a copy of my Tibet permit for it to be processed?
No. The application of the Chinese Visa needs the basic required documents as passport which is valid for more than six months, visa application form, passport photograph etc. If you enter Tibet from mainland China, the common process is to first get your China visa, and then get the Tibet permit with your passport and China visa. And when you board the Tibet train to Lhasa, the copy of your Tibet permit will be checked.