Route Map of Chongqing Lhasa Train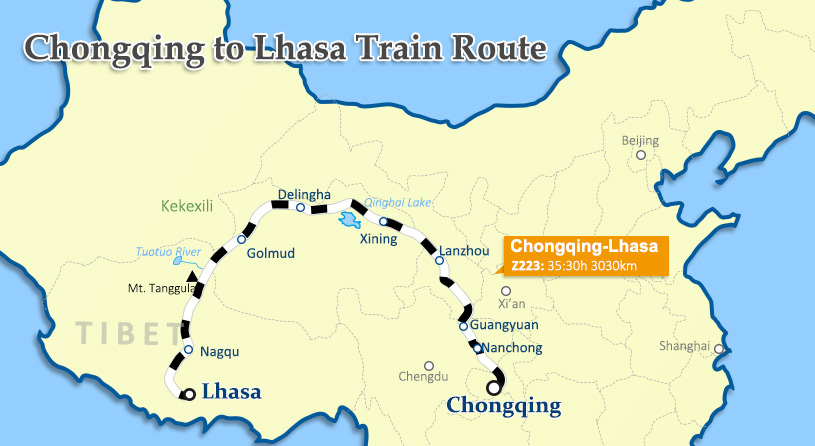 One of the four municipalities of China, Chongqing is the largest of China's inland cities, and is set to become the most important city in western China, with its plans for both physical and economic growth. It is the main point for launching trips down the famous Yangtze River.
The city is also one of the major starting points for trains to Tibet, and the journey by train to Lhasa covers 3,030km taking around 35 hours. For visitors who have taken a cruise down the Yangtze River before heading for Tibet, it is the ideal jump-off point for their Tibetan adventure. The train departs every other day at 22:25 from the Chongqing Noth Railway Station, and arrives in Lhasa at 09:55 on the third day. Here are the most up-to-date information of Chongqing Lhasa Train for 2018.
Latest Timetable and Schedule of Chongqing Lhasa Train
2018 Chongqing to Lhasa Train Schedule
| Jan. | Feb. | Mar. | Apr. | May | Jun. | Jul. | Aug. | Sept. | Oct. | Nov. | Dec. |
| --- | --- | --- | --- | --- | --- | --- | --- | --- | --- | --- | --- |
| even days | odd days | odd days | even days | even days | odd days | odd days | even days | odd days | odd days | even days | even days |
Note: ODD DAYS refers to 1st, 3rd, 5th, 7th, 9th, etc. EVEN DAYS refers to 2nd, 4th, 6th, 8th, 10, etc.
Timetable of Chongqing to Lhasa Train - No.Z223
| Station | Altitutde | Arrival | Departure | Stop Time | Days | Distance |
| --- | --- | --- | --- | --- | --- | --- |
| Chongqing North | 261 m | -- | 22:25 | -- | Day 1 | -- |
| Nanchong North | 297 m | 00:03 | 00:08 | 5 min | Day 2 | 76 km |
| Guangyuan | 487 m | 02:02 | 02:40 | 38 min | Day 2 | 96 km |
| Lanzhou | 1,520 m | 09:11 | 09:27 | 16 min | Day 2 | 842 km |
| Xining | 2,200 m | 12:07 | 12:27 | 20 min | Day 2 | 1,088 km |
| Delingha | 2,980 m | 16:35 | 16:37 | 2 min | Day 2 | 1,579 km |
| Golmud | 2,780 m | 19:20 | 19:45 | 25 min | Day 2 | 1,888 km |
| Nagchu | 4,500 m | 05:59 | 06:05 | 6 min | Day 3 | 2,708 km |
| Lhasa | 3,650 m | 09:55 | -- | -- | Day 3 | 3,030 km |
Timetable of Lhasa to Chongqing Train - No.Z224
| Station | Altitutde | Arrival | Departure | Stop Time | Days | Distance |
| --- | --- | --- | --- | --- | --- | --- |
| Lhasa | 3,650 m | -- | 18:30 | -- | Day 1 | -- |
| Nagchu | 4,500 m | 21:49 | 21:55 | 6 min | Day 1 | 322 km |
| Golmud | 2,780 m | 08:05 | 08:30 | 25 min | Day 2 | 1,142 km |
| Delingha | 2,980 m | 10:57 | 10:59 | 2 min | Day 2 | 1,451 km |
| Xining | 2,200 m | 15:19 | 15:39 | 20 min | Day 2 | 1,972 km |
| Lanzhou | 1,520 m | 18:37 | 18:52 | 15 min | Day 2 | 2,188 km |
| Guangyuan | 487 m | 01:23 | 02:05 | 42 min | Day 3 | 2,788 km |
| Nanchong North | 297 m | 04:18 | 04:40 | 22 min | Day 3 | 2,899 km |
| Chongqing North | 261 m | 06:23 | -- | -- | Day 3 | 3,030 km |
Please Note:
The timetable and schedule is just for reference. When you make early reservation, please contact us for more details.
Book the Train Now
About the Life on board
Cabins on Tibet Trains
There are two kinds of cabins on board where you can sleep overnight during your train journey to Tibet. The first class cabin on all trains to Tibet is the soft sleeper cabin, with 4 beds in one compartment. The second-class cabin onboard is the hard-sleeper with 6 beds in one compartment.
Facilities onboard
On each train to Tibet, there is one dining car offering food and drinks. At the end of each coach, there are toilets and washing basins. Spoiled water is offered 24 hours a day, so you can bring some instant noodles, coffee and tea with you.
Oxygen Supply onboard
For travelers who are planning the train trips to Tibet, the altitude sickness is always an important issue for considering. In fact, there are two kinds of oxygen supply systems onboard, which can relatively reduce the effect of high altitude. So there is no need to worry too much about suffering from altitude sickness onboard.
Tibet Small Group Tour from Chongqing
Get travel ideas from our best selected Tibet Small Group Tours from Chongqing. We offer a wide selection of classic Tibet group tours, covering the most popular scenery sites in Tibet. Feel free to choose the suitable travel route to Tibet from Chongqing and tell us any of your demands during your booking.
>> Check more Tibet small group tour packages here.
Frequent Asked Questions about Chongqing Lhasa Train Tour
Why Take Tibet Train from Chongqing?
The train from Chongqing is not the longest journey of all the trains from China to Tibet. At only 35 hours, it is an average trip, and is ideal if you enjoy traveling by train. With the numerous sights and activities around the area, there are many reasons for visiting Chongqing before heading off to Lhasa. Chongqing Airport receives flights from over 40 major cities in China, as well as international flights from all over Asia, and several countries outside Asia.
Chongqing city
While the city may appear to be rough on the surface, taking a deeper look reveals a city with its own character and many interesting sites worth looking into. With the largest population in western China, Chongqing is part of China's "Go West" policy, which is designed to help the development of western China. This has resulted in a very lively and modernizing city.
If you are thinking of taking in the sights of old China, there is no better place than Chongqing. Alongside the Yangtze River and the Three Gorges, it also harbors other attraction such as the Dazu rock carvings, that date back to the Tang Dynasty in around 650AD. The carvings, which can be found at many places around Dazu County, include over 50,000 statues and more than 100,000 carvings of inscriptions and epigraphs, While Buddhist statues tend to dominate in these carvings, there are also many Taoist and Confucian stone figures to be found.
Southeast of Chongqing, at the lower reaches of the Wujiang River, is the Wulong Karst National Geology Park. Wulong Karst is a natural wonder that has been realized as a valuable treasure in China. It consists of several karst landscapes with gorges, natural stone bridges, immense cave systems, and underground streams. These landforms have been slowly developed since the Pleistocene era. The Furong Cave, Three Natural Bridges, and Houping Giant Doline are the main karst landforms that have developed due to the intermittent movement of the earth's crust in the area.
How to Get to Chongqing Train Station?
The trains to Tibet leave from the Chongqing North Railway Station, formerly known as the Longtou Temple Station. It was opened in 2006, and reconstruction of the new North Square was completed in January 2015. The station handles trains daily to Beijing, Shanghai, Lanzhou, Xi'an, Guangzhou, and Chengdu. Chengdu trains are the high-speed bullet trains. The train to Lhasa departs from the station every other day.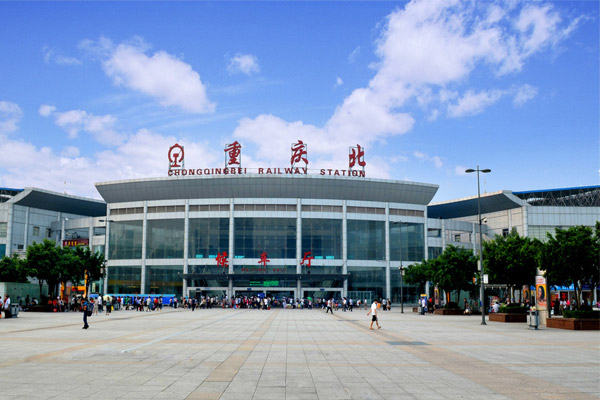 Chongqing North Railway Station
The station is located at Longtousi in the Yubei District, and consists of the departure halls, each with its own square. The North Course handles mostly the high-speed services to other cities, while the South Course handles the long distance trains to other parts of China.
The North Square was recently rebuilt and reopened in 2015, and the north station was expanded to include one floor above ground and five floors below ground. The ground floor houses the distribution hall, waiting rooms and ticket office. The first basement level houses the platforms, taxi ranks long-distance bus depot and another ticket hall. Level two is for private cars and taxis dropping off, while level three includes the tunnel linking the two parts of the station, and levels 4 and 5 are under construction for the Metro lines.
In the South Square building, there are two floors above ground that house the waiting rooms, 2nd floor ticket office and station platforms on the ground floor. While all D and G trains depart from the North Square, the South Square departure is for all the K trains, T trains and Z trains, including the trains to Lhasa.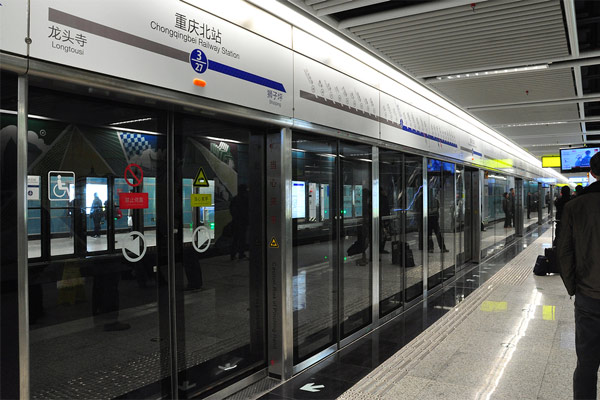 Metro Line 3 direct to the station
There are ten scheduled bus lines that run to the station from all over the city, and a connecting bus between the North Square and South Square that runs every 8-10 minutes. Travel to the station from Chongqing Airport is easy, by metro line, bus or taxi. The Metro Line 3 runs direct to the station and takes around 30 minutes. Taxis take around 30 minutes with little to no traffic, but since the area is subject to many traffic jams at peak times of the day, the Metro line is recommended.
How to Avoid High Ticket Demand When Travelling to Tibet from Chongqing by Train?
While it is often possible to get tickets for Tibet from Chongqing relatively easily in the off-season, in the peak month, especially summer, it can be hard to get a ticket for the required travel date. If you are traveling to Tibet from Chongqing, one option you have is to take a flight to Xining, and taking the train from there. With a much bigger train running from Xining to Lhasa, and more available seats, there is a better chance of getting tickets for the expected date of travel, especially if you book your tickets through us. We can book your tickets for you, and then you can pick them up from the station windows in Xining Railway Station.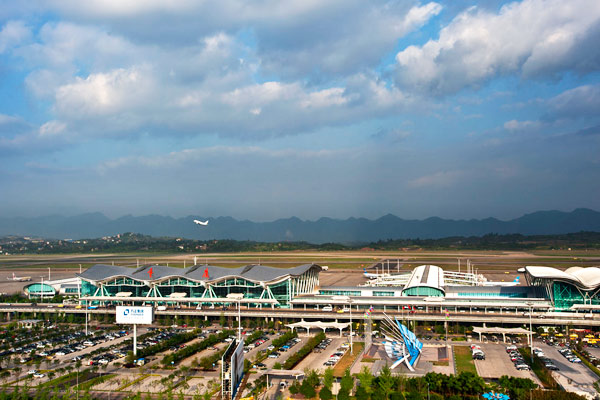 Chongqing Airport
Flights to Xining from Chongqing Airport run several times a day, and take just two hours. Most of the Chinese internal airlines run flights, and the prices range from US$206 and up, for a one-way flight in economy class. It is recommended to pre-book your flights, as there can be limited seats available on the flights if you are trying to buy your tickets on the day of travel. Searching the internet for available flights and the best prices will help you to get a cheaper flight.
The main advantage of traveling via airplane to Xining and then taking the train from there is that you can save time on the trip, and as Xining is at an elevation of 2,275 meters, you can always spend a day there to help with acclimatizing to the higher altitudes. This can help to reduce the risk of altitude sickness. Moreover, as most of the spectacular scenery is on the train from Golmud (where the train starts its ascent to the Qinghai-Tibet Plateau) you would not be missing any of the best parts of the train journey.
Let's Start Your Hassle-free Tibet Train Tour with Us!
From handling and delivery of your Tibet Travel Permit to sorting out the details like itineraries, hotels and booking the Tibet train tickets and flight tickets, we care deeply about your ideas and work 24/7 to ensure you a worry-free and pleasant travel.
Enquire Now
Contact Us for Your Dream Tour Now
Your are enquiring for
Chongqing to Lhasa Train Book
Price from
Price upon Request