As a mountain city in western China, Chongqing has been the trade center since ancient time and served as the economic belt connecting the east and west of China. Nowadays, Chongqing has developed into an international metropolitan rivaling many other great cities in the whole country.
Besides Chengdu, Chongqing is another nationally renowned city for train transportation, launching cargos and trips down to the Yangtze River. The train to Lhasa starts also in the city, and it takes about 35 hours with the total distance of 3,030km.
For visitors who have taken a cruise down the Yangtze River before heading for Tibet, it is the ideal jump-off point for their Tibetan adventure. The train departs every other day at 22:25 from the Chongqing North Railway Station, and arrives in Lhasa at 09:55 on the third day. Here are the most up-to-date information of Chongqing Lhasa Train.
Chongqing Lhasa Train Schedule
Timetable of Chongqing to Lhasa Train - No.Z223
| Station | Altitutde | Arrival | Departure | Stop Time | Days | Distance |
| --- | --- | --- | --- | --- | --- | --- |
| Chongqing West | 261 m | -- | 22:25 | -- | Day 1 | -- |
| Nanchong North | 297 m | 00:16 | 00:20 | 4 min | Day 2 | 76 km |
| Guangyuan | 487 m | 02:14 | 02:40 | 38 min | Day 2 | 96 km |
| Lanzhou | 1,520 m | 09:10 | 09:26 | 16 min | Day 2 | 842 km |
| Xining | 2,200 m | 12:02 | 12:26 | 24 min | Day 2 | 1,088 km |
| Delingha | 2,980 m | 16:31 | 16:33 | 2 min | Day 2 | 1,579 km |
| Golmud | 2,780 m | 19:17 | 19:42 | 25 min | Day 2 | 1,888 km |
| Nagchu | 4,500 m | 06:06 | 06:12 | 6 min | Day 3 | 2,708 km |
| Lhasa | 3,650 m | 09:55 | -- | -- | Day 3 | 3,030 km |
Timetable of Lhasa to Chongqing Train - No.Z224
| Station | Altitutde | Arrival | Departure | Stop Time | Days | Distance |
| --- | --- | --- | --- | --- | --- | --- |
| Lhasa | 3,650 m | -- | 18:40 | -- | Day 1 | -- |
| Nagchu | 4,500 m | 22:00 | 22:06 | 6 min | Day 1 | 322 km |
| Golmud | 2,780 m | 08:45 | 09:10 | 25 min | Day 2 | 1,142 km |
| Delingha | 2,980 m | 11:37 | 11:41 | 4 min | Day 2 | 1,451 km |
| Xining | 2,200 m | 16:15 | 16:50 | 35 min | Day 2 | 1,972 km |
| Lanzhou | 1,520 m | 19:32 | 19:44 | 12 min | Day 2 | 2,188 km |
| Guangyuan | 487 m | 01:40 | 02:05 | 25 min | Day 3 | 2,788 km |
| Nanchong North | 297 m | 04:23 | 04:39 | 16 min | Day 3 | 2,899 km |
| Chongqing North | 261 m | 06:42 | -- | -- | Day 3 | 3,030 km |
Please Note:
1. Timetable and schedule is just for reference. When you make early reservation, please contact us for more details.
2. If no trains departs on your preferred date, you can choose to take a flight from Chongqing to Lhasa, or wait for the next day.
Why Take Tibet Train from Chongqing?
The railway distance to Lhasa from Chongqing is not the longest and the time of 35 hours spent on the comfortable train makes this train trip an ideal one.
If your travel schedule is not tight and you are willing to cease your forwarding steps to know more about western China, then Chongqing would be a very great choice. As one of four municipalities in China, Chongqing has developed into a competitive and prosperous city with the joint efforts of the government and local citizens.
Nationally Renowned Night Sceneries by Chongqing to Lhasa Train
Due to excellent geographic conditions, a great number of high buildings and large mansions are built in the city. The urban illuminating engineering makes its night scenery top the whole country.
Tips:
1. Looking from the Eling Park in Yuzhong District or Nan Shan Single Tree Overlooking Stand in Nanan District, you can get a brilliantly illuminated and astonishing panoramic view of Chongqing.
2. Strolling among Hongyadong stilted house complex makes you mistakenly think you have entered the magic town in Spirited Away.
Unrivaled Monorail Train Experience: Chongqing Rail Transit
Besides night sceneries, the monorail train in Chongqing is also a wonderful experience that has attracted numerous Chinese and foreign visitors to come. Among 10 rail transit lines, there are two monorails running on the elevated lines in downtown city.
Some monorail sections are running through high-rise residential buildings, others are galloping by the side of Jialing River, one major branch of Yangtze River, or on the canopy of lush trees. If you are the first time boarding on the monorail train in Chongqing, you may get the excitement when the train makes a descent.
Tips:
1. Chongqing Rail transit line 2 is regarded as the best line for sightseeing. You can enjoy the splendid river views and the city scape and get the amazing experience during the entire trip.
2. Chongqing monorail trains are running in the city with high departure frequency, so you can get off at any station you like and board on the next train a few minutes later.
Marvelous Tourist Attractions
Along the Yangtze River and the Three Gorges, Chongqing harbors eminent attraction the Dazu Rock Carvings in its northwest, bordering Sichuan Province. The carvings have over 50,000 statues and lifelike inscriptions and epigraphs which are engraved with more than 100,000 Chinese Characters dating back to Tang Dynasty. Buddhist statues dominate the Carvings and you can also find some Taoist and Confucian figures scattering around.
In the southeast of Chongqing, at the lower reaches of the Wujiang River, there locates the Wulong Karst National Geology Park. Wulong Karst is a natural wonder that has been realized as a valuable treasure in China. It consists of several karst landscapes with gorges, natural stone bridges, immense cave systems, and underground streams. These landforms have been slowly developing since the Pleistocene era. The Furong Cave, Three Natural Bridges, and Houping Giant Doline are the main karst landforms that have developed due to the intermittent movement of the earth's crust in the area.
Tips:
It's better to arrange one-day or two-day tour to attractions like Dazu Rock Carvings and Wulong Karst National Geology Park around Chongqing City.
Chongqing Lhasa Train Ticket
Soft Sleeper Train Ticket: 997.5 CNY
Hard Sleeper Train Ticket: 627.5 CNY
What's the difference between the Soft Sleeper and the Hard Sleeper?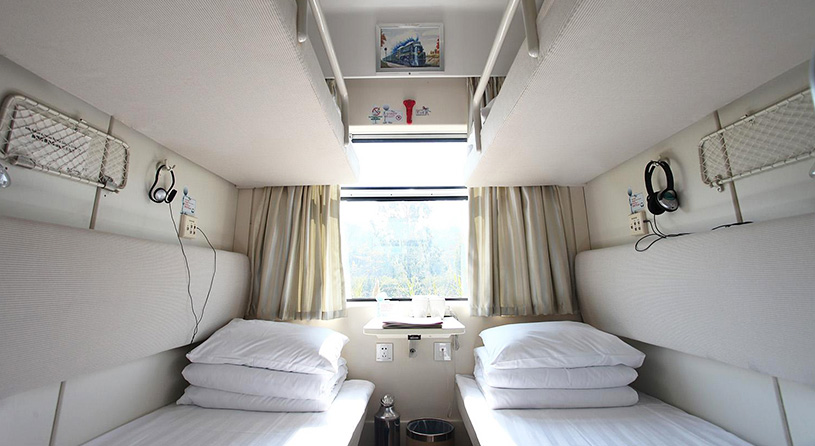 Soft sleeper on Tibet train is provided with 4 berths in each cabin.
There are two kinds of sleeping berths on on Tibet trains. For soft sleeper wagons, there are four beds, which are wider and softer than those in hard sleeper wagons, in a compartment with a door to keep a quiet environment. In a hard sleeper carriage, there are six beds in a compartment with three on each side and no doors.
For those who care about privacy and the comfort of a journey, the soft sleeper cabin is the best choice. For those who are eager to experience the real life of the locals and don't care too much about the living situation, the hard sleeper cabin, at a cheaper price, is the best choice.
How to Book the Chongqing Lhasa Train Ticket?
The most convenient and worry-free way to get your Chongqing Tibet train ticket is to book the ticket online with us. Specialized in Tibet train tour, we will get your ticket in time, as well as arrange the best lifetime train journey to Tibet for you.
How to Collect the Chongqing Lhasa Train Ticket?
If you book your train ticket with us, in some case, we will send the train ticket to your address in mainland China or our local staff will give the ticket to you at the railway station. In other cases, we will give you a booking number, so you can collect your ticket at the train station yourself, by showing them the booking number, you passport and Tibet Travel Permit.
Please arrive at your railway station at least two hours before the departure of the train, so that you can have enough time to collect your train ticket.
Get Your Tibet Travel Permit in Advance!
To collect your Tibet train ticket, you need to show the Tibet Travel Permit. Apply your Tibet travel permit and train ticket together with us, a real hassle-free Tibet train tour is one click beyond.
Apply for Tibet Permit Online
Chongqing Lhasa Train Route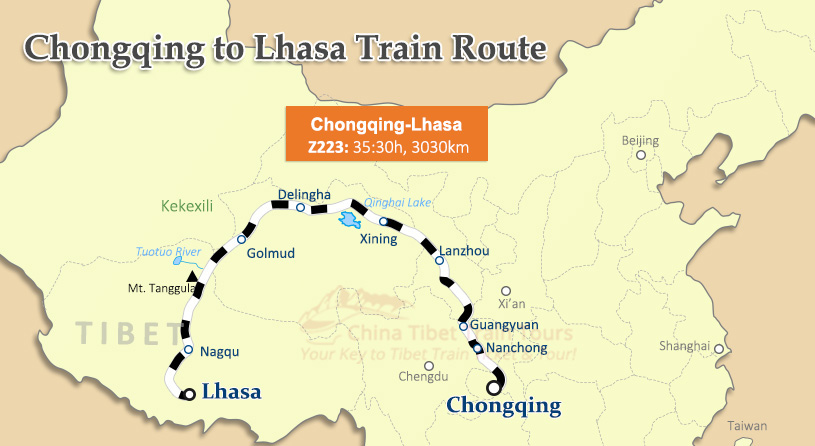 Chongqing Lhasa Train Route Map
With more and more foreign visitor coming to the charming city Chongqing, an increasingly number of foreign tourists who plan a Tibet travel choose to enter Tibet from Chongqing. Same to other train routes, the train heading for Lhasa will run along the famous Qinghai-Tibet Railway and cover an overall distance of 3,030 km.
Leaving Chogqing, the train is heading northwestwardly and passing by Nanchong and Guangyuan cities in Sichuan Province. Crossing the broader, the train is heading for Lanzhou, the capital city of Gansu Province and finally arrives at Xining in Qinghai Province after an elevation climb during this section of the route. The altitude increases from 244 meters above the sea level in Chongqing to 1,520 meters when the train arrives in Lanzhou, and it makes a second jump to 2,275 meters after the train arrives in Xining.
The landscape changes dramatically from Xining and fortunately, you have enough time enjoying the stunning views outside the window. When the train leaves Xining, it's about 12:27 in the noon, and the beautiful scenery flashes in front of your eyes as the train climbs up the plateau and ascends you to Golmud.
Starting from Golmud, the climb of the train gets steeper and reaches the pass of the massive Kunlun Mountain Range. Crossing these stunning mountains, the terrain levels out and the track stretches to the Hoh Xil Nature Reserve, a haven for kinds of rarely seen wildlife in China. Then the train is climbing again to the Tanggula Pass, the highest railway pass in the world before it find its way descending to Lhasa.
Tips:
1. When the train arrives in Golmud, it is 19:20, so have an early rest on the train, for only a good rest can ensure you a perfect journey on high altitude plateaus.
2. When you wake up early next morning, the train has crossed the vast prairie and the nomadic herders with yaks and sheep around makes another splendid vision in fron of your eyes.
Passing close by the stunning Namtso Lake, the train has been running among Nyenchen Tanglha Mountains. Follow the valleys, the train eventually finds its way down to Lhasa.
Can we get off the train at certain station and then get onboard another train to Tibet after one or two days with the same ticket?
No, it isn't. If you want to spend some days in Xining, Lanzhou or other cities along the railway before arriving in Lhasa, you need to buy different train tickets for different sections.
You can get off the train to stretch your legs or buy some local snacks at the platform. But you need to get back to the train in time before it leaves. Generally, it only makes a temporary stop for a few minutes at each station.
Is there any sharp altitude change along the Chongqing Lhasa Railway? Is it possible for the old or the young to board the train from Chongqing to Lhasa?
It is common knowledge that spending a day or two at lower intermediate altitudes of around 2,500 to 3,000 meters can help with reducing the risk of altitude sickness once you arrive in Tibet.
The train, however, is actually no much difference to a flight when it comes to reducing the risk of altitude sickness in Lhasa. Flights are pressurized, so that the cabin pressure of an aircraft is always that of the barometric pressure at sea level. So, when you get off the flight in Lhasa, the change in air pressure and the reduced oxygen content of the air means that there is a risk of feeling the symptoms of altitude sickness, due mainly to the drastic change in air pressure.
The trains to Tibet all have the oxygen supply system to pump oxygen into the cars, as well as having oxygen outlets for personal use if you are feeling a little sick during the trip. The oxygen pumps start at Golmud, as the train starts its steep climb to the plateau, reaching more than 5,000 meters within just a few hours. The oxygen pumped into the train means that the oxygen content of the air is close to that of sea level, almost the same as that of an aircraft.
If you are traveling by train, and want to acclimatize a little before reaching Lhasa, the best option is to stop for a day or two in Xining, at an altitude of around 2,275 meters, which is an ideal elevation in which to acclimatize before heading on to Lhasa. While there is no guarantee that you will not get altitude sickness once in Lhasa, the stop in Xining can help to reduce the risk of feeling the symptoms.
Giving tips about how to prevent or deal with the mild altitude sickness on the train
Don't worry about the altitude sickness onboard. There are two kinds of oxygen supply systems on each train to Tibet, which will pump the oxygen to the air during the section between Golmud and Lhasa.
Also, there is a doctor on each train. If you feel uncomfortable, please ask them for help, or contact your 1-on-1 travel consultant immediately.
About Chongqing West Railway Station (Chongqingxi Railway Station)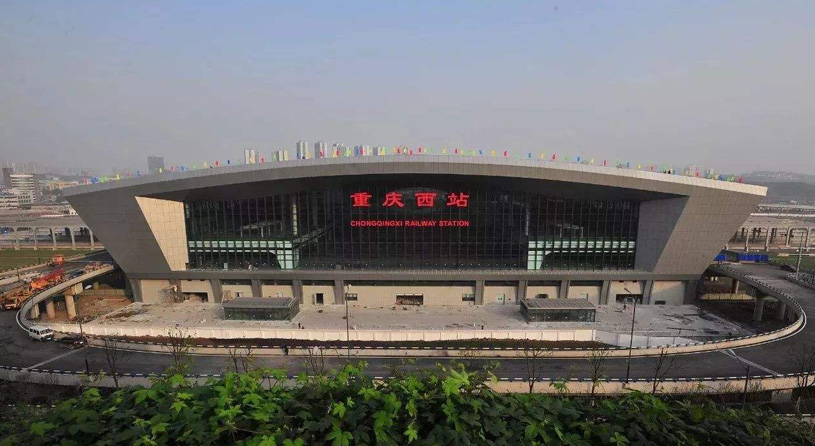 Chongqing West Railway Station
To board the train from Chongqing to Lhasa, one needs to get to Chongqing West Railway Station. Before the July of 2019, it was the Chongqing North Railway Station serving as the departure station. Located in suburb area of the city, Chongqing West Railway Station is around 27 kilometers to the west of downtown.
The railway station has five levels, with the main waiting hall on 1F, 2F and the railway platform, ticket hall and arrival hall in the middle of the ground floor. In B1 and B2, it is mainly used as the platform and outbound floor. And the subway is designed to connect the train at B3 and B4.
How to Get to Chongqing West Railway Station?
a. Get to Chongqing West Railway Station from Downtown Area
Currently there is only public bus directly connecting Chongqing West Railway Station. A total of 18 bus routes can take you to the station from different districts of the city, including Bus No. 214, 226, 277, 325, 415, 441, 473 and more. Running time of public buses can last more than 20 hours from 5:00 a.m. to 25.00 p.m.
Besides, you can also take a taxi to save more time on the way. The starting fare of a taxi is 10 RMB for 3 kilometers, when in the daytime (6:00 a.m. – 23.00 p.m.). It will extra charge 2 RMB for every kilometer beyond the initial 3 km. When during the night, the taxi fare will be a little higher, charging 11 RMB for the initial 3 km.
b. Get to Chongqing West Railway Station from the Airport
The Chongqing Jiangbei International Airport is located to the north of the station, being about 40 kilometers away.
Fastest Transfer Route: Metro Line 3 – Metro Loop Line – Bus No. 441
First board the Metro Line 3 at the airport and then transfer to the Loop Line at Chongqing North Railway Station South Square Station, and then get off the subway at Erlang station. Then take the Bus No. 441 at Erlang Hospital Station, to get to the destination after two stops. The whole transfer takes about 2 hours, and will cost 10 RMB.
Less-Walking Transfer Route: Airport Express K01 – High-Speed Fast Line G01
Take the Airport Express K01 at JiangBei Airport T2B station, then transfer to High-Speed Fast Line G01 at Liberation Monument Station, and then get to Chongqing West Railway Station after one stop. This route will take 2 hours and 40 minutes or so, but it only 6 stops throughout the whole line. The total cost is 30 RMB one-way.
Chongqing Tibet Train Tours
Get travel ideas from our best selected Tibet Small Group Tours from Chongqing. We offer a wide selection of classic Tibet group tours, covering the most popular scenery sites in Tibet. Feel free to choose the suitable travel route to Tibet from Chongqing and tell us any of your demands during your booking.
Check more Tibet Small Group Tour Packages
Let's Start Your Hassle-free Tibet Train Tour with Us!
From handling and delivery of your Tibet Travel Permit to sorting out the details like itineraries, hotels and booking the Tibet train tickets and flight tickets, we care deeply about your ideas and work 24/7 to ensure you a worry-free and pleasant travel.
Enquire Now
Contact Us for Your Dream Tour Now
Your are enquiring for
Chongqing to Lhasa Train Book
Price from
Price upon Request