There are many trekking tours in and around Tibet, among which, the trekking to Mt. Everest Base Camp is the most popular one for tourists in Tibet. Along the way, you can explore the local valleys and glaciers below the north-face of Mount Everest and appreciate the amazing view of the most magnificent scenery on the world's highest mountain.
Another popular trek in Tibet is Mt. Kailash Pilgrimage trek, which is widely known as the kora around Asia's holiest mountain - Mount Kailash. To trek around Mt. Kailash and nearby Lake Manasarover integrates the spiritual, cultural and physical dimensions of a Tibet tour.
For general trekking lovers, the trekking from Ganden Monastery to Samye Monastery is the best long trek to go. You don't need to go to the high mountain areas, but just enjoy the marvelous landscapes around Lhasa city, as well as take a cultural exploration in centre Tibet by visiting Ganden monastery and Samye Monastery.
To start your trekking tour in Tibet, please remember that, all these treks must be organized via a trusted local agency so that you can get the Tibet travel permit to enter Tibet.
Recommended Tibet Trekking Tours
We offer you various Tibet trekking tours, covering all the best trekking destinations in Tibet plateau. You can choose your favorite route to check the detailed travel itinerary with price quote, or tailor your own Tibet tour with us.
Know before Your Tibet Trekking Tour
1. What are the travel permits for Tibet trekking tours?

Tibet travel permit for entering Tibet

One of the most important documents for traveling and trekking in Tibet, the Tibet Travel Permit is only available through a registered Tibet tour operator. Once you have booked your Tibet tour with us and mailed the copies of your passport and Chinese Entry Visa to us, we will make the application for the permit on your behalf. After getting approved, we will forward the permit to your hotel in mainland China. For boarding flights to Lhasa, you will need the original permit, while for the train, a photocopy is accepted.

Military Permit for Mount Kailash Kora

For travel outside Lhasa, to the "unopened" areas of Tibet, including Mount Everest Region, you will also need the Alien's Travel Permit. Also known as the PSB Permit, the permit should be obtained after you get to Lhasa by your guide, with your original passport and original Tibet Travel Permit.

Alien's Travel Permit for Everest Base Camp Trekking

Also known as Military Area Entry Permit, the Military Permit is required to reach some of the "military restricted" areas of Tibet, such as Mount Kailash and Lake Manasarovar area etc. The permit is applied for at least 20 days in advance, and requires copies of your passport, China Visa and Tibet Travel Permit. We will make the application on your behalf once your tour is booked with us, and will have the permit for you when you reach Lhasa.

2. When is the best time to take a trekking tour in Tibet?

Generally speaking, the best time to trek in Tibet is in the spring or autumn. Spring in Tibet runs from April to early June, and is one of the most ideal times for trekking, since the weather is not yet too hot, while the skies are nice and clear, with almost no rain at all.

As the new flowers of spring bloom on the plateau, and the temperatures start to warm up, the Tibet trekking season begins, and usually runs until the rains begin in the summer monsoon period, around the beginning to the middle of June.

Autumn is the other ideal time for trekking, though the window for treks is a little narrower at this time of year. Autumn runs from around the end of September to the end of November, though an early winter can cut this a little short.

While the early part of the autumn can still be a little damp and humid, it is cooler than in the summer, which makes it an ideal time for trekking. Most of the rains have passed on, and the season is mostly dry and comfortable. Skies are clear once more, and the autumn colors on the trees make it a beautiful time to trek through the stunning areas of Tibet.

3. When is the best time to take a Mount Everest Trekking tour?

For those planning a trek to Mount Everest Base Camp (EBC), the best times of the year are also in the spring and autumn, as these are the times when the weather is optimal for trekking in the area, and the temperatures are not too hot. The climate is relatively mild in spring and autumn, with little rain and clear skies that give you an unobstructed view of the world's highest mountain.

The spring season for Everest trekking can run as late as mid-June, once the rains start t get heavier in the area. Similarly, the autumn trekking season can also start earlier, depending on the monsoon rains and how quickly they dissipate, which can increase the window for trekking to start as early as September.

4. When is the best time to take a Mount Kailash Trekking Tour?

The best times to trek Mount Kailash are from May to the end of June and from September to October. The summer monsoon season in this part of Tibet runs from June to September, but there is little rain in the first and last months, with most of the monsoon rainfall occurring in July and August.

The period from November to April is the winter in Ngari, and winters are also harsher in the far west of the region. Heavy snow can fall from as early as December in the area, cutting off access to the sacred mountain in the depths of winter, and even in the early part of the season, the pass on the Kailash Kora trek can be heavily blocked by snow.
Tibet Trekking Tour Guide
What to Pack for Tibet Trekking Tours?
For 0.5-1 day light hiking tour
If you are only trekking for half a day to a day, then you do not need to carry lots of heavy equipment, as it will only weigh you down and it is completely unnecessary. Your standard clothing, which should include windproof pants and jacket, and enough layers to keep you warm depending on the time of year and area in which you are trekking is enough, there is no need to carry lots of warm clothing.
You should carry a water bottle with plenty of water to last the day, as well as food for the day if you are not stopping at eating houses in the area. Snacks are essential to keep up your energy while trekking, as high altitudes can sap your energy quickly when hiking in Tibet.
For days trekking in the mountain regions (need camping)
For those longer trekking trips, it is essential to carry enough clothing and food to keep you going for the duration of the trek, as well as having a good arctic sleeping bag and a tent if you are camping. Several layers of clothing are better than thick sweaters and jackets, and can help you to regulate your temperature better. Take plenty of water with you, and in case you cannot get fresh bottled water in certain places, water purification tablets are a great idea. You will also need to carry enough food for the trek, as most long treks in Tibet are off the beaten track and restaurants are hard to find.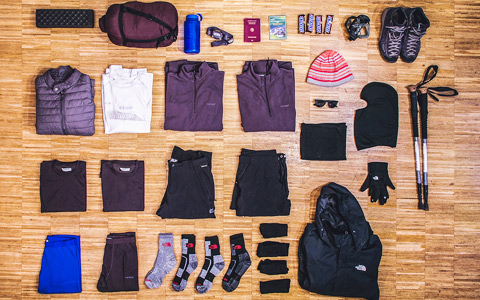 What is the physical demand for Tibet trekking tours?
There are several levels in Tibet for trekking, from the easy to the strenuous. The standard levels used by us are:
Easy - suitable for all levels of fitness, families with kids, and senior groups.
Moderate - suitable for people with an average level fitness or for families with kids older than 12 years.
Moderate to Strenuous - suitable for the physically fit that have experience of high-altitude trekking.
Strenuous - suitable for the healthy and adventurous, and for individuals with a higher level of physical fitness.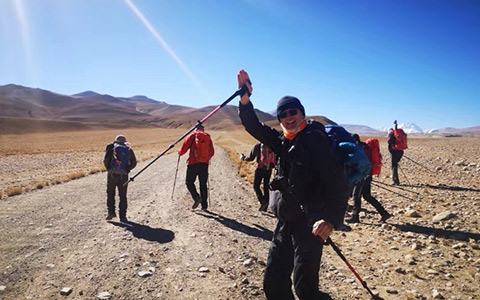 What to eat during a trekking tour in Tibet?
Eating during treks in Tibet depends largely on where you are trekking. Along some of the trail you will find some small restaurants and guesthouses that offer food, which usually consists of simple Tibetan dishes that are designed to give you the maximum energy possible based on the food available.
If you are traveling along trails without many places to eat for several days, then you will need to have cooking equipment and food with you. For most tours, you may be able to hire a cook to prepare your food, or you can prepare it yourself with the help of your trekking guide.
It is recommended that you carry high-energy food that is high in proteins, to enable you to regain lost energy faster when in higher altitudes. Protein bars, nuts, cookies, chocolate, and dried fruit are ideal for snacks. Packet foods are also ideal for making up meals when trekking in Tibet, and there are a number of companies that sell specially designed trekking foods that weigh less than carrying heavy packets and tins, and which can give you a good meal.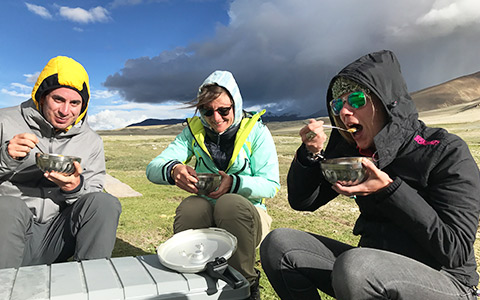 Where to live during a trekking tour in Tibet?
Local guesthouse
You have two options for where to stay when trekking in Tibet. Most of the trekking areas have guesthouses, often as part of the local monasteries, and you can stay in them at night if they are not already full.
Guesthouses in Tibet used to be very basic, with just a bare cot to sleep on and a blanket for warmth, which does not really keep out the cold. Nowadays, the state of the guesthouses along the trekking trails has improved greatly, and many of them now have decent bunk rooms with running water and indoor toilets. Very few have heating, but you can now find bedding in many of them, though it is still advisable to bring a sleeping bag.
Camping
Camping is the second option, and while it may feel like an adventure, it can be very cold in the region at night. However, in some areas, there is very little option, as the guesthouses can be full in the peak season, or there may be no guesthouses to stay at in some areas. If you are camping, you need to bring a good tent with you, as well as a decent arctic sleeping bag to counter the cold.
Q: Do I need to bring my sleeping bag? What kind of sleeping bag should I take?
Even if you are not camping, you are advised to take a sleeping bag with you, as there is little bedding in some of the guesthouses, and in those with bedding, you are not sure when it was changed last. There could have been a dozen people sleep on it before you. Ideally, an arctic-rated sleeping bag is best, but any sleeping bag that is designed for sub-zero temperatures will do.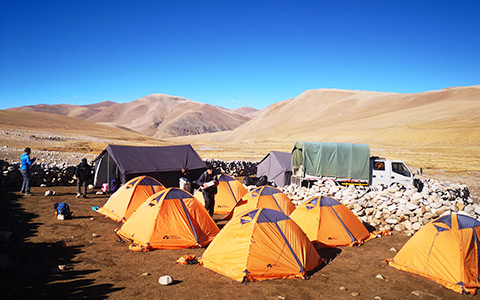 How to deal with the altitude sickness during a trekking tour in Tibet?
What to do before you go
Before heading out on a trek in Tibet, you should make sure you have an adequate level of fitness for the trek you are intending to do, and train for several weeks before trekking. Trekking in Tibet is unlike trekking anywhere else in the world, and even a fit person can struggle a little in the higher altitudes, with lower oxygen levels.
Tips for trekking in Tibet
When trekking in Tibet, it is advised that you rest as often as needed, and make sure that you do not push on too hard when you are already feeling low on energy. Snacks are an ideal way to give your energy levels a quick boost, and the best snacks are dried fruit, nuts, cereals and protein bars, chocolate, and biscuits.
If you feel any of the effect of altitude sickness, you should inform your guide so that he can keep an eye on your condition, and make the necessary arrangements to move you to a lower altitude should it get worse.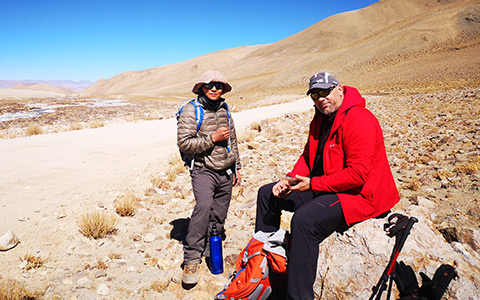 Tibet Trekking Tour Photos from Our Customers
The real photos from our customers, who experienced their trekking journey in Tibet with our professional team.
What We Offer to Support Your Tibet Trekking Tour
Tibet Travel Permit Application

All foreign tourists required the Tibet Travel Permit, also known as Tibet Permit or Tibet Entry Permit, to enter Tibet. And for trekking in Tibet, espacially to some remote regions outside Lhasa city, you need other travel permits, such as the Alien's Permit for visiting Everest Base Camp.

To travel with our Tibet Bike tour, you don't need to worry about your permit, as all required Tibet permits will be included in our Tibet tour packages.

We offer the most classic trekking tours in Tibet, which will lead you to explore the real beauty of Tibet at the best safety guarantee.

All of our tours can be customized based on your needs. Just tell us your travel plan, such as the route you are interested in, and other service required, we will manage to make your lifetime bike journey in Tibet come true.

Professional Supporting Team

Our professional travel advisor will answer all your questions about trekking in Tibet and help you arrange your Tibet bike tour.

During you journey, our experienced support team will lead you to explore the real beauty of Tibet at best safety guarantee.

Whatever happened on the way, you can contact us immediately. A 24/7 service is available any time.