Route Map of Xi'an Lhasa Train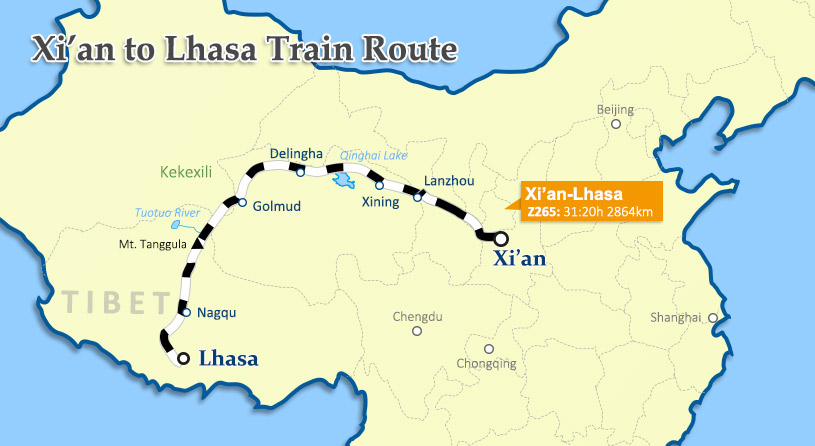 While there is a train station at Xi'an, it is not a starting point for trains to Tibet. However, trains from Guangzhou and Shanghai to Lhasa would pass through and stop in Xi'an. Trains run through Xi'an several times a day, but it is still a good idea to pre-book your tickets, even in the off-season, as there is no guarantee of getting a ticket on one of the trains passing through, and the ticket quota for Lhasa trains from Xi'an is very small. If you are determined to travel by train from Xi'an, we recommend booking your tickets well in advance through us.
Latest Timetable and Schedule of Xi'an Lhasa Train
Timetable of Xi'an to Lhasa Train - No.Z65
| Station | Altitutde | Arrival | Departure | Stop Time | Days | Distance |
| --- | --- | --- | --- | --- | --- | --- |
| Xian | 385 m | -- | 09:45 | -- | Day 1 | -- |
| Lanzhou | 1,520 m | 16:35 | 16:50 | 15 min | Day 1 | 676 km |
| Xining | 2,200 m | 19:25 | 19:45 | 20 min | Day 1 | 892 km |
| Delingha | 2,982 m | 23:51 | 23:53 | 2 min | Day 1 | 1,209 km |
| Golmud | 2,780 m | 02:40 | 03:05 | 25 min | Day 2 | 1,722 km |
| Nagchu | 4,500 m | 13:03 | 13:09 | 6 min | Day 2 | 2,542 km |
| Lhasa | 3,650 m | 17:05 | -- | -- | Day 2 | 2,864 km |
Timetable of Lhasa to Xining Train - No.Z165
| Station | Altitutde | Arrival | Departure | Stop Time | Days | Distance |
| --- | --- | --- | --- | --- | --- | --- |
| Xian | 385 m | -- | 11:24 | -- | Day 1 | -- |
| Lanzhou | 1,520 m | 18:17 | 18:34 | 17 min | Day 1 | 676 km |
| Xining | 2,200 m | 21:12 | 21:32 | 20 min | Day 1 | 892 km |
| Delingha | 2,982 m | 01:34 | 01:36 | 2 min | Day 2 | 1,209 km |
| Golmud | 2,780 m | 04:26 | 04:26 | 25 min | Day 2 | 1,722 km |
| Nagchu | 4,500 m | 14:42 | 14:51 | 9 min | Day 2 | 2,542 km |
| Lhasa | 3,650 m | 19:17 | -- | -- | Day 2 | 2,864 km |
Please Note:
The timetable and schedule is just for reference. When you make early reservation, please contact us for more details.
Book the Train Now
About the Life on board
Cabins on Tibet Trains
There are two kinds of cabins on board where you can sleep overnight during your train journey to Tibet. The first class cabin on all trains to Tibet is the soft sleeper cabin, with 4 beds in one compartment. The second-class cabin onboard is the hard-sleeper with 6 beds in one compartment.
Facilities onboard
On each train to Tibet, there is one dining car offering food and drinks. At the end of each coach, there are toilets and washing basins. Spoiled water is offered 24 hours a day, so you can bring some instant noodles, coffee and tea with you.
Oxygen Supply onboard
For travelers who are planning the train trips to Tibet, the altitude sickness is always an important issue for considering. In fact, there are two kinds of oxygen supply systems onboard, which can relatively reduce the effect of high altitude. So there is no need to worry too much about suffering from altitude sickness onboard.
Xi'an Tibet Tour by Train
Get travel ideas from our most recommended Xi'an Tibet Tours by train. From the ancient capital of 13 dynasties to the center of the Tibetan Buddhism, from the sacred Namsto Lake to the awe-inspiring Everest Base Camp, there is a huge selection of classic routes for your choice.
>> Check more Xi'an Tibet train tour packages here.
Frequent Asked Questions about Xi'an Lhasa Train Tour
Why Take Tibet Train from Xi'an?
Xi'an is one of the most important cities in Chinese history, and is as old as China itself. It is one of the birthplaces of the Chinese civilization, and many of its historic sites date back over 3,000 years.
The city has always had close ties to Tibet, and was the ancient seat of the Tang Dynasty, then known as Chang'an. It was the home of Princess Wencheng, who traveled to Tibet to marry Songtsan Gambo, the then King of Tubo – the ancient kingdom that is now Tibet. Her marriage to the king strengthened the ties between the Tubo kingdom and the Tang dynasty for a thousand years. The story of Princess Wencheng has become a major part of Tibetan history, and had a major effect on Tibetan Buddhism in the region.
Terracotta Warriors
Xi'an is also the eastern end of the Silk Road, a trail that ran across China and Tibet and through Nepal into India, centuries ago. It is also the home of the world-famous Terracotta Warriors, which were made during the Qin Dynasty, around 300BCE. The warriors were a collection of sculptures depicting the armies of Qin Shi Huang, the first Emperor of China, and were buried with him. The army consists of 8,000 soldiers, 130 chariots with 520 attached horses, and over 150 cavalry horses with mounted soldiers. They remain in the pits where they were dug, and are the second most amazing sight in China, after the Great Wall.
There are also many other historic sites around Xi'an, which are worth spending a few days seeing, and the city is also an important center in north-west China for culture, economics, industry, and education.
How to Get to Xi'an Train Station?
Xi'an Railway Station is a major junction for trains traveling to northwest China, as well as a transfer center for travel to southwest China and is a major gateway to the entire western region. With trains running through the station from the Longhai Railway, the Xikang railway, the Ningxi Railway, and the Baoxi Railway, you can reach every major city in China from Xi'an.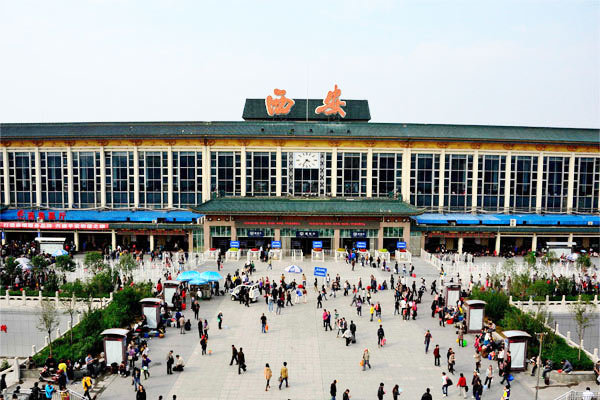 Xi'an Railway Station
The two-story terminal building that houses the platforms was built in the style of the Tang Dynasty, and has four main waiting rooms, luggage storage, ticket offices, and a gamut of food stands. Unlike most stations in China, the square in front is sunken, with many cafes and restaurants, and is surrounded by trees. The ticket hall is easily located, to the left of the main entrance. The station lies on Huancheng Road, just north of the ancient city wall, just 3.5km from the center of the city.
Xianyang International Airport is 39km away, and the Shuttle Bus runs between the airport terminals and the Jiefang Hotel, near the train station. The trip takes about 90 minutes, and costs 25CNY per person. Taxis are freely available for the trip as well, and cost around 100CNY for the one-hour drive to the station.
How to Avoid High Ticket Demand When Travelling to Tibet from Xi'an by Train?
While there are times when it is possible to get tickets from Xi'an, it is more likely that tickets will be unavailable. In those cases, you can either take a connecting train to Xining, or fly to Xining, where you will have a much better chance of getting tickets for your required dates of travel. If you wish, we can book the train tickets from Xining to Lhasa for you, and you can pick them up from the station when you get there.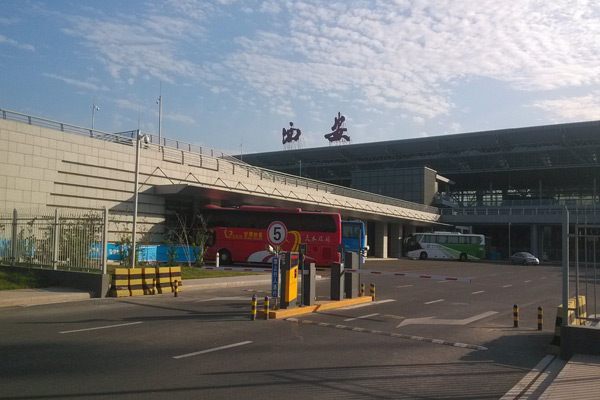 Xianyang International Airport
There are more than 17 flights from Xi'an to Xining daily, from major airlines such as China Eastern, Sichuan Airlines, Shandong Airlines, China Southern, and many others. The flight to Xining takes around one and a half hours, and costs from US$89 for an economy, one-way ticket. It is always recommended to buy tickets online from reputable and recognized brokers, and look around for the best deals.
The main advantage of traveling via airplane to Xining and then taking the train from there is that you can save time on the trip, and as Xining is at an elevation of 2,275 meters, you can always spend a day there to help with acclimatizing to the higher altitudes. This can help to reduce the risk of altitude sickness. Moreover, as most of the spectacular scenery is on the train from Golmud (where the train starts its ascent to the Qinghai-Tibet Plateau) you would not be missing any of the best parts of the train journey.
Let's Start Your Hassle-free Tibet Train Tour with Us!
From handling and delivery of your Tibet Travel Permit to sorting out the details like itineraries, hotels and booking the Tibet train tickets and flight tickets, we care deeply about your ideas and work 24/7 to ensure you a worry-free and pleasant travel.
Enquire Now
Contact Us for Your Dream Tour Now
Your are enquiring for
Xian to Lhasa Train
Price from
Price upon Request