Thanks to the birth of Tibet train (or Qinghai-Tibet Railway), travelling to Tibet nowadays becomes ultra-convenient and much safer than before. No more worry about the expensive and unpunctual flight; forget about the perilous and lengthy road trip…
Just take your train ticket and lean back in the scenic Tibet train; as lofty snowy peaks, glittering alpine lakes and vast prairie unfold in your window view, the celestial ride aboard Qinghai-Tibet Railway would be a feast to your eyes before officially arriving in holy Lhasa.
As the sole official partner with China Railway, ChinaTibetTrain is your most reliable Tibet train tour operator. We guarantee Tibet train ticket and Tibet Permit and offer a variety of Tibet train tours to and from Lhasa. With frequent departure dates, our featured small group Tibet train tour covers your train ticket from Xining to Lhasa and facilities your travel with one-stop Tibet train service, highly efficient and hassle-free.
Besides small group tour, you can also leaf through China Tibet tours from other Chinese mainland cities to Tibet, like Beijing, Shanghai, Chengdu, Guangzhou, Xi'an, etc. below. You may also check extended tours to Nepal from Tibet and pick your favorite Tibet tour by themes.
Poplar Tibet Small Group Tours with Tibet Train Experience
Keen to begin your Tibet tour by having the essence of Tibet train journey? Then the following popular Tibet small group tours would be perfect for you. You will enjoy the highlights of Qinghai-Tibet Railway and love the epic alpine scenery and profound Buddhist history in holy Tibet.
As long as you book a small group tour, your Tibet train ticket (hard sleeper) from Xining to Lhasa and Tibet Permit are well-secured in the tour package. Travelling in a joyous group with around 10 overseas tourists, you will be taken great care by our Tibetan guide throughout the tour. We guarantee fixed departure, without the detour and random shopping.
Best Tibet Tours from Mainland China by Train
If you think our Tibet train tour only limited to Xining to Lhasa, then think again. As an official Tibet train tour operator and expert for China Tibet train tour, we have an intimate cooperation with local tour operator across China. You can easily visit fascinating cities like Beijing, Shanghai, Guangzhou, Chengdu, Xi'an, Guilin etc., and then take Tibet train bound for Lhasa. Or after your Tibet tour ends in Lhasa, we can arrange your train journey back to other Chinese mainland cities. You have full control of your destinations and can enjoy more tourist-friendly service. Just tell us your need, we would bring you a panoramic view of Chinese cities and Tibet.
Never Miss the Best Tibet Nepal Tour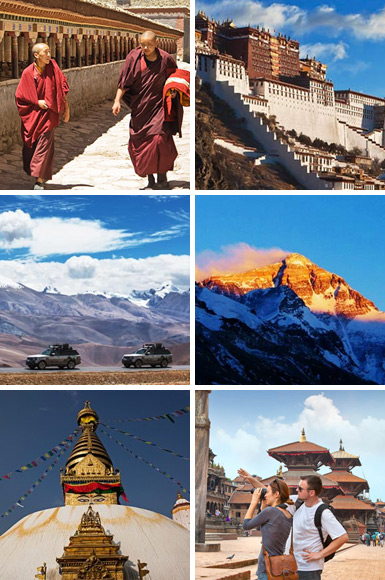 Each year, a great number of international tourists would choose to extend their Tibet tour further to Nepal through the famous Sino-Nepal friendship highway, or vice versa. Check the following popular Tibet Nepal tours run by our Tibetan and Nepali guides for years.
We offer you one-stop service for Lhasa to Kathmandu overland tour, as well as from Kathmandu to Lhasa. From Tibet permit to alien's travel permit, military permit, you can visit your favorite destinations easily and smoothly. Without forced shopping and random detours, you can either join our small group tour or customize your private tour, never miss the epic overland tour from Tibet to Nepal, and do it once and for all.
Most Recommended Lhasa Kathmandu Tour Itinerary:
View All Tibet Nepal Trips
Travel Tibet by Themes
When you only have a rough idea of Tibet travel, then why not do it in an easy way: choose your Tibet travel by theme. From the most popular EBC tour to the divine experience of 3-day Mt. Kailash kora and private cycling tours along Sino-Nepal friendship highway, and plenty of thrilling treks around Shigatse and Lhasa, etc. you can instantly pinpoint your ideal activities and work with our travel consultants to map out the detailed itinerary. Never settle for a mundane trip, we help you materialize your dreamed Tibet journey.