Who Are We
We are the only official partner with China Railway
Committed to bringing the most reliable and hassle-free Tibet train tour services to overseas travelers, ChinaTibetTrain.com (or "CTT") is the solely official partner with China Railway, selling Tibet train tickets and running China and Tibet tours via scenic Tibet train journey.
We Promise 100% Guarantee for Tibet Train Tickets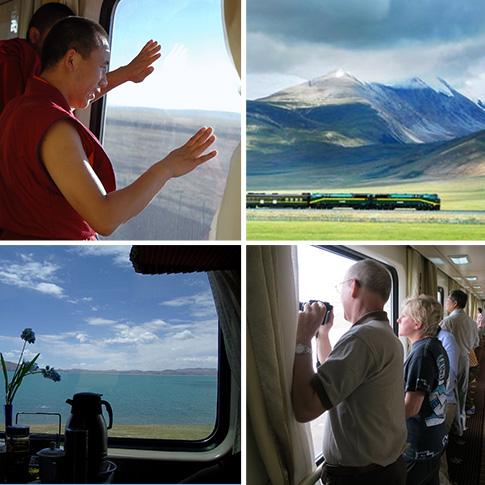 Why Book Train Ticket with Us
As the only official partner with China Railway, we place two head offices in Xining and Lhasa, since Xining-Lhasa train lies the highlights of Tibet train journey. Such advantages allow us to nail your train ticket even if it's in high season of Tibet tour.
On top of that, years of China Tibet train tour running experience helps us to forge a strong alliance with local tour operators across China. Thanks to that, we can ensure a smooth travel to other top-rated tour destinations like Beijing, Shanghai, Xi'an, Chengdu, etc, before you officially head to Tibetan Plateau via Tibet train journey.
Besides, ChinaTibetTrain.com is also the only official platform for releasing Tibet train news to overseas tourists. Latest moves of Tibet train booking and news are uploaded to our website on a daily basis. You can easily check the up-to-date train schedule, ticket price and Tibet train travel routes from major gateway cites of China.
How to Book with Us
After sending your online enquiry to us, our professional travel consultants will have a thorough discussion with you and work out a feasible tour itinerary in your best interest. Once confirm your inquiry, make the payment.
It is better to book your Tibet railway tickets 3 to 6 months in advance, especially for travelling Tibet by train in peak season along the popular routes. The tickets for Qinghai-Tibet Railway are always sold out as soon as the reservation opened in summer holidays and the national holiday in early October.
You can either get your train ticket yourself at the ticket window at the railway station by showing your original passport or inform our staff to collect your ticket and deliver it to your hotels in person. Our travel consultant will inform you the details in both ways.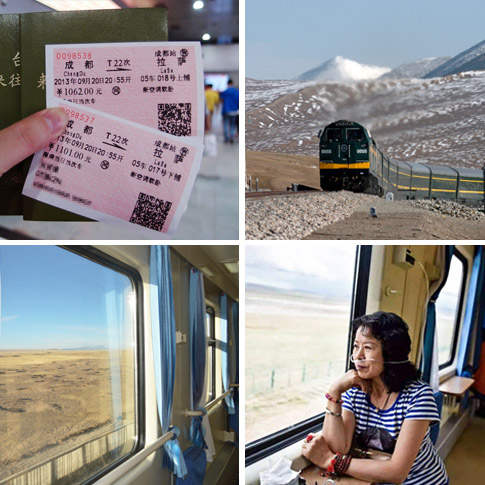 We Offer Hassle-free Tibet Train Tour with Multiple Travel Services
Besides Tibet train ticket booking service, a wide range of tourist-friendly services and solutions are also readily available.
Tibet Tour Packages
From handling and delivery of your Tibet Permit to sorting out the details like itineraries, hotels, etc. we care deeply about your ideas and work 24/7 to ensure you a worry-free and pleasant travel.
From budget travelers, to family tour, couples, and professionals like photographers, mountaineers, railfans, you will find a right tour in Tibet, just to your needs.
Apart from the must-visit attractions in Tibet, we take you to visit local Tibetan families and enjoy traditional Tibetan cuisines and join their farm work. If you opt for off-the-beaten-tracks in Tibet or diverse outdoor activities like cycling, trekking, motor biking or self-driving , etc, we can also manage to meet your needs. Our seasoned Tibetan guides will be your best company for alpine lakes photo shooting, EBC trekking, Mt. Kailash kora, etc.
Trips to China, Tibet and Beyond
Our tourist-friendly services go far beyond selling Tibet train ticket.
Shortly after you land in China, we can help you arrange tours in top visited cities across China, before you officially board Tibet train to Tibet. By weaving hottest cultural and historical destinations like Beijing, Shanghai, Xi'an, Chengdu, Kunming, etc, with Tibet, we can optimize your China Tibet tour.
If you prefer, in-depth Tibet Nepal tours covering the best of Himalayan regions is also manageable with years of tour running experience.

Our Philosophy
You decide how to have fun, then the rest is for us.
1

We Make it Easier for Your Travel

From Tibet train ticket booking to Tibet travel permit application, covering every detailes of your dream tour, we can handle all the things for you. A hassle-free trip to Tibet, China and even far beyond will start after your first mail to us.
2

We Bring You to See the Real Tibet with Your Own Eyes

Giving full freedom to our clients is one of the core values of how we run the tours. Also, how to present the real Tibet is what we concern most.

Our professional travel consultants will have a thorough discussion with you and work out a feasible tour itinerary in your best interest.

Whether you are budget travelers, couples, or professionals like photographers, mountaineers, railfans, you will find a right tour, just to your needs.
3

We Provide the Most Comprehensive Guide about Tibet Train Tour

It is not difficult to find kinds of information about the popular Tibet train journey online, but how to figure out which is the latest one and which is out of time? Here is the right place for you to get all the updated and ultimate guide about the train to Tibet as well as the trip to Tibet. We keep the Train schedules online updated and offer the most detailed guide about the life onboard and every aspect of how to plan your train tour to Tibet. And we are recommended by Lonely Planet, the world top travel guidebooks.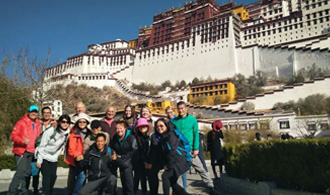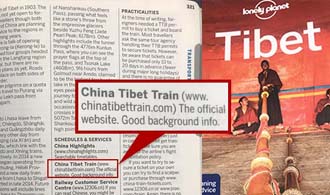 Why Take Train to Tibet
See the real reviews from former customers who took the train to Tibet with us.
Highest Railway in the World
"The scenery is ever-changing and the highest point was about 5,000 metres. It was a delightful way to reach Lhasa."
By Jennefer from Australia
Once in a life time...and a must for any traveler.
"The journey is of epic proportions, with views of high plans, glaciers, 7,000m mountains and with a scattering of remote villages, once the train starts to climb from Golmud. Life on the train soon settles down after leaving Beijing...and most passengers spend the day sleeping and looking out the window."
By Paul from UK
Once in a life time trip!
"I traveled in a soft sleeper by myself. The bed and the environment were comfortable. I was glad to have met great friends among my roommates. The view was breathtaking. "
By Lesliu from California
A train that prepares you to high attitude and shows an ever changing landscape
"It is the best transportation to reach Lhasa in high altitude. A cabin of 4 beds are comfortable and clean in first class. Chinese meals served at cost in the train are OK. Soft drinks and biscuits are also available in the train."
By Khamsay from Australia
ADVENTURE
"The highest train of the world! Start from Xining 2295 meters, Kulun Mountain 4767, Tanggula pass 5072, then Lhasa 3658. A very special experience following the GOBI desert then the high Tibetan plateau with snow end of May. Magic landscapes. You travel with Tibetan people or Chinese tourists coming from Canton or Beijing."
By Gabriel from France
Interesting
"We were traveling to Tibet and decided to take the train from Xining to Lhasa. It was for sure a right decision. It takes around 22 hours to reach Lhasa. We booked place in wagon where you have soft beds which was also quite helpful. They serve dinner and breakfast in the train. Dinner surprised us positively, food was delicious. We skipped the breakfast. Traveling by train was also a good decision in terms of adapting to altitude. We had almost no headache at arrival in Lhasa."
By Aytun from the United States
44 hours in a blink!
"The trans-century project really amazes me. Thanks to my travel agent who managed to get the soft sleeper coach.4 occupant in the room, 2 frequently cleaned shared toilets, no shower. O2 supplied in the entire coach.
The train stopped for 5-15 minutes in every stops. Scenery is magnificent, such as sunset in Qinghai lake, with nomads at the lakeside, snow mountain, and flocks of sheep/yak/Tibetan antelope."
By Jacqueline from Malaysia
An unusual way to reach Tibet
"We spent 24 hours on this train. You can enjoy breathtaking views without ending. The plateau of Tibet is just huge with its yaks, lakes and mountains. We spent most of the time in the restaurant wagon, because the compartment with 6 or 8 beds are really small. If you need oxygen support, it is possible, because the train reaches an altitude of more than 5400m."
By Zwillingsseele from Germany
Comfortable sleeper train ride
"Took an overnight train ride from Xining to Lhasa. The travel at night was pretty good. We slept well. Hopefully the oxygen level were emitted as we expected low oxygen level as the train ride uphill. Woke up in the morning with a rewarding view of snow capped mountains against the lakes and rivers. Food vender selling their stuff regularly and you never go hungry. The train arrived at Lhasa and a bug warm welcome by our guide with Tibetan style. One great train ride, worth it."
By HongSiong from Singapore