Golmud, or Geermu, is a city on the Qinghai-Tibet Railway to the west of Xining, in Qinghai Province. It is the start of the climb from lower elevation Golmud to the high altitude Qinghai-Tibetan Plateau, the Tanggula Pass. It is also one of the main stations along the 1,956km-long railway from Xining to Lhasa. There is no direct train starting from Golmud to Lhasa, so passengers alighting there must catch one of the trains passing through.
Trains travel to Lhasa from seven cities in China, the main station being the starting point of the Qinghai-Tibet Railway in Xining. Passengers from Golmud can board any of the trains that stop at Golmud station, as long as there are seats available. While sleeper carriages in most trains would be fully booked, there is a fair chance of getting a hard seat ticket. If nothing else is available, and you can obtain a "standing" ticket, you may stay in the dining car for the whole trip to Lhasa.
Golmud possesses some of the largest resources of natural minerals in China, including potassium, magnesium, salt, zinc, and lead, as well as natural gas reserves of around one trillion cubic meters, enough to run industry in China for over a decade. The area also holds large resources of gold, copper, jade and precious stones, making it an important city for mineral resources.
2020 & 2021 Golmud Lhasa Train Schedule
| Train No. | From / To | Dep. / Arr. | Duration | Distance (km) | Frequency | Hard Sleeper Ticket | Soft Sleeper Ticket |
| --- | --- | --- | --- | --- | --- | --- | --- |
| Z165 | Golmud/Lhasa | 04:34/18:25 | 13:51 | 1,142 | Daily | CNY358.5 | CNY564.5 |
| Z21 | Golmud/Lhasa | 22:35/12:20 | 13:45 | 1,142 | Daily | CNY358.5 | CNY564.5 |
| Z223 | Golmud/Lhasa | 19:45/09:55 | 14:10 | 1,142 | Every Other Day | CNY358.5 | CNY564.5 |
| Z323 | Golmud/Lhasa | 19:45/09:55 | 14:10 | 1,142 | Every Other Day | CNY358.5 | CNY564.5 |
| Z917 | Golmud/Lhasa | 21:13/11:14 | 14:01 | 1,142 | Every Other Day | CNY358.5 | CNY564.5 |
| Z6801 | Golmud/Lhasa | 21:13/11:14 | 14:01 | 1,142 | Every Other Day | CNY358.5 | CNY564.5 |
| Z265 | Golmud/Lhasa | 02:57/16:19 | 13:22 | 1,142 | Every Other Day | CNY358.5 | CNY564.5 |
Please Note:
1. Timetable and schedule are just for reference. When you make an early reservation, please contact us for more details.
2. If no trains depart on your preferred date, you can choose to take a flight from Golmud to Lhasa or wait for the next day.
Why Take Tibet Train from Golmud?
Golmud is a city built around the mining industry. Mining for natural resources such as salt and magnesium is the main industry in the area, and the city offers little in the way of tourism. However, it has some spectacular natural features that make it worth a visit.
Just 60km to the northeast of the city lies Qarhan Salt Lake, the largest inland salt lake in the world, with an area of 5,856 square kilometers, and to the east lies Qinghai Lake. The area is rich in wildlife, and an ideal place to enjoy the landscape of the region.
The Kunlun Mountains lie to the south, their snow-capped peaks clearly visible from the city, and the Kekexili National Nature Reserve is to the southwest. The reserve covers an area of around 45,000 square kilometers and is set to become the newest UNESCO world heritage site in 2017.
It encompasses China's largest area of uninhabited land and has an average elevation of 4,600 meters. This remote nature reserve is home to over 200 species of wild animals, many of which are now endangered species, such as the Tibetan antelope.
Besides, Golmud is rich in water resources, and the headstream of Yangtze River is just originated from the glacier on the southwest side of the Geladandong ice peak in outskirts of the city.
While this remote, uninhabited area is barren and harsh, it is one of the most amazing landscapes in the world.
Golmud Lhasa Train Ticket
Soft Sleeper Train Ticket: 564.5 CNY
Hard Sleeper Train Ticket: 358.5 CNY
What's the difference between the Soft Sleeper and the Hard Sleeper?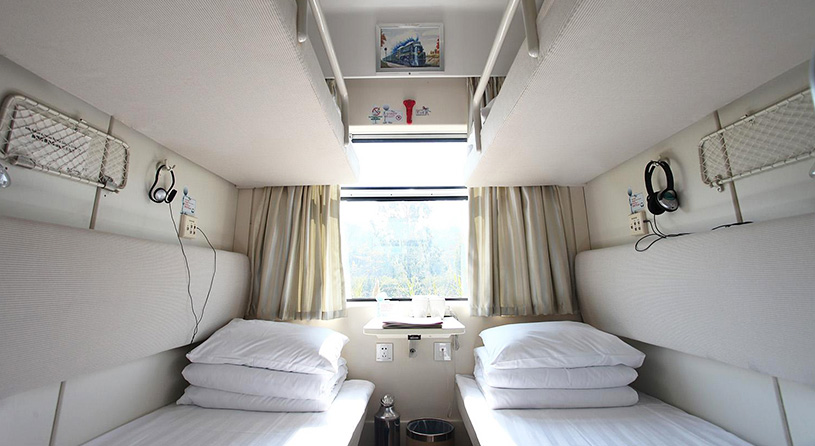 Soft sleeper on Tibet train is provided with 4 berths in each cabin.
There are two kinds of sleeping berths on Tibet trains. For soft sleeper wagons, there are four beds, which are wider and softer than those in hard sleeper wagons, in a compartment with a door to keep a quiet environment. In a hard sleeper carriage, there are six beds in a compartment with three on each side and no doors.
For those who care about privacy and the comfort of a journey, the soft sleeper cabin is the best choice. For those who are eager to experience the real life of the locals and don't care too much about the living situation, the hard sleeper cabin, at a cheaper price, is the best choice.
How to Book the Golmud Lhasa Train Ticket?
If you book your train ticket with us, in some case, we will send the train ticket to your address in mainland China or our local staff will give the ticket to you at the railway station. In other cases, we will give you a booking number, so you can collect your ticket at the train station yourself, by showing them the booking number, your passport, and Tibet Travel Permit.
How to Collect the Lanzhou Lhasa Train Ticket?
If you book your train ticket with us, in some case, we will send the train ticket to your address in mainland China or our local staff will give the ticket to you at the railway station. In other cases, we will give you a booking number so you can collect your ticket at the train station yourself, by showing them the booking number, your passport, and Tibet travel permit.
Please arrive at your railway station at least two hours before the departure of the train, so that you can have enough time to collect your train ticket.
Get Your Tibet Travel Permit in Advance!
To collect your Tibet train ticket, you need to show the Tibet Travel Permit. Apply your Tibet travel permit and train ticket together with us, a real hassle-free Tibet train tour is one click beyond.
Apply for Tibet Permit Online
Golmud Lhasa Train Route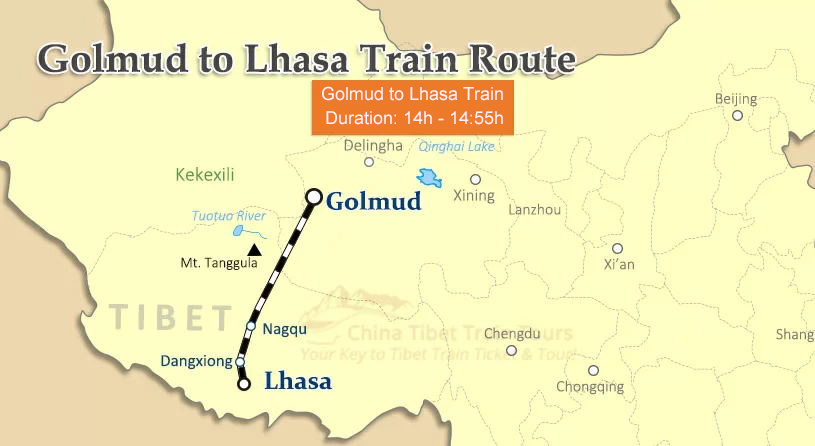 Golmud Lhasa Train Route Map
View changes quite a lot outside the window after the train leaves Golmud station and heads for Lhasa. From Golmud, the most beautiful on-the-way scenery gets started. Looking afar into distance, you may get excited and find the train is running just by the Qinghai Lake. The sparkling lake surface, fields of rape flowers and the expansive landscapes will definitely leave you a great impression and become expectant to the surprises this wonderful train journey will provide.
From Golmud, the train begins to make a steep climb until it reaches to the Kunlun Mountain Range at the provincial border of Qinghai and Tibet on the Plateau, ascending all passengers to the Mountain Pass which is 4,772 meters above the sea level. The terrain levels out a bit and gets a slight elevation drop before it continues to start its second climb to the world's highest railway station, the Tanggula station.
Built far isolated from any big cities on the altitude of 5,231 meters, Tanggula Station is never a station for a longer stay. The tundra chilliness drives away almost all the living things and the expansive landscapes with endless bleakness and the rounded snow-clad mountain peaks are really stunning when sighted from your comfortable soft sleeper cabin on the train.
Despite there is a viewing point at the station, due to the high altitude and thin air, trains seldom make a temporary stop at Tanggula station, rather it starts to speed for Lhasa with a stable and continuous downhill after passing by the Station.
Tips:
1. If it is at night when your train is passing by Tanggula Railway Station, and you can hardly see the views outside, you can resort to the altitude indicator on the train to get know your place.
2. Don't get too excited when the train is crossing the world's highest railway station. Failing to control your emotions may possibly suffer from mild altitude sickness which makes you have no mood appreciating the large grassland with yaks, sheep, and nomads when the day breaks in the early morning.
The train is heading directly to Lhasa after passing Nagqu railway station. Along this section, the train is passing closely by the stunning Namtso Lake and speeding among Nyenchen Tanglha Mountains. You can find expensive prairies, local houses, and residents. Follow the Lhasa valley, the train eventually finds its way down to Lhasa railway station.
Can we get off the train at a certain station and then get onboard another train to Tibet after one or two days with the same ticket?
No, you'd better not to do that. If you want to spend some days in other cities along the railway before arriving in Lhasa, you need to buy different train tickets for different sections.
You can get off the train to stretch your legs or buy some local snacks at the platform when the train makes a temporary stop at certain stations. But you need to get back to the train in time before it leaves. Generally, it only makes a stop for a few minutes at each station.
Is there any sharp altitude change along the Golmud Lhasa Railway? Is it possible for the old or the young to board the train from Golmud to Lhasa?
It is common knowledge that spending a day or two at lower intermediate altitudes of around 2,500 to 3,000 meters can help with reducing the risk of altitude sickness once you arrive in Tibet.
The train, however, is actually no much difference to a flight when it comes to reducing the risk of altitude sickness in Lhasa. Flights are pressurized so that the cabin pressure of an aircraft is always that of the barometric pressure at sea level. So, when you get off the flight in Lhasa, the change in air pressure and the reduced oxygen content of the air means that there is a risk of feeling the symptoms of altitude sickness, due mainly to the drastic change in air pressure.
The trains to Tibet all have the oxygen supply system to pump oxygen into the cars, as well as having oxygen outlets for personal use if you are feeling a little sick during the trip. The oxygen pumps start at Golmud, as the train starts its steep climb to the plateau, reaching more than 5,000 meters within just a few hours. The oxygen pumped into the train means that the oxygen content of the air is close to that of sea level, almost the same as that of an aircraft.
If you are traveling by train, and want to acclimatize a little before reaching Lhasa, the best option is to stop for a day or two in Xining, at an altitude of around 2,275 meters, which is an ideal elevation in which to acclimatize before heading on to Lhasa. While there is no guarantee that you will not get altitude sickness once in Lhasa, the stop in Xining can help to reduce the risk of feeling the symptoms.
Giving tips about how to prevent or deal with the mild altitude sickness on the train
Don't worry about the altitude sickness onboard. There are two kinds of oxygen supply systems on each train to Tibet, which will pump the oxygen to the air during the section between Golmud and Lhasa.
Also, there is a doctor on each train. If you feel uncomfortable, please ask them for help, or contact your 1-on-1 travel consultant immediately.
About Golmud Railway Station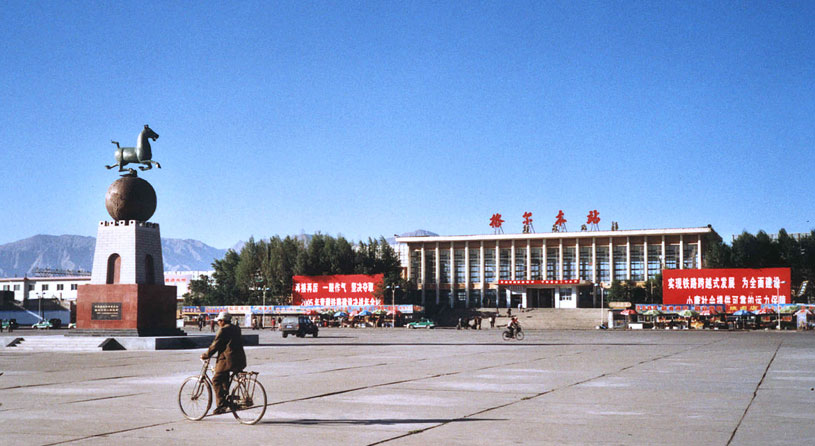 Golmud Railway Station
Golmud Station is one of the stations on the Qinghai-Tibet Railway, and a brief stopping point for all the trains traveling to Tibet. After passing Golmud, the trains climb from 2,780 meters to over 4,000 meters within 100km, going up to the Kunlun Mountains. Golmud is the point where most trains will start supplying additional oxygen to the carriages, as they climb to the dizzying heights of the Qinghai-Tibetan Plateau.
Situated to the south of the city, the station is a modern building, completed in 1979, and is convenient for travelers coming from the city to get to. Taxis from downtown to the station only cost the initial rate, and there are a few local buses that pass by the station.
While all the trains stop at Golmud - and there are 17 trains that pass through each day - passengers to Lhasa may not get off there and catch a later train. If the city is not the arrival city listed on your ticket, you will not be recommended to leave the station, so if you want to visit, you need to get a ticket direct to Golmud.
How to Avoid High Ticket Demand?
While there are times when it is possible to get tickets from Golmud, it is more likely that tickets will be unavailable. In those cases, you can take a connecting train to Xining, where you will have a much better chance of getting tickets for your required dates of travel. If you wish, we can book the tickets from Xining to Lhasa for you, and you can pick them up from the station when you get there.
There are two trains that leave Golmud for Xining each day, and the fare is relatively cheap. There is also an option to catch a ticket for one of the passing trains from Lhasa to Xining, and beyond. This may not always be possible in the peak months though. While this may seem like taking one step back to take two steps forward, it is a favorable option when tickets from Golmud are hard to come by.
Most Recommended Tibet Train Tour via Golmud
Get travel ideas from our popular Golmud Tibet Tours by train. No matter what you want to exprience - a classic trip to Lhasa, a lifetime camping at the Everest Base Camp, or the holy kora around Mount Kailash, you can find something suitable for you here. Today, coming and starting your Tibet tour with us, you will lose a chance to regret.
Check more Tibet Train Tour Packages from Golmud
Let's Start Your Hassle-free Tibet Train Tour with Us!
From handling and delivery of your Tibet Travel Permit to sorting out the details like itineraries, hotels and booking the Tibet train tickets and flight tickets, we care deeply about your ideas and work 24/7 to ensure you a worry-free and pleasant travel.
Enquire Now
Contact Us for Your Dream Tour Now
Your are enquiring for
Golmud to Lhasa Train
Price from
Price upon Request