Golmud to Lhasa Train Book
Golmud, or Geermu, is a city on the Qinghai-Tibet Railway, to the west of Xining, in Qinghai Province. It is the start of the climb from lower elevation to the high altitude Qinghai-Tibetan Plateau, and one of the main stations along the 1,956km-long railway from Xining to Lhasa. There is no direct train starting from Golmud to Lhasa, so passengers alighting there must catch one of the trains passing through.
Trains travel to Lhasa from seven cities in China, the main station being the starting point of the Qinghai-Tibet Railway in Xining. Passengers from Golmud can board any of the trains that stop at Golmud station, as long as there are seats available. While sleeper carriages in most trains would be fully booked, there is a fair chance of getting a hard seat ticket. If nothing else is available, and you can obtain a "standing" ticket, you may stay in the dining car for the whole trip to Lhasa.
Golmud possesses some of the largest resources of natural minerals in China, including potassium, magnesium, salt, zinc, and lead, as well as natural gas reserves of around one trillion cubic meters, enough to run industry in China for over a decade. The area also holds large resources of gold, copper, jade and precious stones, making it an important city for Chinese resources.
Golmud to Lhasa Train Ticket Online Booking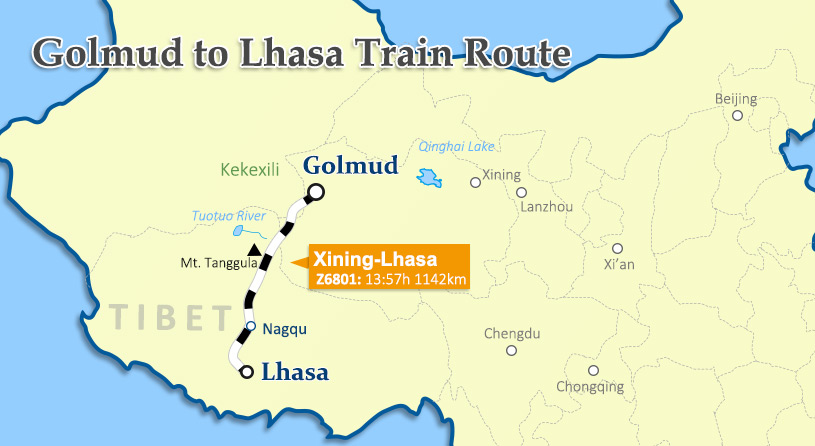 Golmud Lhasa Train Ticket Price & Online Booking
Train No.
From / To
Dep. / Arr.
Duration
Distance (km)
Frequency
Hard Sleeper Ticket
Soft Sleeper Ticket
Z6801
Golmud/Lhasa
21:13/11:10
13:57
1,142
Every Other Day
CNY358.5
CNY564.5
Z6802
Lhasa/Golmud
08:50/23:25
14:35
1,142
Every Other Day
CNY358.5
CNY564.5
Book the Train Now
Note:
1. The prices above are only the net prices of Tibet train tickets. The market prices of Tibet train ticket are usually subject to change according to your travel date. Please contact us for exact cost of Tibet train tickets on your preferred departure date.
2. Due to the limited tickets supply, it is better to make reservation 3-6 months in advance, especially in peak seasons.
3. The Golmud to Lhasa railway stretch is the most scenic out of any other stretch. Expect to see wild landscapes, yak, antelopes, and Tibetan trekkers out through the window.
Most Recommended Golmud Tibet Train Tours
2017 & 2018 Golmud to Lhasa Train Schedule
Train No.
From / To
Dep. / Arr.
Duration
Distance (km)
Frequency
Hard sleeper Ticket
Soft Sleeper Ticket
Z265
Guangzhou to Lhasa
03:02/17:05
14:03
1142
Every Day
CNY358.5
CNY564.5
Z6811
Xining to Lhasa
03:55/18:10
14:15
1142
Every Day (Seasonal)
CNY358.5
CNY564.5
Z165
Shanghai to Lhasa
04:35/19:20
14:45
1142
Every Day
CNY358.5
CNY564.5
Z323
Chengdu to Lhasa
19:49/09:55
14:06
1142
Every Other Day
CNY358.5
CNY564.5
Z223
Chongqing to Lhasa
19:49/09:55
14:06
1142
Every Other Day
CNY358.5
CNY564.5
Z6801
Xining to Lhasa
21:13/11:10
13:57
1142
Every Other Day
CNY358.5
CNY564.5
Z917
Lanzhou to Lhasa
21:13/11:10
13:57
1142
Every Other Day
CNY358.5
CNY564.5
Z21
Beijing to Lhasa
22:30/12:10
13:40
1142
Every Day
CNY358.5
CNY564.5
Why take Tibet train from Golmud?
Golmud is a city built around a mining industry. Mining for the natural resources such as salt and magnesium is the main industry in the area, and the city offers little in the way of tourism. However, it has some spectacular natural features that make it worth visit.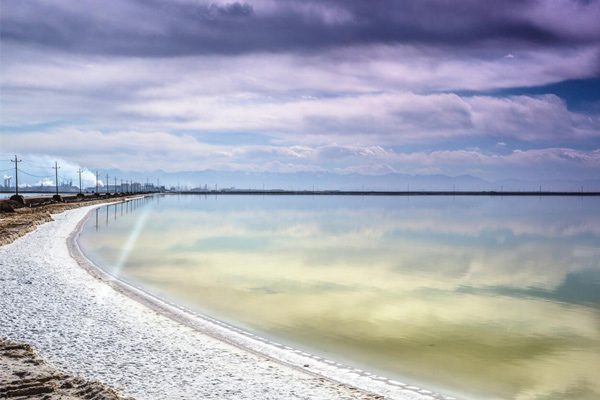 Qarhan Salt Lake
Just 60km to the northeast of the city lies Qarhan Salt Lake, the largest inland salt lake in the world, with an area of 5,856 square kilometers, and to the east lies Qinghai Lake. The area is rich in wildlife, and an ideal place to enjoy the landscape of the region. The Kunlun Mountains lie to the south, their snow-capped peaks clearly visible from the city, and the Kekexili National Nature Reserve is to the southwest. The reserve covers an area of around 45,000 square kilometers, and is set to become the newest UNESCO world heritage site in 2017. It encompasses China's largest area of uninhabited land, and has an average elevation of 4,600 meters. This remote nature reserve is home to over 200 species of wild animals, many of which are now endangered species, such as the Tibetan antelope. While this remote, uninhabited area is barren and harsh, it is one of the most amazing landscapes in the world.
Golmud Train Station
Golmud Station is one of the stations on the Qinghai-Tibet Railway, and a brief stopping point for all the trains traveling to Tibet. After passing Golmud, the trains climb from 2,780 meters to over 4,000 meters within 100km, going up to the Kunlun Mountains. Golmud is the point where most trains will start supplying additional oxygen to the carriages, as they climb to the dizzying heights of the Qinghai-Tibetan Plateau.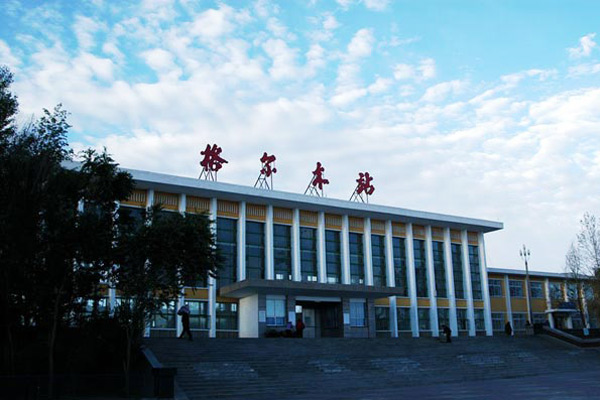 Golmud Train Station
Situated to the south of the city, the station is a modern building, completed in 1979, and is convenient for travelers coming from the city to get to. Taxis from downtown to the station only cost the initial rate, and there are a few local buses that pass by the station.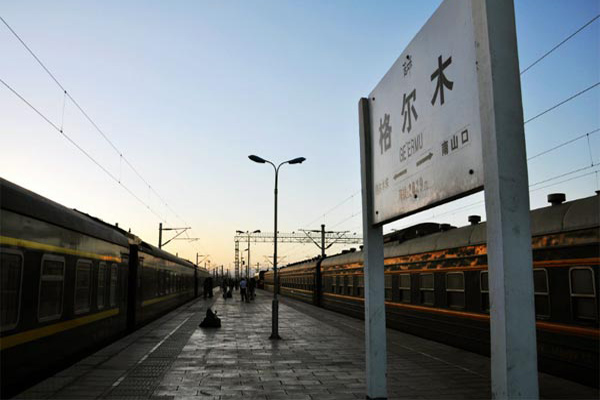 Golmud Train Station platform
While all the trains stop at Golmud - and there are 17 trains that pass through each day - passengers to Lhasa may not get off there and catch a later train. If the city is not the arrival city listed on your ticket, you will not be allowed to leave the station, so if you want to visit, you need to get a ticket direct to Golmud.
Traveling on the Golmud-Lhasa Train
Since there is no train that starts in Golmud, you would need to travel on one of the trains passing through. This can prove problematic in the peak season, as most trains are fully booked before leaving Xining. However, there is a possibility of getting a hard seat or standing ticket, though this is not recommended. It is a long way to Lhasa from Golmud, around 1,142 kilometers, and the hard seats can get very uncomfortable over the thirteen hours of travel.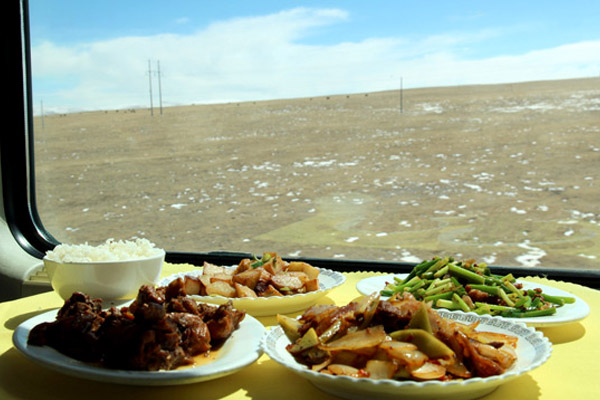 Meals offered on Golmud-Lhasa Train
The train offers meals at meal times in the dining car, and a selection of both Tibetan and Chinese dishes on the buffet trolley. There are many different dishes on offer, and there should be something available to suit almost all tastes. During the stretch from Golmud to Lhasa, the staff will announce upcoming points of interest for passengers in Chinese, Tibetan, and English, and give a short explanation of the sights and what to look out for.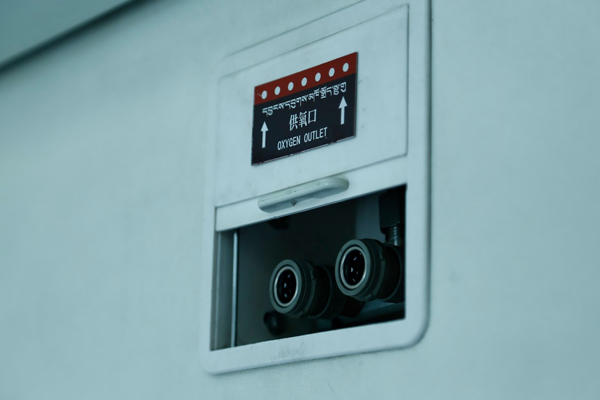 Oxygen outlet in soft sleepers of Golmud-Lhasa Train
Oxygen is available in the soft sleepers and the train's corridors in case of altitude sickness during the latter part of the journey, and oxygen tubes can be obtained from the train staff. There is also a medical cabin on the train with a doctor and nurses to treat any ailments along the route.
Travel to Xining – an Option to Avoid High Ticket Demand
While there are times when it is possible to get tickets from Golmud, it is more likely that tickets will be unavailable. In those cases, you can take a connecting train to Xining, where you will have a much better chance of getting tickets for your required dates of travel. If you wish, we can book the tickets from Xining to Lhasa for you, and you can pick them up from the station when you get there.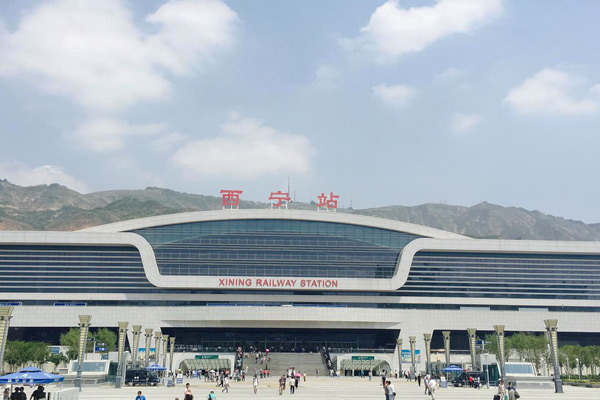 Xining Train Station
There are two trains that leave Golmud for Xining each day, and the fare is relatively cheap. There is also an option to catch a ticket for one of the passing trains from Lhasa to Xining, and beyond. This may not always be possible in the peak months though. While this may seem like taking one step back to take two steps forward, it is a favorable option when tickets from Golmud are hard to come by.