Tibet Train Soft Sleeper
Known as the one of the best first class cabins in the world, Tibet Train sleeper cabins offers you their best and comfortable services to their passengers. There are 2 sleeper cars having 64 compartments in each train running to Tibet. Each compartment has 4 sleeping beds- 2 on lower berth and 2 on upper berth. Also there is a door closed for private compartment.
Among all types of tickets, soft sleeper ticket is the highest priced ticket. It is also called the "first class". It has 12 compartments, each with private lock. The berth is 190cm in length and 75cm in width. The space in between the right and left berths is nearly 50cm. An outlet for oxygen and one reading light which will give you pleasure while you are onboard. Don't worry about the altitude sickness as the journey is very comfortable and effective.
What is the soft sleeper berth look like?
The soft sleeper berth on Tibet trains is a single settled berth equipped with beddings of extremely soft materials and is found in a few carriages of the train. Sleepers are like steel beds fixed on a shelf and are strong enough to bear weight up to 300kg.
The lower berths in soft slpper cabin
In each soft sleeper cabin, there are two lower berths and two upper berths. Lower berths are better in convenience and comfort for the passengers as it is easy to get off and get into the beds. Also the berths lie near the window, so that the passengers may enjoy the outside scenic beauty even by lying on upper berths. If you have lower berth with you, some other passengers may come and sit there during daytime, but an upper berth has more privacy and is also cheap in price.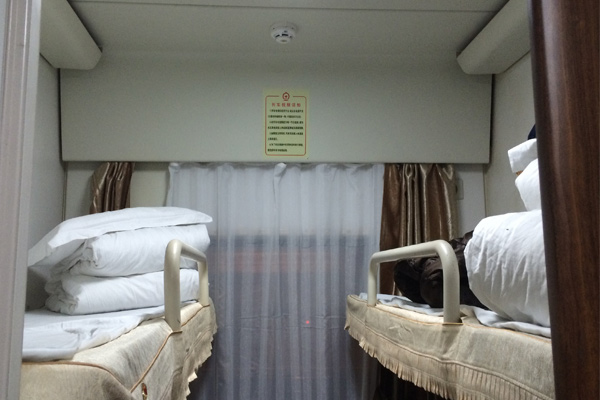 The upper berths in soft slpper cabin
Each of these sleepers has a number starting from 1 and is up to 36. Upper bunks are numbered even while lower bunks are numbered odd. While travelling with friends, don't forget to tell the conductor that all of you need to stay in same compartment.
How about the whole soft sleeper cabin?
Your compartment will be furnished with a small sized table and 4 beds. Each compartment is 70 square feet in area. The berths are quite spacious and wide. You will be provided with good quality sheets, pillows and quilts. Along with that there is a small table and a tray, trash can and a vacuum flask for retaining heat lie on it. There is a plug under that table, so that you may get regular power supply for charging your mobile phones and laptops.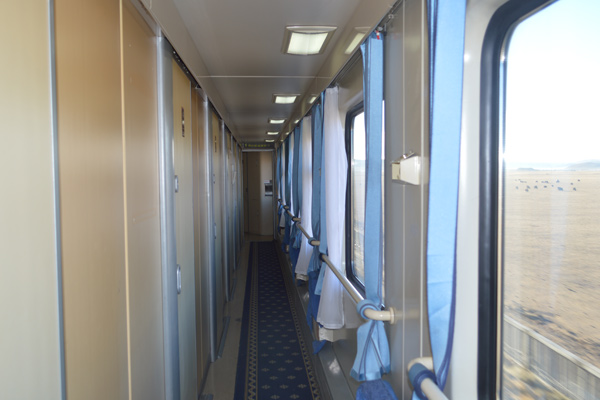 The soft sleeper cain corridor on Tibet trains
There you will also find a small television set fixed at the door, playing only some local programs. You will also find an oxygen outlet near the window. At night you may have the pleasure of reading as the compartment has reading lights too. Also there are disposable sleepers in the carriage for passengers. Foldable seats are provided outside your compartment which will allow you to have a view of outside.
Oxygen outlet in soft sleeper car
For dealing with low oxygen level at high altitudes, you will find an oxygen supply facility there. Two sets of oxygen supply system on Tibet trains are there in each cabin for emergencies. The train offers two sources of this life saviour gas in such an environment where pressure is under tight control. One is for increasing the content of oxygen especially when the train reaches the high plateau area. The other one is supplied directly to the passengers with the help of independent ports placed in each of their cabins.
Also, there are tubes and masks for oxygen supply in case of emergency. In the high plateau zone, more oxygen is supplied to the cabins through a special climatic control system which eliminates the chances of altitude sickness while travelling in the train.
Where to put luggage in my soft sleeper cabin?
You will have a wide and large luggage closet at the top of the door which is 20 inches in width and 16 inches in height. All your small suitcases and luggage will be placed there. For heavy luggage, there is enough space below your lower berth.
Video of Where to Store Your Luggage in Soft-sleeper Cabin on Tibet Trains
Is there any private bathroom in my soft sleeper cabin?
There is no private bathroom in each soft sleeper cabin. There are two toilets in each sleeper carriage, one on left and other on right end. Both squat toilets and western toilets are available there. Bring your own toilet papers. Also there you will find toilets for people with disabilities if any.
Near the toilets, you will find a washing area. Both cold and hot water are well supplied. You will not be provided toiletries on train. A mirror is also placed there. Since there is no bathroom for passengers to take a shower, you can bring some wet wipes with you onboard.
Can I Take a private soft sleeper cabin for 2 people?
Yes, you can book the whole cabin for you two, but there is actually no cabin made for two people. Payment has to be made for all 4 sleeper beds. Since it is quite hard to occupy the whole cabin in peak season for the short supplement and large demands of Tibet train tickets, please contact us for the exact cost according to your travel date.
How to book a Tibet train ticket for a soft sleeper berth?
Make an early reservation
You are recommended to have an early reservation of at least 3 to 6 months because of the limited supply, especially in peak season.
Take the train from Lhasa instead
Beijing, Shanghai and Chengdu are the first stoppage for majority of foreigners and are also regarded as the most popular gateway cities of Tibet. Sometimes, even you made the early reservation, there is still no guarantee that you will get a soft sleeper ticket. For securing your travel, there is an alternative plan. Rather than taking the train to Lhasa, you can take a Tibet train from Lhasa to your next destination. The scenery along the way is the same, and you can have more chances to get a soft sleeper train ticket.
Tips for travelling through soft sleeper trains
1.You must have a Tibet Travel Permit before you board the train to Tibet. The permit will be check at the departure train station.