Tibet Train Soft Sleeper
If you are seeking a comfortable train experience to Tibet, or want to enjoy more privacy with your families or friends onboard, the soft sleeper on Tibet trains will be the optimum choice to take.
Known as the first cabin on Tibet train, the soft sleeper gains great popularity among a number of passengers owing to its useful facilities and pleasing environment.
Different from the hard sleeper cabin, each soft sleeper cabin is provided with only 4 sleeping beds - 2 lower berths and 2 upper berths. Also there is a door closed for the private compartment, ensuring more privacy and quietness.
In addition to oxygen supply systems specially designed to each Tibet train, you will also have larger luggage space to store your suitcase or luggage, even though there is no private bathroom in each cabin.
Since there are only 2 sleeper carriages with 64 berths in each train running to Tibet, it is strongly recommended to book your soft sleeper train ticket as early as possible, in case you will miss the one you prefer for your travel date.
As a trustworthy travel operator, we can help to get your soft sleeper train ticket as long as you book your Tibet tour with us. Besides, we will also help to obtain the Tibet Travel Permit, which is required for check before you board the train.
For more information, just follow our ultimate guide below to find out what does the Tibet train soft sleeper look like, and how to get a Tibet train ticket for soft sleeper berth, as well as more details and ready-to-use tips for your Tibet train journey with soft sleeper experience.
Soft Sleeper Cabin on Tibet Trains
Each Tibet train is provided with 2 soft sleeper carriages with 64 berths. Each cabin is 70 square feet in area, containing 4 soft sleeper berths in total. The berth is quite spacious and wide, being 190cm in length and 75cm in width. And the space between the right and left berths is nearly 50cm.
Upper berth and lower berth
In each soft sleeper cabin, there are two lower berths and two upper berths. The lower berth has more spare, being 90 cm in height while the upper is narrow with height of 80 cm. Lower berths are better in convenience and comfort for the passengers as it is easy to get off and get into the beds.
Each soft sleeper cabin on Tibet trains is provided with four berths.
Also, the lower berths lie near the window, so that the passengers may enjoy a better view of the outside scenic beauty. However, if you have a lower berth with you, some other passengers may come and sit there during the daytime. On this point, the upper berth has more privacy and is also cheaper in price.
Facilities in soft sleeper cabin
For the convenience of passengers, the soft sleeper cabin on Tibet trains is provided with many useful and practical facilities. Roughly, each soft sleeper cabin is furnished with 4 beds and a small sized table.
The soft sleeper berth is a single settled berth equipped with beddings of extremely soft materials, with good quality sheets, pillows and quilts. And sleepers are like steel beds fixed on a shelf and are strong enough to bear weight up to 300kg.
And the small table is set beneath the train window, with a tray and a vacuum flask on it. There is a plug under the table, so that you may get regular power supply for charging your mobile phones and laptops.
There you will also find a small television set fixed at the door, playing only some local programs. You will also find an oxygen outlet near the window.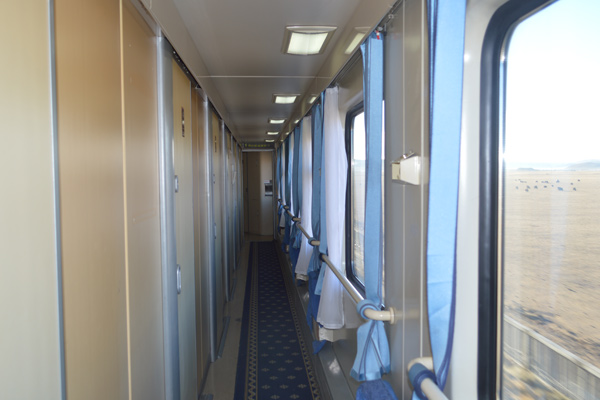 Clean and wide corridor outside the soft sleeper cabin on Tibet trains.
At night, you may have the pleasure of reading as the compartment has reading lights too. Also there are disposable sleepers in the carriage for passengers. You can also bring your own slippers or comfortable shoes so as to easily get on or off for some walking on the train.
Outside the cabin, foldable seats and tables are provided in the aisle, allowing you to view the breathtaking Tibetan landscape through the window of the running train.
Oxygen outlet in soft sleeper cabin
For dealing with low oxygen level at high altitudes, two sets of oxygen supply system on Tibet trains are provided. One is for increasing the content of oxygen when the train reaches the high plateau area.
After passing Golmud Railway Station, more oxygen is supplied to the cabins through a special climatic control system which eliminates the chances of altitude sickness while travelling on the train.
The other is the oxygen supply outlet installed on the train wall in case of emergency. The oxygen supply outlets in soft sleeper cabin are right beside the window, located above your bed and beneath the reading light.
It provides the oxygen directly to the passengers with the help of oxygen tubes. If you feel any discomfort on the Tibet train, you can request the tubes from the train staff. Then you can connect the tube to socket in the oxygen supply outlet to absorb oxygen.
Luggage space in soft sleeper cabin (video intro)
The luggage space in a soft sleeper cabin is wide and adequate in most cases. You will have a wide and large luggage closet at the top of the door which is 20 inches in width and 16 inches in height, to store your small suitcases and luggage. Then for heavy luggage, you can place them below the lower berths.
As for the luggage safety, it is your own responsibility. But generally it is pretty safe on the train. Just remember to lock your suitcases and bags, and take your valuable items along with you where you go.
Video of Where to Store Your Luggage in Soft-sleeper Cabin on Tibet Trains
How to find my berth?
Each of these soft sleepers has a number starting from 1 and is up to 36. Upper berths are numbered even while the lower are numbered odd. It is easy to find your soft sleeper berth according to the information on your train ticket.
As a reminder, if you are going to travel with your friends or families, it is suggested to tell the conductor that all of you need to stay in the same compartment when booking the tickets.
Is there any private bathroom in my soft sleeper cabin?
There is no private bathroom in each soft sleeper cabin. There are two toilets in each sleeper carriage, one on the left and other on the right end. Both squat toilets and western toilets are available there. Passengers need to bring your own toilet papers. Also there you will find toilets for people with disabilities if any.
Near the toilets, you will find a washing area. Both cold and hot water are well supplied. You will not be provided toiletries on the train. A mirror is also installed on the wall. Since there is no bathroom for passengers to take a shower, you can bring some wet wipes with you onboard.
Is it clean in the soft sleeper cabin?
Many people will doubt the sanitary condition on the Tibet train. As a matter of fact, the beddings and pillows of your soft sleeper berth are quite clean, as they will be regularly washed and replaced. And if you find your bedding untidy, you can also request to change from the train staff.
As to the public area, like corridor, bathroom and washing area, special cleaners are provided for regular cleaning. And a soft sleeper berth can ensure the cleanness to the ultimate extent, as there are fewer passengers sharing the same space.
Difference between Soft Sleeper and Hard Sleeper
The soft sleeper and hard sleeper on Tibet trains have many differences between each other. Most obviously, the hard sleeper cabin on Tibet trains is provided with 6 berths, and is an open compartment with no lockable door.
Compared with hard sleeper on Tibet trains, the soft sleeper has good privacy and a quiet environment, guaranteeing a more comfortable travelling experience for passengers. If you are travelling with your families or friends, soft sleeper may be suitable for you to enjoy an extraordinary Tibet train journey with your closed ones.
While, for budget travelers, the hard sleeper will be good option owning to its lower ticket price. You will also have more chance to make friends with some other travelers in the same cabin or carriage, to share some interesting stories together.
Difference between Soft Sleeper and Hard Sleeper
| Category | Berth Number | Sleeper Size | TV | Door | Ticket Price |
| --- | --- | --- | --- | --- | --- |
| Soft Sleeper | 4 | 70cm * 190cm | Yes | Yes | High |
| Hard Sleeper | 6 | 60cm * 180cm | No | No | Medium |
Get the Soft Sleeper Ticket on Tibet Trains
How much is the soft sleeper train ticket on Tibet trains?
Among all the Tibet train tickets, the soft sleeper ticket is the highest priced one, but it is reasonable considering the complete facilities offered. Currently, there are several Tibet trains available to Lhasa departing from the gateway cities in mainland China, and the ticket price of soft sleeper will vary from different routes.
| Route | Price in 2022 |
| --- | --- |
| Beijing- Lhasa | CNY 1144 |
| Chengdu- Lhasa | CNY 997.5 |
| Shanghai- Lhasa | CNY 1262.5 |
| Xining- Lhasa | CNY 781 |
| Xi'an- Lhasa | CNY 969.5 |
| Lanzhou- Lhasa | CNY 823 |
| Chongqing- Lhasa | CNY 997.5 |
| Guangzhou- Lhasa | CNY 1468 |
Please Note:
1. The above ticket price is just for your reference. Please contact us for the exact soft sleeper ticket price for your Tibet train journey.
2. Prices listed in the table above are all net prices and will probably rise during the peak travel season.
How to book a soft sleeper train ticket for my Tibet train tour?
For foreigner travelers, you can book your Tibet train ticket online or through the railway station which offers a train to Lhasa. You are recommended to make an early reservation of at least 30 days in advance, since the soft sleeper berths on Tibet train are always in huge demand.
As a better option, you can turn to us for professional help. As an experienced local travel agency handing numerous times of Tibet train booking for our clients, we can help you to get the soft sleeper berth of your planned travel date.
What if I cannot get a soft sleeper train ticket to Tibet?
Take the train from Lhasa back to mailand China instead. Beijing, Shanghai and Chengdu are the first stoppage for a majority of foreigners and are also regarded as the most popular gateway cities of Tibet. Sometimes, even you made the early reservation, there is still no guarantee that you will get a soft sleeper ticket.
Therefore, rather than taking the train to Lhasa, you can take a Tibet train from Lhasa to your next destination in mainland China as an alternative plan. The scenery along the way of the return trip is the same, and you can have more chances to get a soft sleeper train ticket.
Can I take a private soft sleeper cabin for 2 people?
Yes, you can book the whole cabin for you two, but there is actually no cabin made for two people. Payment has to be made for all 4 sleeper beds. And it will be quite hard to occupy the whole cabin, especially during the peak season with short supplement and large demands of Tibet train tickets.
Get Tibet Travel Permit before your Tibet Train Tour!
Without the Tibet Travel Permit, you cannot board any train to Tibet, even collect your train ticket at the railway station. As the entry permit for all foreign tourists coming to Tibet, the Tibet Travel Permit can be only applied through a local travel agency.
See how to get your Tibet Travel Permit by 4 simple steps with us!
Live onboard the Soft Sleeper Train
The life onboard the soft sleeper train is indeed not boring as many assumed, as long as you make good use of the facilities of the train and prepare some entertainment for yourself to kill time during your stay.
There are televisions provided in the soft sleeper cabin, but they are only for local programs. While using your laptops or phones, you can get power supply through the plug under the table in your cabin, even though there is no WiFi on the train. Just remember to bring a Chinese power plug adapter in your backpack.
According to your own interests, you can reading a book, watch movies, or just listen to your favorite music. In addition, you can try to talk with other passengers of the same cabin. If lucky, you may find some like-minded travelers to make new friends.
If you find the cabin is a little narrow, you can go outside to the corridor where foldable seats are provided for passengers. Besides, the dining car on soft sleeper train is quite commodious and bright with large windows, allowing tourists to enjoy tasty dishes while taking in the fine scenery at the same time.
Conclusions
Among all the three types of seats on Tibet trains, the soft sleeper offers the best travel experience for passengers. With lockable door and only four soft sleeper berths in each cabin, passengers will have more privacy and personal space.
During the train ride with soft sleeper berth, you can enjoy soft and comfortable beds, oxygen supply system for altitude sickness prevention, adequate luggage space to store your suitcase or luggage. But there is no private bathroom for taking showers.
The ticket for a soft sleeper berth will be more expensive but reasonable. And for the long journey of Tibet train, which usually lasts over 24 hours, taking a soft sleeper train will much more relaxing and pleasant to some degree.
If you are looking forward to enjoying a soft sleeper train ride, you'd better make an early reservation of the ticket, as there are limited supply of only 64 soft sleeper cabins available in each Tibet train.
To make it smoother, we can help you with your Tibet train ticket booking, as well as handle the Tibet Permit required for train boarding. If you have more questions, please feel free to contact us or comment below in this passage.