Tibet Train Ticket Classes
The trains to Tibet from mainland China have three classes of tickets, namely Soft Sleeper, Hard Sleeper, and Hard Seat from the most expensive to the cheapest.
Besides the price difference, there is something else you need to know before making your choice, such as the number of berths you can choose, the cabin size, the privacy onboard, etc.
No matter which ticket class you choose, it is always suggested to make your reservation as early as possible, because trains to Tibet are quite popular among both domestic tourists and international tourists.
You can simply book your Tibet train ticket online with us, instead of lining up at the train station with your passport and Tibet travel permit in hand.
A more hassle-free way is to book our Tibet train tour packages, which cover a guaranteed Xining to Lhasa train ticket as well as the Tibet Permit application service.
Learn more about the differences among the Tibet train ticket classes. All you want to know about the train ticket is just here.
If not, please feel free to contact us or leave any of your questions below. Our professional travel consultant will reply to you within 24 hours.
Soft Sleeper Cabin – The First-Class Tibet Train Ticket
The Soft Sleeper class is the first-class option and is a sleeper berth in a four-bunk cabin with a lockable door. The most expensive option for the train tickets, it is also the preferred option for international travelers heading for Lhasa.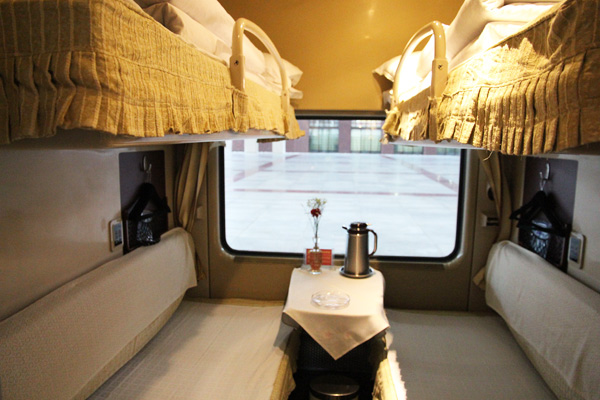 On Tibet trains, every soft sleeper compartment has 4 soft sleeper berths.
On each train to Tibet, there are 12 compartments with locking private doors. Each compartment has 4 beds and a small table. The total area of each compartment is about 7 feet by 10 feet. Like with the hard sleeper, all bedding is provided.
Hard Sleeper Cabin – The Second-Class Tibet Train Ticket
The hard sleeper option, also known as "hard sleeper berth" or "second-class sleeper", is an affordable way to take the Tibet train in comfort and the cheapest option if you want to lie down and sleep.
As the second-class option for travel on the Tibet trains, this is often used by budget travelers to Tibet and domestic tourists, as the cheaper of the two sleeper options.
The hard sleeper option is a sleeper berth in a six-bunk cabin. The bunks are laid out over three levels on both sides of the cabin, although the top bunk has less headroom than the other two.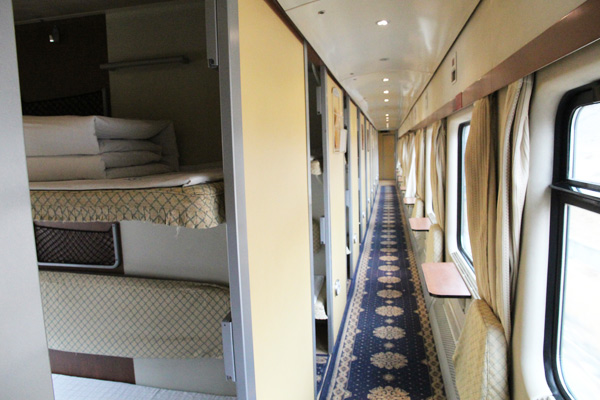 The hard sleeper corridor on the Tibet train.
While it is designated as a "hard" sleeper berth, the bunk is actually as soft as those in the soft sleeper cabins.
The main difference between the hard sleeper cabin and the soft sleeper cabin, besides the price, is that the hard sleeper cabin is open to the train corridor without a door. Also, you will not have a television and there are a limited number of power sockets.
Hard Seat – The Cheapest but not Recommended Tibet Train Ticket
The third-class option is the hard seat. On a Tibet train, there are usually 4 hard seat cars with just 98 seats in each seat car.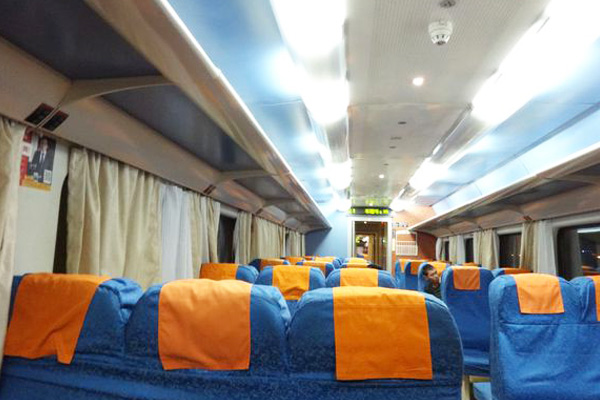 The hard seat carriage with two seats on one side and three seats on the other side.
As with the "hard" sleeper, the seat is not hard and has padding similar to that found on a bus or coach. While comfortable enough, there is little legroom in the seats, and they are usually laid out with two seats on one side of the train carriage and three seats on the other side for maximum capacity.
The cheapest option to travel on the trains, they are rarely used by international travelers and are mostly bought by local Tibetans heading home.
Which Ticket Class is Suitable for You?
There are many things to consider when deciding which ticket type you should buy for your train journey to Tibet. The most important one for many people is the cost. However, this must be weighed against your ability to travel in the cheapest class possible for the long journeys to Tibet.
The soft sleeper berths are the most expensive, with the hard sleepers being next. The cheapest option for most people (not counting the "unreserved" tickets) is the hard seat, and while this may be comfortable enough for short journeys, it may not be advisable for you to travel in a small cramped seat for long journeys.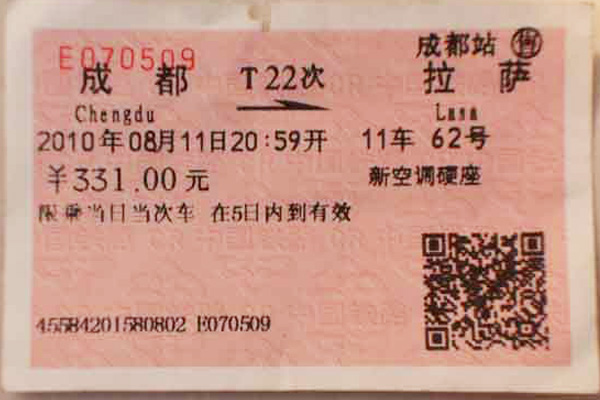 A sample of the hard seat ticket of Chengdu Lhasa train.
Another advantage of the cheaper hard seats is the social atmosphere of the train. Chinese and Tibetan travelers love to talk to tourists on the train, and if you are from an English-speaking country, you will find lots of people to talk to, which is a great way to explore the Chinese and Tibetan cultures more.
Traveling by hard seat in the company of hundreds of other people, many of whom will want to have a chat with you, may not be everyone's idea of a great way to travel to Tibet.
A little privacy, not to mention a little more leg room, is one of the reasons many people choose soft sleeper cabins, as there is more room and fewer people.
While the hard sleeper cabins do have more room than the hard seats, you are in a relatively small cabin with five other people, which is open to the train's corridor, so you may have the same kind of attention that the tourists in the hard seats will get.
If privacy is a concern for you, then the soft sleeper is the best, although most expensive, option.
Comparison Chart of Three Ticket Classes on Tibet Trains
| | Berth/Seat Arrangements | Number of Berth | Price | Comfort |
| --- | --- | --- | --- | --- |
| Soft Sleeper | 30 inches (75cm) wide and 75 inches (190cm) long | 64 | Highest | 4 people in a cabin with a door can be closed. |
| Hard Sleeper | 24 inches (60cm) wide and 71 inches (180cm) long | 480 | Middle | Less privacy. 6 people in a half-closed cabin without a door. |
| Hard Seat | 16 inches (40cm) wide | 392 | Cheapest | Only suitable for a short journey |
Q: What If I Can't Get My Favorite Ticket to Tibet?
If you have a preference to your ticket class but are unable to get that class of ticket for your expected travel date, then you do have some other options that can help you to make sure that you get the seat or berth that you want.
If you have a flexible itinerary in China, then you can always defer your travel date to Lhasa for a day or two to allow you chance to get a ticket in your preferred class on a later train. This is not always advisable, though, especially in summer when the tickets often sell out fairly quickly.
If you are not flexible with your itinerary, due to time constraints on your vacation time, then you have the option of traveling to Tibet from a different station.
There are seven gateway cities to Tibet, and you can try to get your ticket from any one of them, and then book a flight to that city to take your train trip.
You also have the option of taking a train from Xining instead of your other chosen city, as all trains to Tibet pass through Xining, with more tickets in each class, giving you a better chance of getting the ticket class you desire.
Please Note:
Making an early Tibet train ticket reservation is always helpful to get your favorite train ticket. The early you book, the more chances to get. And you can have enough time to take a plan B if you don't get your ticket.
Q: Can I book A Whole Soft Sleeper Cabin?
If you are the kind of person that requires full privacy in your travels, you do have the option of booking an entire cabin for your journey, so that you can have the cabin to yourself.
Train cabins in the soft sleeper class normally have multiple passengers, and you will find that you will be sharing a cabin with other people traveling to Tibet, usually people you do not know, though that is a great way to meet new people and make new friends.
If you are not the type that wants to share the cabin, you can pay for all four berths in the soft sleeper cabin, so that you can have privacy for the entire journey.
However, this is an expensive option, since you will need to pay for four tickets, which can cost from 450 US dollars to as much a s 850 US dollars, depending on your departure city.
>> See more about how to book a whole cabin on Tibet trains.
Is There Any Children Ticket on Tibet Trains?
The trains to Tibet do have cheaper tickets for children, although there are certain conditions.
A child below 1.1 meters can ride for free with an adult paying for a full ticket, and the child can sleep with the adult in the same berth. However, it is limited to just one child per adult paying full fare only.
For children from 1.1 meters to 1.5 meters, there is a discount of between 100 and 160 RMB (15 to 22 dollars) per child, and the child gets a full fare seat or berth.
However, the discounted tickets for children can only be purchased through the train stations direct, as travel agents are unable to validate the height of the child when purchasing tickets on your behalf.
What is the Baggage Allowance for Different Ticket Classes?
Travelers to Tibet usually have a lot of luggage with them, to counter the cold weather and winds, and to make sure they have enough of everything to last the entire trip. However, you should be aware that there is a luggage restriction on the trains to Tibet.
Adults can carry 20 kilograms of luggage for free, while children have a 10kg luggage allowance when traveling by train to Tibet.
The luggage must also conform to the measurement requirements for the Tibet trains. Luggage must be a maximum of 160cm in any direction, although long items that are rod-shaped can be up to 200cm long.
If your luggage exceeds the free weight allowance, you will need to pay for the excess, which is charged at 1.6 RMB per kilogram (approximately 23 cents per kilogram in US dollars).
The luggage allowance does not include items such as wheelchairs or other disabled equipment, which may be carried free in excess of the luggage weight allowance.
>> Check the detailed luggage restriction on Tibet trains.
How to Book Tibet Train Tickets?
Passengers can either buy Tibet train tickets at the railway station in mainland China or make an online booking.
For international travelers, who do not understand Chinese and don't have a Chinese credit card, the most convenient way is to book the Tibet train ticket online with us.
What Are the Documents Required for Buying Your Train Ticket?
If you are buying train tickets for your journey to Tibet yourself, you will need to have your passport and Tibet Travel Permit with you when you go to buy them, as these are required for international tourists buying tickets to Tibet at all times.
Your passport must have your correct name on it and must match the name on the Tibet Travel permit, or you will not be allowed to buy the tickets.
The Tibet Travel permit is required to book and purchase tickets for the Tibet trains, and must also be shown to be able to board the trains when you depart from the station in mainland China.
A hassle-free way to get your Tibet train ticket and Tibet Travel Permit together!
Book a Tibet train tour, we will ensure you a Xining to Lhasa train ticket with Tibet Travel Permit application service for free. Many departure dates in 2022 for you to choose from.
>> See all of our Tibet train small group tours.
How to Book Tibet Train Ticket in June, July, and August – the Peak Tourism in Tibet?
Booking train tickets in China can be done 60 days ahead of the date of travel if being booked online (which can only be done by a Chinese national with a Chinese credit card), or around 58 days in advance if buying or booking them from the station itself, which anyone can do.
However, unless you plan to be in China for a couple of months before traveling to Tibet, it is best to have a travel agency book your tickets to Tibet, as the train tickets sell out very fast in the peak months for travel to Tibet, from June to the end of September.
As a reliable Tibet local Travel agency dealing with thousands of Tibet train tours every year, we can accept your booking more than 60 days ahead, and make the booking for you as soon as the booking window opens for online ticket purchases.
Recommended Tibet Train Small Group Tours