Home
>
Tibet Train Tickets Class
Tibet Train Tickets Class
There are 4 types of Tibet train ticket classes that you are able to purchase: 1) Hard Seat, 2) Hard Sleeper, 3) Soft Sleeper, and 4) Unreserved. Officially in China, only 3 classes are mentioned (hard seat, soft sleeper, hard sleeper).
The Train is about 12 cars. At the front are the seat class cars, followed by the dining car, and then 3 soft sleeper cars, and lastly the hard sleeper car.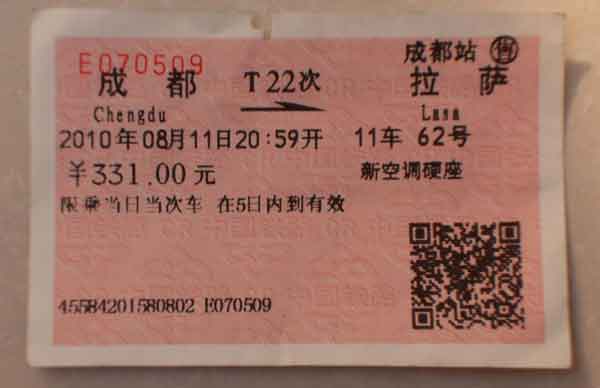 The Hard Seat ticket of Train to Tibet from Chengdu.
Below we discuss all the classes in order of price, cheapest to most expensive.
Unreserved Tibet Ticket
Yes this does exist, no one will tell you though!
There are many "unreserved" tickets that you can purchase. What this means is that you can stay on the train but you have no specific seat reserved for you. Most people will shy away from this option because there are no guarantees however the author of this site has chosen this option before as well. Getting tickets for the Tibet train is almost nearly impossible unless you book in advanced as most people choose sleeper classes. However, for the bold, you can buy a unreserved seat and sit in the dining car.
Sometimes it is easy being a tourist :)
Being a tourist on the Tibet train you will receive a lot of attention from the Chinese, Tibetans, and other China ethnic groups, especially from the children/teens. Most teens want to practice their English, and they will engage in a conversation with you. They will also give you there seat, invite you to play card games, even introduce you to new foods. They are generous because conversing with English speaking tourists is a great (cheap) way to practice their English. However, at night, things will change and you will need to sleep. You can sleep in between carts on the floor, or just sleep in and empty seat. The seats are of the "hard" variety, as they are not reserved by anyone. Some trains officially do not have this class, but a ticket attendant will surely sell you this type of ticket.
Hard Seat vs. Soft Seat

Hard Seats on Trains to Tibet
Though it is called hard seat, the seats are actually quite soft and nicer than the ordinary trains in China. On a Tibet train, there are usually 4 hard seat cars with just 98 seats in each seat car. And under the seat, there are individual oxygen outlets for passengers.
If you are sensitive to smells, have allergies, are not social, then do not opt for the hard seat. If however you want a cultural experience and/or want to save money... hard seat is the way to go.
Hard Sleeper

There are 18 compartments without doors in a Hard Sleeper cabin and 6 berths in each compartment.
Hard sleeper class, also known as "hard sleeper berth" or "second class sleeper", is an affordable way to take the Tibet train in comfort. Contrary to the class, the bed is not "hard" per se in a hard sleeper berth. The beds are just not as thick. The hard sleeper Tibet train class is the cheapest option if you want to lie down and sleep. There are six beds in a hard sleeper cabin - an upper, middle and a lower one on each side.
The main difference between a hard and soft sleeper, besides the price, is that the there is no cabin door to you can lock. Also you will not have a television and there is a limited number of power sockets. Clean sheets and pillows are provided and your paper ticket will be exchanged for a plastic access card. Keep this card and return it for your ticket before you get off. Please make sure you do not throw the paper ticket away because you need it to get out of the station! The newer trains labelled T or Z have TV's in the cabins and more comfortable bedding.
Tip: Bring a lock and secure your luggage.
Soft Sleeper

The windows in the first class car appear to be newer and cleaner, and if you are a photographer, this is the best area to be in in order to shoot pictures through the window.
The soft sleeper class of the Tibet train is the most expensive ticket you can purchase. This class is also considered "first class". There are 12 compartments with locking private doors. Each compartment has 4 beds and a small table. The total area of each compartment is about 7 feet by 10 feet. Like with the hard sleeper, all bedding is provided.