Tibet Train Tickets
Tickets for Tibet trains, like all the other China Train Ticket, can be divided into two kinds, a pink paper ticket you can get from the ticket window, or a blue magnetic ticket from auto ticket buyers at stations.

The two kinds of Chinese railway tickets.
For foreign travelers who want to get to Tibet by train, how to buy a Tibet train ticket, how to read Chinese train ticket and how to collect the ticket after buying may be the most asked questions. Here are the answers for those frequent asked questions about China Tibet Train Ticket.
Tibet Train Ticket Price
The price of Tibet train tickets varies from seat classes and positions. Usually, hard seat ticket is the cheapest one, then the hard sleeper ticket is higher than that. The ticket for soft sleepers is the most expensive one. When you want to buy a sleeping berth ticket, you may get a lower berth, middle berth or upper berth, from the cheapest to the most expensive one.
Note: Usually, there are extra service fees for getting a Tibet train ticket in peak season, for the huge demand of train tickets from domestic travelers. The exact amount of service fees will be different based on the season, so you can contact our travel experts for detailed information and exact cost of the tickets.
How to Read Chinese Train Ticket
Since August 1st, 2015, a new edition of China railway tickets has been put into use. The train number, departure and arrival stations, ticket classes, seat class, as well as other essential information are listed on the ticket all in Chinese.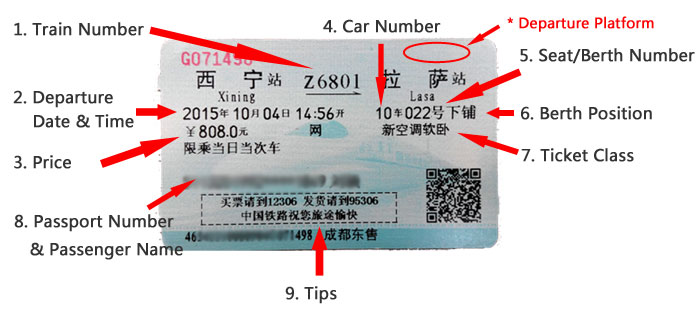 The New Edition of China Raiwlay Ticket
Pay attention to the departure station (listed on the left of the Train Number) for many cities in China have more than one station. In that case, you need to make sure which one you should go for your train.
Train Number is listed between the deparutre station and arrival station. According to the train number, you can find your waiting room and platform to get on board.
The car number and seat/berth number will guide you to your own seat/berth.

Chinese-English Translations of Berth Position and Ticket Classes on China Railway Tickets.
Sometimes the information of departure platform will be list at the top-right corner of the ticket.
When to Buy a China Tibet Train Ticket?
In China, train tickets bookings open 58 days ahead at stations, or 60 days ahead booked online. For taking a train to Tibet, it's best to arrange through an local agency, as part of a Tibet tour with Tibet Travel Permit. Also, Tibet train tickets is the hardest to get in peak season (usually July and August) when vast number of Chinese tourist visit, and this will cause a higher market price of the train ticket to Tibet during that period.
How to Book a Tibet Railway Ticket?
Passengers can buy China train tickets either at the railway stations or book it online. For foreign travelers, booking a China railway ticket online through a reliable travel agency will be the most convenient way.
You can buy tickets no more than 60 days ahead your departure date at most. However, you can make an earlier reservation with your travel agency, and they will make the actual booking for you with a small service fee.
To make a reservation for Tibet train tickets, you need to provide your passport number and the right name on the passport. According to the real-name policy for train tickets, the ticket with passport number and passenger's name will be checked against your passport, as well as your Tibet Travel Permit.
How to Collect the Train Ticket?
You need to collect your paper tickets at departure railway station with your passport and Tibet Travel Permit.
For travelers who book a train tour package with us, our guide will deliver your reserved Tibet train tickets and your Tibet Entry Permit to your hotel before the tour formally starts.