Want a Tibet train ticket? You come to the right place. As the sole partner of China Railway, ChinaTibetTrain offers Tibet train ticket online booking service from the hottest train routes that link Lhasa with Beijing, Shanghai, Chengdu, Xining, etc. to the train in Tibet running between Lhasa and Shigatse.
Just take a few clicks, nail your Tibet train ticket with us, the most reliable and only official partner with China Railway.
What We Offer
Easy Tibet train ticket online booking
Free Tibet train and Tibet travel consultation
Tibet tour organization including Tibet permit application
Updating information about Tibet train and Tibet travel
4 Simple Steps to Book with Us
Send your Tibet train tour inquiry online

Get the quotation and free modify the tour details

Confirm your booking and make a payment in time

Start your Tibet tour with a lifetime Tibet train journey
Check Tibet Train Fares & Schedule by Train Route
Every day, there are five to six trains to Tibet from the major gateway cities of mainland China, including Beijing, Shanghai, Chengdu, Guangzhou, Xining, etc. Most Tibet trains take about 3 days to finish the journey to Lhasa, while the Xining Lhasa train just takes 24 hours.
Tibet train fares vary depending on the route and the season you take. Generally speaking, the longer train journeys cost much more money. And for the same route, the ticket price may be higher in summer months and Chinese holidays, since ticket scalping is common during these tourist peak seasons.
You can choose your favorite train route to Tibet and view the detailed information, such as the timetable, the route map and railway station guide by simply clicking the button.
Saving More by Booking the Train Ticket together with Your Tibet Tour
We do not only provide Tibet Train Ticket booking service, but also tour services in Tibet. We offer various kinds of Tibet tour packages with 100% guaranteed train ticket from Xining to Lhasa. For those who book Tibet train journey from other cities, like Beijing, Shanghai, Chengdu, Chongqing, etc. to Lhasa together with a Tibet tour, we also guarantee your train tickets to Tibet and the total price of your Tibet Train Tour package is cheaper than you book the train Ticket and tour packages separately. You will absolutely save much more time and money to get a guaranteed Tibet train ticket together with a well-organized trip in Tibet with us.
Tibet Train Ticket Booking FAQs
How to Choose Tibet Train Ticket Classes?

On every Lhasa Express train, there are three classes of tickets for you to choose. In order of price, from the cheapest to the most expensive, they are hard seats, hard sleepers and soft sleepers.

Since it is quite a long journey to Tibet by train from mainland China, it is not suggested to take a hard seat on a train to Tibet. Most travelers choose the sleeping cabin on Tibet trains.

The most common tickets are hard sleeper tickets, which are easier to obtain as opposed to soft sleeper tickets.

However the hard sleeper option is not for everyone, especially those who want more private spaces onboard.

There are six bunks with no cabin door in each hard sleeper compartment, so it is a little bit crowded in the cabin. Also, you have to be more cognizant about your belongings.

The hard sleeper option is great for a true cultural interactive experience, while the soft sleeper option is better for a family or travelers who want more space and privacy.

In each soft sleeper cabin, there are only four bunks with a cabin door that can be closed for a private room. It is also possible to book a whole cabin with less than four passengers. See how to book a whole soft sleep cabin here.

Where to Purchase Tibet Train Tickets?

All Chinese train tickets can be bought by online reservation or through the ticket counters in local railway stations.

However, if you want to buy Tibet train ticket at the railway station, you need to show your passport together with your Tibet Travel Permit.

Generally, you can just receive your Tibet travel permit a few days before your departure.

There is not enough time left for you to buy a Tibet train ticket, since the tickets of trains to Tibet always sold out quickly.

Regarding the limited ticket supply and high demand of Tibet trains, which is quite popular with travelers from both home and abroad, it is suggested to book Tibet train tickets online with us.

We always try our best to help our customers get their train tickets. If you book our Tibet Train Small group tour packages, we also guarantee you a Xining to Lhasa train ticket.

How Far in Advance to Book Tibet Train Ticket?

Generally, it is suggested to book your Tibet train ticket at least 30 days in advance. And one or two month booking ahead works best for you especially for the hottest train routes to Lhasa from Beijing, Shanghai, Chengdu and Xining during major Chinese holidays and high season of Tibet tour.

So we suggest that you book the Tibet train ticket as early as possible, since early booking leaves more chance for you to get your favorite train ticket to Tibet.

How to collect my Tibet Train Ticket?

Once you book your Tibet train ticket with us, we will offer you a booking number.

You can collect your train ticket with the booking number, you passport and your Tibet Travel Permit from the ticket window at your departure railway station.

Or our local staff will deliver the train ticket to you before you go.
Quick Online Inquiry for Tibet Train Ticket
Filling in the following chart for an inquiry of your Lhasa Express train. We will contact you within 24 hours.
More Tibet Train Tour Guide
Recently, there is only one railway heading to Tibet, namely Qinghai-Tibet Railway. It begins at Xining Railway Station and concluded at Lhasa Railway Station.
You can catch a train heading to Xining from most major cities in China. Now, there are six cities offering trains to Tibet via Xining, including Beijing, Shanghai, Guangzhou, Chengdu, Chongqing, and Lanzhou.
If you cannot obtain a train ticket directly to Lhasa from your current city, you can get to Xining first, and then try to buy a Xining to Lhasa train ticket. Since all trains to Tibet pass by Xining, you can get more chances to get a ticket at Xining.
It is also a good choice to visit other places of mainland China before you heading to Xining to take the train to Tibet. You can browse our China Tibet train tours to get some travel ideas.
As an insider and expert of Tibet train tour, we not only offer you the well-designed Tibet train tour packages, but also provide up-to-date travel information far beyond Tibet train journey.
You can find a wealth of useful tips that will make your Tibet train tour safe and pleasant. With further questions about Tibet tour planning, you can also leave your questions below. Our professional travel expert will answer your questions within 24 hours.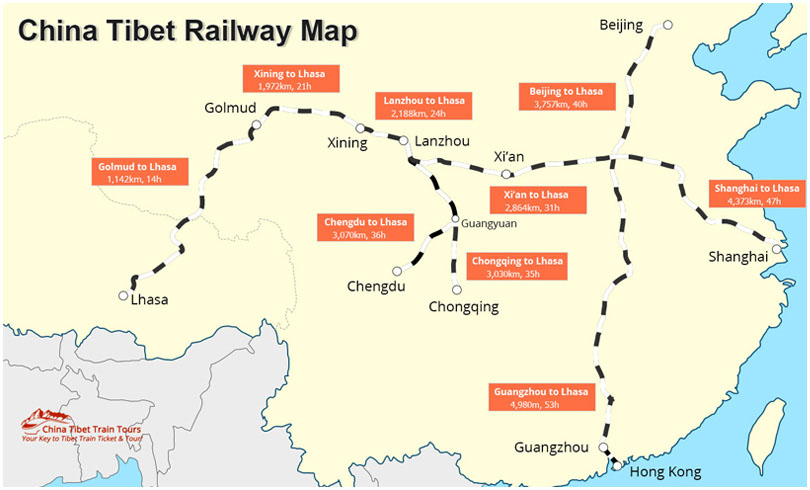 What's New?
ChinaTibetTrain is your window to Tibet tour. Find out the latest news about Tibet train and Tibet travel.
Latest Schedule of Guangzhou Lhasa Train in this Winter Season
During the winter season from November 1st, 2018 to March 21, 2019, the daily train from Guangzhou to Lhasa will depart every other day, and the return train from Lhasa to Guangzhou will depart every other day accordingly.
Check the winter schedule of Guangzhou Lhasa Train here.
Tickets of Guangzhou – Shenzhen – Hong Kong High Speed Train were On-sale on September 10, 2018
From 8 a.m. on September 10, 2018, passengers can buy the ticket of Guangzhou – Shenzhen – Hong Kong high speed train (opened on September 23, 2018) at all China train stations in both mainland China and Hong Kong. The pre-sale period for is 30 days for online booking.
The 2018 New Tibet Train Schedule Came into Effect
For 2018 Tibet train tours, there are some changes you need to know about the Tibet train. The number of Chengdu to Lhasa train changed from Z22 to Z322, and the number of Chongqing to Lhasa train changed from Z222 to Z223. And the departure time and arrival time for most trains to Tibet changed. Most of the train journey to Tibet are shorter than before. Please feel free to check the updated train schedule by route.
The long-expected Chengdu-Xi'an High Speed Train Became Available on Dec. 6, 2017.
Touted as the biggest move for China Railway by the end of this year, the long-expected Chengdu-Xi'an High Speed Train greeted its first passengers on Dec, 6, 2017. Covering a total distance of 643km, the Chengdu-Xi'an high speed train (D4252) shortened the original 13hours journey to around 4hours. With the maximum speed of 250km/h, the train can instantly cross Qinling mountain range, the previous formidable natural barrier. For our Tibet tour travelers, it offered a quick access and great alternative from Chengdu to Xi'an, the most ancient capital in Chinese history.
2018 Tibetan New Year Is Coming Soon.
Ready to join this year's grand celebration of Tibetan New Year? Well, you still have time to sort it out the details. As the most important festival in Tibet, Tibetan New Year (also known as Losar), will fall on Feb, 16, 2018. Witness the old traditions like exorcising ghost with burning torch; eating tricky Guthuk soups; tossing white Tsampa; hanging new prayer flags, burn Weisang, etc. It's the perfect time to mingle with locals and experience the real culture of Tibet. What're you waiting for? Don't let the once-in-a-year chance slips away from you.
Contact Us for Your Dream Tour Now
Your are enquiring for
Fare and Schedule