Beijing to Lhasa Train Book
Getting to Lhasa from Beijing by train will be a lifetime experience for you. Launched in July, 2006, the Beijing to Lhasa train (No.Z21), stretching as far as 3,757 km, has been one of the three initial railway routes to Tibet. Crossing 8 provinces from Northern China Plain to the world highest Qinghai-Tibet Plateau, the train from Beijing to Lhasa will add to your Tibet tour more unforgettable experience with a 40:30h sky train journey onboard the Tibet train from Beijing to Lhasa.
Beijing to Lhasa Train Ticket Online Booking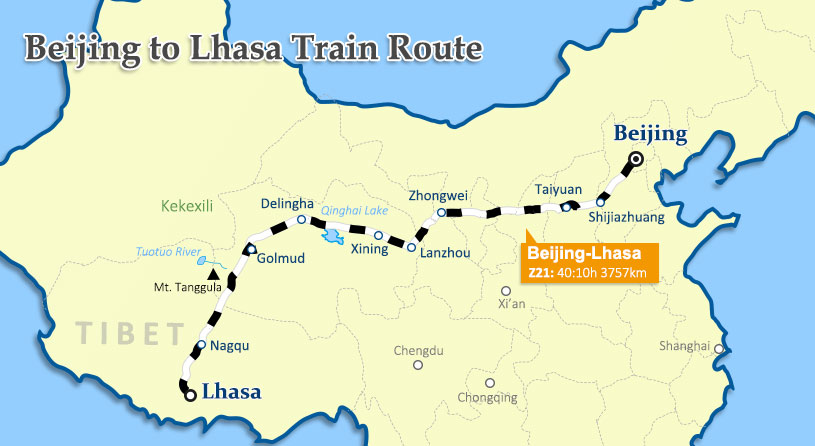 Beijing Lhasa Train Ticket Price & Online Booking
Train No.
From / To
Dep. / Arr.
Duration
Distance (km)
Frequency
Hard sleeper Ticket
Soft Sleeper Ticket
Z21
Beijing/Lhasa
20:00/12:10
40:10
3757
Daily
CNY720
CNY1144
Z22
Lhasa/Beijing
16:10/08:28
40:18
3757
Daily
CNY720
CNY1144
Book the Train Now
Note:
1. The ticket prices above are the net price. Since the demand of Beijing Lhasa train tickets always far exceeds the supply in peak season, tourists have to pay more than the net price to buy tickets. The actual price is subject to the market fluctuation.
2. The ticket price of the train from Lhasa to Beijing (No.Z22) is the same.
3. A small service fee will be charged for Ticket-Only service. No service charge on booking train tickets if you also book a Tibet tour package with us.
4. Your submitted reservation is not an order but just an inquiry. The reservation need to be confirmed by Chinatibettrain.Com. An early reservation is recommended for the limited supply of Tibet train tickets.
Most Recommended Beijing Tibet Train Tours
Timetable of Beijing to Lhasa Train - No.Z21
Train No.Z21 will start from Beijing West Railway Station at 20:00 and arrive at Lhasa Railway Station at 12:10 on the third day after 40 hours and 10 minutes' running. And the return train from Lhasa to Beijing (Train No.Z22) departs from Lhasa at 16:10 and arrives in Beijing at 08:28 on the third day with a 40:18 hour trip.
| Station | Altitude | Arrival | Departure | Stop Time | Days | Distance |
| --- | --- | --- | --- | --- | --- | --- |
| West Beijing | 44 m | -- | 20:00 | -- | Day 1 | -- |
| Shijiazhuang | 80 m | 22:33 | 22:37 | 4 min | Day 1 | 291 km |
| Taiyuan | 820 m | 00:19 | 00:25 | 6 min | Day 2 | 516 km |
| Zhongwei | 3,000 m | 07:05 | 07:16 | 11 min | Day 2 | 1,263 km |
| Lanzhou | 1,530 m | 12:17 | 12:33 | 16 min | Day 2 | 1,569 km |
| Xining | 2,200 m | 15:01 | 15:21 | 20 min | Day 2 | 1,785 km |
| Delingha | 2,980 m | 19:23 | 19:25 | 2 min | Day 2 | 2,306 km |
| Golmud | 2,780 m | 22:05 | 22:30 | 25 min | Day 2 | 2,615km |
| Nagchu | 4,500 m | 07:50 | 07:56 | 6 min | Day 3 | 3,435 km |
| Lhasa | 3,650 m | 12:10 | -- | -- | Day 3 | 3,757 km |
Beijing to Lhasa Train Route Map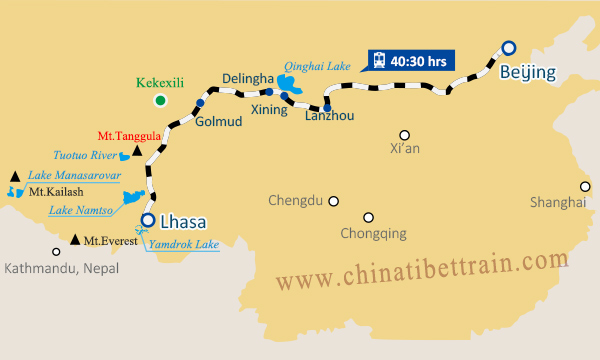 Map of Beijing-Lhasa train and surrounding attractions
Beijing-Lhasa railway covers a distance of 3,757 km, of which 1,110 km are over the newly-built Qinghai-Tibet railway. And the highlight of the train ride lies in Xining-Lhasa section. Tourists can enjoy the stunning window scenery, such as Gobi desert, snow-capped Yuzhu Peak, and lofty Tanggula Mountain and massive grassland, etc.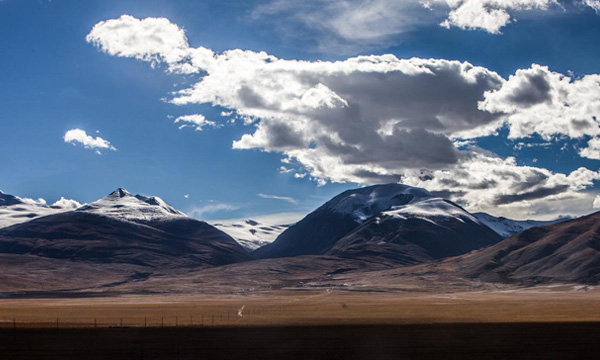 Snow-capped mountains along the train journey
All together there are 10 stops between West Beijing Railway Station to Lhasa Railway Station. On average, Beijing to Lhasa train stays at each station for around 11 min. Overall, it takes 3 days or 40:30h to reach Lhasa from Beijing.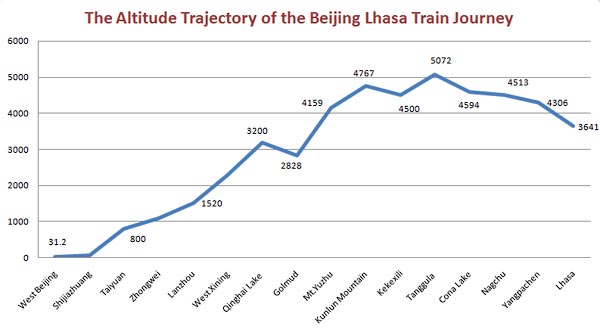 Check the altitude change of Beijing-Lhasa train from the graph above

With an average altitude of 3379m, Beijing-Lhasa train truly runs on the spine of the world. Particularly after passing Xining (2295m), the train gradually ascends to its highest place of Qinghai-Tibet railway, i.e. Tanggula Mountain Pass(5072m).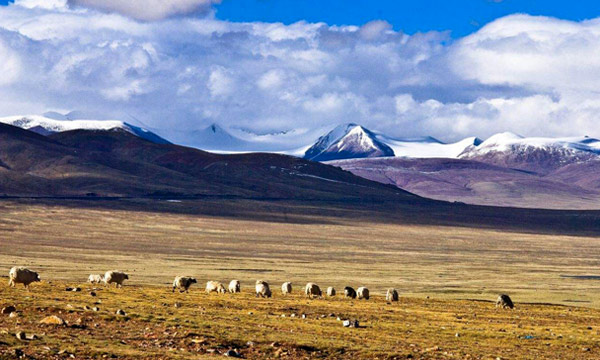 Imposing Tanggula Mountain Pass
Insider Tips:
The altitude change, esp. when Beijing-Lhasa train passes Tanggula Mountain Pass, may lead to the mild symptoms of altitude sickness, such as headache, shortness of breath, dizziness, tiredness and nausea, etc. However there is no need to panic. The Qinghai-Tibet train is equipped with oxygen supply system. You may reach the conductor of the train and get free oxygen tube to use oxygen outlet location on the train corridor and soft sleeper cabin. If it doesn't help, you can reach the staff for timely treatment. Normally, those who take Tibet train to Lhasa can quickly get acclimatized to the altitude in Lhasa.
Beijing to Lhasa Train Facilities
Basically, three kinds of seats are available to travelers on all Qingahi-Tibet Railway, including Beijing-Lhasa train, namely soft sleeper, hard sleeper and hard seat. The soft sleeper seat promises the best privacy and is suitable for a family of four. You can stay in a cozy cabin with four bunks. Inside the cabin, facilities like TV, battery recharge, hanger for clothes, foldable table, bed sheet, oxygen outlet, air conditioner, slippers are available.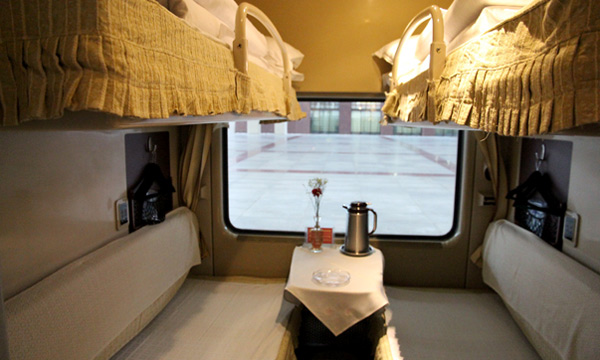 Facility insie soft sleeper cabin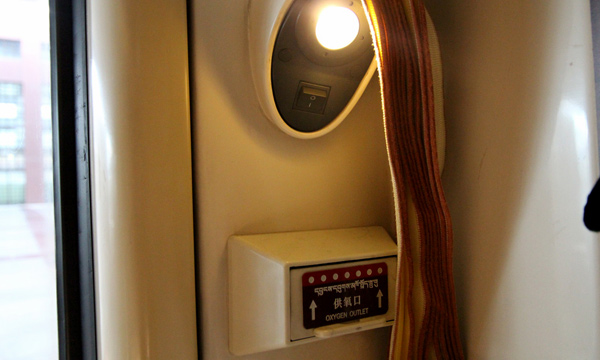 Oxygen outlet and bedside lamp inside soft sleeper cabin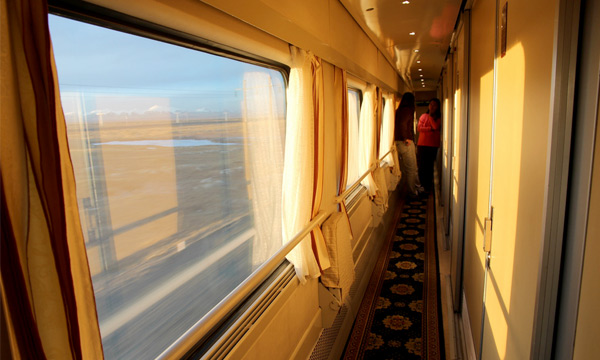 Corridor of soft sleeper
While for hard sleeper cabin, there are 6 bunks. It's a bit crowded and does not have much privacy fore there is no door to close the cabin. However, you can enjoy the much cheaper ticket price. A tiny table, clothes hanger, and oxygen outlet, bed sheet are available. Yet, it's very convenient to sit on the foldable table in the corridor, listening to music while enjoying the spectacular window view. Batter recharge facility can also be found along the corridor.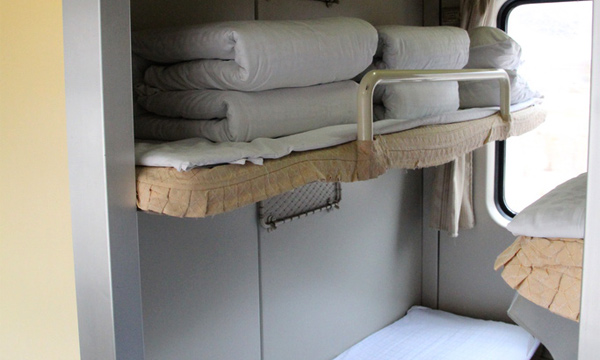 Hard sleeper cabin with 6 bunks inside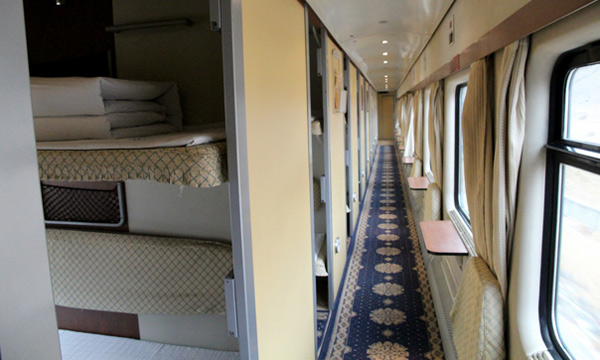 Hard sleeper corridor with foldable chair next to the window
As to the hard seat, it's not recommended for international tourists, esp. after a long flight to China. It drains you quickly during the long ride. Oxygen outlet can be found in a big carriage. The ticket price understandably is the lowest.
In addition, both western toilet and Chinese squat toilet, and the toilet for the disable can be found in Beijing-Lhasa train. Sinks for washing faces and hands are equipped next to the toilet. You can get hot water from the water dispenser. However, there is no bath or shower facility.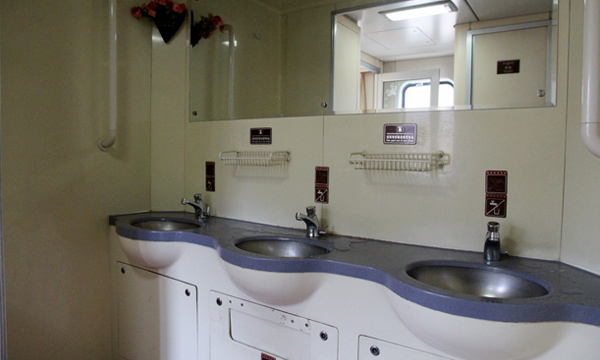 sink next to the toilet
For the 3 meals on the train, there are staff who will pull food trolley loaded with box meal and snack, bverage for sale. You can easily buy mineral water, snacks and box Chinese food for breakfast, lunch and dinner at around 20-50 CNY. If you prefer more tasty food, you can go to dining car cabin where you can order traditional Chinese dishes on the menu.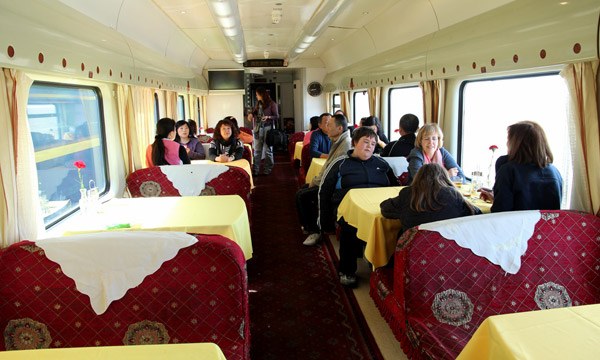 Spacious dining car of Tibet train, good place for socializing and enjoying spectacular window view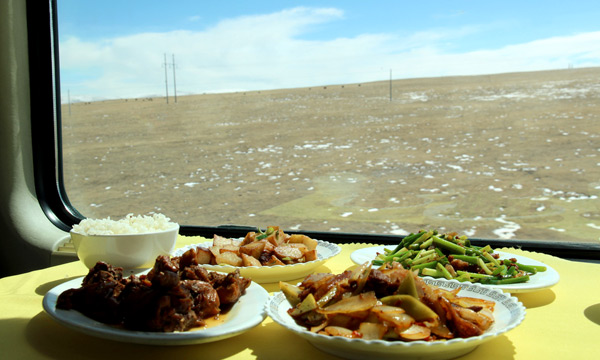 Tasty Chinese food served in Beijing Lhasa train
For security issue, the train staff will patrol every so often both day and night to see if passengers need any help. Do not feel reluctant to reach for help from them.
Insider Tips:
After clients book our Beijing-Lhasa train tour, we will help you get the Tibet Permit from Tibet Tourism Bureau and deliver it to your hotel in China. The whole process takes around 7-10 working days, and the permit is the key to your Tibet tour. In some extreme cases, we will express it to you right before your board the train to Lhasa at railway station.
Take a Glimpse of Beijing Lhasa Train Video