Route Map of Beijing Lhasa Train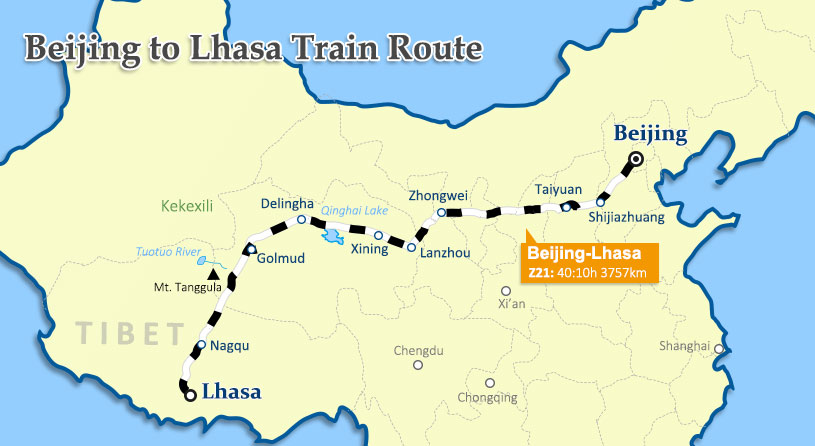 Getting to Lhasa from Beijing by train will be a lifetime experience for you. Launched in July, 2006, the Beijing to Lhasa train (No.Z21), stretching as far as 3,757 km, has been one of the three initial railway routes to Tibet. Crossing 8 provinces from Northern China Plain to the world highest Qinghai-Tibet Plateau, the train from Beijing to Lhasa will add to your Tibet tour more unforgettable experience with a 40:30h sky train journey onboard the Tibet train from Beijing to Lhasa.
Beijing-Lhasa railway covers a distance of 3,757 km, of which 1,110 km are over the newly-built Qinghai-Tibet railway. And the highlight of the train ride lies in Xining-Lhasa section. Tourists can enjoy the stunning window scenery, such as Gobi desert, snow-capped Yuzhu Peak, and lofty Tanggula Mountain and massive grassland, etc.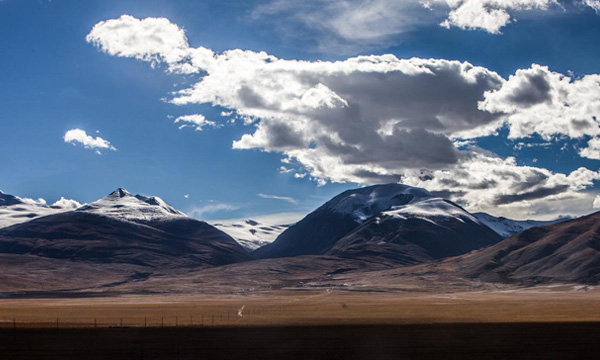 Snow-capped mountains along the train journey
All together there are 10 stops between West Beijing Railway Station to Lhasa Railway Station. On average, Beijing to Lhasa train stays at each station for around 11 min. Overall, it takes 3 days or 40:30h to reach Lhasa from Beijing.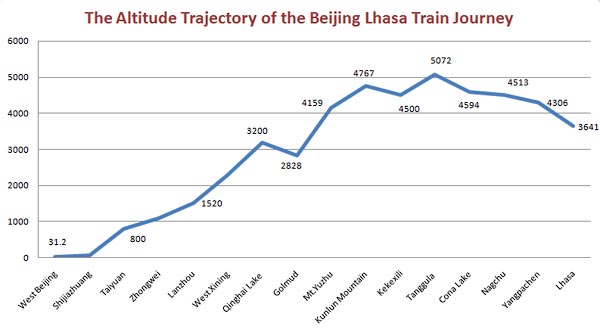 Check the altitude change of Beijing-Lhasa train from the graph above
With an average altitude of 3379m, Beijing-Lhasa train truly runs on the spine of the world. Particularly after passing Xining (2295m), the train gradually ascends to its highest place of Qinghai-Tibet railway, i.e. Tanggula Mountain Pass(5072m).
Latest Timetable and Schedule of Beijing Lhasa Train
Train No.Z21 will start from Beijing West Railway Station at 20:00 and arrive at Lhasa Railway Station at 12:10 on the third day after 40 hours and 10 minutes' running. And the return train from Lhasa to Beijing (Train No.Z22) departs from Lhasa at 16:10 and arrives in Beijing at 08:28 on the third day with a 40:18 hour trip.
| Station | Altitude | Arrival | Departure | Stop Time | Days | Distance |
| --- | --- | --- | --- | --- | --- | --- |
| West Beijing | 44 m | -- | 20:00 | -- | Day 1 | -- |
| Shijiazhuang | 80 m | 22:33 | 22:37 | 4 min | Day 1 | 291 km |
| Taiyuan | 820 m | 00:19 | 00:25 | 6 min | Day 2 | 516 km |
| Zhongwei | 3,000 m | 07:05 | 07:16 | 11 min | Day 2 | 1,263 km |
| Lanzhou | 1,530 m | 12:17 | 12:33 | 16 min | Day 2 | 1,569 km |
| Xining | 2,200 m | 15:01 | 15:21 | 20 min | Day 2 | 1,785 km |
| Delingha | 2,980 m | 19:23 | 19:25 | 2 min | Day 2 | 2,306 km |
| Golmud | 2,780 m | 22:10 | 22:35 | 25 min | Day 2 | 2,615km |
| Nagchu | 4,500 m | 08:13 | 08:19 | 6 min | Day 3 | 3,435 km |
| Lhasa | 3,650 m | 12:10 | -- | -- | Day 3 | 3,757 km |
Please Note:
The timetable and schedule is just for reference. When you make early reservation, please contact us for more details.
Book the Train Now
About the Life on board
Cabins on Tibet Trains
There are two kinds of cabins on board where you can sleep overnight during your train journey to Tibet. The first class cabin on all trains to Tibet is the soft sleeper cabin, with 4 beds in one compartment. The second-class cabin onboard is the hard-sleeper with 6 beds in one compartment.
Facilities onboard
On each train to Tibet, there is one dining car offering food and drinks. At the end of each coach, there are toilets and washing basins. Spoiled water is offered 24 hours a day, so you can bring some instant noodles, coffee and tea with you.
Oxygen Supply onboard
For travelers who are planning the train trips to Tibet, the altitude sickness is always an important issue for considering. In fact, there are two kinds of oxygen supply systems onboard, which can relatively reduce the effect of high altitude. So there is no need to worry too much about suffering from altitude sickness onboard.
Beijing Tibet Tour by Train
Get travel ideas from our best selected Beijing Tibet Tours by train. Whether you want a classic trip to Lhasa, or a lifetime camping experience at the Everest Base Camp, or seeking for the holy kora around Mount Kailash, you can always find something right for you here.
>> Check more Beijing Tibet train tour packages here.
Frequent Asked Questions about Beijing Lhasa Train Tour
Do I Need the Tibet Travel Permit? How to Get it?
Tibet Travel Permit is the most important travel document required for all Tibet tours. Whether your enter Tibet by flight, by train or by overland, you will need to get your Tibet Travel Permit before boarding.
However, individual application of the permit is not accepted. And we can help to arrange your trip in Tibet and apply the Tibet Travel Permit, as well as all the other required documents on your behalf.
When is the Best Time to Take the Train to Tibet from Beijing?
Beijing is a city that offers different sceneries in all seasons, while autumn could be the best time for travelling owing to the clear sky and fine weather. Tibet is also a destination that suitable for visiting all the year round, even in winter it is not so cold as you imagine (even warmer than Beijing).
But for a train tour from Beijing to Lhasa, it is suggested to avoid the peak season, the summer holiday and early October, when there are too many domestic tourists travelling from Beijing to Lhasa by train. During the peak season, it is really hard to get a Beijing-Lhasa train ticket.
How to Book the Train Ticket and How to Get the Ticket after Booking?
It is suggested to make an early reservation at least 30 days in advance, especially when you plan to go in peak season.
As headquartered in Xining and Lhasa with local office in Beijing, Shanghai, and Chengdu, we are guaranteed to get the hard sleeper ticket for you, and an early reservation will ensure greater chance to get the soft sleeper train tickets to Tibet.
And the train ticket will be delivered to your address in China before you get on board.
Let's Start Your Hassle-free Tibet Train Tour with Us!
From handling and delivery of your Tibet Travel Permit to sorting out the details like itineraries, hotels and booking the Tibet train tickets and flight tickets, we care deeply about your ideas and work 24/7 to ensure you a worry-free and pleasant travel.
Enquire Now
Contact Us for Your Dream Tour Now
Your are enquiring for
Beijing to Lhasa Train
Price from
Price upon Request