One of the most popular entry cities to China, Beijing is also an important gateway to Tibet by train. The train from Beijing to Lhasa, No. Z21, is one of the three initial railway routes to Tibet. Departing every day at 20:00 from Beijing West Railway Station, Beijing-Lhasa train arrives in Lhasa at 12:40 on the third day after 40 hours and 40 minutes' running.
Beijing Lhasa Train Schedule
Timetable of Beijing to Lhasa Train - No.Z21
| Station | Altitude | Arrival | Departure | Stop Time | Days | Distance |
| --- | --- | --- | --- | --- | --- | --- |
| West Beijing | 44 m | -- | 20:00 | -- | Day 1 | -- |
| Shijiazhuang | 80 m | 22:34 | 22:38 | 4 min | Day 1 | 291 km |
| Taiyuan | 820 m | 00:20 | 00:26 | 6 min | Day 2 | 516 km |
| Zhongwei | 1,225 m | 07:01 | 07:16 | 15 min | Day 2 | 1,263 km |
| Lanzhou | 1,530 m | 12:14 | 12:31 | 17 min | Day 2 | 1,569 km |
| Xining | 2,200 m | 14:57 | 15:21 | 24 min | Day 2 | 1,785 km |
| Delingha | 2,980 m | 19:23 | 19:25 | 2 min | Day 2 | 2,306 km |
| Golmud | 2,780 m | 22:10 | 22:35 | 25 min | Day 2 | 2,615km |
| Nagchu | 4,500 m | 08:33 | 08:39 | 6 min | Day 3 | 3,435 km |
| Lhasa | 3,650 m | 12:40 | -- | -- | Day 3 | 3,757 km |
Timetable of Lhasa to Beijing Train - No.Z22
| Station | Altitutde | Arrival | Departure | Stop Time | Days | Distance |
| --- | --- | --- | --- | --- | --- | --- |
| Lhasa | 3,650 m | -- | 15:50 | -- | Day 1 | -- |
| Nagchu | 4,500 m | 19:34 | 19:40 | 6 min | Day 1 | 322 km |
| Golmud | 2,780 m | 06:16 | 06:41 | 25 min | Day 2 | 1,142 km |
| Delingha | 2,980 m | 09:08 | 09:10 | 2 min | Day 2 | 1,451 km |
| Xining | 2,200 m | 13:20 | 13:45 | 25 min | Day 2 | 1,972 km |
| Lanzhou | 1,520 m | 16:14 | 16:29 | 15 min | Day 2 | 2,188 km |
| Zhongwei | 1,225 m | 21:26 | 21:32 | 6 min | Day 2 | 2,494 km |
| Taiyuan | 820 m | 03:54 | 04:00 | 6 min | Day 3 | 3,241 km |
| Shijiazhuang | 80 m | 05:45 | 05:55 | 10 min | Day 3 | 3,466 km |
| West Beijing | 44 m | 08:28 | -- | -- | Day 3 | 3,757 km |
Please Note:
1. The time table and schedule is just for reference. When you make early reservation, please contact us for more details.
2. Both Beijing to Lhasa train and Lhasa to Beijing train depart every day. You can choose from your preferred date according to your own schedule.
How to choose the route? Beijing to Lhasa or Lhasa to Beijing?
Many travelers to Tibet use the train for only one journey, either heading to the plateau or returning from it, and both have their good points, with the excitement of heading to Tibet building on the run from Beijing to Lhasa, and the relaxing atmosphere of the run from Lhasa to Beijing.
More Chances to See Breathtaking Scenery by Beijing to Lhasa Train
The train from Beijing to Lhasa leaves at 20:00 at night and arrives in Xining at 14:57 on the second day. From Xining, it begins to run along the scenic Qinghai-Tibet Railway, mainly passing the Qinghai Lake and Chaidamu Basin during the day time.
Then on the third day of the ride, after crossing the Tanggula Mountains at night, you will have half of the day to enjoy scenery of Tibet plateau, before the train arrives in Lhasa at 12:40.
Inversely, if you take the train from Lhasa to Beijing, you will first go through the night stay onboard before the train arrives in Golmud in the next morning. Thus, there may be less chance for you to see window scenery via the return journey.
Much Easier to Get a Tibet Train Ticket by Lhasa to Beijing Train
Tickets for the trains from Beijing to Lhasa can be easily obtained in the low and shoulder seasons, but in the peak season, are often sold out very quickly after their release dates, usually around 30 days before the date of travel.
This means it can be a little hard to get your tickets for trains to Tibet, especially since Beijing is one of the most popular departure cities for Lhasa. It is best to book as early as possible, to enable us to get your tickets well in advance of your trip.
The return journey from Lhasa to Beijing is usually the easier route to get tickets for, even in the peak season. Tickets are often more readily available closer to the date of travel, as many people ride the train in and fly out, in order to acclimatize to the high altitudes of Tibet.
What are the peak season and low season dates for Beijing Lhasa train tour?
For most travelers to Lhasa, the peak season starts with the summer months, from June to the end of September, and this is the main period when obtaining tickets to Tibet for the trains from Beijing can be harder. With both domestic and international tourists travelling to Tibet, the trains are often booked up well in advance during this time.
The low season for travel to Tibet is normally from December to January, at which time there are fewer tourists traveling to the plateau, which makes getting tickets much easier. This is also a good time for budget travelers to Tibet, considering the lower prices on hotel bookings etc.
The shoulder seasons, from April to May and October to November, can sometimes be hard to get tickets as well, as there are certain Chinese holidays during these periods when tickets can sell out, and which times travel should really be avoided.
Tips:
It is best to make your reservation as early as possible, even if you take the train ride in low season, so that you can successfully book your preferred seat of your planned travel date.
Beijing Lhasa Train Ticket
Soft Sleeper Train Ticket: 1144 CNY
Hard Sleeper Train Ticket: 720 CNY
What's the Difference between the Soft Sleeper and the Hard Sleeper?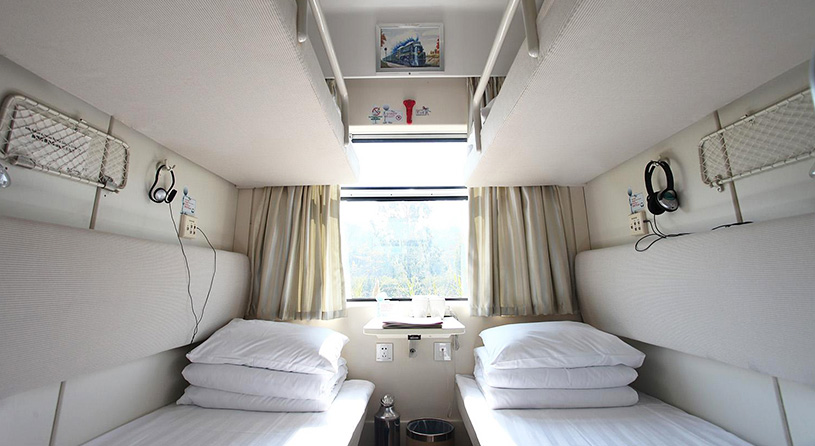 Soft sleeper on Tibet train is provided with 4 berths in each cabin.
The soft sleeper on Tibet trains is provided with the best possible facilities onboard, and could be the optimum choice for passengers caring about good privacy and comfortable travel experience. In each soft sleeper cabin, there are only four berths inside, with a lockable door to ensure a quiet environment.
While for budget travelers, the hard sleeper on Tibet train will be a good option, since it has a lower ticket price and also remains the comfort to some degree. There are 6 berths in each hard sleeper cabin. Although no door is provided for hard sleeper, tourists can have more chance to enjoy the time with locals or other passengers onboard.
How to Book the Beijing Lhasa Train Ticket?
The Tibet train ticket can be booked at the railway station or on the Internet. As a better choice, you can book your Beijing Lhasa train ticket online with us. With professional and trustworthy services on Tibet train tours, we can help to get your ticket of your preferred travel date.
How to Collect the Beijing Lhasa Train Ticket?
For tourists booking your Tibet train ticket with us, we will send the ticket to your address in mainland China. Or under some emergency cases, our staff will hand the train ticket to you at the railway station, before you board the train.
If you need to collect the ticket by yourself, you should go to the railway station in person. By showing your booking number, passport and Tibet travel permit, you can get your ticket from the train conductor. It is suggested to arrive in the station at least two hours earlier to reserve enough time to collect your ticket.
Get Your Tibet Travel Permit in Advance!
To collect your Tibet train ticket, you need to show the Tibet Travel Permit. Apply your Tibet travel permit and train ticket together with us, a real hassle-free Tibet train tour is one click beyond.
Apply for Tibet Permit Online
Beijing Lhasa Train Route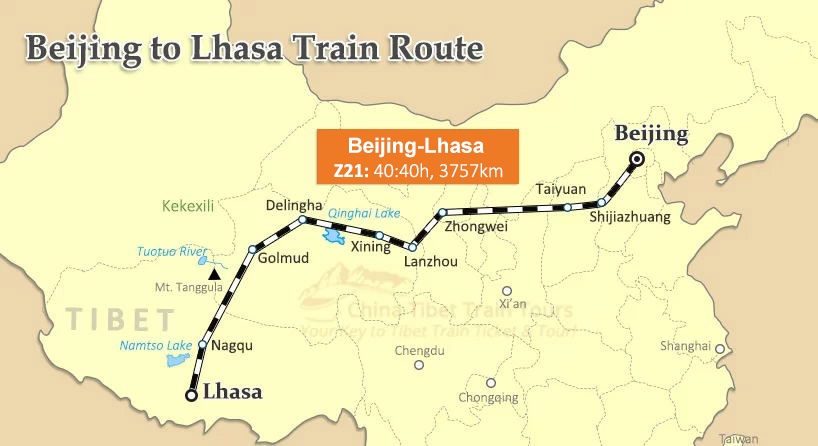 Beijing Lhasa Train Route Map
Launched in July 2006, the Beijing to Lhasa train (No.Z21), stretching as far as 3,757 km, has been one of the three initial railway routes to Tibet. Crossing eight provinces from Northern China Plain to the world highest Qinghai-Tibet Plateau, the train journey is a long railway adventure taking more than 40 hours from Beijing to Lhasa.
Departing from the capital city in northeast China, the train will first pass through the vast flatland with countryside scenery, as it heads to the central inland cities. After Lanzhou, the train will move towards Xining, the starting point of the breathtaking Qinghai-Tibet Railway, which extends as long as 1,110 km until Lhasa.
The highlight of the train ride lies in the section from Xining to Lhasa. The train will traverse some of the most breathtaking landscapes along the way, such as Qarhan Salt Lake, Gobi Desert, snow-capped Yuzhu Peak, lofty Tanggula Mountain, and massive grassland etc., leaving a valuable train experience for tourists taking the Tibet train.
Can I get off the train at certain station and then get onboard another train to Tibet after one or two days with the same ticket?
No, you cannot. If you want to break your Beijing Lhasa train tour in some cities for a couple of days' sightseeing en route, you need to buy different train tickets for different sections.
Fortunately, there are some stations where the train stops just long enough to allow passengers to climb down and wander along the platform for a few minutes, giving you a much-needed break from train life.
Lanzhou is one of the stations where you can get out for a while, as the train stops for around 16 minutes for new passengers to board. Here you can grab some additional snacks from the vendors selling food on the platform.
At Xining, the train stops for around 20 minutes, before it heads out onto the Qinghai Tibet Railway to Lhasa. At an altitude of 2,275 meters above sea level, Xining is the first stop where tourists are advised to make preparation from altitude sickness.
Nagqu is the final place where you can get down from the train for around 5-6 minutes. The station at Nagqu has some great views of the beautiful Changtang Grassland, which is the home to many Tibetan nomads and their domesticated yaks.
How about the altitude change along the Beijing Lhasa Railway? And how to prevent high altitude sickness while taking the train to Lhasa from Beijing?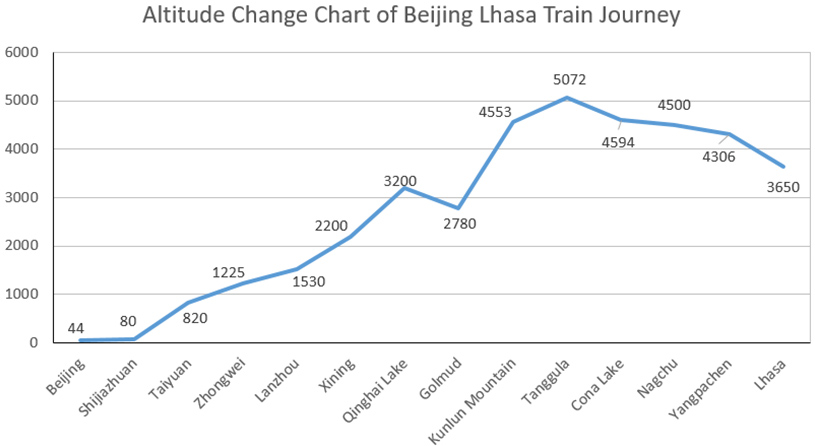 Check the altitude change of Beijing-Lhasa train from the graph above.
From Beijing at 44 meters above sea level, the train is travelling at altitudes that are too low to experience altitude sickness, for the first part of the rail line. After Lanzhou, the altitude starts to increase, reaching more than 2,000 meters at Xining, and then increasing further through Delingha (2,809m) to Golmud.
As you leave Golmud, the altitude increases sharply, ascending more than 1,000 meters in less than 100 kilometers. Once over the Kunlun and Tanggula Mountains, where you travel through the world's highest railway pass, the Tanggula Pass (5,072m), the altitude does drop a little as you travel south through Nagqu and Lhasa to an elevation of 3,641 meters.
For travelers who are planning to take the train from Beijing to Lhasa, the altitude sickness is always one of the major concerns. In fact, there are two kinds of oxygen supply systems onboard, which can relatively reduce the effect of high altitude. So there is no need to worry too much about suffering from altitude sickness onboard.
Why choose to travel to Tibet from Beijing by Tibet train instead of by air?
Travelling to Lhasa from Beijing by train can make you better get used to the high altitude and reduce the risk of suffering from altitude sickness to some degree. As the train gradually ascends to the roof of the world in over 40 hours, you will not suffer from dramatic altitude change from the sea level to above 3600 meters compared to taking a flight.
On the other side, taking a train ride will add to your Tibet tour more unforgettable experience with a sky train journey along the scenic Qinghai-Tibet Railway. The diverse landscape along the Tibet train journey, from snow-capped mountains to limpid alpine lakes, are one of the world's best views you will not see in other places of the planet.
Tips:
Since it is a long journey from Beijing to Lhasa by train, it is suggested to prepare some entertainment for yourself to kill the time onboard. And the facilities on Tibet train is well-equipped, include toilets, washing basins, dining car etc., ensuring a basic onboard life for passengers.
With boiled water supplied 24 hours a day, you can also bring some instant noodles, snacks, coffee and tea with you, in case you are not keen on the food onboard.
How to Get to Beijing West Railway Station?
Of all the railway stations in the capital city, Beijing West Railway Station is the only one that serves Tibet trains to Lhasa. Located near the West 3rd Ring Road, the station is only 8km from the Forbidden City, with easy access from all districts of the city.
From Beijing Capital Airport
Lying around 40 kilometers from the Beijing Capital Airport, Beijing West Railway Station can be reached by subway, shuttle bus or taxi, each respectively featuring different route, cost and duration.
By Subway
Fastest Transfer Route: Airport Line – Metro Line 2 – Metro Line 4 Daxing Line – Metro Line 7
First take the airport line at Terminal 2 (Gate D), and transfer to Metro Line 2 at Dongzhimen stop. Then, connect to Metro Line 4 Daxing Line at Xuanwumen after 8 stops. Next, transfer to Metro Line 7 at Caishikou, before reaching the railway station after 4 stops.
This subway route from the airport to the station needs several transfers on the way, but it will keep you from the traffic jams. The total cost will be 30 RMB per person one way, and it normally take about 1 hour and 20 minutes for the whole journey.
Fewer-Connections Transfer Route: Airport Line – Metro Line 10
First take the Airport Line at Terminal 3, and transfer to Metro Line 10 at Sanyuanqiao. After 20 stops, arrive at Lianhuaqiao and get off the subway from Exit C. From there, you will need to walk eastwards for about 1.5 km before reaching the railway station.
By taking this subway route, tourists will only need to transfer one time on the way, but there will be more walking on the other hand. The total cost will be 31 RMB, and it normally take about 1 hour and 50 minutes.
By Airport Shuttle Bus No. 7
The bus terminal is outside the airport, and the shuttle bus No.7 departs every 30 minutes for the station, from 6:00 a.m. to 1:00 a.m. of the next day during peak season and from 7:00 am to 24:00am in low season. The bus ride takes around two hours, and costs 30 RMB for the entire trip.
Bus Route : Terminal 1 – Guangqumen – Ciqikou – Qianmen Street South – Caishikou – Outside of Guang'anmen - South Square of West Railway Station
By Taxi
The taxis run from the taxi terminal outside the terminal buildings, and it takes around an hour to travel to the station. Costs for the taxis are around 120 RMB, and will always increase during the rush hours of workdays.
From Downtown City
Taxis can be had all over Beijing that will run to the station. From Tiananmen Square, a standard taxi ride normally costs 30 RMB, excluding delays caused by traffic jams. If you take the taxi at night, the cost will be much more expensive, normally with 20% additional charge.
The subway lines run direct to the station, using either Metro line 7 or line 9. If you go to the station from the Temple of Palace, you can directly take the Metro line 7 at Qiaowan Station, which takes only 30 minutes and costs 4 RMB. You will get off the subway on the first lower floor, and head up to the ticket offices and waiting halls using the stairs or escalators.
Dozens of local buses run to the station, stopping at either the north square or the south square. The buses are generally scheduled to depart from 5:00 am to 23:00 pm, and there are also night buses running from 23:00 pm to 4:50 am of the next day.
Beijing Tibet Train Tours
Get travel ideas from our best selected Beijing Tibet Tours by train. Choosing from the most classic travel itineraries in Tibet, you will enjoy the epic Beijing-Lhasa train experience with our one-pack services of guaranteed Tibet train ticket and Tibet travel permit.
Xining City Tour (Suggested 1 to 2 Days)

It is a good idea to spend a day or two in Xining if you can. Not only will you have the chance to see some of the sights of this delightful little city, like Qinghai Lake or Ta'er Monastery, but you can also get yourself easier to acclimatize to the higher altitude of Lhasa once you arrive.

Flights to Xining from Beijing run daily, with around eight direct flights available. The flight takes around 2 hours 40 minutes to reach Xining. Once in Xining, you can get the train to Lhasa. As all trains to Tibet stops in Xining, it will be easier to get a Tibet train ticket there for your required travel date.

>> Join in our popular 10 Days Xining and Tibet Everest Tour from Beijing

Xi'an Sightseeing Tour (Suggested 1 to 2 Days)

Another option for travel is to take a Beijing-Xi'an train first and then board the Tibet train to Lhasa from there. With over 15 high-speed trains running from Beijing to Xi'an, you can arrive in this ancient city in about 5 hours. Then from Xi'an, the train to Tibet departs two times every day, and takes about 30 hours to get to Lhasa.

In this case, you can cut down the total travel time onboard, but also experience a high speed train ride and Tibet train journey together. Besides, you can stay a couple of days to tour the charming city of Xi'an, where you will get amazed by the Terracotta Warriors and the City Ancient Wall.

>> Join in our classic 15 Days Beijing Xian Lhasa Tour with extension to Kathmandu Nepal
Let's Start Your Hassle-free Tibet Train Tour with Us!
From handling and delivery of your Tibet Travel Permit to sorting out the details like itineraries, hotels and booking the Tibet train tickets and flight tickets, we care deeply about your ideas and work 24/7 to ensure you a worry-free and pleasant travel.
Enquire Now
Contact Us for Your Dream Tour Now
Your are enquiring for
Beijing to Lhasa Train
Price from
Price upon Request