Xining to Lhasa Train Book
Xining is the start of the Qinghai-Tibet Railway, and the main starting point for many trips to Tibet. Sitting at the crossing of the Lanzhou-Qinghai and Qinghai-Tibet Railway lines it is the most important station for all trains going to Tibet. While the station was completed in 1959, the railway to Lhasa was not finished until 2006. It now serves as the main station for trains to Lhasa, and all trains to Tibet pass through the city.
Xining is the capital of Qinghai Province, and sits at an altitude of 2,275 meters above sea level. It is now possible to take the train to the Tibetan Plateau from Xining. The distance from Lhasa to Xining is 1972km/1233 miles. It is the ideal place to start your tour of Tibet, as the altitude allows for some acclimatization, making it easier to become acclimatized once you get to Tibet, and reducing the risk of altitude sickness. Spend a day in Xining, touring the various sights, and it will help you become acclimatized.
The Z6801 is the only train that starts directly from Xining and arrive in Lhasa. Z6801 departs from Xining every other day at 14:01 from Xining Train Station, and arrives at Lhasa at 11:10 on the second day.The train running from Xining is pressurized, supplied with oxygen altimeters, and sealed. The windows have ultraviolet filters to protect passengers from UV radiation. Here are the most up-to-date information of Xining Lhasa Train for 2017-2018.
Xining to Lhasa Train Ticket Online Booking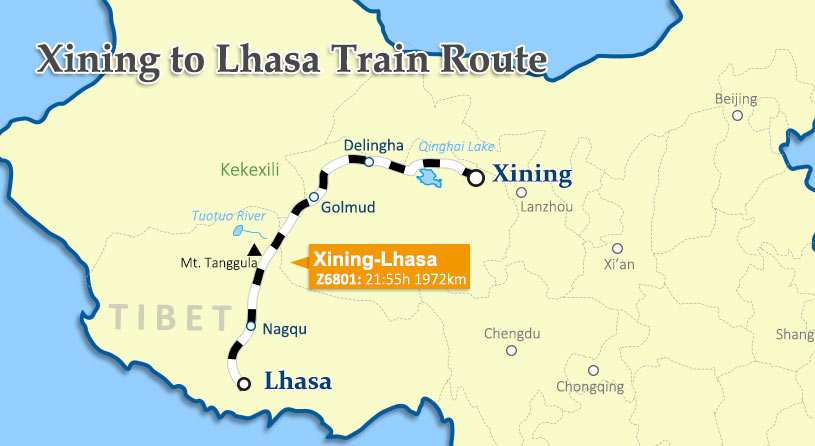 Xining Lhasa Train Ticket Price & Online Booking
Train No.
From / To
Dep. / Arr.
Duration
Distance (km)
Frequency
Hard Sleeper Ticket
Soft Sleeper Ticket
Z6801
Xining/Lhasa
14:01/11:10
21:09
1,972
Every Other Day
CNY495
CNY781
Z6802
Lhasa/Xining
08:50/06:43
21:53
1,972
Every Other Day
CNY495
CNY781
Book the Train Now
Note:
1. The Z6801 is the only train that starts from Xining and arrives in Lhasa. The Z6802 originates from Lhasa and arrives in Xining.
2. The ticket price of the train from Lhasa to Xining (No.Z6802) is the same.
3. The ticket prices above are the net price. Since the demand of Xining to Lhasa train tickets always far exceeds the supply in peak season, tourists have to pay more than the net price to buy tickets. The actual price is subject to the market fluctuation.
4. A small service fee will be charged for Ticket-Only service. No service charge on booking train tickets if you also book a Tibet tour package with us.
5. Your submitted reservation is not an order but just an inquiry. The reservation need to be confirmed by Chinatibettrain.Com. An early reservation is recommended for the limited supply of Tibet train tickets.
6. ChinaTibetTrain.com recommends that if you want to experience the new train to Tibet but do not want to spend hours travelling from other cities, you should fly into Xining and then take the train to Lhasa from Xining.
7. Xining is a popular destination to jump on the train and head to Tibet. Although there are more tickets supplied in Xining railway station, there is no guarantee in summer when Tibet tourism reaches its peak season. Peak seasons include May, June and August or September to early October.
Most Recommended Xining Tibet Train Tours
Timetable of Xining to Lhasa Train - No.Z6801
| Station | Altitutde | Arrival | Departure | Stop Time | Days | Distance |
| --- | --- | --- | --- | --- | --- | --- |
| Xining | 2,200 m | -- | 14:01 | -- | Day 1 | -- |
| Delingha | 2,980 m | 18:03 | 18:09 | 6 min | Day 1 | 521 km |
| Golmud | 2,780 m | 20:48 | 21:13 | 25 min | Day 1 | 830 km |
| Amdo | 4,800 m | 05:25 | 05:29 | 4 min | Day 2 | 1,524 km |
| Nagchu | 4,500 m | 06:54 | 07:00 | 6 min | Day 2 | 1,650 km |
| Damxung | 4,290 m | 08:36 | 08:40 | 4 min | Day 2 | 1,808 km |
| Lhasa | 3,650 m | 11:10 | -- | -- | Day 2 | 1,972 km |
Timetable of Lhasa to Xining Train - No.Z6802
| Station | Altitutde | Arrival | Departure | Stop Time | Days | Distance |
| --- | --- | --- | --- | --- | --- | --- |
| Lhasa | 3,650 m | -- | 08:50 | -- | Day 1 | -- |
| Damxung | 4,290 m | 10:40 | 10:44 | 4 min | Day 1 | 164 km |
| Nagchu | 4,500 m | 12:22 | 12:30 | 8 min | Day 1 | 322 km |
| Amdo | 4,800 m | 13:52 | 13:56 | 4 min | Day 1 | 448 km |
| Golmud | 2,780 m | 23:25 | 23:50 | 25 min | Day 1 | 1,142 km |
| Delingha | 2,980 m | 02:17 | 02:23 | 6 min | Day 2 | 1,451 km |
| Xining | 2,200 m | 06:43 | -- | -- | Day 2 | 1,972 km |
2017 & 2018 Xining to Lhasa Train Schedule
Beside the direct Xining-Lhasa train Z6801, all the other trains to Lhasa stop over at Xining railway station. In this case, if you can't buy a ticket from Beijing, Shanghai, Chengdu or other popular destinations, you may try to buy a ticket from Xining to Lhasa instead. Here are the schedules of all the trains to Lhasa from Xining.
| Train No. | From / To | Dep. / Arr. | Duration | Distance (km) | Frequency | Hard sleeper Ticket | Soft Sleeper Ticket |
| --- | --- | --- | --- | --- | --- | --- | --- |
| Z323 | Chengdu to Lhasa | 12:27/09:55 | 21:28 | 1972 | Every Other Day | CNY495 | CNY781 |
| Z223 | Chongqing to Lhasa | 12:27/09:55 | 21:28 | 1972 | Every Other Day | CNY495 | CNY781 |
| Z6801 | Xining to Lhasa | 14:01/11:10 | 21:09 | 1972 | Every Other Day | CNY495 | CNY781 |
| Z917 | Lanzhou to Lhasa | 14:01/11:10 | 21:09 | 1972 | Every Other Day | CNY495 | CNY781 |
| Z21 | Beijing to Lhasa | 15:21/12:10 | 20:49 | 1972 | Daily | CNY495 | CNY781 |
| Z265 | Guangzhou to Lhasa | 19:45/17:05 | 21:20 | 1972 | Daily | CNY495 | CNY781 |
| Z6811 | Xining to Lhasa | 20:30/18:10 | 21:40 | 1972 | Daily (seasonal) | CNY495 | CNY781 |
| Z165 | Shanghai to Lhasa | 21:32/19:20 | 21:48 | 1972 | Daily | CNY495 | CNY781 |
Why take Tibet train from Xining?
1. The Shortest Train Ride to Lhasa within 24 Hours
For anyone wanting to travel to Tibet by train, but not wanting to spend up to three days on the train, Xining is the ideal choice. The train to Lhasa takes around 22 hours to cover the 1,972km distance up to, and across, the Qinghai-Tibet Plateau. It is the shortest train journey to Tibet with only one night on the train and most of the beautiful sceneries along the Qinghai-Tibet railway travelers can see on the train in the daytime.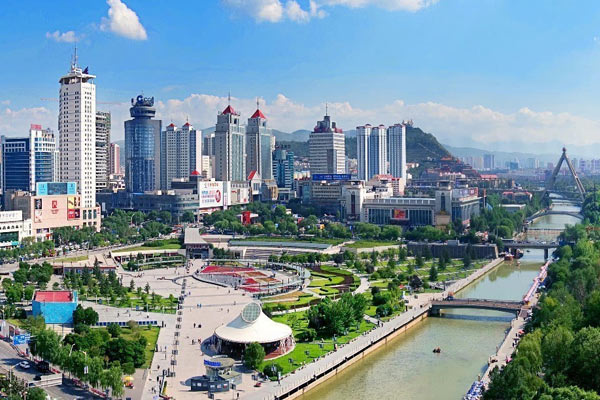 Xining city
2. More Helpful to Accumulate Altitude Changes
It is ideal for travelers to get to Xining (2283 meters) first, stay there at least 1 day and then take a train to Lhasa. It is not very helpful to accumulate the altitude changes from Beijing (44 metres), Shanghai (16 metres), Chengdu (485 metres) and other cities before reaching to Xining for the altitudes of those cities passing by are too low in the first day of the train journey.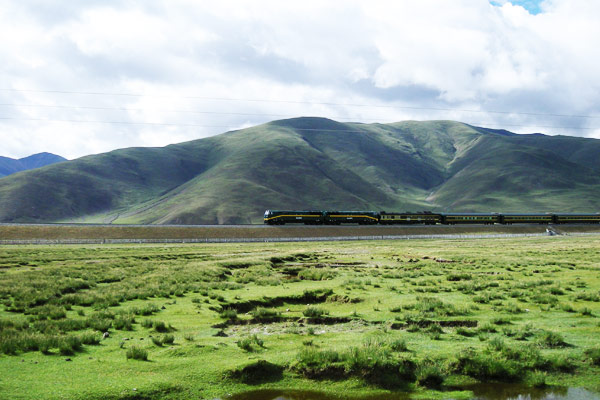 Train on Qinghai-Tibet Railway
3. More Chances to Get a Train Ticket to Lhasa from Xining
The train from Xining to Lhasa is the largest of all the trains going to Tibet, and there is a much better chance of getting a ticket for your required travel dates from Xining than from any other city in China. There are about 4 to 5 trains bound for Lhasa from Xining each day, which lead to a larger transportation capacity with more tickets supplied. If you are going to take a train to Tibet in peak season, usually comes in summer, you can start your train ride from Xining to Lhasa instead of starting from Beijing or Shanghai, which offers more chances to get a Qinghai-Tibet train ticket.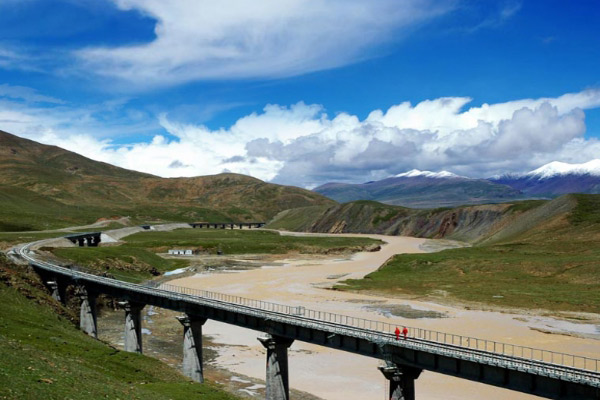 Scenery along the route
4.Numerous tourists attractions around Xining and Qinghai-Tibet Railway
Following the world famous Qinghai-Tibet Railway, also known and the Qingzang Railway, the train runs around the Qinghai Lake and the Chaidamu Basin to Golmud, before climbing up to the plateau, and then crossing massive open plains and two mountain ranges en route to the Tibetan capital.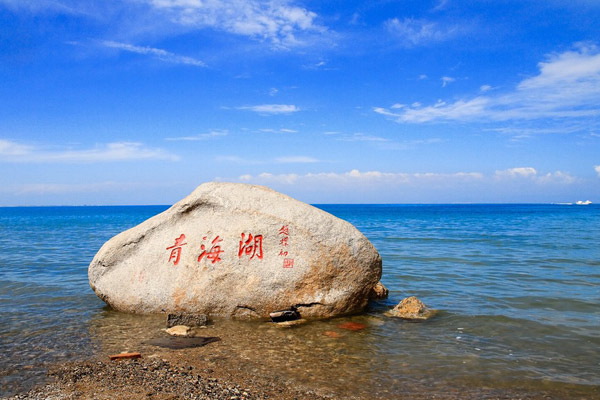 Qinghai Lake
Aside from the amazing scenery that can be seen along the Qinghai-Tibet Railway, there are many other attractions for foreign visitors to Xining. As the east gate of the Qinghai-Tibet Plateau, Xining has many top attractions to keep you busy while visiting the city. In the southwest part of the city is the Ta'er Monastery, one of the six Great Monasteries of the Gelugpa Sect of Tibetan Buddhism. In the Xining city zone there is the 600-year-old Dongguan Mosque, one of the most famous mosques in China, and big enough to hold over 300 Muslims in prayer.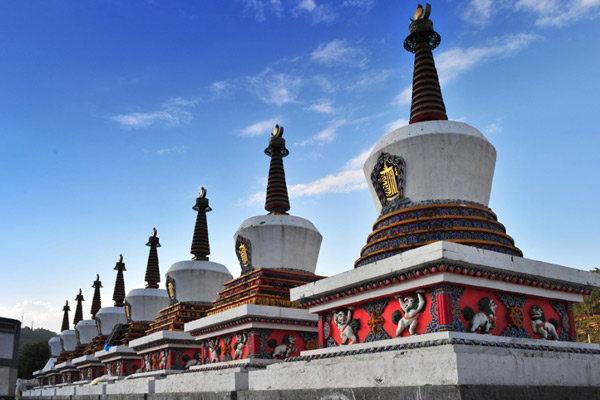 Ta'er Monastery
Outside the city lies the Qinghai Lake, with the famous Bird Island in the northwest of the lake. The island is small, but becomes the home to millions of migratory birds twice a year, making it an excellent place for birdwatching and seeing several rare species of non-native birds.
Xining Train Station
The station at Xining is the most popular, and busiest, of all the stations sending trains to Lhasa. It is the start of the Qinghai-Tibet Railway, and a stopping point for every single train that travels to Tibet. In addition, with 4-5 trains every day to Lhasa, it is much easier to get tickets for the trip.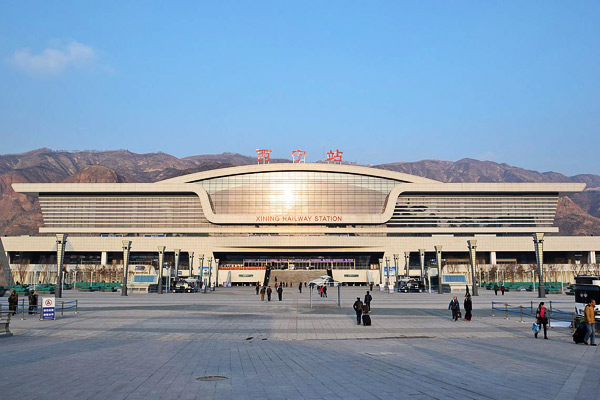 Xining Railway Station
The station is located on Huzhu Road, in Chengdong District, and reconstruction was completed on the station in 2014, when it reopened to Tibet Trains after several years of closure. The new station is divided into a main station building, and two outer squares. The building is made up of three levels, with a ticket hall, regular waiting rooms, soft sleeper rooms, VIP waiting areas, mother and baby rooms, and a full market. Majority of the waiting halls are on the second floor, with departures on the ground floor and arrivals in the underground level.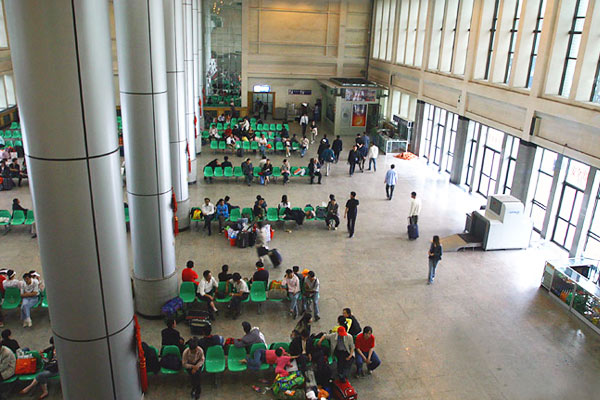 Xining Railway Station waiting room
Getting to the station is easy from anywhere in the city, as it is centrally located. It costs around CNY10 for a taxi from the city center, or CNY1 for a bus ticket. From the airport, it is a little harder to get to the station. There are no direct shuttles, so passengers need to ride the shuttle to Bayi Road Xining Airport City terminal, and then get a taxi to the station. The shuttle takes around 40 minutes and costs CNY25, while the taxi part of the trip is just 3klm and costs only CNY10.
Traveling on the Xining-Lhasa Train
The train from Xining to Lhasa is the largest and longest of all the trains from China to Tibet. The railway across the plateau to Lhasa is the record-breaking track in the world, and includes some of the most spectacular sights known to man. As well as traveling over 900km along the highest track in the world (over 4,000 meters above sea level), the railway also holds the records for the highest tunnel through permafrost, the highest railway pass in the world, and the world's highest railway station, among many others.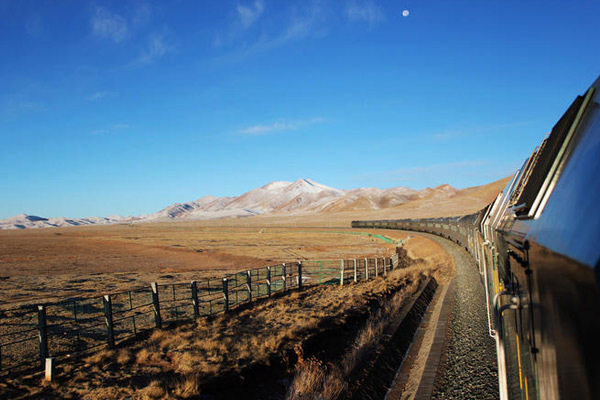 Train from Xining to Lhasa
The trains from Xining, despite only being a 22-hour trip, have all the facilities of any train going to Tibet. There are hard seats available, although these are not recommended, and hard sleeper cabins, which sleep six people in bunks, have no door to the cabin, and are not as "hard" as their name sounds. There are also the soft sleeper cabins, which sleep just four passengers in berths, and have lockable doors and television. They are a little more expensive, but many foreign tourists prefer them for the added security and privacy.
Soft sleeper berth
The train has 24-hour dining in the dining car, and a selection of both Tibetan and Chinese dishes on the buffet trolley. There are many different dishes on offer, and there should be something available to suit almost all tastes. During the stretch from Golmud to Lhasa, the staff will announce upcoming points of interest for passengers in Chinese, Tibetan, and English, and give a short explanation of the sights and what to look out for.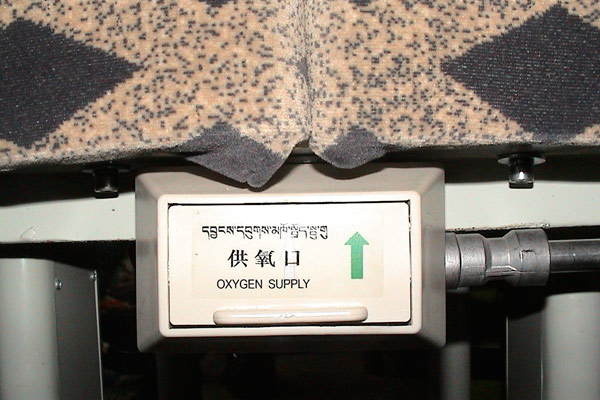 Oxygen supply on Xining-Lhasa train
Oxygen is available in the soft sleepers and the train's corridors in case of altitude sickness during the latter part of the journey, and oxygen tubes can be obtained from the train staff. There is also a medical cabin on the train with a doctor and nurses to treat any ailments along the route.
Direct International Flights to Xining
While many visitors tend to land in other cities in China and then take a connecting flight to Xining for the train, or get the train from the city they landed in, there is an option to fly direct to Xining if you are not intending to visit other places in China first. Flights into Xining Caojiabao Airport are available from many countries around the world, both direct and indirect, and can be obtained at a very good price online.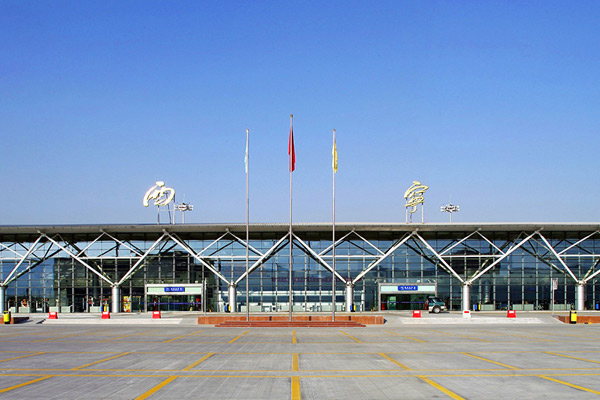 Xining Caojiabao Airport
The major advantage of traveling to Lhasa from Xining is the elevation of the city. At 2,275 meters above sea level, spending a day or so sightseeing in Xining will help to acclimatize yourself for the trip up and up to the Qinghai-Tibet Plateau, most of which is at an elevation of over 4,000 meters. This is an advantage because you will need to spend time acclimatizing before being able to travel around Tibet, or there will be a serious danger of altitude sickness. If this is not done at Xining, then you will need to spend the first couple of days in Lhasa getting used to the immense elevation of the roof of the world. Therefore, you can save yourself some time, and visit some of the famous attractions of Qinghai Province while you acclimatize.