Chengdu to Lhasa Train Book
For any people taking their first trip to Tibet, and for most of those for whom it is not their first visit, China is their gateway to the Himalayas. Most visitors to this high-altitude region travel by train to Lhasa, from any one of seven cities in China. And for many, Chengdu is the starting point of choice, with many things to do in and around the city before they board the train. Chengdu to Lhasa train, Z322 (original train number T22/23), is the third shortest in terms of total trip duration, next to that from Xining and Lanzhou. The Chengdu-Tibet train departs every other day at 14:48 from the Chengdu Railway Station, and arrives in Lhasa at 09:55 on the third day. Here are the most up-to-date information of Chengdu Lhasa Train for 2017-2018.
Chengdu to Lhasa Train Ticket Online Booking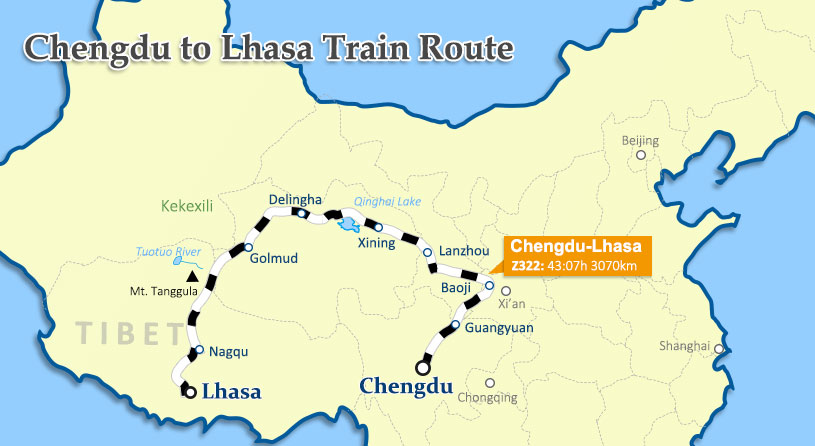 Chengdu Lhasa Train Ticket Price & Online Booking
Train No.
From / To
Dep. / Arr.
Duration
Distance (km)
Frequency
Hard sleeper Ticket
Soft Sleeper Ticket
Z322
Chengdu/Lhasa
14:48/09:55
43:07
3,360
Every Other Day
CNY668
CNY1062
Z324
Lhasa/Chengdu
18:20/14:26
44:06
3,360
Every Other Day
CNY668
CNY1062
Book the Train Now
Note:
1.The ticket price of the train from Lhasa to Chengdu (No.Z324) is the same.
2. The ticket prices above are the net price. Since the demand of Chengdu to Lhasa train tickets always far exceeds the supply in peak season, tourists have to pay more than the net price to buy tickets. The actual price is subject to the market fluctuation.
3. A small service fee will be charged for Ticket-Only service. No service charge on booking train tickets if you also book a Tibet tour package with us.
4. Your submitted reservation is not an order but just an inquiry. The reservation need to be confirmed by Chinatibettrain.Com. An early reservation is recommended for the limited supply of Tibet train tickets.
Most Recommended Chengdu Tibet Train Tours
2017 Chengdu to Lhasa Train Schedule
| Jan. | Feb. | Mar. | Apr. | May | Jun. | Jul. | Aug. | Sept. | Oct. | Nov. | Dec. |
| --- | --- | --- | --- | --- | --- | --- | --- | --- | --- | --- | --- |
| even days | odd days | odd days | even days | even days | odd days | odd days | even days | odd days | odd days | even days | even days |
Note: ODD DAYS refers to 1st, 3rd, 5th, 7th, 9th, etc. EVEN DAYS refers to 2nd, 4th, 6th, 8th, 10, etc.
Timetable of Chengdu to Lhasa Train - No.Z322
| Station | Altitutde | Arrival | Departure | Stop Time | Days | Distance |
| --- | --- | --- | --- | --- | --- | --- |
| Chengdu | 485 m | -- | 14:48 | -- | Day 1 | -- |
| Guangyuan | 488 m | 19:34 | 19:44 | 10 min | Day 1 | 319 km |
| Baoji | 567 m | 03:04 | 03:25 | 21 min | Day 2 | 669 km |
| Lanzhou | 1,520 m | 09:10 | 09:27 | 17 min | Day 2 | 1172 km |
| Xining | 2,200 m | 12:07 | 12:27 | 20 min | Day 2 | 1388 km |
| Delingha | 2,980 m | 16:35 | 16:37 | 2 min | Day 2 | 1909 km |
| Golmud | 2,780 m | 19:24 | 19:49 | 25 min | Day 2 | 2218 km |
| Nagchu | 4,500 m | 05:46 | 05:52 | 6 min | Day 3 | 3038 km |
| Lhasa | 3,650 m | 09:55 | -- | -- | Day 3 | 3360 km |
Timetable of Lhasa to Chengdu Train - No.Z324
| Station | Altitutde | Arrival | Departure | Stop Time | Days | Distance |
| --- | --- | --- | --- | --- | --- | --- |
| Lhasa | 3,650 m | -- | 18:20 | -- | Day 1 | -- |
| Nagchu | 4,500 m | 21:41 | 21:47 | 6 min | Day 1 | 322 km |
| Golmud | 2,780 m | 08:05 | 08:30 | 25 min | Day 2 | 1,142 km |
| Delingha | 2,980 m | 10:57 | 10:59 | 2 min | Day 2 | 1,451 km |
| Xining | 2,200 m | 15:19 | 15:39 | 20 min | Day 2 | 1,972 km |
| Lanzhou | 1,520 m | 18:19 | 18:34 | 15 min | Day 2 | 2,188 km |
| Baoji | 567 m | 01:14 | 01:44 | 30 min | Day 3 | 2,691 km |
| Guangyuan | 488 m | 09:34 | 09:52 | 18 min | Day 3 | 3041 km |
| Chengdu | 485 m | 14:26 | -- | -- | Day 3 | 3,360 km |
Why take Tibet train from Chengdu?
Chengdu is a very popular starting point for taking the train to Tibet. It is easier to obtain train tickets in Chengdu, and it takes less time from Chengdu to Lhasa than from Shanghai or Guangzhou. The Train travels 3,600km between the home of the Giant Pandas and the holy land of Tibet. Travelers spend 44 hours on the train, experiencing the world's highest railway, enjoying the endless snow-capped mountains outside and witnessing the wild life of the plateau.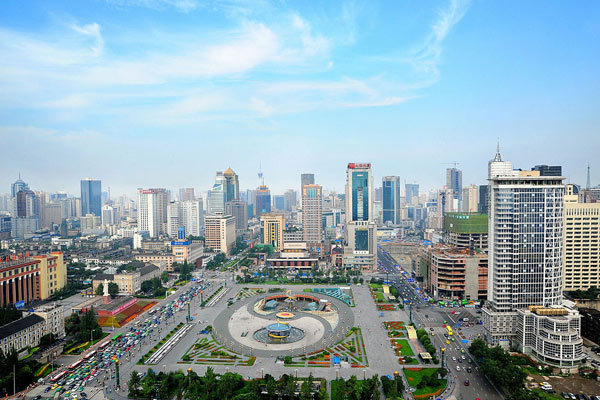 Tianfu Square in Chengdu
With incoming flights from over 50 international airports, Chengdu Shuangliu International Airport (CDIA) is one of the largest airports in China. Not only are there flights from international airports, but you can fly to Chengdu from all of the major airports in China, such as Beijing, Shanghai, Guangzhou, and Hong Kong.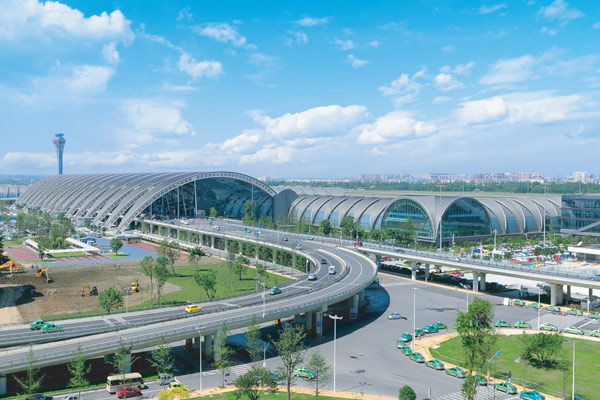 Chengdu Shuangliu International Airport
Another good reason for traveling to Chengdu first, before taking the train to Tibet, is the Giant Panda Research Base, which is just 10km outside the city. The research base specializes in the care and breeding of the almost extinct Chinese Giant Pandas, and is a popular destination for visitors to China. The site also includes a museum that educates visitors about their history, their current distribution in the wild, and how the Chinese government is backing the research into reintroducing these beautiful animals into the wild.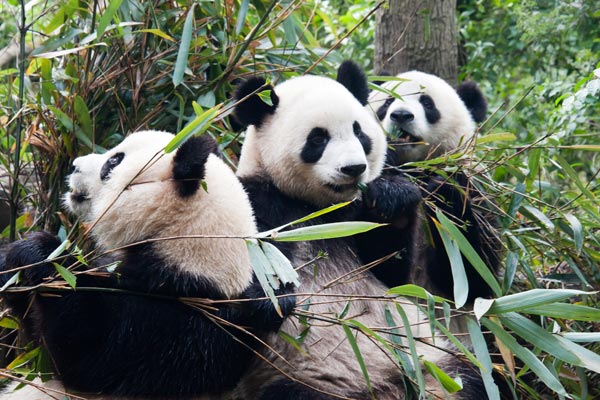 Pandas in Giant Panda Research Base
There are many other things to do and see in and around Chengdu, such as the Sanxingdui Museum, the Jiuzhai Valley National Park, Zigong Dinosaur Museum, and many other attractions.
Chengdu Train Station
The main station in Chengdu is the Chengdu Northern Railway Station, and is the starting point for the trains to Tibet. It incorporates a large waiting hall, designed in a modern style, with a separate ticket office to the right of the main square in front of the station. Foreign visitors who booked their tickets online will need to pick them up from one of the ticket windows, and will need their ticket booking number, passport, and Tibet Travel Permit in order to collect.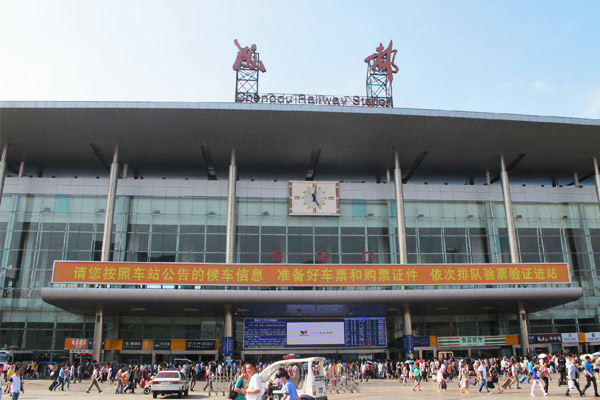 Chengdu Northern Railway Station
There are certain security checks you will need to go through to get into the main waiting area, but this is just a matter of course in China. The waiting hall has LED screens with the train numbers and departure times and platforms listed, as well as dedicated waiting rooms for the different classes of tickets. Passengers need to make sure they are in the right waiting room, so it is essential to check the waiting room details on your ticket carefully.
Metro line 1 to Chengdu Northern Railway Station
The station is easily accessible by bus and taxi, and there are Airport Shuttles that run from the airport to the station, which takes around 40 minutes. Cost for the shuttle is around CNY10, while a taxi from the airport to the station will normally cost between CNY70-80. From downtown there are buses or taxis, or you can take the subway on Line 1, disembarking at the North Railway Station stop.
Traveling on the Chengdu-Lhasa Train
The train is designed along the style of all trains to Tibet, with lotus-shaped mirrors in the washrooms and classic Tibetan colors in all the carriages as well as on the staff uniforms. The train comprises of carriages for hard sleepers, hard seats, soft sleepers, and a dining car.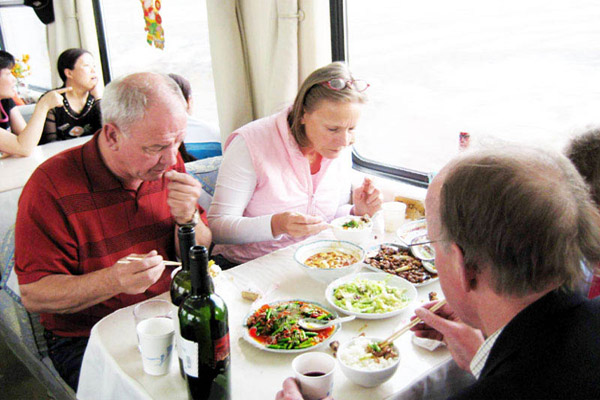 Tasty food served on Chengdu-Lhasa train
The train has 24-hour dining in the dining car, and a selection of both Tibetan and Chinese dishes on the buffet trolley. There are over 100 different dishes on offer, which change depending on the season. During the stretch from Golmud to Lhasa, the staff will announce upcoming points of interest for passengers in Chinese, Tibetan, and English, and give a short explanation of the sights and what to look out for.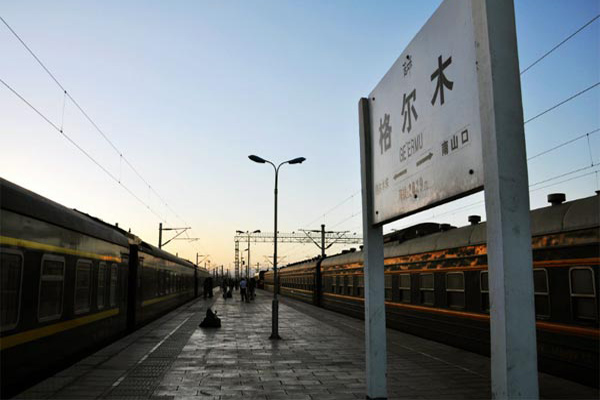 Golmud Train Station platform
As with all trains to Tibet, there are three types of tickets available for you to buy. Hard seats are the cheapest, but are not recommended for foreign visitors, as they can get uncomfortable over the three days of travel. Hard sleeper cabins are the next type of on-board accommodation. The cabins contain six bunks with soft mattresses, but have no doors. The best option is the soft sleeper cabin, which sleeps four adults, has a lockable door for security, and a small television that shows local programs.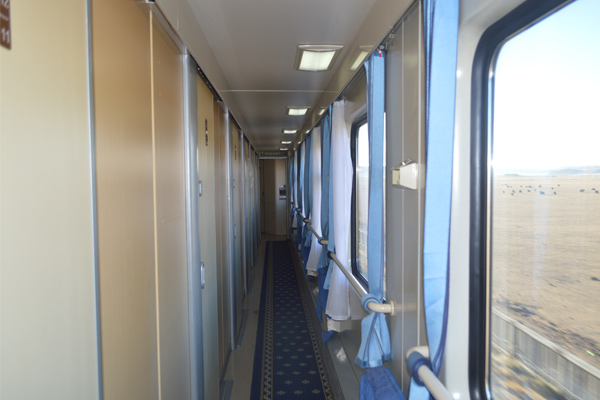 Soft sleeper cabin on Chengdu-Lhasa train
Oxygen is available in the soft sleepers and the train's corridors in case of altitude sickness during the latter part of the journey, and oxygen tubes can be obtained from the train staff. There is also a medical cabin on the train with a doctor and nurses to treat any ailments along the route.
Flights to Xining – an option to avoid high ticket demand
While it is often possible to get tickets for Tibet from Chengdu relatively easily in the off-season, in the peak month, especially summer, it can be hard to get a ticket for the required travel date. If you are traveling to Tibet from Chengdu, one option you have is to take a flight to Xining, and taking the train from there. With a much bigger train running from Xining to Lhasa, and more available seats, there is a better chance of getting tickets for the expected date of travel, especially if you book your tickets through us. We can book your tickets for you, and then you can pick them up from the station windows in Xining Railway Station.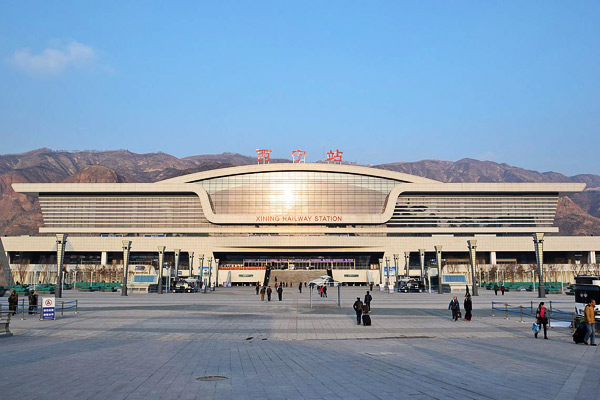 Xining Railway Station
Flights from Chengdu to Xinging run six times a day, and cost from around US$102. The flight takes approximately 1 hour 50 minutes. Flights leave for Xining from Chengdu Shuangliu International Airport.
The main advantage of traveling via airplane to Xining and then taking the train from there is that you can save time on the trip, and as Xining is at an elevation of 2,275 meters, you can always spend a day there to help with acclimatizing to the higher altitudes. This can help to reduce the risk of altitude sickness. Moreover, as most of the spectacular scenery is on the train from Golmud (where the train starts its ascent to the Qinghai-Tibet Plateau) you would not be missing any of the best parts of the train journey.