Tibet Train Medical Services
Travelling to Tibet by train is becoming more and more popular among tourists from both home and aboard. While for most tourists, especially those who are about to visit Tibet for the first time, they may show deep concerns on the health issue during their train journey. Actually, Tibet trains are quite safe and sanitary. Compared to the ordinary trains running in other inland cities of China, the trains to Tibet are additionally provided with medical services, as well as the oxygen supply system.
Medical Service onboard Tibet trains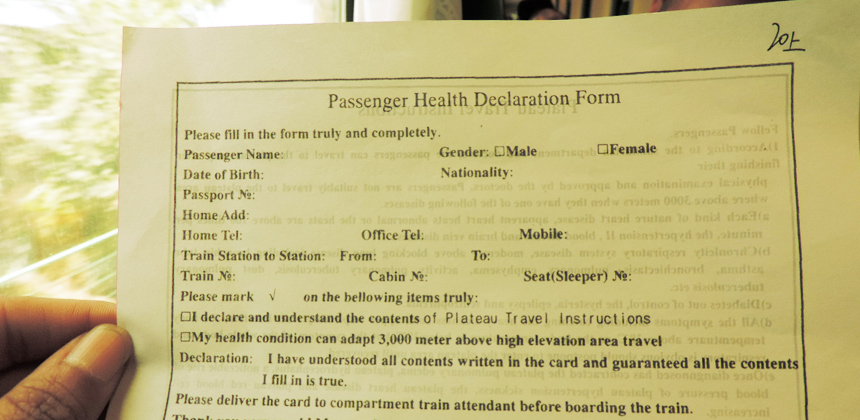 The Passenger Health Declaration Form
Every Tibet train is equipped with a small medical car, which is normally staffed by a resident doctor, and a few nurses. Usually, if you suffer from mild Altitude Sickness, showing some symptoms as headache, dizziness or fatigue etc, you can just get some rest and take extra oxygen from the oxygen supply onboard Tibet train to stave off the effects of AMS. While, if you start to feel more serious effects of AMS, turn to the train staff and they will help you to see the doctor onboard.
It is advisable to be aware of your own health before taking your train trip to Tibet. You should see your own doctor before leaving your home country and get a detailed understanding of the Altitude Sickness, for better prevention and treatment.
Meanwhile, passengers are required to fill in a health declaration form before boarding the train to ensure a safety trip. Passengers who have severe breathing problems or heart diseases will be pre-notified not to avail the Tibet train.
Will I Suffer from Altitude Sickness When Taking Tibet Train?
When taking the train to Tibet, the carriages onboard are not climate controlled. There is no hermetical seal to keep you safe from the outside climate, however, after the train passes Golmud, the oxygen system is turned on, and it pumps oxygen into the train compartments, increasing the oxygen levels inside the train to higher than that outside.
While oxygen is pumped into the carriages after the increase in altitude, there is still no guarantee that you will not suffer from the milder symptoms of altitude sickness. There is a chance you could get AMS when traveling on the trains to Tibet. However, this can also depend on your own constitution, and how active you are during the trip.
How to Avoid High Altitude Sickness while Traveling to Tibet by Train?
It is advisable to rest for at least one to two days after the train arrives in Xining, to acclimatize at a lower altitude, before travelling up to the higher altitude of Lhasa and Tibet plateau.
Ensure adequate sleep and have a good rest. Do not be nervous, since the symptoms of altitude sickness will get worse once you get stressed out. Listen to music, or appreciate the spectacular scenery that passes by outside the windows, then you will feel much better.
Since the train is travelling at a very high altitude, it's imperative to always stay prepared. Ask the train staff for the oxygen tubes which are used to connect the oxygen outlets on the train, to help you breath and cope with the mild altitude sickness.
Prevent yourself from catching a cold. Bring yourself with some cold medicine and other necessary medicine for treating low fever and headache. Catching a cold is dangerous while taking Tibet trains on high altitude plateau, for it can easily transformed to other serious altitude sickness, like pulmonary edema and encephaledema. If you catch a cold before entering Tibet, you'd better reschedule your trip to regain your health first.
Where are the Oxygen Supply installed on Tibet Trains?
The private oxygen supply socket is installed in different locations depending on your ticket type. In the cabin and train corridor, oxygen supply outlets are on the train wall. In the sleep cabins, they are near the beds and can be used while lying on the bed. You can easily locate these wall outlets. They have dark red covers which have "OXYGEN OUTLET" written on them.
If you are travelling in normal seats, the oxygen supply connectors are located beneath the seats. They do not have the red color and Oxygen Outlet text on them but still can easily be located.
How to Use the Oxygen Supply on Tibet Trains?
Private oxygen supplies on Tibet train are quite easy to use. There are oxygen supply connectors everywhere but the tubes to connect it to your nose need to be requested from the Tibet train staff. The tube comes in a plastic bag which is free of charge. The package contains a transparent tube to be installed to the socket in the oxygen supply outlet. You can easily locate the end to install to the connector and the end to put into your nostrils.
Once you tear open this bag and get the tube out, you open the plastic cover of the oxygen supply outlet and insert one end of the tube to socket inside. The other end of the tube has two small tubes. You will need to put these two small tubes into your nostrils.
You do not need to press any button to let oxygen come out from the socket. Once the tube is inserted into the supply and in your nostrils, you can breathe normally until you feel comfortable again.
More about Tibet Train Medical Services