Penetrating deep into the Tibet, this rail line stretches from the starting station of Xining, the capital city of Qinghai Province, and runs 2,200 kilometers westward to the Tibet's second largest city Shigatse.
Unlike other trains to Tibet departing from the gateway cities in mainland China, Xining to Shigatse train is the only railway that can take passengers directly to Shigatse city, without any transfer in Lhasa train station.
The railway line from Xining to Shigatse can be divided into two parts. The first part is the world-famous Qinghai-Tibet Railway from Xining to Lhasa, during which the train passes by numerous of unique and renowned sceneries with distinctive plateau natural views and Tibetan characteristics, including Qinghai Lake, Kunlun Mountain, Hoh Xil Reserve, Lhasa Valley, etc. The second part from Lhasa to Shigatse is unanimously regarded as the extension of Qinghai-Tibet railway, running about 248 km to the destination along the Yarlung Zangbu River.
Trains from Xining to Shigatse are usually launched during the summer peak travel season. Currently, there is only one train from Xining to Shigatse every day.
Train No. Z6811 will start from Xining Railway Station at 20:30 and arrive at Shigatse Railway Station at 20:58 on the second day after 24 hours and 28 minutes' running.
And the return train (Train No.Z6812) departs from Shigatse at 14:40 and arrives in Xining at 14:25. All together there are 11 stops between Xining Railway Station and Shigatse Railway Station.
2020 & 2021 Xining to Shigatse Train Schedule
Timetable of Xining to Shigatse Train - No.Z6811
| Station | Altitutde | Arrival | Departure | Stop Time | Days | Distance |
| --- | --- | --- | --- | --- | --- | --- |
| Xining | 2,200 m | -- | 20:30 | -- | Day 1 | -- |
| Delingha | 2,980 m | 00:32 | 00:38 | 6 min | Day 2 | 521 km |
| Golmud | 2,780 m | 03:28 | 03:53 | 25 min | Day 2 | 830 km |
| Amdo | 4,800 m | 12:01 | 12:05 | 4 min | Day 2 | 1,524 km |
| Nagchu | 4,500 m | 13:39 | 13:45 | 6 min | Day 2 | 1,650 km |
| Damxung | 4,200 m | 15:39 | 15:47 | 8 min | Day 2 | 1,800 km |
| Lhasa | 3,650 m | 17:45 | 18:10 | 25 min | Day 2 | 1,972 km |
| Quxu | 2,200 m | 18:47 | 18:49 | 2 min | Day 2 | 2,028 km |
| Nyemo | 3,701 m | 19:21 | 19:23 | 2 min | Day 2 | 2,075 km |
| Rinbung | 3,950 m | 19:54 | 19:56 | 2 min | Day 2 | 2,123 km |
| Shigatse | 3,836 m | 20:58 | -- | -- | Day 2 | 2,220 km |
Timetable of Shigatse to Xining Train - No.Z6812
| Station | Altitutde | Arrival | Departure | Stop Time | Days | Distance |
| --- | --- | --- | --- | --- | --- | --- |
| Shigatse | 3,836 m | -- | 14:40 | 2 min | Day 1 | -- |
| Rinbung | 3,950 m | 15:43 | 15:45 | 2 min | Day 1 | 97 km |
| Nyemo | 3,701 m | 16:15 | 16:17 | 2 min | Day 1 | 145 km |
| Quxu | 2,200 m | 16:46 | 16:48 | 2 min | Day 1 | 192 km |
| Lhasa | 3,650 m | 17:31 | 18:00 | 29 min | Day 1 | 248 km |
| Damxung | 4,200 m | 19:46 | 19:50 | 4 min | Day 1 | 420 km |
| Nagchu | 4,500 m | 21:28 | 21:34 | 6 min | Day 1 | 570 km |
| Amdo | 4,800 m | 22:56 | 23:00 | 4 min | Day 1 | 696 km |
| Golmud | 2,780 m | 07:10 | 07:35 | 25 min | Day 2 | 1,390 km |
| Delingha | 2,980 m | 10:02 | 10:08 | 6 min | Day 2 | 1,699 km |
| Xining | 2,200 m | 14:25 | -- | -- | Day 2 | 2,220 km |
Please Note:
1. On some big station, like Golmud train station and Lhasa train station, the train will stay for more than 20 minutes. While for most stations, the stop time will be quite short, even low to 2 minutes.
2. Timetable and schedule is just for reference. When you make early reservation, please contact us for more details.
Tibet Train from Xining: Why Take Xining to Shigatse Train?
In most cases, tourists who plan to travel to Tibet by train will choose Lhasa as the entrance city, for it is now very convenient to take a train to Lhasa from major cities in mainland China. But if you want to go directly to other places in Tibet instead of Lhasa, the Xining to Shigatse train provides the new option.
By taking the train from Xining to Shigatse, you will not have to spend several hours or half of a day at Lhasa Railway Station waiting for the connecting train.
As the second largest city and an important cultural city in Tibet, Shigatse is also a popular tourist destination in Tibet.
Worship Tashilhunpo Monastery
Magnificently built in Shigatse, Tashilhunpo Monastery was the traditional seat of successive Panchen Lama, the second highest ranking tulku lineage in the Gelug school of Tibetan Buddhism.
Entering the monastery, a sense of solemnity is stricken upon you. You can worship the monastery by burning the incense, learn to chant Buddhist scriptures or appreciate the statues and murals in the monastery with respect.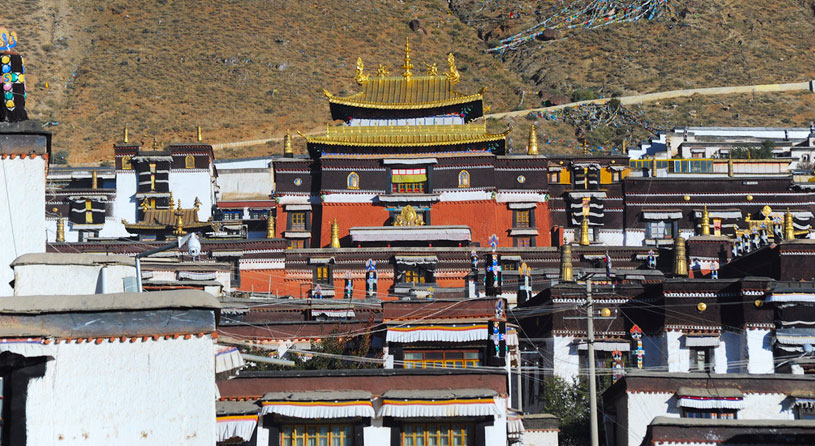 Tashilhunpo Monastery in Shigatse City
Outskirt there lies the lingkhor (The Sacred Path) for pilgrims to circumambulate. Try doing the linghkor to pray health and peace in the entire year.
Travel to Everest Base Camp
Everest Base Camp (EBC) is located southwest of the Shigatse city at the elevation of 5380m. Spend a night at Rongbuk Monastery nearby EBC to enjoy a lifetime sunset and sunrise of Mt. Everest. Get an intimate contact with the world's highest mountain and take photos to commemorate.
Visit Karola Glacier
With its stuck-out glacier tongue stretching from the mountain top, Karola Glacier winds its way down to the mountain foot, forming spectacular natural wonder near Shigatse. Opportunities for finding such gigantic and grotesque glacier here are rare, so grasp this chance to get a closer look of this God-given wonder. Approachable by vehicles.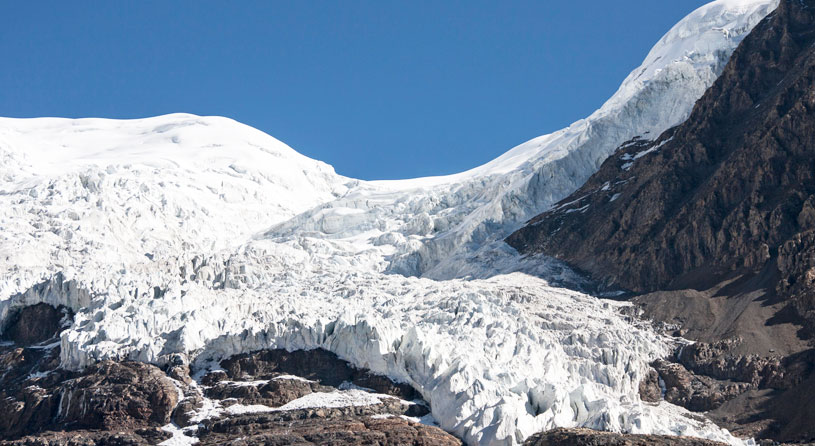 Karola Glacier nearby the Shigatse City
Revere the Sakya Monastery
Sakya Monastery is eminent for its murals and Buddhist scriptures. The vivid and lifelike murals on the wall to some extent reflect the ancient art of painting has been skillfully mastered by the Tibetans. Not far from the monastery, you can also find Tibet's largest library there. Books and scriptures are neatly placed on the shelves which are a few meters high and more than ten meters long walls.
Tips:
1. Besides the tourist attractions listed above, there have a great many amazing things waiting for you to explore and have an in-depth understanding about the great Tibet. The farm villages and Tibetan manors, the mills, the boundless cornfields, the Tibetan knife production places, etc.
2. The rail line from Xining to Shigatse also covers the legendary Qinghai-Tibet railway, which allows you to enjoy various breathtaking sceneries on the way.
3. Moreover, for tourists who want to take a train out of Tibet after the trip to Everest Base Camp, there is no need to go back to Lhasa for the train ride. You can travel a shorter distance back to Shigatse city and directly take the train from Shigatse to Xining.
Xining Shigatse Train Ticket
Soft Sleeper Train Ticket: 876 CNY
Hard Sleeper Train Ticket: 553 CNY
What's the difference between the Soft Sleeper and the Hard Sleeper?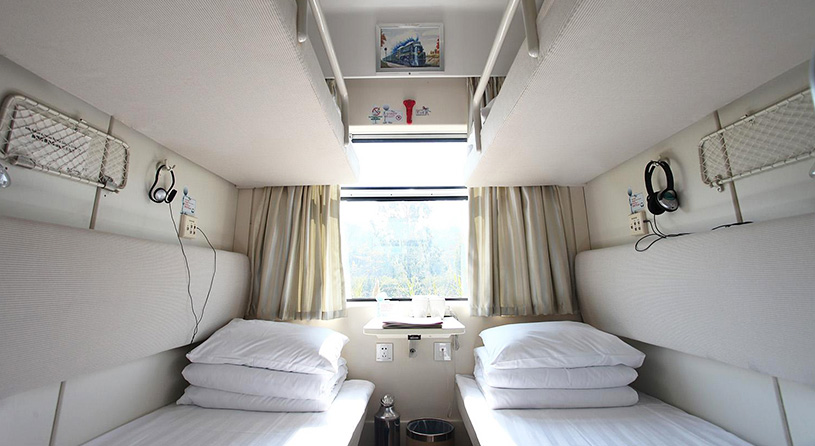 Soft sleeper on Tibet train is provided with 4 berths in each cabin.
There are two kinds of sleeping berths on Tibet trains. For soft sleeper wagons, there are four beds, which are wider and softer than those in hard sleeper wagons, in a compartment with a door to keep a quiet environment. In a hard sleeper carriage, there are six beds in a compartment with three on each side and no doors.
For those who care about privacy and the comfort of a journey, the soft sleeper cabin is the best choice. For those who are eager to experience the real life of the locals and don't care too much about the living situation, the hard sleeper cabin, at a cheaper price, is the best choice.
How to Book the Xining Shigatse Train Ticket?
The most convenient and worry-free way to get your Xining Tibet train ticket is to book the ticket online with us. Specialized in Tibet train tour, we will get your ticket in time, as well as arrange the best lifetime train journey to Tibet for you.
How to Collect the Xining Shigatse Train Ticket?
If you book your train ticket with us, in some case, we will send the train ticket to your address in mainland China or our local staff will give the ticket to you at the railway station. In other cases, we will give you a booking number so you can collect your ticket at the train station yourself, by showing them the booking number, your passport, and Tibet travel permit.
Please arrive at your railway station at least two hours before the departure of the train, so that you can have enough time to collect your train ticket.
Get Your Tibet Travel Permit in Advance!
To collect your Tibet train ticket, you need to show the Tibet Travel Permit. Apply your Tibet travel permit and train ticket together with us, a real hassle-free Tibet train tour is one click beyond.
Apply for Tibet Permit Online
Xining Shigatse Train Route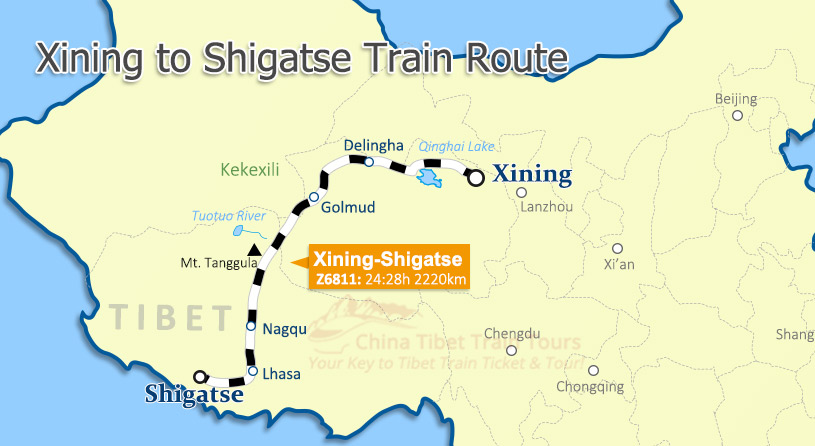 Xining Shigatse Train Route Map
The train starts at Xining station and runs along the Qinghai-Tibet railway route to see the sceneries. The train is allowed to make a 25-minute stop only at Lhasa Railway Station and continues to head for its final destination Shigatse.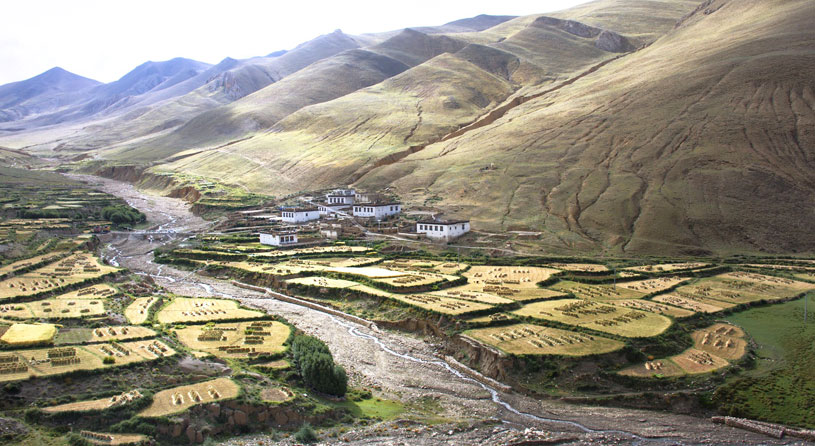 Tibet highland barley harvest
Despite the sceneries from Lhasa to Shigatse are not as variable as the views along Qinghai-Tibet rail route, the intermittent rural sceneries and the expansive fields of highland barley are still impressing. If you come in late spring or summer, you may sense the coolness the fields of barley waves brought to you.
Evergreen Mountains are interspersed with small-sized villages. Look as far as your eye can see up the mountain, you may find nomads are herding their sheep and yaks up or down the mountain along the bumpy and gravel mountain road. As the nearby views are flashing in front of you constantly, the distant sceneries should always be your watching focus.
During the journey from Lhasa to Shigatse, the on the way sceneries may give you a general understanding of the development in inner Tibet as well as the amazing views of it. From the city construction to the village expansion, from the urban citizens to the village farmers, from lush forests beside the railway to the large barley fields. Bridges are built and tunnels are dug, you may find an amazing trip along this section of the route.
Is it difficult to get the train from Xining to Shigatse?
Yes. For there is only one daily train scheduled from Xining to Shigatse. And the train ticket demand always exceeds its supply in China, especially during the peak travel season. So, it is advised to book your train ticket as early as possible.
Usually, one can book the train ticket at the railway station 30 days in advance, or online 28 days in advance. To avoid the troublesome booking procedures and get more opportunities to successfully book the train ticket, you can feel free to contact us for professional help.
Can I break the journey at Lhasa Railway Station when I get the train ticket from Xining to Shigatse?
If you have got the ticket of Xining to Shigatse train, you can only board the train at Xining Railway Station and get off the train at the last stop - Shigatse Railway Station. It is not possible to break the train journey at Lhasa Railway Station and stay a couple of days in Lhasa, before getting back to take another train with the same train ticket.
The train from Xining to Shigatse only stops for 25 minutes at Lhasa train station. During this time, you can go out of the train to stretch your legs or enjoy some fresh air. But you should get back to your seat when the train leaves again. If you want to enjoy a sightseeing in Lhasa city, you will need to buy the ticket to Lhasa separately.
How to get to the downtown from Shigatse Railway Station?
It is about 10 kilometers away from train station to the downtown Shigatse. City-buses are provided for the transfer, but it will need a long walk, not recommendable for the first visitors to Shigatse city.
If you take the Xining to Shigatse train, you will probably arrive at Shigatse train station at around 9 pm or later. In this occasion, it is better to take a taxi to your reserved hotel in the downtown. It only takes about 30 minutes to get to the downtown from the station by taxi.
Recommended Xining Tibet Tour by Train
Get travel ideas from our most recommended Xining Tibet tours by train. You will not only experience a marvelous train journey with breathtaking landscapes across Qinghai-Tibet Plateau, but also visit some of the most popular cultural and scenery attractions in Tibet, like Potala Palace, Everest Base Camp etc. Join us to enjoy a lifetime and extraordinary Tibet train tour right now!
Check more Tibet Train Tour Packages from Golmud
Let's Start Your Hassle-free Tibet Train Tour with Us!
From handling and delivery of your Tibet Travel Permit to sorting out the details like itineraries, hotels and booking the Tibet train tickets and flight tickets, we care deeply about your ideas and work 24/7 to ensure you a worry-free and pleasant travel.
Enquire Now
Contact Us for Your Dream Tour Now
Your are enquiring for
Xining to Shigatse Train
Price from
Price upon Request