Route Map of Lanzhou Lhasa Train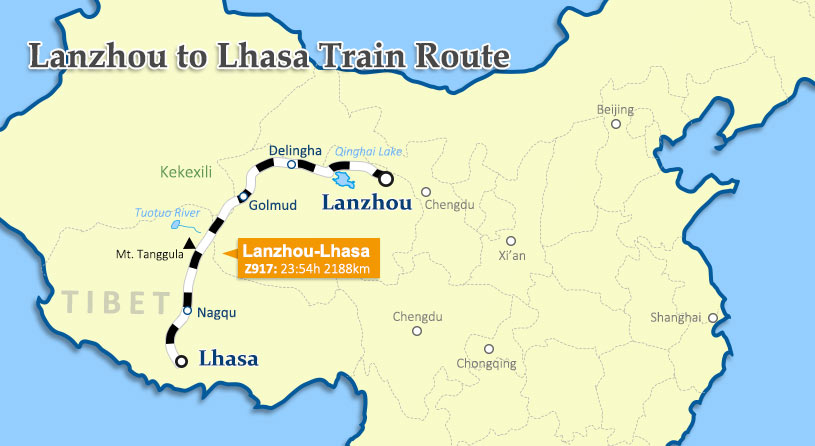 Travelling from Lanzhou to Lhasa is a journey that only takes around 24 hours by train. The second shortest route to Lhasa by train, Lanzhou is one of the seven major cities from which trains to Tibet depart, and is an important transport terminal for both the Silk Road and the Eurasian Continental Bridge. Lanzhou also functions as a gateway to the northwest of China, and is a hub of the five major railways in northern China.
Latest Timetable and Schedule of Lanzhou Lhasa Train
Timetable of Lanzhou to Lhasa Train - No.Z917
| Station | Altitutde | Arrival | Departure | Stop Time | Days | Distance |
| --- | --- | --- | --- | --- | --- | --- |
| Lanzhou | 1,520 m | -- | 11:16 | -- | Day 1 | -- |
| Xining | 2,200 m | 13:41 | 14:01 | 20 min | Day 1 | 216 km |
| Delingha | 2,980 m | 18:03 | 18:09 | 6 min | Day 1 | 737 km |
| Golmud | 2,780 m | 20:48 | 21:13 | 25 min | Day 1 | 1,046 km |
| Amdo | 4,800 m | 06:01 | 06:05 | 4 min | Day 2 | 1,740 km |
| Nagchu | 4,500 m | 07:24 | 07:30 | 6 min | Day 2 | 1,866 km |
| Lhasa | 3,650 m | 11:10 | -- | -- | Day 2 | 2,188 km |
Timetable of Lhasa to Lanzhou Train - No.Z918
| Station | Altitutde | Arrival | Departure | Stop Time | Days | Distance |
| --- | --- | --- | --- | --- | --- | --- |
| Lhasa | 3,650 m | -- | 08:50 | -- | Day 1 | -- |
| Damxung | 4,290 m | 10:36 | 10:40 | 4 min | Day 1 | 164 km |
| Nagchu | 4,500 m | 12:18 | 12:24 | 6 min | Day 1 | 322 km |
| Amdo | 4,800 m | 13:47 | 13:51 | 4 min | Day 1 | 448 km |
| Golmud | 2,780 m | 23:23 | 23:48 | 25 min | Day 1 | 1,142 km |
| Delingha | 2,980 m | 02:15 | 02:23 | 8 min | Day 2 | 1,451 km |
| Xining | 2,200 m | 06:43 | 07:03 | 20 min | Day 2 | 1,972 km |
| Lanzhou | 1,520 m | 09:24 | -- | -- | Day 2 | 2,188 km |
2018 Lanzhou to Lhasa Train Schedule
While there is only one train(Z917) originating from Lanzhou to Lhasa every other day, the trains from Beijing, Shanghai, Chengdu, and other cities make a stop at Lanzhou, so there are normally around 4-5 trains each day heading to Lhasa, though tickets for these trains may be hard to obtain. Here are the schedules of all the trains to Lhasa from Lanzhou.
| Train No. | From / To | Dep. / Arr. | Duration | Distance (km) | Frequency | Hard sleeper Ticket | Soft Sleeper Ticket |
| --- | --- | --- | --- | --- | --- | --- | --- |
| Z323 | Chengdu to Lhasa | 09:27/09:55 | 24:28 | 2188 | Every Other Day | CNY522 | CNY823 |
| Z223 | Chongqing to Lhasa | 09:27/09:55 | 24:28 | 2188 | Every Other Day | CNY522 | CNY823 |
| Z917 | Lanzhou to Lhasa | 11:16/11:10 | 23:54 | 2188 | Every Other Day | CNY522 | CNY823 |
| Z21 | Beijing to Lhasa | 12:33/12:10 | 23:37 | 2188 | Every Day | CNY522 | CNY823 |
| Z265 | Guangzhou to Lhasa | 16:50/17:05 | 24:15 | 2188 | Every Day | CNY522 | CNY823 |
| Z165 | Shanghai to Lhasa | 18:34/19:17 | 24:43 | 2188 | Every Day | CNY522 | CNY823 |
Please Note:
The timetable and schedule is just for reference. When you make early reservation, please contact us for more details.
Book the Train Now
About the Life on board
Cabins on Tibet Trains
There are two kinds of cabins on board where you can sleep overnight during your train journey to Tibet. The first class cabin on all trains to Tibet is the soft sleeper cabin, with 4 beds in one compartment. The second-class cabin onboard is the hard-sleeper with 6 beds in one compartment.
Facilities onboard
On each train to Tibet, there is one dining car offering food and drinks. At the end of each coach, there are toilets and washing basins. Spoiled water is offered 24 hours a day, so you can bring some instant noodles, coffee and tea with you.
Oxygen Supply onboard
For travelers who are planning the train trips to Tibet, the altitude sickness is always an important issue for considering. In fact, there are two kinds of oxygen supply systems onboard, which can relatively reduce the effect of high altitude. So there is no need to worry too much about suffering from altitude sickness onboard.
Tibet Small Group Tour from Lanzhou
Get travel ideas from our most recommended Tibet Small Group Tours from Lanzhou. We offer a wide selection of classic Tibet group tours, covering the most popular scenery sites in Tibet. Feel free to choose the suitable travel route to Tibet from Lanzhou and tell us any of your demands during your booking.
>> Check more Tibet small group tour packages here.
Frequent Asked Questions about Lanzhou Lhasa Train Tour
Why Take Tibet Train from Lanzhou?
The train from Lanzhou to Lhasa is one of the shortest routes to Tibet, and covers a distance of only 2,188km on its journey across the Qinghai-Tibet Plateau. Although there is only one train to Lhasa, and the ticket pool can be very limited even in the off-season months, traveling from Lanzhou has its own unique benefits.
The city is the capital of Gansu Province of north west China, and sits astride the Yellow River, China's Mother River. The river gives rise to fertile lands on either side, making the area rich in fruit crops. Lanzhou was also once a major point on the old Silk Road across China and Tibet, and today is a hub of the Silk Road Tourism Ring. It was such an important city in ancient times that the Great Wall was extended as far as Yumen to protect Lanzhou, and parts are still visible inside the built-up area.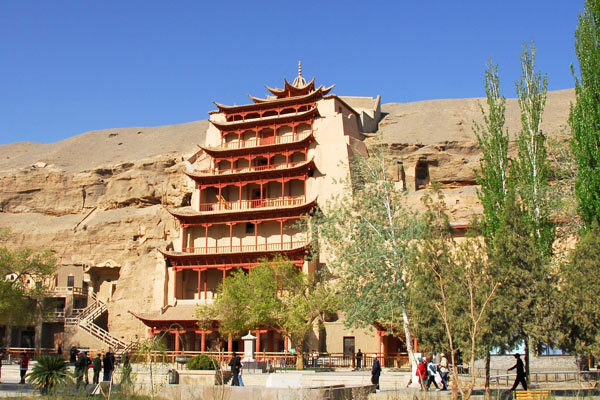 Dunhuang Grottoes
In all directions there are amazing sights to be seen from Lanzhou. To the north lies Dunhuang, a repository of ancient knowledge scribed in hundreds of thousands of books. To the south is Labrang Monastery, one of the six great monasteries of the Gelug school of Tibetan Buddhism, and out to the west are the Bingling Temple grottoes. Off to the east lies the Maiji District, which is the home of the famous Maijishan caves, a series of caves manually cut into the sheer cliff face, and connected by a network of walkways attached to the face of the cliff. The caves are laid out around a huge carving of Bodhisattva in the rock face, and the caves contain over 7,200 Buddhist sculptures and more than 1,000 square meters of wall murals.
For anyone with a love of Buddhism, or just an interest in the arts and sculptures, Lanzhou and the surrounding area make a great prelude to the amazing things that can be seen and experienced in Tibet.
How to Get to Lanzhou Train Station?
Lanzhou Railway Station is one of the most important stations in western China, serving the Chengdu-Lanzhou Railway, the Beijing-Lanzhou Railway, the Baotou-Lanzhou Railway, and the Beijing-Lanzhou Railway.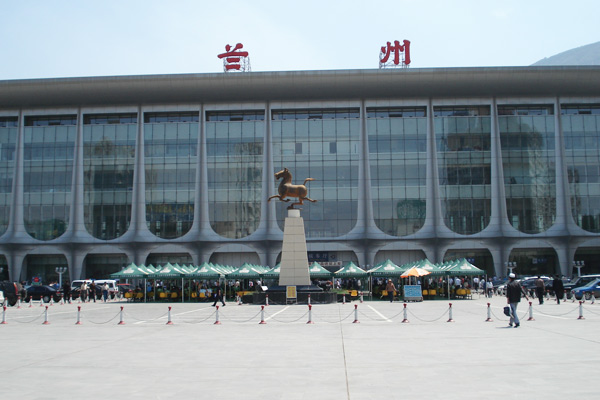 Lanzhou Railway Station
The station buildings are styled in a classic Chinese temple design, sporting ten huge columns across its front. The station is in two parts, with the usual large square sitting in front of a three-story building. On the ground floor, the ticket windows are to the west of the central, main entrance, with shops and waiting areas to the east. The second floor houses the international waiting rooms, soft sleeper waiting rooms, VIP rooms (with free Wi-Fi), and the mother and baby rooms. The station also has two separate exits, apart from the main entrance, for arriving passengers. The western exit will take you to the taxi stands at the side of the building, while the eastern exit leads out to the public bus terminals.
Accessing the station from the Lanzhou Zhongchuan Airport takes only 30 minutes by train, thanks to the recently-opened Zhongchuan Railway. There are 11 schedules trains every day from the airport to the station, making it easy to get to your train, and it costs just CNY21 for the 50-minute trip. Travel by taxi along the road can take up to an hour for the 70km journey, and a taxi costs around CNY150. Buses from the city pass the station regularly, and normally cost only CNY2, while a taxi will start at around CNY8. Agree on a price with the driver before taking a taxi, as fares and routes used can vary.
How to Avoid High Ticket Demand When Travelling to Tibet from Lanzhou by Train?
While there are times when it is possible to get tickets from Lanzhou, it is more likely that tickets will be unavailable. In those cases, you can take a connecting train to Xining, where you will have a much better chance of getting tickets for your required dates of travel. If you wish, we can book the tickets from Xining to Lhasa for you, and you can pick them up from the station when you get there.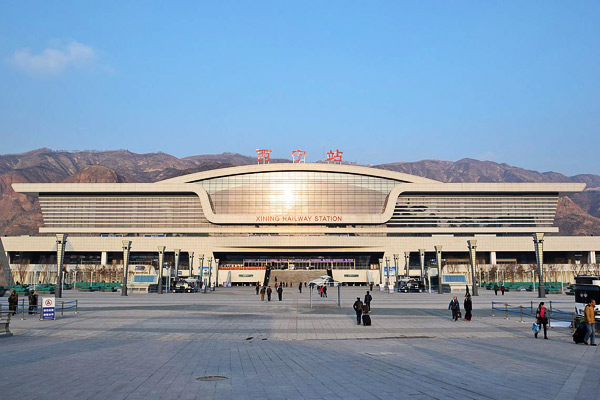 Xining Railway Station
As of this time, there are no direct flights to Xining from Lanzhou. However, as the two cities are not far apart, taking a train is the best option, and will normally be cheaper than a transfer flight via Chengdu or Xi'an. The trains leave Lanzhou several times a day, and take around 1½ to 2 hours. Seats cost around CNY32 while hard and soft sleepers are a little more expensive. As the trip is short, a hard seat is not an issue.
The main advantage of traveling to Xining and then taking the train from there is that you can save time on the trip, and as Xining is at an elevation of 2,275 meters, you can always spend a day there to help with acclimatizing to the higher altitudes. This can help to reduce the risk of altitude sickness. Moreover, as most of the spectacular scenery is on the train from Golmud (where the train starts its ascent to the Qinghai-Tibet Plateau) you would not be missing any of the best parts of the train journey.
Let's Start Your Hassle-free Tibet Train Tour with Us!
From handling and delivery of your Tibet Travel Permit to sorting out the details like itineraries, hotels and booking the Tibet train tickets and flight tickets, we care deeply about your ideas and work 24/7 to ensure you a worry-free and pleasant travel.
Enquire Now
Contact Us for Your Dream Tour Now
Your are enquiring for
Lanzhou to Lhasa Train
Price from
Price upon Request