Lhasa to Shigatse by Train
The railway line from Lhasa to Shigatse, an extension of the Qinghai-Tibet railway, was put into use on August, 2014. The rail extension starts from the capital city of Lhasa and trail south along the Lhasa River to Doilungdeqen, and Quxu. Then it follows the Brahmaputra River and passes the canyon to reach Nyemo, Rinbung, and finally gets Shigatse. There are 6 railway stations designed between Lhasa & Shigatse on the rail. The average distance between each station is approximately 41 km.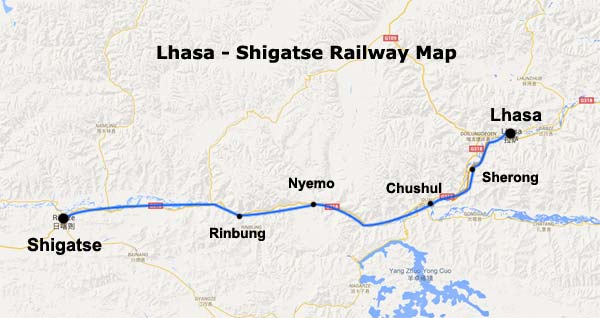 The above map shows you the train route from Lhasa to Shigatse.
Lhasa to Shigatse by Train - No. Z8801
Train No.
From
To
Dep. / Arr.
Duration (km)
Stops
Duration
Z8801
Lhasa
Shigatse
09:00 / 12:09
248
6
3hr,9min
Ticket Price
Booking
Hard Seat
Hard Sleeper
Soft Sleeper
Booking
¥40.5
¥111.5
¥169.5
Note:
1. The ticket prices of the trains from Shigatse to Lhasa is the same.
2. The ticket prices above are the net price. In peak season, tourists have to pay more than the net price to buy tickets. Please contact us for the actual price of Shigatse - Lhasa train tickets on your departure date.
3. A small service fee will be charged for Ticket-Only service. No service charge on booking train tickets if you also book a Tibet tour package with us.
4. Your submitted reservation is not an order but just an inquiry. The reservation need to be confirmed by Chinatibettrain.Com. An advance train ticket booking is recommended for the limited supply of Tibet train tickets.
Timetable of Lhasa to Shigatse Train - No.Z8801
| Station | Altitutde | Arrival | Departure | Stop Time | Distance |
| --- | --- | --- | --- | --- | --- |
| Lhasa | 3,650 m | -- | 09:00 | -- | -- |
| Sherong | 3,604 m | 09:24 | 09:56 | 2 min | 33 km |
| Chushul | 3,700 m | 09:44 | 09:56 | 12 min | 56 km |
| Nyemo | 3,810 m | 10:29 | 10:31 | 2 min | 103 km |
| Rinbung | 3,800 m | 11:03 | 11:05 | 2 min | 151 km |
| Shigatse | 3,836 m | 12:09 | -- | -- | 248 km |
Timetable of Shigatse to Lhasa Train - No.Z8802
| Station | Altitutde | Arrival | Departure | Stop Time | Distance |
| --- | --- | --- | --- | --- | --- |
| Shigatse | 3,836 m | -- | 17:30 | -- | -- |
| Renbu | 3,800 m | 18:34 | 18:36 | 2 min | 97 km |
| Nimu | 3,810 m | 19:07 | 19:09 | 2 min | 145 km |
| Qushui | 3,700 m | 19:39 | 19:41 | 2 min | 192 km |
| Xierong | 3,604 m | 20:01 | 020:07 | 6 min | 215 km |
| Lhasa | 3,650 m | 20:32 | -- | -- | 248 km |