Dining on Tibet Train: What to Eat and Drink onboard during Your Tibet Train Tour?
When it comes to the life on Tibet trains, most tourists will surely be curious about the dining onboard, since it will be a long train journey taking at least 24 hours from mainland China to Lhasa. So what kinds of food are provided on Tibet trains? What to eat and drink during your Tibet train trip?
Well, to enjoy your three meals onboard, you can go to the dining car which offers kinds of Tibetan-style and Chinese-style dishes, as well as other common snacks and drinks. It is a nice experience to enjoy fascinating scenery through the wide windows while having meals in the dining car.
For convenience, tourists can also buy food from the food cart when you don't want to bother to move away from your berth. Besides, there are vendors selling various local snacks at each railway station platform where the train stops.
As the food and drinks on Tibet trains always charge much higher, tourists can also bring your own food on the train to save the meal cost or to meet your own taste. For more information about Tibet train food, please check the following passage to know more details.
Where is the Dining Car on Tibet Trains?
All Tibet trains are provided with a dining car (restaurant car), in addition to the regular carriages of sleeper berths and hard seats. The dining car on Tibet trains is generally located in the middle of the entire train, separating the soft sleeper carriages and hard seat carriages.
The dining car is usually numbered as No 7, on the 7th compartment of the Tibet train. But there may be different. When you are not sure about the exact position of the dining carriage, you can just inquire about it from the train conductor.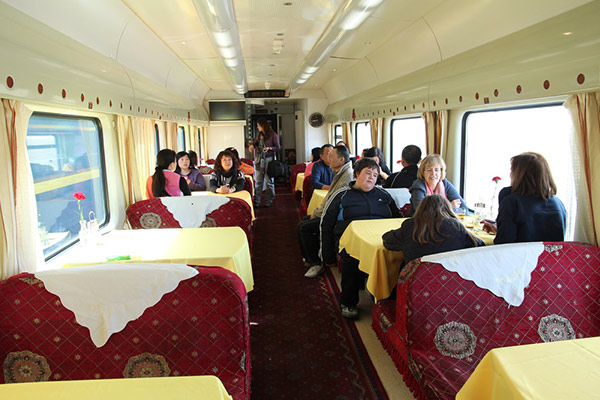 The dining car on Tibet trains has wide windows and spacious room for dining.
The dining car only occupies one compartment of a Tibet train, and is provided with a kitchen and dining hall inside. It can accommodate 40 to 50 passengers to have meals at a time.
Decorated in Tibetan style, the dining car of Tibet trains features wide and bright windows. Therefore, it is a good place for tourists to appreciate the breathtaking scenery along Qinghai-Tibet Railway while enjoying tasty meals onboard the train.
How About the Food and Drinks Served in Dining Car?
Dining on Tibet trains is an important part of one's life onboard. To meet the dining needs of the passengers, the dining car on Tibet trains offers breakfast, lunch and dinner at the mealtime, as well as snacks and drinks during other free time.
Three Meals
The meals on Tibet trains are Chinese-style and Tibetan-style food and cuisines, mainly including rice, vegetables, meats and soups etc. For breakfast, which is always very simple, you can have porridges, milk, pickles, eggs, steamed buns and ham sausages etc.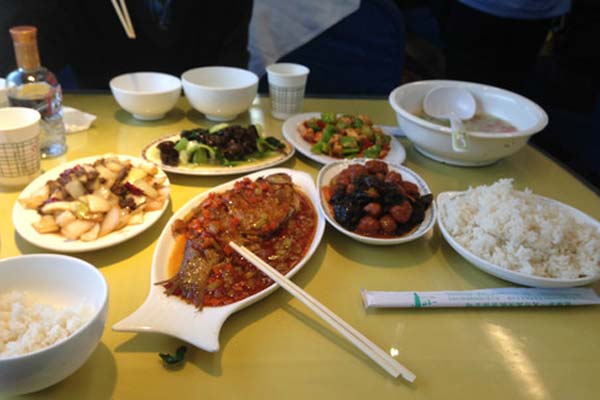 Traditional Chinese dishes are offered in the dining car on Tibet trains.
For lunch and dinner, both order-dishes and set meals are available. There will be some well-known dishes for your choice, like Kung Pao Chicken, Red Braised Pork Belly (or Hong Shao Rou), Twice-Cooked Pork etc.
All dishes are freshly cooked, and the ingredients are purchased from some large and major cities, where there will be corresponding replenishment points when the train stops. Therefore, the dishes served on the train will probably vary from season to season.
Snacks and Drinks
Besides there meals of the day, there are snacks and drinks offered in the dining car. During the morning tea time or afternoon tea time, tourists can get yourself a glass of beer or drink some coffee there, to kill the time onboard.
How to Order Food in Dining Car?
Tourists can order food in the dining car of Tibet trains just like the way you do it in a normal restaurant. Most Tibet trains have their menus in Chinese, however some also offer English menus for the convenience of foreign travelers. So, you can try to ask the waiter to bring the English menu if you need.
Although there are limited kinds of dishes served, you can choose from a selection of meat dishes, vegetable dishes, soups or others according to your own preferences. Ordering meals is suitable for passengers travelling in a couple or a group of three or four, to have more flavors to enjoy and share less cost on the whole meal.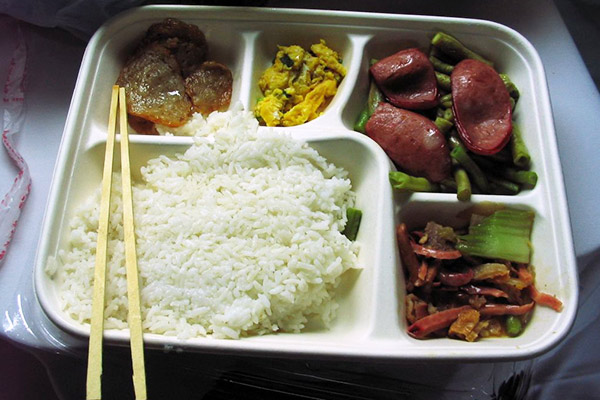 Set meals packed in a lunch box is available for passengers' choice.
Besides, there are set meals, which consist of rice and a fixed selection of meats and vegetables, normally served in a lunch box. The food served in set meals are also fresh and nutritious, but less in quantity, and is suitable for solo travelers or those who don't want to bother to order dishes.
Prices Guide of Food on Tibet Trains
Compared to the food you may enjoy in a normal restaurant in other places of China, the food and drinks served on Tibet trains will always be much more expensive, some even double, in terms of the same kind with the equal quality.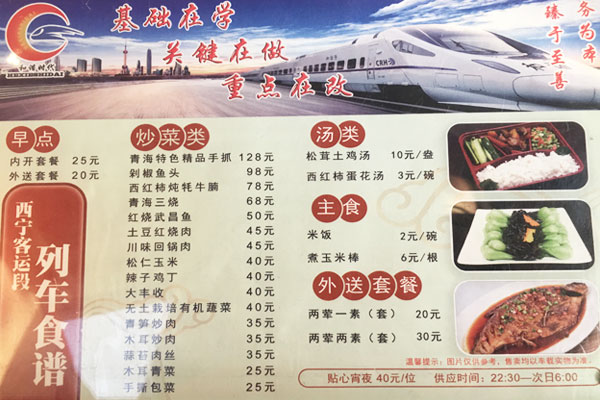 A Chinese menu showing the prices of different dishes and set meals served in dining car.
Menu translation for your reference (based on the menu above)
| Category in Chinese | Category in English | Price Range (CNY) |
| --- | --- | --- |
| 早点 | Breakfast | 20 - 25 |
| 炒菜类 | Freshly cooked dishes | 20 - 128 |
| 汤类 | Soups | 3 - 10 |
| 主食 | Staple food | 2 - 6 |
| 外送套餐 | Take-away set meals | 20 - 30 |
| 贴心宵夜 | Midnight snack | 40 |
A breakfast on Tibet trains will normally cost CNY 20 or CNY 25. The prices for set meals are CNY 20 or CNY30. The meat dishes will cost from CNY 30 to over CNY 100, while vegetables will be around CNY 30 per dish. So, how much you will cost on dining on Tibet trains will depend on what you order to eat for each meal.
Opening Time of Dining Car on Tibet Trains
The opening time of the dining car on Tibet trains is generally from 7:30 a.m. to 21:30 p.m., some even extending to 6:00 am of the next day for some tourists to enjoy midnight snacks. The specific opening time may be adjusted according to different situation.
If you want to better take in the window scenery while dining, it is recommended to choose the period during the daytime. Since the seats in the dining carriage are limited available, you'd better go there early in case it is fully occupied, especially during the lunch and dinner time.
Accordingly, although there is no time limit for dining, in order to meet the dining needs of other passengers, it is suggested to not stay too long after enjoying your meal.
Dining Car Opening Time Table
| Meals Served on Tibet trains | Opening time |
| --- | --- |
| Breakfast | 7:30 - 9:00 |
| Lunch | 11:30 - 14:30 |
| Dinner | 17:30 – 21:30 |
| Morning Tea | 9:00 – 11:00 |
| Afternoon Tea | 15:00 – 17:00 |
| Midnight Snack | 22:30 – 6:00 of the next day |
More Food Options on Tibet Trains
Food Trolley on Tibet Train
Another option for food on the Tibet train is to purchase items from the food cart which is constantly pushed up and down the aisles by the trainman. Tourists can choose both boxed meals and packaged snacks.
If you don't want to go to the dining car for meals, you can buy boxed meals from the food trolley. The boxed meal is always served during the dining time, with several kinds to choose from. Compared to newly cooked dishes in the restaurant car, boxed meals are much cheaper.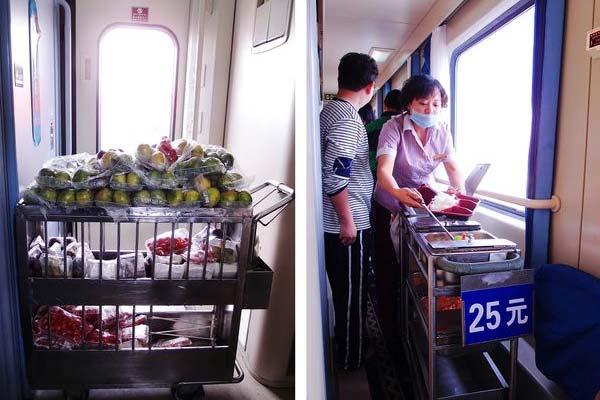 Passengers can buy fruit, snacks, soft drinks and packaged fresh meals from the trolley.
Besides, you can also get yourself snacks or fruits from the food cart. The packages snacks include instant noodles, peanuts, biscuits, potato chips, soft drinks etc. The fruits are generally in season and sold in boxes.
For tourists taking a Tibet train which usually runs for more than 24 hours, it is advised to drink more water and eat plenty of fruits, to avoid the discomfort caused by lack of water onboard.
Snack Vendor at Train Station
When the train makes stops in major cities along the way, such as Lanzhou Railway Station and Xining Railway Station, passengers can get off the train and take a quick walk or buy some snacks that sold by vendors on the train platform.
The vendors usually sell some local food and snacks of the city where the train stops at that time, so you may find different food offered in different train platforms.
The prices will be a little more expensive than that of the normal items sold outside. Yet sometimes, you can bargain for a lower price if you happen to know Chinese well or are accompanied by your Chinese friend.
Since the Tibet train only stops for several minutes at each midway railway station, passengers need to quickly finish your shopping and get back onboard before the train restarts to move forwards. To save your time, you'd better prepare some small money.
Video of Dining on Tibet Trains
To give you a more vivid image of dining onboard, we have conducted the field trip and prepared a detailed introduction about how dining is like on Tibet trains. Check the following video.
Dining and Meals on Tibet Trains
Is There Hot Water Supplied on Tibet Train?
Yes, there is boiled water supplied on each train in China, including the Tibet train bound for Lhasa. Normally, the hot water supplier is 24 hours offered and is located at the end of each carriage, next to the washing area.
There are three or four small indicator lights showing the status of the hot water. When the green one brightens, it means the water inside has been boiled for drinking. When the yellow one becomes bright, it means the water is about to get boiled. While if the red one brightens, it indicates that there is no hot water inside currently.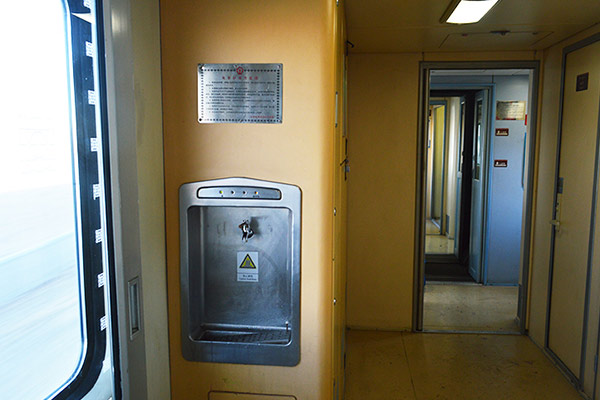 Passengers can get hot water for free at the end of each train carriage.
Tourists onboard the train can get the boiled water free of charge. You just need to press the red button above the water outlet. You can use the hot water to make a cup of tea, instant coffee or noodle soup. But please be careful to avoid being hurt by the boiling water as the train is often shaking when driving.
Bring Your Own Food before Board the Tibet Train
If you don't get used to the Chinese dishes served on the train, you can prepare some food and snacks as you like before departure, and bring them along with you onboard. Or, for tourists considering to save cost on dining on Tibet trains, you can also bring you own favorite food before getting onboard.
Which kinds of food can be brought onboard?
Theoretically, most food can be taken on the train, whether it is cooked food, fruits, snacks or soft drinks. But alcohol-containing drinks cannot be taken on the train because they are flammable.
The food that passengers often bring to the train includes: barreled instant noodles, self-heating lunches, canned snacks, beef jerky, chocolate, bread and other packaged foods that can satisfy hunger.
As a suggestion, it is better to avoid bringing some food with pungent smell, since the cabin on Tibet train is the public space shared by several or many passengers together. Also, Food that is vulnerably corrosive should also be avoided.
One interesting phenomenon happens on Tibet trains is that the snacks packed in plastic bags will start to swell up because of the rising altitude. This is because air pressure changes after the altitude rises, so the plastic bag will expand. But the food inside the bags will remain the same for you to enjoy.
Where to dine with my own food on Tibet train?
You can eat your own food in your sleeper cabin or right on your seat. In both hard sleeper and soft sleeper carriages on Tibet trains, there is a table installed in each cabin for tourists to storage some small items or dining. There are also tables in hard seat carriages, usually one shared by four or six passengers.
To reduce the smell contained in the cabin, some tourists also bring the food out of the cabin to other places, like the corridor in sleeper carriages. There are small tables installed to the train wall opposite to each sleeper cabin in the corridor.
Conclusions
Each Tibet train is equipped with a dining car (restaurant car), where you can have three meals and order different dishes, usually in Tibetan style and Chinese style. You can also buy food and snacks inside the train from the food trolley which is pushed back and forth through the sleeper and seat carriages.
If you are interested in the local food of the city where the train passes by, you can get off the train to buy some snacks from the vendor at the train station platform.
Taking your own food will also a good option to solve the dining onboard the train. In this way, you can bring the food of your own flavor, as well as enjoy cost-efficient meals.
For more questions about the Tibet train food and dining, you can just feel free to contact us or leave a message below to get exact answers.
Recommended Tibet Train Small Group Tour Packages