Lanzhou Railway Station Guide: How to Take Tibet Train from Lanzhou
Lanzhou Railway Station is an important junction station that lines to several major railway lines, such as Beijing-Lanzhou Railway, Longhai Railway, Baotou-Lanzhou Railway, and Chengdu-Lanzhou Railway. As an essential transportation terminal in Chinese Silk Road and Eurasian Continental Bridge, Lanzhou Railway Station functions as a window for the northwest area looking into the rest parts of China. It is also quite convenient for tourists to take Tibet trains to Lhasa from Lanzhou, since the opening of Qinghai-Tibet Railway.
Lanzhou - Lhasa Train Schedule
There is one Lanzhou to Lhasa train (Z917) that departs directly from Lanzhou to Lhasa, and five other Tibet trains from other major cities of China have a stopover at Lanzhou Railway Station. Since some trains to Lhasa run every other day, there are totally 4 or 5 trains a day from Lanzhou to Lhasa. It takes about 24 hours to get to Tibet from Lanzhou city.
Train Number
(Route)
Departure
Arrival
Duration
Frequency
Z917
(Lanzhou to Lhasa)
11:16
11:14
23hr, 58min
Every Other Day
Z21
(Beijing to Lhasa)
12:31
12:40
24hr, 09min
Every Day
Z322
(Chengdu to Lhasa)
09:26
09:55
24hr, 29min
Every Other Day
Z223
(Chongqing to Lhasa)
09:26
09:55
24hr, 29min
Every Other Day
Z265
(Guangzhou to Lhasa)
17:00
16:45
23hr, 45min
Every Day
Z165
(Shanghai to Lhasa)
18:37
19:25
24hr, 58min
Every Day
Please note:
The train schedule from Xining to Lhasa above is just for reference. When you make early reservation, please contact us for more details.
How to Collect Tibet Train Ticket at Lanzhou Railway Station?
The train station consists of two parts, a large square and a three-story station building. The entrance is in the middle of the station building with the ticket hall west to the entrance. The ticket offices are in service for 24 hours a day. Foreign tourists planning to travel to Tibet by train need to present your passport and Tibet Travel Permit to buy the ticket on site. If you have already booked a Tibet train ticket online, you need to pick up the ticket with your passport, booking number and the copy of your Tibet Travel Permit.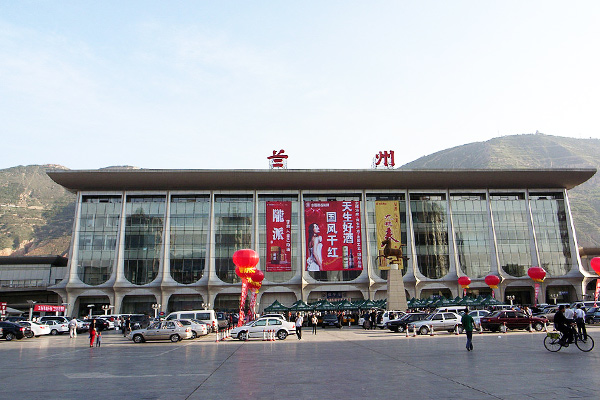 Tourists can pick up the Tibet train ticket from the ticket offices of Lanzhou Railway Station.
If you do not want to bother with the whole booking and collecting process, we can help you to get your Tibet train ticket. Besides, we can also help you to obtain your Tibet Travel Permit and give advice on your tour arrangement. Both the ticket and permit will be sent to your hotel personally in time, so that you can immediately go to the station to board your train to Tibet.
How to Board the Tibet Train at Lanzhou Railway Station?
1. Prepare your Travel Documents and Train Tickets
Among all the important items you need to pack for your Tibet tour, the train ticket and the Tibet permit are indispensable for boarding the Tibet train. Remember to keep them in a safe place where you can easily fetch on the other hand. Check the departure time of your train and remember to get to the railway station at least one hour in advance, for there will always be a long line for queueing.
2. Pass through Security Check
Upon your arrival at Lanzhou Railway Station, you need to pass through the security check before entering the station building. The check is very strict and no forbidden items (like dangerous items, explosives etc.) will be allowed to carry. Your Tibet train ticket, Tibet travel permit and passport will also be checked by the staff.
3. Wait in the Waiting Hall
Taking the escalators to the second floor of the main building, you can find the waiting room for your train according to information presented on the LED screen. There are international waiting rooms, soft seat waiting rooms, VIP rooms and mother & baby rooms on the second floor. Various magazines in Chinese and foreign languages are provided in the waiting room for free reading. Tourists can also get hot water for free at the drinking place.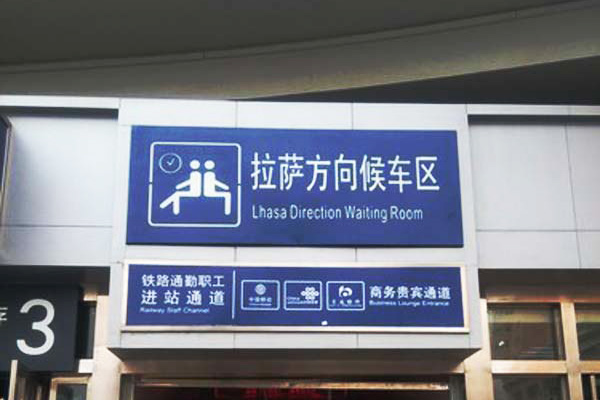 Find the waiting room for your train to Lhasa based on the signs and boards in the station.
4. Find Your Platform and Get Onboard
After ticket checking, which is usually started 20-30 minutes before the train's leaving time, you will need to find your platform and get onboard. There are LED boards, labels, light boxes distributed in the waiting room, ticket checking area and platform area, to help tourists to go to the correct direction for boarding. A few minutes' walk is always needed. Find the matching carriage according to your train ticket, and then get onboard.
5. Find Your Berth
As you get onboard and enter the carriage, you need to find your sleeper berth. For Tibet trains, there are separate compartments with 4 or 6 berths for sleeper carriages. The berth number is printed on the door of each compartment. You can place your luggage on the luggage rack or under the lower berth. After all these steps are finished, you can just relax and wait for your lifetime Tibet train journey.
How to Get to Lanzhou Railway Station from Zhongchuan Airport?
Since the opening of Zhongchuan Railway on October 1, 2015, it takes only about 40 minutes by train from the train station to Lanzhou Zhongchuan Airport. There are 11 scheduled C trains from train station to airport every day from 06:58 to 21:23. And the return trains from the airport to the train station run from 08:46 to 22:40.
Besides, the Shuttle Bus Chengguan District Line can take tourists to Lanzhou Railway Station from the airport. It takes about 1 hour to arrive at Lanzhou Eastern Hotel, which is 1.5 km away from the train station. The cost of shuttle bus is 30 CNY one way per person.
How to Get to Lanzhou Railway Station from Lanzhou West Railway Station?
Located 8 km away from Lanzhou Railway Station, the newly built Lanzhou West Railway Station was reopened to service on December 26th, 2014 with the opening of Lanzhou-Xinjiang High-speed Railway. It mainly operates the high-speed trains through Lanzhou-Xinjiang high-speed railway, Lanzhou-Zhongchuan intercity railway, and Xuzhou-Lanzhou high-speed railway.
The city bus No.31 and K102 runs between Lanzhou Railway Station and Lanzhou West Railway Station. It is about 10 km, which takes about one hour. If you take a taxi, it will take about 40 CNY for the 10 km's ride.
How to Get from Lanzhou Railway Station to Dunhuang?
For booming Silk Road travel, there are three scheduled Lanzhou–Dunhuang Trains running between Lanzhou Railway Station and Dunhuang Railway Station. Of which, the Y667/8 Lanzhou-Dunhuang train is the special tourist train that offers luxury soft-sleeping berths onboard. Besides, it fully displays the feature of Dunhuang culture and the exotic sight of Hexi Corridor line, with each carriage exhibiting a city attraction of Gansu province.
The other two K trains from Lanzhou to Dunhuang are just normal fast trains with hard seats, hard-sleeper berths and soft-sleeper berths onboard. All the three trains depart in the afternoon, with the earliest one at 16:52, and reach Dunhuang in the early morning of the next day. Tourists will experience an overnight train journey which takes about 13 hours onboard.
Recommended Tibet Group Tours from Lanzhou by Train