Luggage Policy on Tibet Trains: Allowance and Restriction for Your Reference
Travelling through train to Tibet is very different from travelling to other Chinese areas. We usually pack a lot of luggage with us but at the same time we should be careful about the regulations of luggage- what to carry, what not to carry, how much to carry etc. The following guideline will help you know the various rules to be followed while travelling on Tibet Train.
How Much Luggage can the Passengers Carry?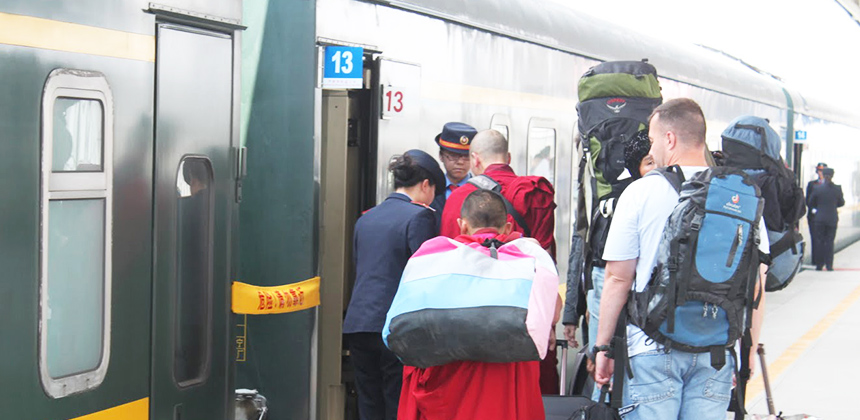 Passengers are boarding on the Tibet train with packed luggage
The free volume and weight to be carried by passengers are ordinary passengers- 44 pounds or 20kg, diplomats- 77 pounds or 10kg, children under 1.6m and of 16 years of age-22 pounds or 10kg. The external dimensions of every article length, breadth and height should be within 160cm or 63 inches in all. Items in rod shape cannot be of more than 200cm or 79 inches.
Important things to know:
1. Transportation means for disabled like folding wheelchairs etc. are not counted in the above-mentioned range.
2. The officers in charge at the railway station are not going to measure the weight and length of the luggage unless it is extremely large. So bring all your luggage into the train compartment.
3. Use consignment service if your luggage exceeds the prescribed weight and measures. It will cost you around 1.6CNY/Kg.
4. If you have huge stuff to carry, pack them down into different types of carriers like handbags, packsacks, suitcases, which will be easy to pass while you check-in the train.
Limited Items on the Tibet Train
- Gas Lighters 5, safety match box 20.
- Nail polish, delustering agents, hair dye are no more than 20 ml; Alcohol, perm lotion, are no more than 100 milliliters; Mousse, hair gel, pesticides, air fresheners are no more than 600 ml.
- Newborn birds 20.
Banned Objects on the Train
- Objects forbidden by the nation or confined to transit;
- Dangerous goods defined by the law, regulation or rules, ammunition or unidentifiable chemicals;
- Animals or any objects impeding public health including extremely odorous objects;
- Objects able to destroy or contaminate the train;
- The norm or weight beyond item 51 of this regulation.
How can Your Luggage be Checked in While Travelling through Tibet Train?
Unlike airlines, there is no check-in service provided by Tibet Train. You have to take all your luggage by yourself, place it under the lower berth or at the luggage shelf placed at the top.
Where to Store My Luggage on Tibet Trains?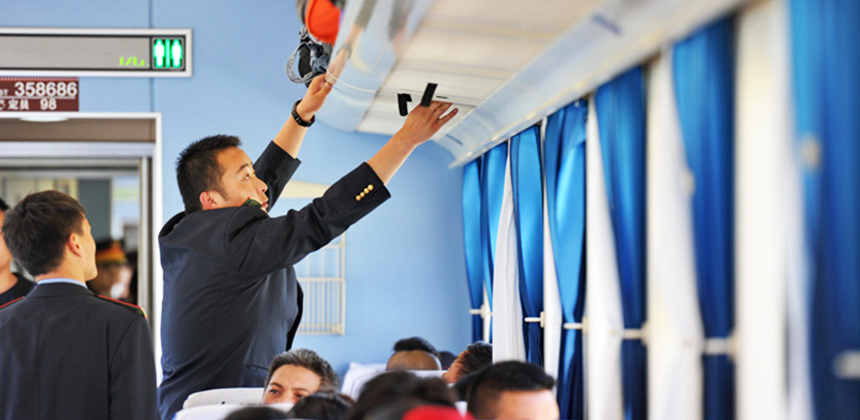 A train staff is helping passengers to store the luggage on the shelf in Tibet trains
Storing in soft sleeper compartments
In the soft sleeper cabin, you can store only your baggage. Under the lower bunks, you will find storage space where you could keep your luggage. Above your upper bunks also, you will see the storage space. Storage space is small, so just soft bags can be stored and accessed. Also, there is a hook and a mesh bag to store small things.
Tips:
If you have slashed your bags under your bed, then it will be difficult to open them and take out the things, so it is better to keep all your food, gadgets and toiletries into some utility bag and keep it in your bag only to have an easy access to all things.

Suitcases of less than 24" are recommended to put beneath the lower berth as space is just 30cm high.
Storing in hard sleeper compartments
Again there are no separate storage areas in hard sleeper compartments. You can keep your luggage beneath the lower berth or place it on the rack above the aisle. But placing heavy bags above the rack is very difficult.
Tips:
Keep all your valuables with you while you are in had sleeper cabin and keep your eye on your luggage.

Pack all your commonly used things like toothbrushes, towels in a small bag that is easily accessible.
Train Station Baggage Service:
Luggage Store at Train Station
If you have arrived early at the station and there is some time in your train to arrive, then store your luggage in the luggage store situated near the entrance of the station. The price is charged for per piece of the luggage.
Baggage Security
Check the luggage to be transported at least 2-3 days before your departure, and then claim it on your date of arrival. If the luggage arrives before your arrival, then the station will keep it secure for free for 3 days. And if it arrives after you have arrived, the station staff will inform you whenever it is arrived.
Red Cap Baggage Handling Services
The Red Cap is a baggage handling service which is available at all major stations in the country. It is available for all travellers. Just look for such people who are wearing uniformed shirts red in colour. Show them your railway ticket and they will escort all your bags and luggage onto the train so that you may board early. Pick your place where you would like to sit. When your destination will arrive, the conductor will set the red cap service for you while de-boarding.
If you have multiple or heavy bags with you, hire red cap service. This service is also recommended to use if you are travelling in a group, where you have to figure out how everyone's luggage will be stored and how will everyone find space to sit.
Learn More about the Luggage Policy on Tibet Trains by Real Photos
More about Tibet Train Luggage Restrictions