Tibet Train Hard Seat
There are three types of seating arrangements in all Tibet trains - soft sleepers, hard sleepers, and hard seat cabins. It is the cheapest way to take a Tibet train tour by taking a hard seat for it costs the least compared to soft sleeper and hard sleeper. But for the less comfort, it is advisable to take hard seats for short train journey to Lhasa from Xining or Golmud.
How many hard seats on a Tibet Train?
There are a total of four hard seat carriages in every train to Tibet. Each carriage has 98 seats, with two seats on one side and three on the other side. So, there are a total of 392 hard seats in any train going to Lhasa.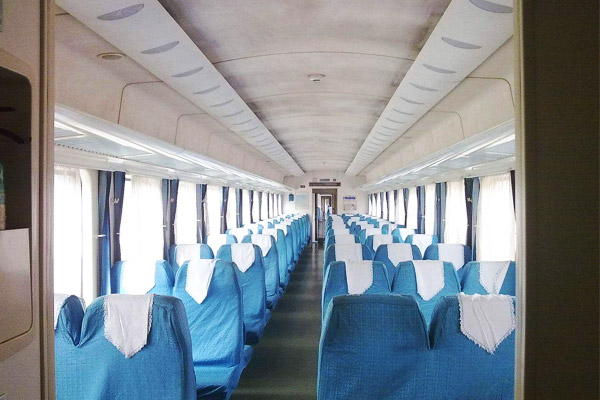 Hard seat on Tibet train
Compared to other usual trains in China, these hard seating cars on Tibet trains don't necessarily have hard seats; they are softer and more comfortable.
Taking hard seats while taking a Tibet train in peak season
In peak season, especially from August to early October, it is really hard to buy a Tibet train ticket from Beijing, Chengdu and some other popular destinations. For some travelers, who really want to experience the train journey to Tibet, but can't get any sleeping berth ticket, it is the only other option to fulfill their dream by buying tickets for hard seats.
For the less comfort in hard seat cabins, it is only advisable to take the Tibet train from Xining or Golmud as it takes less time than travelling from Beijing or Shanghai.
Taking hard seats while taking a Tibet train in low season
If you are travelling to Tibet in low season, especially in winter, one of the reasons to choose hard seat cabin would because of the cheap rates and more free seats. As most of the travelers opt for soft or hard sleeper, hard seating carriages are mostly free. Only few seats will be booked and you can travel freely.
If you are planning to take a hard seat, it is advisable that you take the train from Xining and Golmud as they have the least travelling time to Lhasa. Other stops take more than a day or two and it might be uncomfortable to travel in hard seating for such a long time.
Where to put luggage in hard seat cabin on Tibet trains?
In each hard seat cabin on the Tibet train, there are storage lofts right above your seat lining above the windows. It is about 50 cm wide, which is just enough keep one small suitcase or a back pack. There is also space under the seats where you can keep luggage under your respective seat. It is suggested to have your valuable in a separate hand baggage so that it is safe.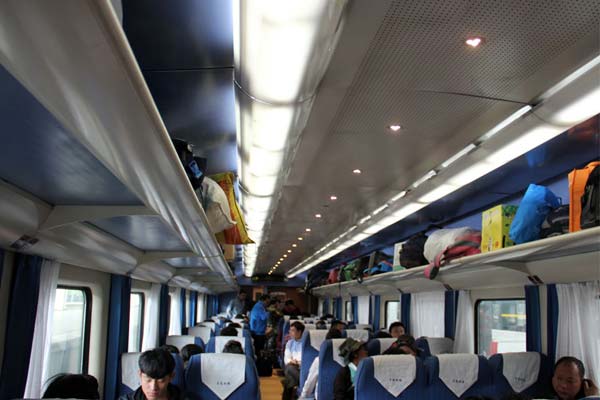 There are storage lofts right above your seat lining above the windows
An adult can have a bag that weighs less than 20kg in the carriages. Any person carrying a bag heavier than that should use the consignment services which cost CNY 1.6 per kg.
How to take the seats beside the window?
When it comes to travelling in Hard Seat Cabin on a train to Tibet, many travelers prefer the window seat as they can enjoy the marvelous scenery through the Qinghai-Tibet plateau and it is also were they can rest their head to sleep. There are at least 40 window seats in each carriage. If you book your train ticket through the ticket window, you can ask specifically for a window seat. However, if you book your Tibet train ticket online, you can not specify your seat.
How to kill time when take the train to Tibet by hard seat?
It is a rare chance to communicate with the locals in the hard seat cabins. Since most of the travelers in hard seat cabins are local Tibetans or youth travelers, it will be a culturally immersive experience and a great way to network and exchange stories by talking and spending time with them.
Other ways to spend time are good old ways of reading a book or listening to music. Be careful with how you spend your mobile and laptop charge as there are no charging ports in hard seating cabins.
More facilities on Tibet trains
There are two squat type toilets at the end of carriage. No toilet paper or any other type of toiletries will be available, so it advisable to buy your own toilet paper, tissues, and sanitizers. There is a small washing area outside with mirrors and taps. Only cold water comes from the tap. Since each carriage is shared by 98 travelers the washing area is always crowded.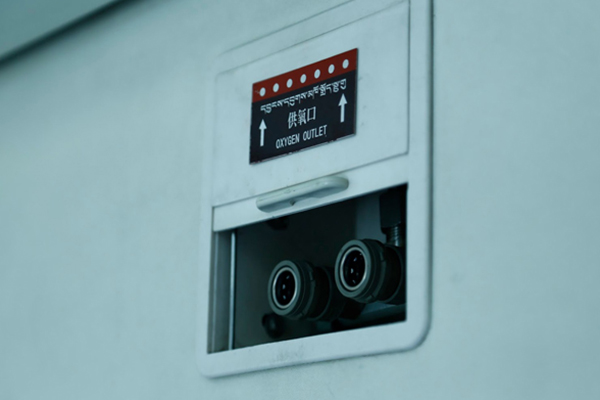 There is an oxygen outlet under each seat
There is hot water dispenser at the end of carriage for drinking purposes. Smoking is not allowed inside the carriages, you can only smoke in the connecting area between two carriages. There is an oxygen outlet under each seat, you can use disposable tubes for oxygen when the altitude gets higher and whenever you get headaches.
Real photos of hard seats on Tibet trains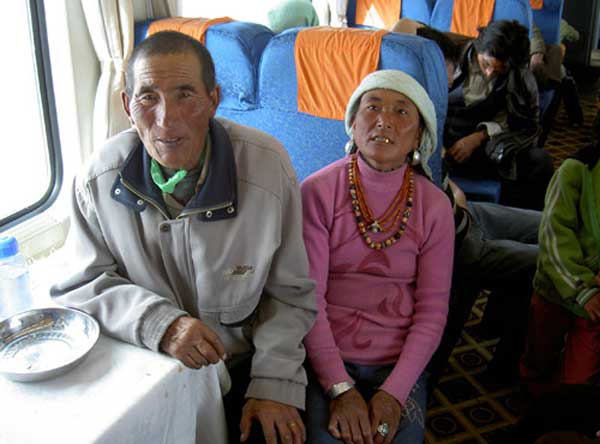 Locals are normally in the hard seat class.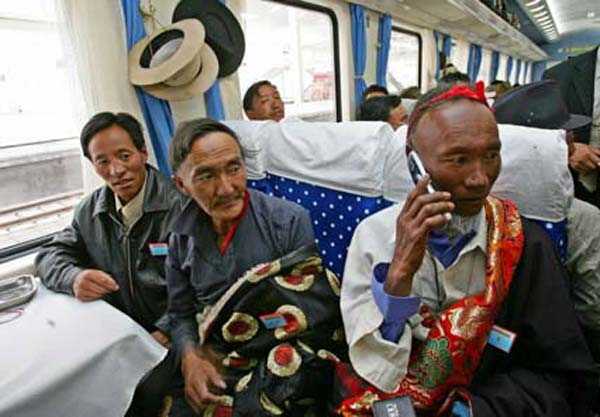 The hard seat class is normally overcrowded.