Be Prepared for the Basic Conditions on Tibet Trains
Tibet train (Qinghai-Tibet Railway) is one of the most popular and cost-effective way to arrive in Lhasa. For many international tourists, it is a good alternative to take a connected flight to Lhasa from a Chinese city. Beside the cost advantage (which can be one third or half of the ticket price), the Tibet train journey itself is an experience on its own. Dubbed as "Sky Train to Tibet", the railway between Xining and Lhasa crosses entire Tibet Plateau from North to South and takes the passengers to a journey at an average elevation of 4,000 plus meters. The view outside is spectacular with the vast wilderness of Tibet Plateau, the blue sky and white clouds, the grasslands with flocks and herds, snow-covered mountains and snow cape mountains.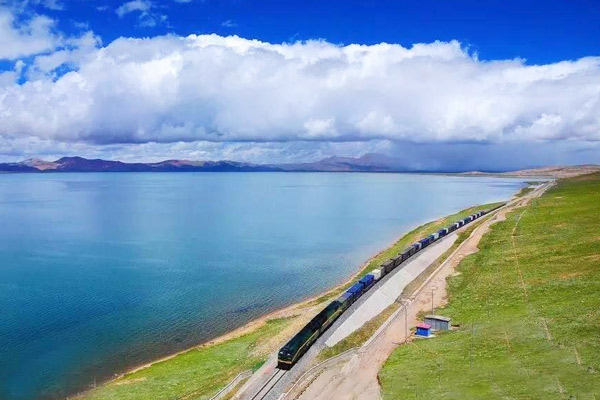 Tibet train running on Qinghai-Tibet Railway
The trains are specially equipped with a central oxygen system which pumps oxygen into the compartments during high altitude, alpine hypoxia environment. This system monitors and keeps the oxygen level in the compartment comfortable for passengers. Besides this central system, each passenger can also access to a private oxygen system if he or she starts to show symptoms of high altitude sickness. There is also a last line of defence: if the altitude sickness is severe, there is a doctor in each train.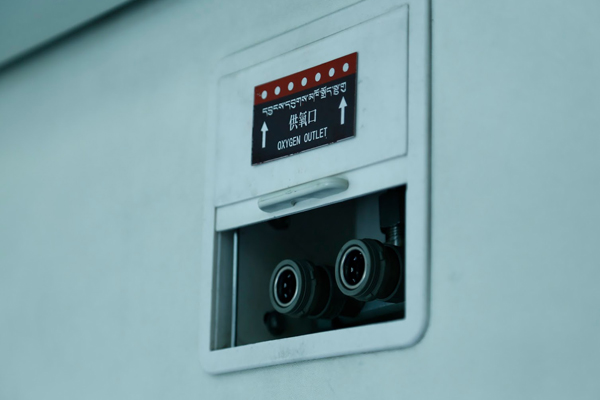 Oxygen outlet supplied on Tibet train
Tibet trains are also quite safe, and have onboard security and no random person can enter the train without a ticket. But you need to follow basic common sense and should not leave valuables outside.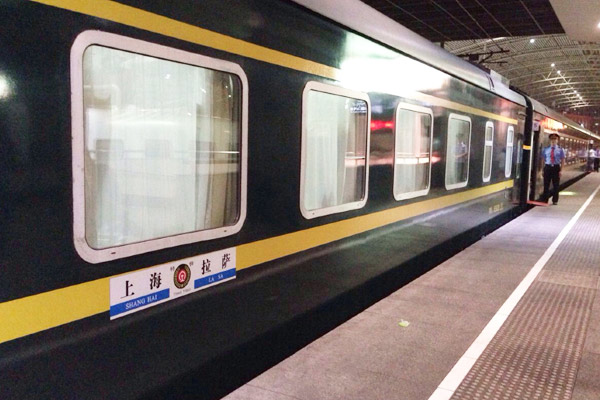 Shanghai-Lhasa train
Since its opening in 2006, the Tibet train grew in popularity and currently there is a huge demand for Tibet train tickets among tourists. In the peak season (around August but most of the period between April and November), it is almost impossible to obtain a train ticket to Tibet for individuals. Don't be worried, as we can always guarantee you a Tibet train ticket.
>> Check all the Tibet Tours by Train from Beijing, Shanghai, Guangzhou, Chengdu, Xining, Xian, Hong Kong
Bed on Tibet Train
There are a few sitting and sleeping options in the Tibet train. The cheapest of all is hard seat but since the train journey from a major Chinese city takes 36 to 45 hours (even if you take the train from Xining, it will take 24 hours). In Tibet train, there are usually five cushioned hard seats in a row: two on one side and three on the other side.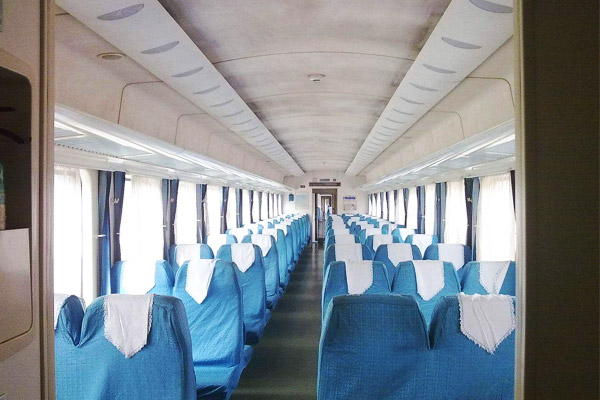 Hard seats on Tibet train
Locals usually prefer the hard seat class and these cars are normally overcrowded. As long as you cannot find a ticket in sleeper classes or you are not on an extreme budget, it is advised to travel in hard sleeper or soft sleeper classes.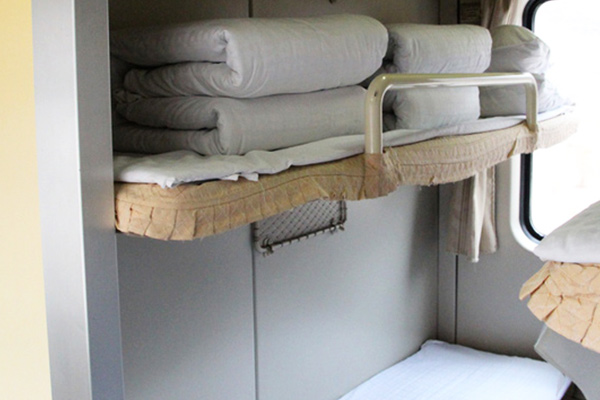 Hard sleeper berths on Tibet train
Tibet train hard sleeper is another cheaper option and in each Tibet train car, there are 8 hard-sleeper cars with 10 open compartments. In each hard sleeper compartment, there are 6 beds (2 upper berths, 2 middle berths and 2 lower ones). In total, there are 480 hard seat beds available in each Tibet train and it is much easier to find a hard sleeper bed compared to soft sleeper bed.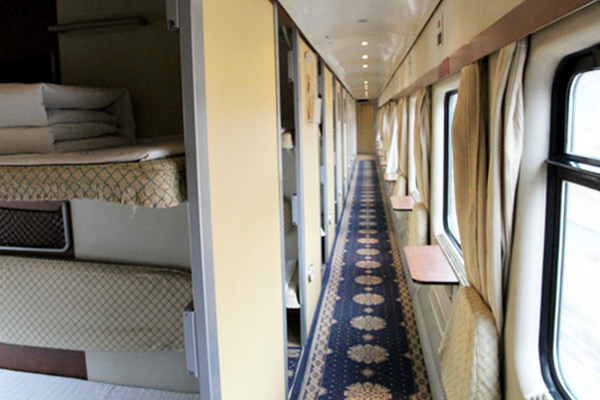 Hard sleeper cabin corridor
Hard Sleeper Train Tickets is approximately 35% cheaper than soft sleeper train tickets (but still more expensive than the hard seat class). The hard sleeper bed is not specifically hard or uncomfortable but there are two disadvantages:there are no doors in hard sleeper cabins and there are 6 beds in a hard sleeper berth compared to 4 in a soft sleeper berth. Hard sleeper berth is 60 cm wide and 180 cm long. Hard sleeper classes are also usually crowded and since there is no cabin doors, they feel like large dorms.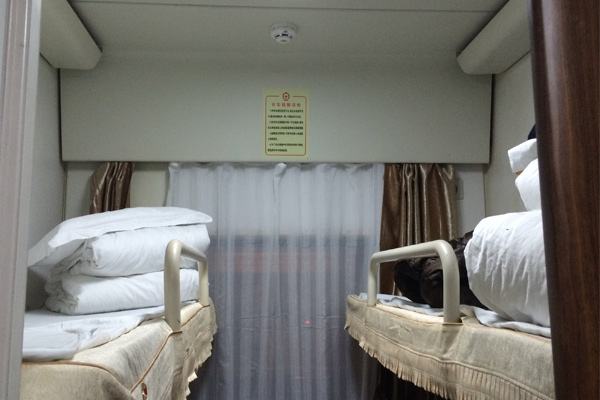 Soft sleeper berths on Tibet train
Soft sleeper berths offer the most comfortable journey on the Tibet train. The tickets are expensive though (sometimes can cost as high as a plane ticket to Lhasa) and very difficult to find since there are only two soft sleeper cars with 64 cabins. In each compartment, there are 4 beds (2 lower berths and 2 upper berths). The soft sleeper cabin doors can be closed and provides a more private environment.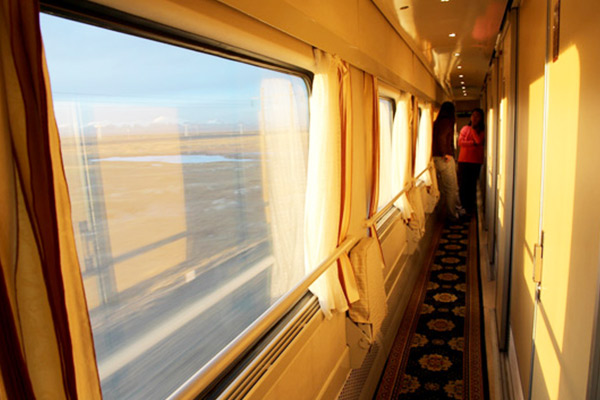 Soft sleeper cabin corridor
Even soft-sleeper berths are considered 1st class on Tibet train, the berth is just basic. The space is minimum but just comfortable enough. There is nothing extraordinary about the beds but they are clean and relatively comfortable. Soft sleeper berth is larger than the hard sleeper : each soft sleeper berth is 75 cm wide and 190 cm long and there is a 50-cm wide space between left and right berth.
Meal on Tibet Train
The food is also basic on the Tibet train but you have options other than the food provided in the restaurant. The breakfast includes food like milk, eggs, bread and pickles. For lunch and dinner, you can have a set meal or you can order ala carte. All the meals are Chinese and Tibetan style.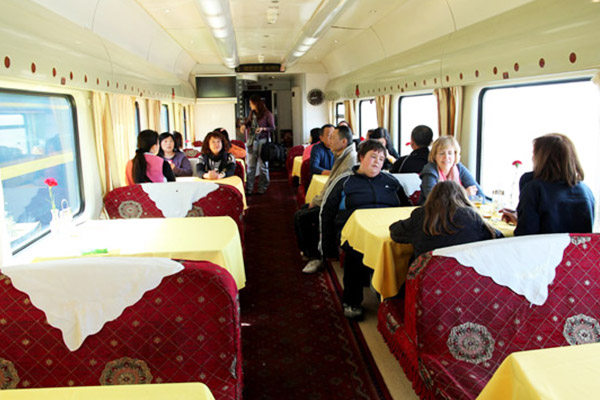 Restaurant on Tibet trains
Each dish costs approximately 25 Chinese Yuan (around 3.7 US Dollars) and you would expect to pay 100 Chinese Yuan (around 15 US Dollars) for two people per meal. In each car, there is a hot water supply you can use for free of charge.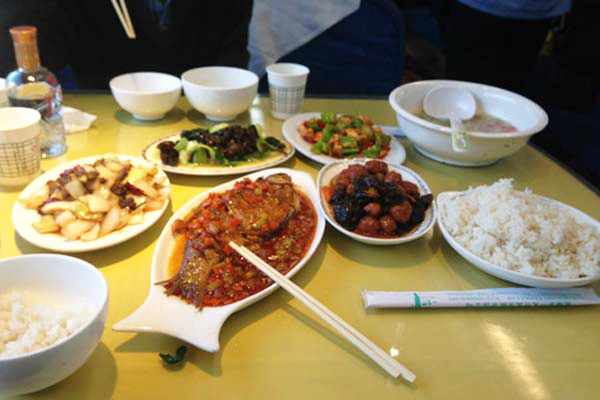 Traditional Chinese dishes served on Tibet trains
There are 3 meals in a day. At meal times, there is a trolley offering hot boxed meals. Other than the meal in the restaurant (each Tibet train is equipped with a dining cart and restaurant), there is also a food cart constantly be pushing up and down the aisles of the train with packaged snacks, such as potato chips, soft drinks, instant noodles and fruit.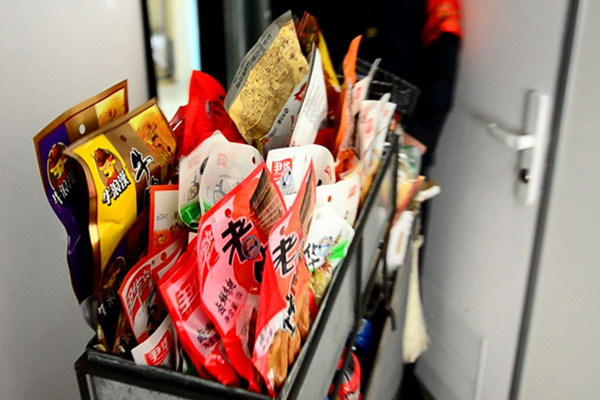 Food cart with snacks and drinks
When the train stops in major train stations, there is also some (but not much) time for passengers to leave the train and buy food from vendors on the train platform.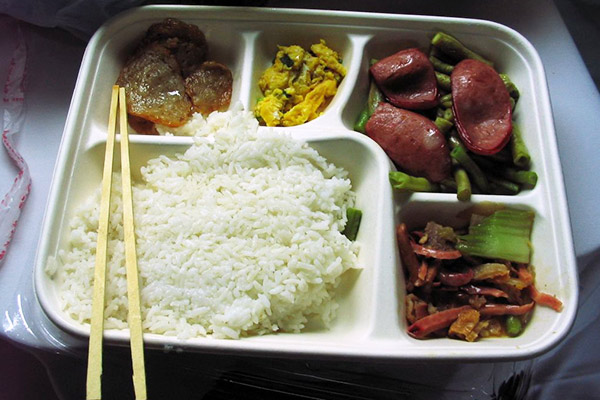 Hot boxed meal served on the train
Of course, there is nothing preventing you to buy and pack some food before you board the train and consume them on your journey. Especially if you are not used to Chinese dishes, you may want to get some food before the train ride.
Sanitary Condition on Tibet Train
The facilities on Tibet train are average by Western standards but they are in good enough condition. Especially the bathrooms on the train are in better condition than you would expect. There are also western-style sitting toilets available (although most toilets are Chinese style Squat toilets).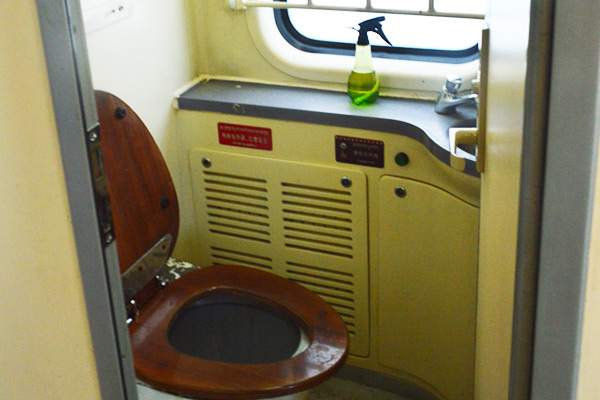 Western-style sitting toilet
The western style toilet has all the standards you would expect: a sink with cold running water, a dispenser for liquid soap, a waste bin, and toilet paper dispensers. Tibet trains also have disabled access toilets. All toilets are shared (even the soft sleepers do not have their private toilets). One tip: The toilet paper on the train does not last all the journey so it is advisable to take your own toilet papers with you.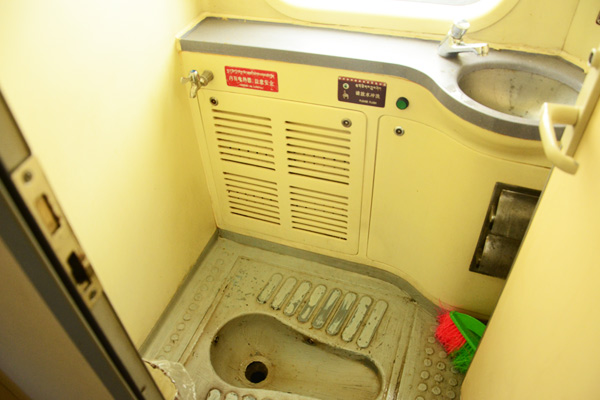 Chinese style squat toilets
Outside the toilets there are washing basins. These public washing facilities have three sinks with running water at room temperature and a liquid soap dispenser.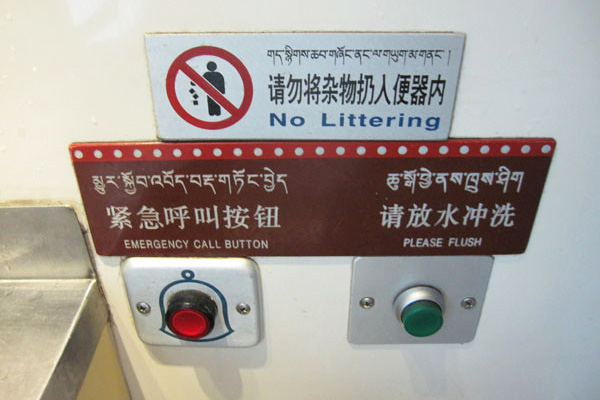 Buttons in toilets
The hygiene conditions on the train are good at the start of the journey but with hundreds of people on the train heavily using them they get quite dirty. You can help to keep them that way if you keep it clean when you use.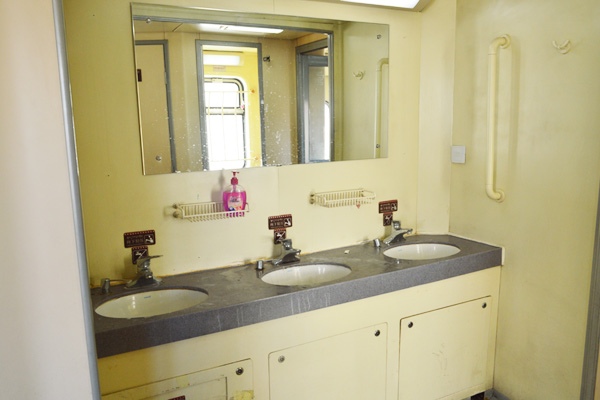 Washing basins
It is important for you to bring your own toilet paper, soap, hand sanitizer, toothbrush and toothpaste. The running water from the tabs is not drinkable.