Hongkong to Lhasa Train Book
Hong Kong is the main gateway to China, and the lands beyond, and is a major port for trade, commerce, and industry in Asia. Getting to Hong Kong is easy from any country in the world, and there are dozens of scheduled flights into this center of commerce every day. English is the main language in Hong Kong, making it easy for foreign tourists to get around.
Hongkong to Lhasa Train Ticket Online Booking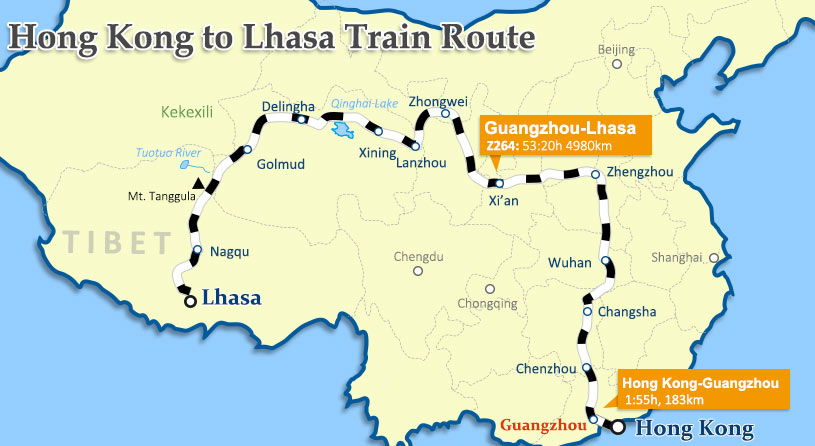 Hongkong Guangzhou Lhasa Train Ticket Price & Online Booking
Train No.
From / To
Dep. / Arr.
Duration
Distance (km)
Frequency
First Class Ticket
Premium Class Ticket
Z812
Hung Hom Kowloon/Guangzhou East
07:25/09:24
1:59
173
Daily
HK$210
---
Z824
Hung Hom Kowloon/Guangzhou East
08:15/10:12
1:57
173
Daily
HK$210
HK$250
Z820
Hung Hom Kowloon/Guangzhou East
09:24/11:23
1:59
173
Daily
HK$210
---
Z804
Hung Hom Kowloon/Guangzhou East
10:52/12:51
1:59
173
Daily
HK$210
---
Z808
Hung Hom Kowloon/Guangzhou East
11:32/13:26
1:54
173
Daily
HK$210
---
Z814
Hung Hom Kowloon/Guangzhou East
12:23/14:17
1:54
173
Daily
HK$210
---
Z826
Hung Hom Kowloon/Guangzhou East
13:11/15:08
1:57
173
Daily
HK$210
HK$250
Z818
Hung Hom Kowloon/Guangzhou East
14:32/16:31
1:59
173
Daily
HK$210
---
Z810
Hung Hom Kowloon/Guangzhou East
16:35/18:34
1:59
173
Daily
HK$210
---
Z828
Hung Hom Kowloon/Guangzhou East
18:00/19:57
1:57
173
Daily
HK$210
HK$250
Z816
Hung Hom Kowloon/Guangzhou East
18:44/20:43
1:59
173
Daily
HK$210
---
Z802
Hung Hom Kowloon/Guangzhou East
20:01/22:00
1:59
173
Daily
HK$210
---
Z264
Guangzhou/Lhasa
11:45/17:05
53:20
4,980
Daily
CNY865
CNY1468
Z266
Lhasa/Guangzhou
13:00/20:00
55
4,980
Daily
CNY865
CNY1468
Book the Train Now
Note:
1. Here CNY865 is the net price for the hard sleeper and CNY1468 is for the soft sleeper on Guangzhou Lhasa Train.
2. The ticket prices above are the net price. Since the demand of Hongkong to Lhasa train tickets always far exceeds the supply in peak season, tourists have to pay more than the net price to buy tickets. The actual price is subject to the market fluctuation.
3. A small service fee will be charged for Ticket-Only service. No service charge on booking train tickets if you also book a Tibet tour package with us.
4. Your submitted reservation is not an order but just an inquiry. The reservation need to be confirmed by Chinatibettrain.Com. An early reservation is recommended for the limited supply of Tibet train tickets.
Most Recommended Hongkong Tibet Train Tours
>> Check more about Hongkong Tibet train tour packages here.
Why take Tibet train from Hong Kong?
There is no train that runs direct from Hong Kong to Lhasa, the capital city of Tibet Autonomous Region, so visitors will need to change at one of the seven major cities in mainland China that serve the Tibet Trains. Flights can be arranged to other cities that serve the Tibet routes, but if you are determined to travel by train, your best option is to get the train from Kowloon, in Hong Kong, to Guangzhou, and then change there for the train to Lhasa.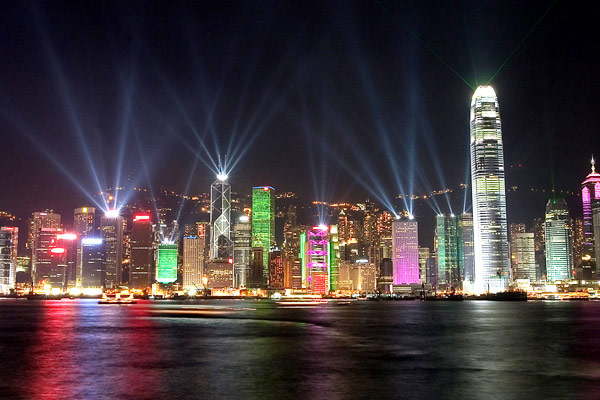 Hong Kong nightscape
Hong Kong is one of the world's biggest trade ports, and the largest center for commerce and industry in Southeast Asia. Officially known now as the Hong Kong Special Administrative Region of the People's Republic of China, it lies on the Pearl River delta. Across the delta to the west lies Macau, the playground of Asia's rich and famous, and to the north lies the province of Guangdong. It has carried many names in the past, including nicknames, the most famous of which was Pearl of the Orient. The name is a reflection of the impressive nightscape of the city's lights that decorate the skyscrapers on both sides of the Victoria Harbour.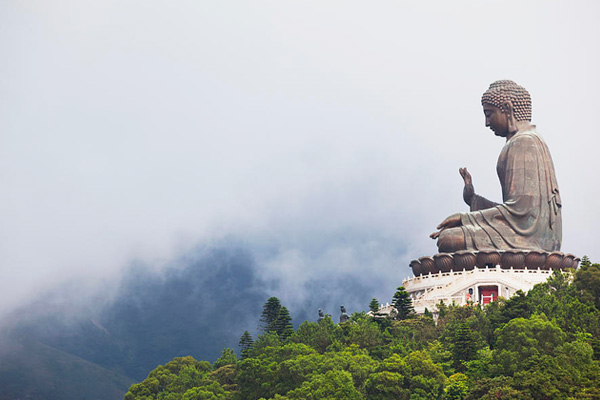 34-meter-high statue of Buddha set atop the Po Lin Monastery
One of the main reasons to take the train from Hong Kong is the lack of international restrictions on travel in the region. However, there is still a need to get a visa for China, before departing for your trip to Tibet, as you will need to transfer to a station or airport in China before traveling on to Lhasa. And there are plenty of sights to see around the island while you are waiting for your visa or train to leave. As well as a 34-meter-high statue of Buddha set atop the Po Lin Monastery, you can take in the sights of Victoria Peak, which overlooks the whole island, or spend some money in Hong Kong's last night market, in Kowloon's Temple Street.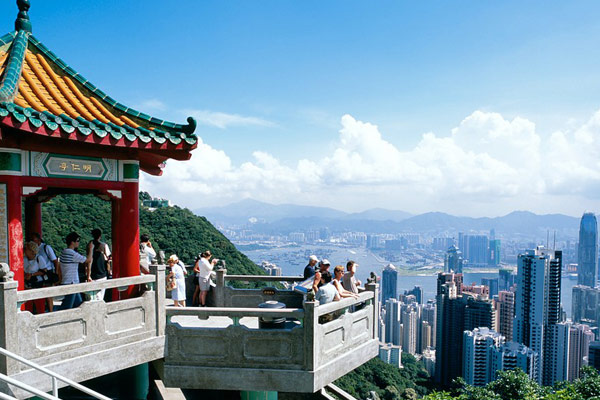 Victoria Peak Tower
For the residents of Hong Kong and Macau, it is no need to apply for the Tibet travel permit (Tibet visa). All you need to take is your HK/Macau SAR Passport and Home Return Permit.
Hong Kong Train Station
Hong Kong has several train stations, but the one you need for traveling to Guangzhou, and then on to Lhasa, is the Hung Hom Station, in Kowloon. It is the only station that travels to mainland China, and is the hub station for transfers between the East Rail Line and the West Rail Line. To get there you can take the metro direct to the station on either the West or East Rail Lines, or from Central you can take the Tsuen Wan line to Tsim Sha Tsui Station and then the West Rail Line to Hung Hom Station.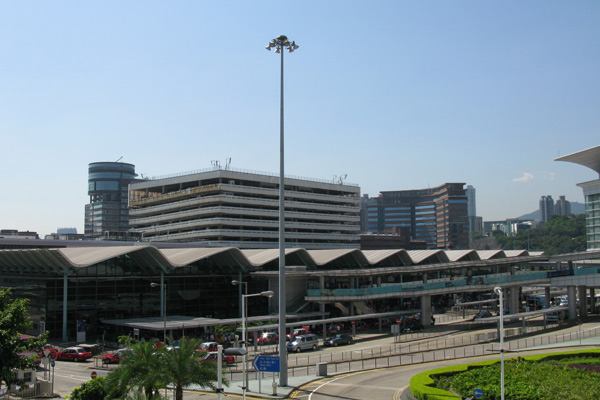 Hung Hom Station
The station is well set up for ease of access, with a huge ground floor level with multiple entrances and lots of shops and stores. The station consists of four floors, with the platforms on the lowest floor, which is the second basement level. The floor above, known as the M Concourse, includes customer service counters, as well as exits for pedestrians to Tsim Sha Tsui and the Hong Kong Polytechnic University.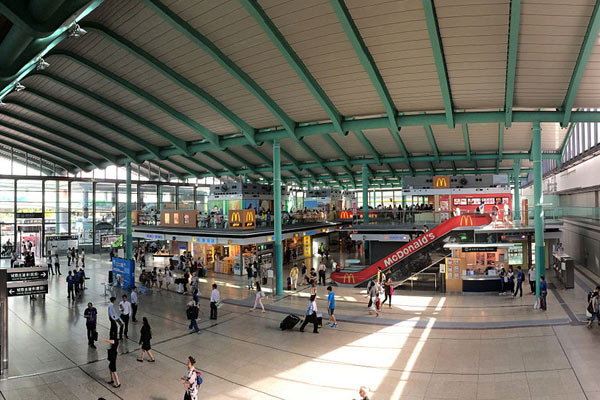 Hung Hom Station concourse
The ground floor contains the main concourse, as well as the Immigration Department offices, Customs and Excise, ticket offices, and the main, ground level exits. Going up to the second floor, you will find a selection of restaurants, fast food stalls, cafes, bakeries, shops, and travel agencies. The Loft, as it is known, is the perfect food court within the station, with selections of cuisine from China, Britain, and around the world.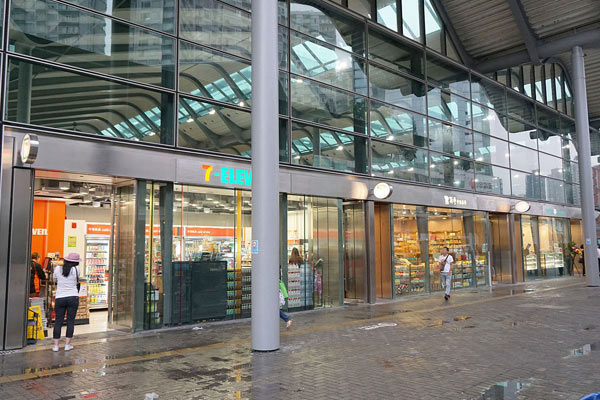 Hung Hum Station outside shops
The station has seven platforms, although the freight platform is no longer used. It should also be noted that the two "island" style platforms have their own washrooms, which is an unusual feature of the station. There are also large LED screens on every platform, with a full listing of all trains and their respective departure or arrival platforms. All signs are written in both Chinese and English, and have been since the station was first opened in 1975.
Traveling on the Hong Kong-Lhasa Train
The train from Hong Kong to Guangzhou, in Guangdong Province, is one of the island's normal Intercity trains, styled along the lines of the trains in the United Kingdom, with a top speed of 125 miles per hour, getting you to Guangzhou in around two hours. Once in Guangzhou, visitors will change trains to get the Guangzhou to Lhasa train, which takes around 53 hours to traverse a huge part of China, before heading up to the Qinghai-Tibet Plateau after the station at Golmud.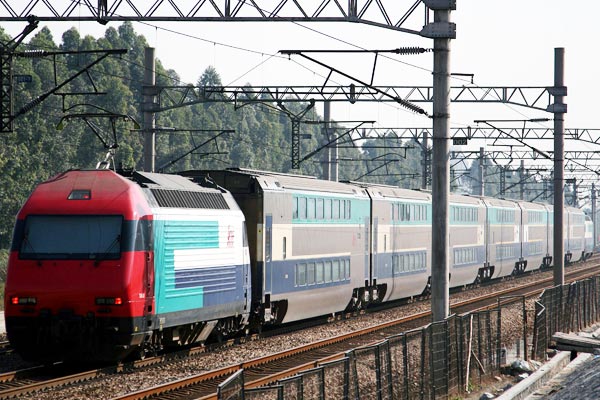 A through train from Hongkong Kowloon to Guangzhou
The train from Guangzhou has 24-hour dining in the dining car, and a selection of both Tibetan and Chinese dishes on the buffet trolley. There are over 100 different dishes on offer, which change depending on the season. During the stretch from Golmud to Lhasa, the staff will announce upcoming points of interest for passengers in Chinese, Tibetan, and English, and give a short explanation of the sights and what to look out for.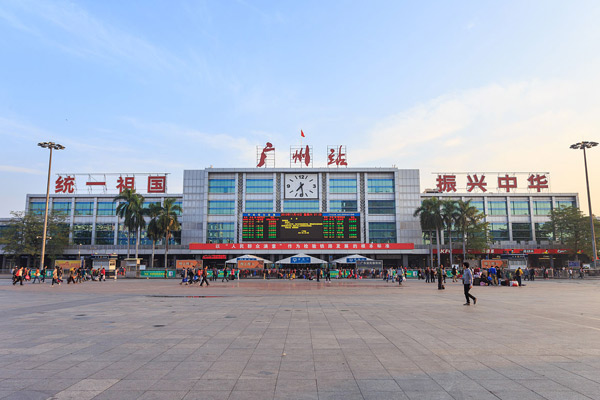 Guangzhou Railway Station
Besides, you can also take flight to Beijing, Shanghai, Chengdu, Xi'an or other mainland China cities, where take the Tibet train getting to Lhasa. Read more information about Tibet train routes here.
As with all trains to Tibet, there are three types of tickets available for you to buy. Hard seats are the cheapest, but are not recommended for foreign visitors, as they can get uncomfortable over the three days of travel. Hard sleeper cabins are the next type of on-board accommodation. The cabins contain six bunks with soft mattresses, but have no doors. The best option is the soft sleeper cabin, which sleeps four adults, has a lockable door for security, and a small television that shows local programs.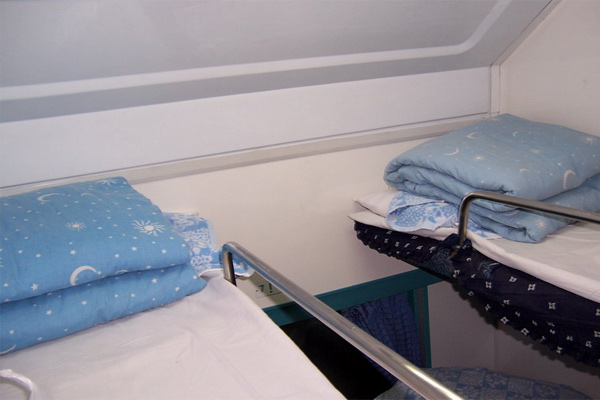 Hard sleeper berth
Oxygen is available in the soft sleepers and the train's corridors in case of altitude sickness during the latter part of the journey, and oxygen tubes can be obtained from the train staff. There is also a medical cabin on the train with a doctor and nurses to treat any ailments along the route.
Flights to Xining – an option to avoid high ticket demand
There is no direct flight from Hong Kong to Xining, so to take advantage of the higher elevation of Xining, in Qinghai Province, and the start of the real Qinghai-Tibet Railway, you would need to fly to Chengdu first, and then change for Xining. While this can be a little complicated, with multiple connections, it does make the trip a lot shorter, and gives you the opportunity to acclimatize in Xining for a day or so, before taking the train from there to Lhasa.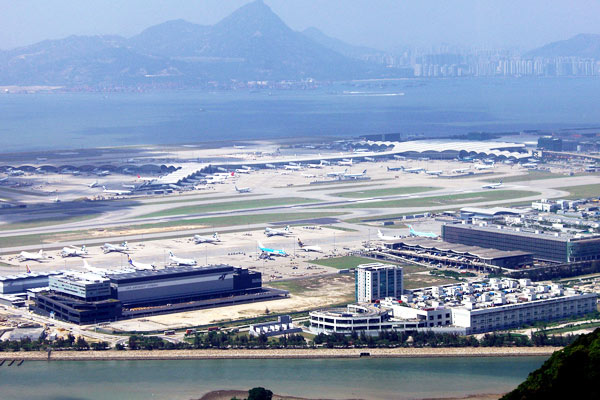 Hong Kong International Airport
The main advantage of traveling via airplane to Xining and then taking the train from there is that you can save time on the trip, and as Xining is at an elevation of 2,275 meters, you can always spend a day there to help with acclimatizing to the higher altitudes. This can help to reduce the risk of altitude sickness. Moreover, as most of the spectacular scenery is on the train from Golmud (where the train starts its ascent to the Qinghai-Tibet Plateau) you would not be missing any of the best parts of the train journey.