Xining Railway Station: The Beginning of Qinghai-Tibet Railway
Xining Railway Station, the beginning of Qinghai-Tibet Railway, serves as an important railway hub, and all Tibet trains stop over at Xining Railway Station from around China. It is convenient for travelers to take a train to Tibet from Xining with more tickets supplied for there are four or five Tibet trains from Xining Railway Station every day.
Train Schedule from Xining Railway Station to Lhasa
As the start station of Qinghai-Tibet railway, Xining Railway Station serves the most frequent trains to Lhasa. In some cases, passengers can't buy a ticket for the popular routes, like Beijing-Lhasa, Shanghai-Lhasa and Chengdu-Lhasa, but can get a ticket from Xining to Lhasa instead. So you can take this as your plan B when planning your train tour to Tibet.
Train Number
(Route)
Departure
Arrival
Duration
Frequency
Details
Z323
(Chengdu to Lhasa)
12:26
09:55
21hr, 29min
Every Other Day
Details
Z223
(Chongqing to Lhasa)
12:26
09:55
21hr, 29min
Every Other Day
Details
Z6801
(Xining to Lhasa)
13:50
11:23
21hr, 33min
Every Other Day
Details
Z917
(Lanzhou to Lhasa)
14:01
11:14
21hr, 13min
Every Other Day
Details
Z21
(Beijing to Lhasa)
15:21
12:40
21hr, 19min
Every Day
Details
Z265
(Guangzhou to Lhasa)
19:49
16:45
20hr, 56min
Every Day
Details
Z6811
(Xining to Lhasa)
20:30
17:25
20hr, 55min
Every Day(seasonal)
Details
Z165
(Shanghai to Lhasa)
21:27
19:35
20hr, 08min
Every Day
Details
Please note:
The train schedule from Xining to Lhasa above is just for reference. When you make early reservation, please contact us for more details.
How Can I Get Tibet Train Ticket from Xining Railway Station?
As the perfect starting point for your Tibet train tour, Xining Railway Station is provided with 2 ticket offices at present, separately located on 1F and 2F. Foreign travelers can buy the Tibet train ticket at the ticket office with your passport. Additionally, if you book your ticket online, you can go to the railway station to get your ticket with your passport and the order number. It should be noted that foreign tourists can only pick up your train ticket from the ticket office, since the automatic fetching machine can only recognize China identity card.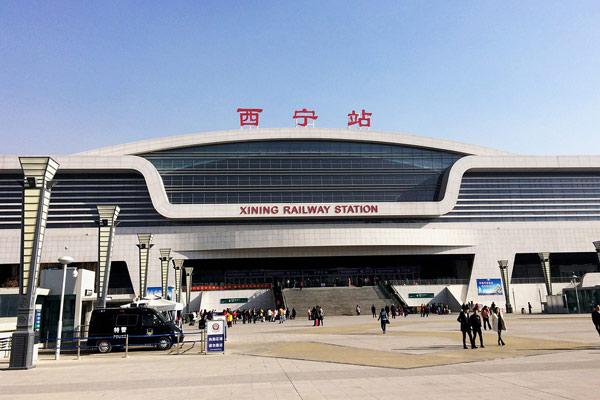 Xining Railway Station is provided with two ticket offices for tourists to get the Tibet train tickets.
To avoid the confusing booking procedure and save more time from queuing up, you can turn to us for professional help. We will not only help to book your train ticket, but also send it right to your hand. What's more, we also offer the services of Tibet Permit application and tour arrangement. With such a one-package service, you can enjoy a more pleasant and relaxed journey to Tibet.
The Location of Xining Railway Station
Located in Huzhou Road, Changwon District, Xining Railway Station opened in 1959 and completed reconstruction in December 2014. Recently, it is not the first station on the Qinghai-Tibet railway, but also an important station on Lanzhou-Xinjiang High-speed Railway, which opened to traffic in December 26, 2014.
The rebuilt Xining Railway Station is divided into two spaces, the station building and two outdoor squares. Beneath the North and the South outdoor squares, substantial car parking and a bus terminal is housed. The main building is divided into three main levels, including a Waiting Hall level, a Platform Level and Arrivals Level. With the expansion of the railway station, the surrounding area is becoming an integrated urban business district with business office and integrated services together.
This ever-convenient station can be reached within 2 kilometers from most locations in center of the city. Normally, you can pay around 10 CNY for a Taxi and 1yuan for a City-Bus to get there.
How to Get to Xining Railway Station?
Get to Xining Railway Station from Xining Airport
The distance between Xining Caojiabao Airport and Xining Railway Station is about 31 km, which takes about 40 minutes without traffic and costs around 80 RMB or more by taxi.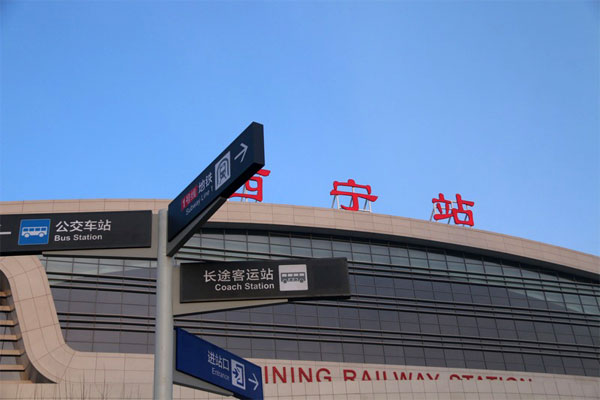 It is convenient to get to Xining Railway Station from Xining Airport by taxi or shuttle bus.
There is no direct bus from Xining Laojiao Airport to Xining Railway Station. Passengers can first take the shuttle bus at the airport to Bayi Road Bus Terminal, which costs 21 CNY per person. Since the Bayi Road Bus Terminal is only 3km from the train station, you can choose to take Bus No. 8, 22, 32, 35 etc to get there. Or, you can take a taxi which only costs about 10 CNY.
Get to Xining Railway Station from Beijing
For travelers who want to take a Beijing-Lhasa train to Tibet, it is difficult to get a ticket of such a popular route in peak season, but there may be a chance to get a ticket from Xining to Lhasa. Therefore, it is recommended to get to Xining from Beijing first and then take Xining to Lhasa train instead. Currently, there are three trains from Beijing to Xining every day during the peak season. It takes at least 19 hours to get to Xining Railway Station, and as low as 206 CNY for the hard seat ticket.
On the other hand, the flight from Beijing to Xining is a good choice for tourists who do not want spend much time on the road. There are more than ten direct flights flying to Xining Airport from Beijing every day, leaving from early morning to late evening. It takes about 3 hours and the air ticket price ranges from 500 CNY to 2000 CNY.
Get to Xining Railway Station from Lanzhou
As the distance between Lanzhou and Xining is quite short, there is no direct flight from Lanzhou to Xining at present. Tourists can choose to take the train to Xining from Lanzhou. There are more than 40 daily trains running between Xining and Lanzhou, which cost about one and a half hours by High-speed D trains and around 2-3 hours by fast Z and T trains. It is very convenient to take a Lanzhou - Xining train.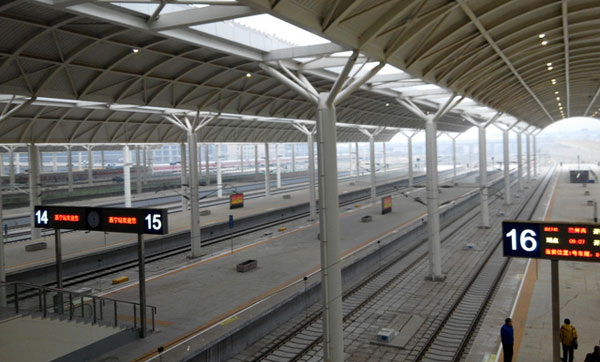 Tourists can get to Xining Railway Station from Lanzhou via high-speed train.
The high-speed railway from Lanzhou to Xining just opened to traffic in December 26, 2014. There are about 20 daily high-speed trains from Lanzhou West Railway Station or Lanzhou Railway Station to Xining Railway Station. The ticket price of high-speed trains starts from 58 CNY only.
Get to Xining Railway Station from Chengdu
Chengdu is one of the most popular departure cities for a train journey to Tibet. However, it is quite difficult to get a Chengdu-Lhasa train tickets in peak season and the trains from Chengdu to Lhasa depart every other day. Instead of taking a direct train from Chengdu to Lhasa, many travelers will take a flight or train from Chengdu to Xining first and then take a Xining-Lhasa train to Tibet.
There are 4-5 daily trains running between Chengdu and Xining, including one nonstop train. It takes about 15 hours and 232.5 CNY for the hard-sleeper seat. The flight from Chengdu to Xining is rich in number, up to 15 per day during the peak season. It only takes about 2 hours for the direct flight.
FAQ about Xining Railway Station
Q: Which train station reserves trains to Lhasa? Xining Railway Station or Xining West Railway Station?
In the past few years, passengers had to get to Xining West Railway Station to take a train to Lhasa, Tibet. However, after finished reconstruction and reopened in December 24, 2014, the Xining West Station closed, and Xining Railway Station took the role back. Recently, Xining Railway Station is the only train station serving Tibet trains to Lhasa, as well as all the other trains to/from Xining.
Q: Is there any luggage storage at Xining Railway Station?
If you have a few-hour layover in Xining before getting the train to Lhasa and want to visit the nearby Dongguan Mosque or somewhere else in the city, you can store your luggage securely in the luggage store near the entrance of the train station. The price is about 5RMB per piece and day.
Q: How to get to Taker Monastery or Qinghai Lake from Xining Railway Station?
The famous Taker Monastery is a landmark located in the southwest region of Xining city, being 33 kilometers away from Xining Railway Station. Tourists now can take the special bus line at Xining Railway Station to the monastery. It takes about 1.5 hours and 5 CNY one way.
As for Qinghai Lake, you can take a coach there from the Coach Station, which is located opposite the Xining Railway Station. It takes 1.5 hours on the way and the ticket price is around 37 CNY per person. If conditions permit, it is advised to charter a car, so that you enjoy a more convenient and comfortable Qinghai Lake tour.
Recommended Tibet Train Tours from Xining