From the small mountainous country as the trekking paradise to the mysterious Buddhist land standing at the roof of the world, it is a truly action-packed adventure to travel from Nepal to Tibet. The two neighboring regions share the highest peak in the world - Mount Everest. Despite the deep bond between Nepal and Tibet, you will find differences in culture, religion and landscape, as you enjoy the incredible heritage sites and stunning natural views in each region.
Taking a flight from Kathmandu to Lhasa will be the most convenient way to get to Tibet from Nepal, and is especially suitable for those who have a tight schedule. While by travelling overland from Nepal to Tibet, you will experience a world-class road trip which boasts some of Tibet's most spectacular scenery along the way, including Everest Base Camp, Yamdrok Lake, Korala Glacier and many more.
With the headquarters based in Lhasa, Tibet and local office in Kathmandu, Nepal, ChinaTibetTrain specializes in Nepal Tibet tours to surrounding areas such as mainland China, India and Bhutan. Whether you plan to enter Tibet from Nepal by road or air, we can secure your travel documents needed for your Nepal Tibet tour, offer a satisfactory tour arrangement and handle your Tibet train or flight booking if you need.
2019 Best Nepal Tibet Small Group Tour from Kathmandu to Lhasa
Traveling from Nepal to Tibet in a small group tour will let you share the cost and make friends with like-minded tourists from all over the world. Our join-in overland group tour from Nepal to Tibet covers all highlights along the Sino-Nepal highway, and will be the best choice for your 2019 journey to Nepal and Tibet.
HOT

7 Days Kathmandu to Lhasa Overland trip with EBC

Kathmandu - Gyirong - EBC - Shigatse - Lhasa

This 7-day tour gives you spectacular views of Tibet and Nepal, with an overland drive from Kathmandu to Lhasa. You will see great scenery in Kathmandu Valley and visit well-known historic sites, like Potala Palace, Pelkor Monastery etc.

HOT

8 Days Himalaya Overland Adventure from Kathmandu to Lhasa

Kathmandu - Kyirong - Everest Base Camp - Tingri - Shigatse - Gyantse - Lhasa

This 8-day Kathmandu to Lhasa overland tour will allow you to take in the most stunning scenery through Himayala mountain ranges. You will visit the noted Everest Base Camp, and many other cultural and natural sites in Tibet.
Most Popular Nepal Tibet Overland Tours
By offering the most exciting Nepal Tibet overland tours, we will take you to enjoy a true adventure across two of the most-visited Himalayan destinations in Asia. Choose from our wide choices for Tibet tours from Nepal, or from Tibet to Nepal as follows.
Recommended Tibet Group Tour from Kathmandu by Air
For tourists planning to take a flight from Kathmandu to Lhasa, we highly recommend the following small group tours, which cover the best of Tibet at the best local price. Just pick up your favorite itinerary to go, and then we will do the rest for you, such as permits application and hotel arrangement etc.
How to Apply for Tibet Travel Permit from Nepal
Required Chinese Group Visa
For entering Tibet via Nepal, all tourists should get a Chinese Tourist Visa from Chinese Embassy in Kathmandu, in addition to the required Tibet Travel Permit. A China Visa issued in another country will be invalid for travelling from Nepal to Tibet, and will be automatically expire once you get the new Group visa. The group visa cannot be extended (valid for up to 30 days). This visa is usually not placed in your passport, but is a sheet of paper. It will have the information of all the members of your group members, including names, nationalities, birth dates and passport numbers.
Application Process
Both Chinese Group Visa and Tibet Travel Permit can only be applied through a local travel agency like us, and the application process is not complicated and only requires a few simple steps. Firstly, you need to apply for the Tibet permit at least 20 days in advance by mailing your passport copy to us. We offer free service for Tibet Permit application as long as you book your tour with us.
Secondly, since it takes at least 3 working days to obtain the Group Tourist Visa from the Chinese Embassy in Nepal and the Embassy works from Monday to Friday. So, please allow for enough time in your itinerary for the visa process. It is recommended to arrive in Kathmandu 4 days in advance before your departure date and hand your original passport to us, and then we can help to apply for the group visa from the Embassy. Check to know the detailed guide on how to apply Tibet Visa from Nepal.
Need Help about Tibet Travel Permit?
Contact us now and get a quick reply within 24 hours .
How to Get to Tibet from Nepal
Overland from Nepal to Tibet
One way to travel from Nepal to Tibet is to take a road trip from Kathmandu to Lhasa. The overland route follows the scenic Friendship Highway, and covers a distance of more than 1000 kilometers across the vast Tibetan Plateau. Starting from Kathmandu and then driving via Shigatse to Lhasa, you will see some of Tibet's best attractions along the way, such as Mount Everest, Tashilhunpo Monastery, Pelkor Monastery, Lake Yamdrok as one of the three holy lakes in Tibet etc.
After crossing the Nepal and Tibet border, you can take a detour from Gyirong to Everest Base Camp and visit the famous Rongbuk Monastery which is the highest monastery at an altitude in 5,000m. There is also provision to stay in Rongbuk Monastery. Watching the sunset from this monastery is like watching it from the clouds. The view of the sunrise, sunset of Mt. Everest seen from this monastery is as enchanting as it can get.
The road condition from Kathmandu to Lhasa is largely good and will not be a problem during most of the time. The section in Tibetan side from Gyirong to Lhasa is mostly well-paved with asphalt roads, even including the road to EBC. While, the part from Kathmandu to Gyirong is still rugged mountain road, making driving much difficult, especially during the monsoon seasons, when heavy rains may cause landslide. But it is only a short road compared to whole long journey.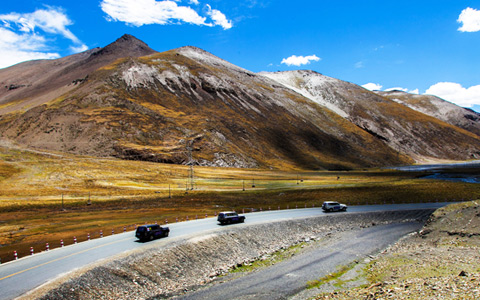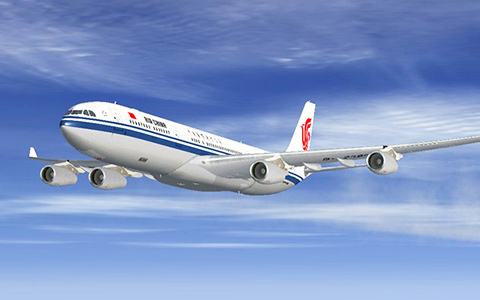 Kathmandu to Lhasa by Flight
There are weekly direct flights from Kathmandu to Lhasa, and the Kathmandu-Lhasa flight is the only international flight connecting Tibet with outside world. The journey takes less than 1h 30m. The frequency of the flights depends on the month of flying. During the summer months there are flights every day. During the winter months or low tourist seasons there are only 2 or 3 flights per week. By showing your permit documents and itinerary in an organized tour by a travel agency, you can choose to fly from Kathmandu to Lhasa, which is the fastest way.
You might not be able to see as many scenic views as you see when you go by overland, but seeing the majestic mountains in the land of snows from a bird's eye view is breathtaking enough. Once you reach the airport, your guide and a private vehicle for your group will be ready to greet you and transfer you to hotel in Lhasa. Sichuan Airlines, Air China, and China Eastern Airlines provide services for Kathmandu-Lhasa flights.
More Ways to Go
By Train
There is no train from Kathmandu to Lhasa so far. But there is going to be an extension of the Qinghai-Tibet railway. The construction is expected to be over by 2020. There are direct buses from Kathmandu to Lhasa which takes about 12 hours. You can enjoy our Kathmandu-Lhasa overland tour to travel to Lhasa and on the way you can tour famous Everest Base Camp in Tibet.
By Cycling
Another way to reach Tibet is by taking cycling tours which are more adventurous and physically challenging. By cycle it takes around 13-15 days. It is a truly amazing experience to by cycle. Another interesting way to go to Tibet is by going via Simikot, a small town in Nepal. This route involves going by flight, overland, and trekking. Many choose this route to get to Kailash, but with a little tweaks you can go to Lhasa too. (However, currently travelling from Simikot to Kailash is not available.)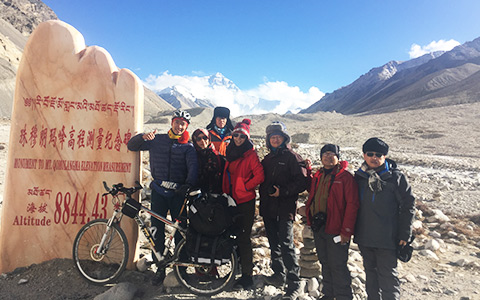 Frequently Asked Questions about Travelling from Nepal to Tibet
Do I need to join a tour when travel to Tibet from Nepal?

According to the policies and regulations, all foreign tourists must be in an organized tour during their Tibet tours. Throughout your visit to the attractions in Tibet, you need to be accompanied by your guide. If you plan to travel to Tibet from Nepal, you need first contact a local travel agency like us to confirm your tour itinerary, and to obtain the required travel documents like Tibet Travel Permit and Group Tourist Visa in advance.

How to book a cheap flight from Kathmandu to Lhasa?

As a matter of fact, the flights from Kathmandu to Lhasa tend to be expensive despite of the short distance between two destinations. One way to reduce your cost on flight to Lhasa is to avoid the high travel season of Tibet, which is from April to June and September to October. Especially, if you visit Tibet in winter months, you may have more chances to find discounted Kathmandu to Lhasa flights. In addition, try to book your flight in advance and make more comparisons to get a cheaper one.

Why choose to travel from Nepal to Tibet instead of the other way round?

Nepal offers the quickest way to go to Tibet. The capital city of Kathmandu is only about 90km from the border between Nepal and Tibet. After the border crossing, you can get to Mount Everest in a single day. And the flight from Kathmandu to Lhasa, which is only international flight to Tibet, just takes 1.5 hours for the travel time. While if you travel from Tibet to Nepal, you need to first take a transfer from your country to the mainland China.

Besides, if you have interest in exploring more neighboring destinations, like Bhutan and India, you can enjoy a wonderful India Nepal Bhutan Tibet tour to explore the four popular destinations in just one go. It is quite convenient to start your journey from India, and then to Bhutan and Nepal, and finally end in Tibet.

Can I extend my trip to China after touring Nepal and Tibet?

The answer is definitely yes. It is a common practice to travel to Nepal, Tibet and China together in just one trip. The China Group Visa gained before entering Tibet from Nepal can also be used in mainland China, but it is only valid for no more than 30 days and cannot be extended.

Therefore, you should make clear the total travel time and confirm your itinerary with your tour consultant, so that he or she can help to apply for the group visa with the appropriate duration of stay. Besides, if you are travelling in a group with the group visa, each of your group member need to depart China from the same port at the same time.

How to cross the border from Nepal to Tibet?

Before the border crossing from Nepal to Tibet, you need to first get the Chinese Group Visa and Tibet Permit. You will also need to join an organized tour since individual travel and use of public transportation are not allowed for foreign tourists in Tibet. In this case, you can join in our classic Kathmandu to Lhasa overland tour. It will be a short drive from Kathmandu to the border at Nepalese side, Rashuwaghadi. And once you cross the border at Gyirong Port, our guide and driver will meet your at the Tibetan side, and then take you to continue your road trip through Tibet to places like Everest Base Camp, Shigatse, Lhasa and anywhere else in Tibet.

Will my China Visa be canceled when travel from Nepal to Tibet?

Whether you have got a China Visa or not, you are required to obtain the China Group Visa to travel to Tibet from Nepal. And once you get your new group visa, your former Chinese Visa will be canceled by the Embassy. If you don't want it to be canceled, you can choose to fly from Kathmandu to other cities outside Tibet, like Chengdu, and then travel back to Lhasa with your current Chinese Visa and Tibet Permit. Or, if you choose to enter Tibet from mainland China, you can also continue to use your current one, without the need to apply the group visa.