Easy-to-understand Tibet Permit Application Guideline for First Time Travelers to Tibet
Many foreigner tourists, especially the first-time travelers to Tibet, often feel confused about the application of Tibet Travel Permit when they are planning their trips to Tibet. As the travelling policy in Tibet is different from other places in China, obtaining a Tibet Travel Permit is the most important thing for foreign travelers before entering Tibet. Without the permit, they will not be allowed to visit Tibet. To make it go smoothly with your lifetime Tibet tour, here we offer an easy-to-understand guidance for the Tibet Travel Permit application. Check the following steps to apply for Tibet Permit to get well prepared for your dream journey to Tibet.
Step 1: Prepare Passport
The primary thing is to prepare a passport valid for at least 6 months from the date of travel. Chinese embassies will not issue a visa if your passport has less than six months' validity remaining. Also, you should have at least one blank visa page in your passport, wherein amendment pages and pages with bar codes are not acceptable for visa stamping.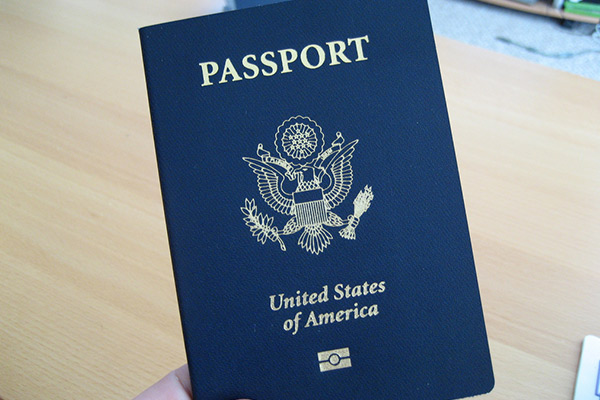 A passport valid for at least 6 months should be prepared to apply for Tibet Permit.
Except for Chinese visa, your passport will also be used to apply for the Tibet Travel Permit. You should make sure that the passport number for Tibet permit application is exactly matching to the passport you carry when entering Tibet. That is to say, if you have renewed your passport after applying for Tibet permit with your old passport number, you have to reapply for the permit with the new one. Meanwhile, for travelers with dual nationality, you can use any of your passports as you like, but you are required to enter to exit China with the same passport.
Step 2: Apply for China Visa
Before travelling to Tibet, foreign tourists need to first get a Chinese Visa to enter China and visit Tibet. There are mainly two situations for one to obtain a China visa for Tibet travel, considering the route to enter Tibet: from mainland China or from Nepal. Here we will discuss it case by case.
Entering Tibet from Mainland China
If you want to enter Tibet from Mainland China, you can get a Chinese visa on your own through the Chinese Embassy or associated visa center in your home country. When filling the application form, it is not suggested to mention Tibet, since you might be rejected. To most overseas tourists, a China tourist visa, also known as "L" visa, will be enough for a China and Tibet tour. Normally, a standard 30-day single-entry tourist visa (L visa) can be issued in four to five working days.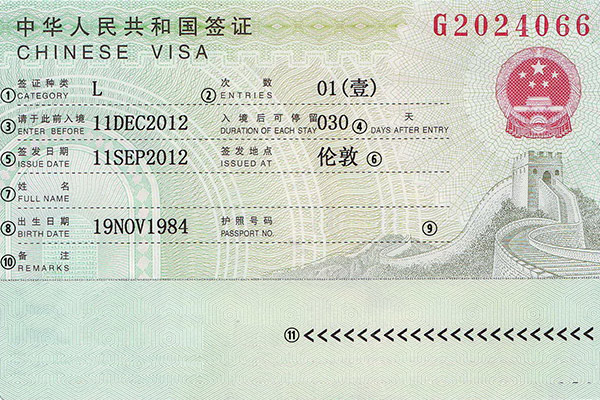 Getting a China Visa is the primary thing before applying for your Tibet Visa.
Entering Tibet from Nepal
When travelling to Tibet from Nepal, tourists need to apply for the Group Tourists Visa which is equivalent to China visa. The Group visa can only be applied by your tour operator through the Chinese Embassy in Kathmandu. Even if you have held a China visa, you will have to apply for the Group Visa. Because the former one will automatically expire when the new Group visa is applied. In this situation, we recommend China visa holders avoid the way of entering to Tibet from Nepal.
Entering Tibet for Chinese Passport Holders
For Hong Kong and Macau tourists who have a HK/Macau SAR Passport, a kind of Chinese Passports, you don't need to apply for the Tibet travel permit. You can travel to Tibet on your own as long as you provide your HK/Macau SAR Passport and Home Return Permit. Besides, overseas Chinese holding a Chinese passport and ID card can travel directly to Tibet without the need to obtain the permit. But if you don't have a Chinese passport, you still need to get the China visa and Tibet Travel Permit to visit Tibet.
Step 3: Apply for Tibet Travel Permit
Now you need to find a local travel agency like us with enough capability and good reputation, to help you apply for Tibet Travel Permit. Since Tibet Tourism Bureau does not issue permits to individuals, and would ask them to go through the travel agency where they book tour services. The required application documents include the copy of your passport and China visa, and your passport photos. You are suggested to send them to us at least 20 days before your Tibet tour starts.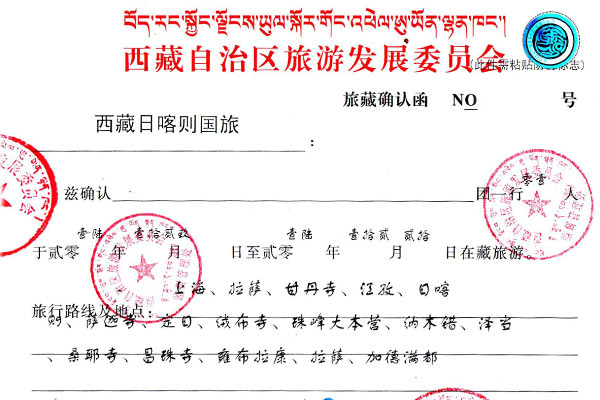 The Tibet Permit should be obtained through a local tour agency from Tibet Tourism Bureau.
When applying for the permit, travelers will be asked to provide information about when and where they will travel in Tibet, even how to get to Tibet. All the information will be stated on the permit. Once the permit is issued, it is difficult to request an extension or any other changes. Therefore, it is strongly suggested to plan your tour in advance.
Besides, different Chinese visa need different ways for applying permit, "L" visa is the best kind that can help travelers get the permit. And work visa and F visa holder need to offer their work certificate with seal to agency. It should be noted that journalists, diplomats, government officials and anyone closely involved in politics should apply for the permit through the Foreign Affairs Office of Tibet Autonomous Region, not through a travel agency.
Step 4: Obtain the Tibet Travel Permit
Normally, it takes about 8-9 days to get the Tibet Permit issued from the Tibet Tourism Bureau. Then, we will deliver the permit to your hotel in mainland China as soon as possible. In some emergency situations, e.g. when you happen to have a stopover at the airport in China for a connecting flight to Lhasa, or you don't reserve enough time before your leave for Tibet, our staff will deliver the permit to you in person at the airport or railway station.
For tourists who take a flight to Tibet, you will be asked to show your original Tibet Permit before you are allowed to board the plane. While if you are going to take the Tibet train to Lhasa, the printed copy of your Tibet Permit will be enough for check at your departure station.