Nepal to Tibet by Train: A Future Way to Travel from Kathmandu to Tibet
Would it sound fantastic if you can board Kathmandu-Lhasa train and enjoy the roller coaster ride across majestic Himalayan peaks?
And that is not a science fiction.
With the joint efforts of Sino-Nepal government, it is said that the Tibet train will be further extended 540 km from Shigatse to Gyirong Port, current Sino-Nepal border, in 2020 and the Tibet Nepal train won't be completely finished till 2024.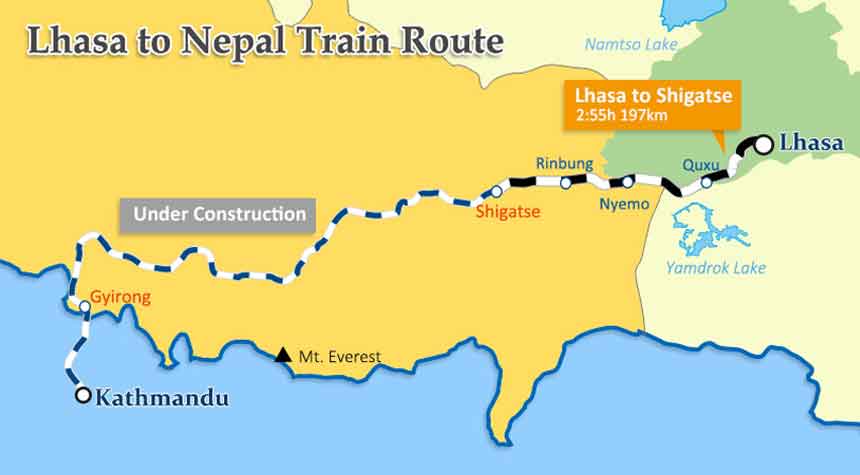 Lhasa to Kathmandu Train Route
Looks too far away?
Well, there is no point to feel disappointed and dwell on the far-distant future.
The great news is we can help you fulfil your Nepal to Tibet journey, now! And in fact there are many different ways to materialize your long-expected dream to explore the two most mystical Himalayan kingdoms in Asia.
Travel from Nepal to Tibet by Air
Flying from Kathmandu to Lhasa offers the easiest access to holy Tibet.
All the flights from Kathmandu Tribhuvan Airport to Lhasa Gonggar Airport are non-stop. And on average, it takes about 3h31min, covering the 377 miles' distance. Most of the flights leave for Lhasa at around 11:30 am.
Recommended Tibet Small Group Tours (Enter from Kathmandu by Air)
Air China and Sichuan Airline are the most reliable non-stop flight choice. The lowest fight cost (business class ticket) starts from 198 USD, with tax added. Air China operates 3 flights from Kathmandu to Lhasa each week, whereas Sichuan Airline has 2 weekly flights. Meanwhile Eastern Airlines' fights make a stopover in Kunming, Diqing and Chengdu.
When checking in at the airport, do choose the window seats one the left of the plane. As the flight hovering over the Great Himalayas, you will be rewarded with bird's-eye view of the jaw-dropping Himalayan Range, most notably the world's summit, i.e. Mt. Everest.
If you need any help to book the international flight between Kathmandu and Lhasa and other domestic flight in China, or need the Tibet train ticket booking service for your China Tibet and Nepal tour, please feel free to contact us.
Enjoy Kathmandu to Lhasa Overland Tour
Flying from Kathmandu to Lhasa has its edge over efficiency.
However, it also has its biggest drawback.
That's you utterly miss the most incredible road trip traversing mystical Himalayan kingdoms in Asia.
Nestling among the sublime Himalayan peaks, Nepal and Tibet share an incredible bond. Only through the Tibet Nepal overland trip can you experience the highlight of the tour. The classic Kathmandu to Lhasa tour or vice versa often lasts for around 9 days. The best time to do the trip is April, May, early June, Sept, and Nov. First part of the road trip will take you from enticing Kathmandu Valley to Gyirong Port, Sino-Nepal border.
Recommended Tibet Nepal Overland Tour
Approximately 160km's bumpy ride via Rasuwagadhi takes around 6-7 hours. A large part of the trip follows the fringe of famous Langtang National Park. The winding road brings you the picturesque waterfalls and vibrant forest and deep gorge. Then at Gyirong, you will be checked the travel documents (Tibet Permit and Group Tourist Visa) at customs before entering Tibet.
Then following the famous Sino-Nepal Friendship Highway and also the travel route where ancient Nepali princess travels to marry Tibetan King Songtsen Gampo, you embark on your journey from Gyirong to Tingri. You can see the mind-blowing Himalaya Ranges. Of course, the highlight would be heading to Everest Base Camp and visiting the world's highest temple - Rongbuk Monastery and do meditation inside the cave of Tsongkhapa.
Next you drive towards the Shigatse, the second biggest city in Tibet and visit prestigious Tashilhunpo Monastery, where the world's biggest future Buddha can be seen. The last part of the trip covers Shigatse to Lhasa via Gyantse. The Neplai-style Kumbum stupa, magnificent Gyantse fortress, turquoise Yamdrok Lake and close-up view of Karola Glacier, and UNESCO heritages sites like Potala Palace, Jokhang Temple will add new insights to your understanding of Nepali and Tibetan culture and history.
ChinaTibetTrain brings you the one-stop service for Kathmandu to Lhasa overland tour or vice versa. You may either join the small group tour to share cost with other international tourists or customize your own tour.
Easy booking, flexible, hassle-free with permit guarantee.
Travel from Nepal to Tibet by More Means
Apart from traditional Kathmandu to Lhasa overland tour, there are more options for your Nepal to Tibet tour. And our ingenious travel experts never cease to come up with new ways to meet the varied needs of tourists.
Instead of entering Tibet from Kathmandu, many prefer to fly from Kathmandu to Lhasa first and later enjoy the cycling tour from Lhasa to Kathmandu. With years of mountain bike tour running experience, ChinaTibetTrain provides you with seasoned cycling guides who will work with you to design tailor-made travel route. Besides professional know-how, an extra van, private chef, and staff will follow you throughout the cycling tour to give timely support.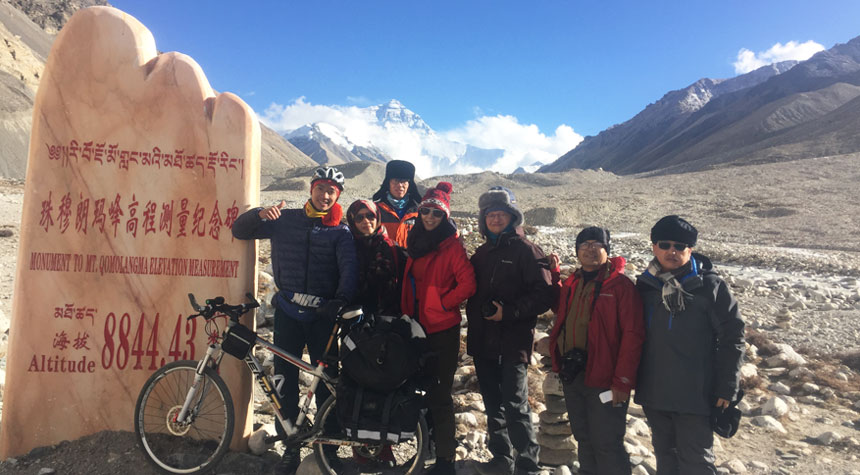 Cycling tour from Lhasa to Kathmandu via EBC
You may also enjoy the motorcycle tour from Nepal to Tibet. Our staff in Kathmandu will offer a wide range of services: permit application, motorcycle rental, support van, translation, hotel booking, chef, etc.
For those who like trekking in Tibet and Nepal, we have loads of best treks that take you to venture into the two Everest Base Camps in both Tibet and Nepal. Our EBC to ABC trekking tour in Mt. Everest allows you to trek to the highest place (6000-6500m) an amateur can reach where the summit of Mt. Everest seems to be within each reach.
Not to mentions dozens of off-the-beaten treks that show you the mysterious Buddhist retreats and hidden natural wonders amid Himalayan peaks.
Why confine yourself to lengthy road trip?
It's time to embrace the radiant sunshine, feel the alpine breeze and smell the earthly scent on Tibetan Plateau.
Just send your inquiry, for free consultancy and easy booking.
How to Apply for Tibet Travel Permit from Nepal?
According to the policy of Tibetan Tourism Bureau, all international tourists have to have Tibet Travel Permit to enter Tibet and travel with the company of a guide during your stay in Tibet. And only registered travel agency can get Tibet Permit for tourists.
To make it easier for our clients, we offers free service for the application of Tibet Travel Permit, with 100% guarantee for our clients.
Once you confirm your travel itinerary and book your Nepal Tibet tour with us, you just need to email the scanned copy of your passport and your photos to your personal travel consultant, she or he will do the rest for you.
Besides, you need to have Group Tourist Visa from Chinese Embassy in Kathmandu. We suggest you arrive at Kathmandu at least 3 days earlier before your departure for Tibet. Then you can leave your passport in our office in Kathmandu and we will have enough time to help you get Group Tourist Vista.