Nepal to Tibet Train Book
Lying between Tibet Autonomous Region of China and India, Nepal offers the most popular tourism location for hiking and mountaineering. This landlocked Southern Asia country may be mostly known for its snow-covered mountain peaks (there are over 90 peaks above 7000 meters including the 8 of the world's 10 highest peaks). But few knows that the country is mostly low lying and in fact subtropical. So, it is a perfect place to mix hiking, mountaineering and tropical safari.
Most tourists would like to also visit Tibet, while they have come all the way to Nepal (or vice versa). The distance between Kathmandu (capital city of Nepal) and Lhasa (the capital city of Tibet) is not specifically long but since the majestic Himalayan Mountain Range is in between, the two regions are not readily connected. But taking the trip to Tibet while you are in Nepal would be rewarding.
Lhasa to Kathmandu Train Ticket Online Booking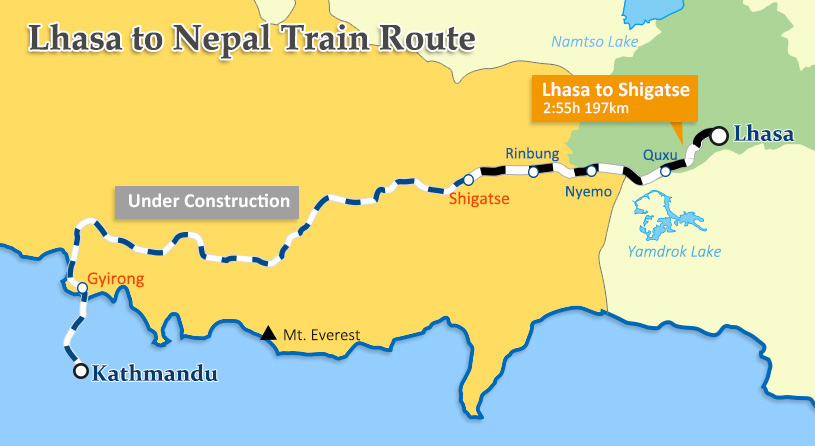 Lhasa to Shigatse Train Ticket Price & Online Booking
Train No.
From / To
Dep. / Arr.
Duration
Distance (km)
Frequency
Hard sleeper Ticket
Soft Sleeper Ticket
Z8801
Lhasa/Shigatse
08:30/11:25
02:55
248
Every Day
CNY111.5
CNY169.5
Z8803
Lhasa/Shigatse
15:20/17:59
02:39
248
Every Day
CNY111.5
CNY169.5
Z8804
Shigatse/Lhasa
12:05/14:40
02:35
248
Every Day
CNY111.5
CNY169.5
Z8802
Shigatse/Lhasa
18:40/21:33
02:53
248
Every Day
CNY111.5
CNY169.5
Book the Train Now
Note:
1. The ticket prices of the trains from Shigatse to Lhasa is the same.
2. It will be possible to travel from Nepal to Tibet by train after the China-Nepal Railway completing in 2022.
3. The ticket prices above are the net price. In peak season, tourists have to pay more than the net price to buy tickets. Please contact us for the actual price of Lhasa-Shigatse train tickets on your departure date.
4. A small service fee will be charged for Ticket-Only service. No service charge on booking train tickets if you also book a Tibet tour package with us.
5. Your submitted reservation is not an order but just an inquiry. The reservation need to be confirmed by Chinatibettrain.Com. An advance train ticket booking is recommended for the limited supply of Tibet train tickets.
Most Recommended Lhasa Kathmandu Train Tours
>> Check more about Lhasa Kathmandu train tour packages here.
Nepal to Lhasa by train
It would be great to take a train from Kathmandu to Lhasa and enjoy the spectacular view while ascending from the edge of fertile Indian plains into the Himalayan mountain range.The planned China-Nepal Railway would link Lhasa, the capital of Tibet and Kathmandu in Nepal with two parts. The first section in China is an extension of Lhasa-Shigatse railway stretching toward Gyirong port. The total distance is 540 km, and the first stage of the Tibet Nepal railway project aims to be completed by 2020. The second stage of the project is from Gyirong, Tibet to Kathmandu, which will start to build after Shigatse-Gyirong railway finished, and plan to be completed in 2022. Once the Tibet Nepal railway project completed, tourists could experience the unique train from Nepal to Tibet through Mount Everest area or take a China Tibet train tour further toward Kathmandu.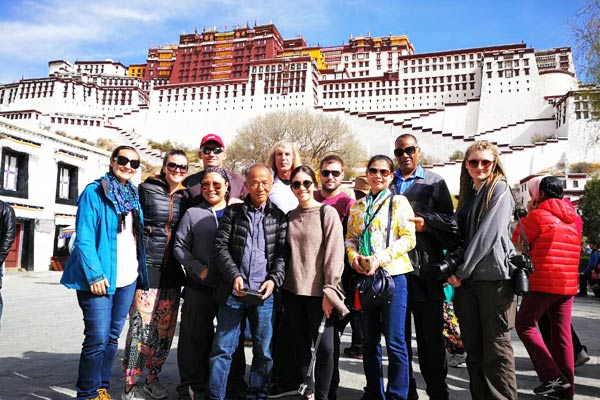 Lhasa Potala Palace
This will be practical in the near future (after 2022) but unfortunately, this has been a dream up to now because at the moment, there is no train service available from Nepal to Lhasa. This is not surprising because although the linear distance between Kathmandu and Lhasa is just 609 km, this is the Himalayan mountain range and rocky terrain makes the construction of railways between Kathmandu and Lhasa extremely difficult. In fact, up until recently, the engineering technology was not mature enough to realize such a high terrain railway project, although this was proposed and lobbied by Nepalese for a while.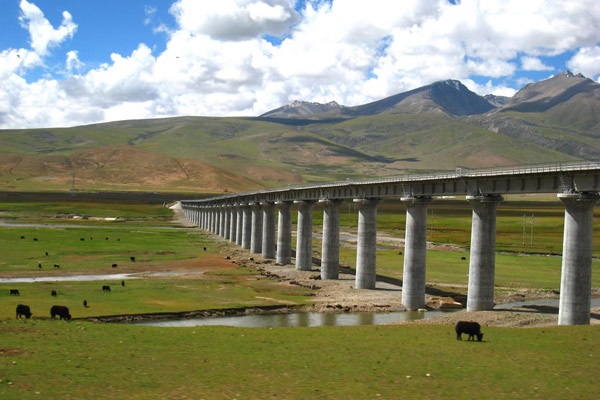 Existing Qinghai–Tibet Railway
But here is the good news: There is a railway between Lhasa and Kathmandu under construction. In fact, the section of the railway which is connecting Lhasa to Shigatse (a city in Tibet on Nepal border) has already been completed in 2014. The existing Qinghai–Tibet Railway which connects Xining, Qinghai Province and Lhasa, Tibet Autonomous Region of China will be extended from Lhasa to a point north of Kathmandu by 2020. This will boost the tourist traffic between Tibet and Nepal (current road access is very slow and prone to natural disasters and flights are relatively infrequent and expensive) and provide a very convenient way to travel between Kathmandu and Lhasa.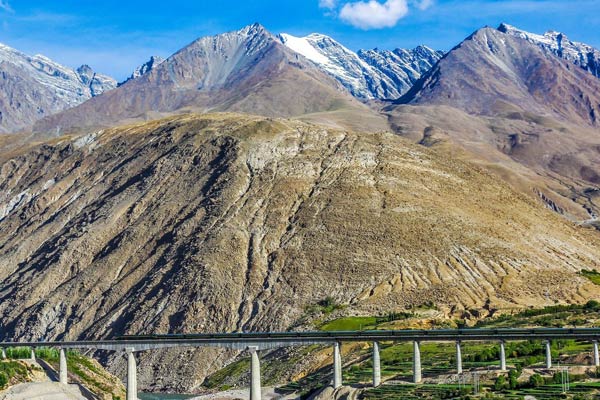 Lhasa-Shigatse Railway
The idea to link Lhasa to Kathmandu is not new. In a meeting between Chinese and Nepalese officials in 2008, Our Chinese delegation has announced that Qingshang railway would be extended to Zhangmu. Nepalese as well as the Indians lobbied for such a trade corridor for a while.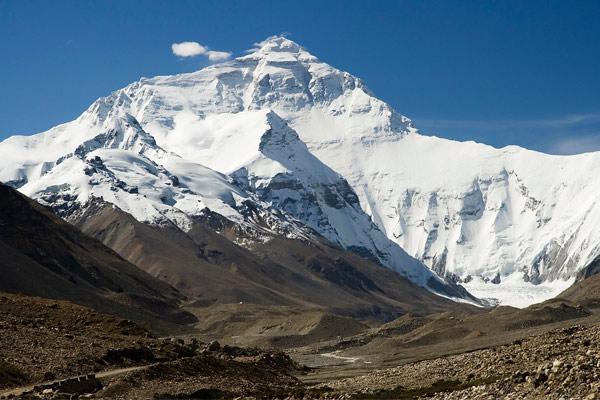 Himalayan mountains
By Lhasa – Kathmandu Railway extension, Qinghai–Tibet Railway will deserve its "Train to the Roof of the World" nickname and probably will be the most scenic, once in a lifetime railway trip experience on the planet. Kathmandu is 1370meters above sea level and Lhasa sits 3658 meters above sea level. So, this train service will take its passengers for a 2300 meters' accent which will not be for everyone (in fact current passenger carriages used on existing Qinghai–Tibet Railway Lhasa trains are specially built and have an oxygen supply for each passenger plus every passenger train has a doctor).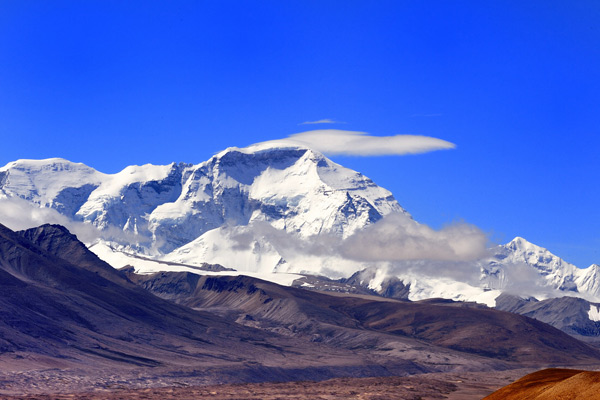 Mountain peaks in Nepal
Although the need for the railway is mostly commercial (India and China will open up a commerce corridor through Nepal), this will also help to boost tourism in the region by connecting two of the most popular Himalayan tourism hotspots with a cost effective and scenic transportation option. In fact, in the future, the railway will probably be further extended to India.So, in the near future, it will be possible to take a train from Kathmandu to Lhasa and then from there all the way to Beijing.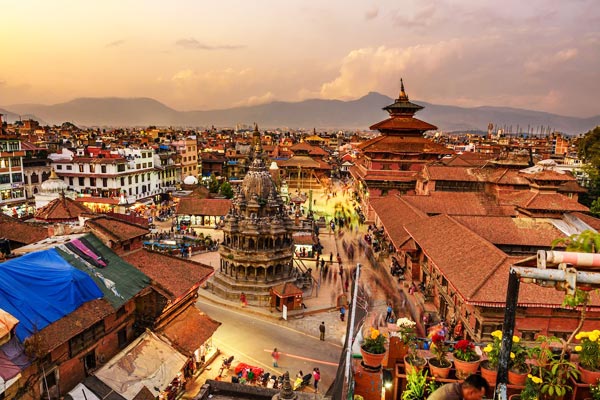 Kathmandu city
If train is not an option for now, what is the best way to get to Kathmandu from Lhasa? Road (bus / car) or flight. Well definitely, the most convenient but expensive way to travel from Kathmandu to Lhasa will be taking a flight. But if you have time, you can hit the road and experience the mystical landscape between Nepal and Tibet.
Flight from Lhasa to Kathmandu
Currently, the best way to travel from Kathmandu to Lhasa and vice versa is taking a flight connecting these two cities. Flight from Kathmandu Tribhuvan International Airport to Lhasa Gonggar Airport takes approximately 1 hour 28 minutes and there are two airlines working on the route: Air China operates 5 flights per week and regional Sichuan Airlines operates 4 flights a week.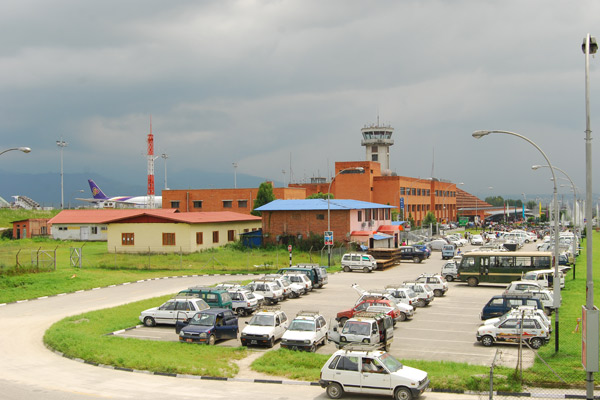 Kathmandu Tribhuvan International Airport
Unfortunately, the air ticket prices between Lhasa and Kathmandu are very high. The air ticket prices can be as high as 800 USD and during the peak tourism season of Tibet (April – October), prices can be higher and tickets can be in short supply. But during the low season, you can even find discounted tickets.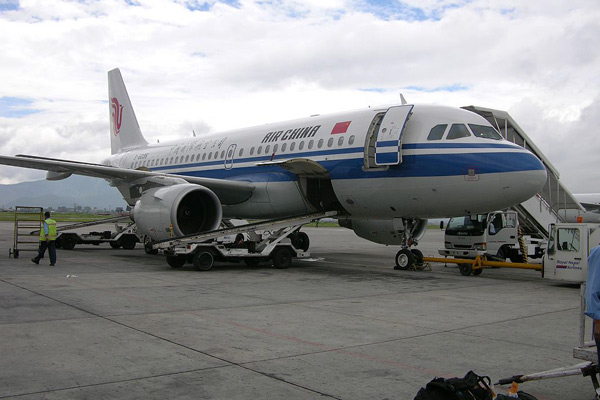 Air China flight at Tribhuvan International Airport
The fact is that, Nepal flights are the only international flights to Tibet. All the other flights are from Chinese cities of Beijing, Chengdu, Chongqing, Guangzhou, Kunming, Qamdo, Shanghai, Xi'an, Xining, and Zhongdian (Shangri-La).You need to have a Tibet Group Visa if you are flying from Kathmandu to Lhasa. Most tour companies will help you obtain this visa.
Cycling from Lhasa to Kathmandu
Yes, you can in fact cycle from Lhasa to Kathmandu. The cycling distance between Lhasa and Kathmandu is 1,000 kilometers long and normally takes 13 to 16 days. And during these 13 to 16 days, you would forget your life back in your city while you immense yourself into the heavenly view of Himalayan Ranges and mystic Tibet and Nepal landscape. If you like cycling, this great descent is a must experience journey.
Cycling from Lhasa to Kathmand
You may think that such a bicycle tour would be suitable for elite athletes. We are professional at organizing such cycling tours develop the itinerary for fit and energetic travellers and handle all the issues like clean water and food. To make the journey pleasant, the only thing you need to make sure that you acclimatize well in Lhasa before. You can do this by simply arriving the starting point a few days early and letting your body to adapt to the higher altitudes.
Overland Road Trip from Lhasa to Kathmandu
Normally, you can take a tour bus or even a land cruiser between Kathmandu and Lhasa. These tours would take you through The Friendship Highway. Unfortunately, an earthquake in 2015 has severely damaged this road and it was completely closed until 2016. As of mid-2017, the traffic on the road has not recovered to its pre-earthquake levels yet and flying seems to be the only way to travel between Kathmandu and Lhasa.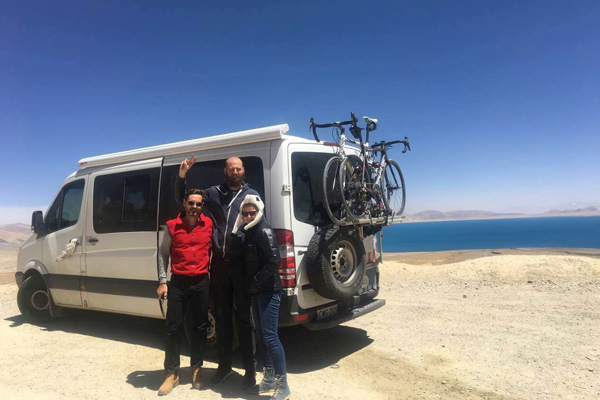 Overland Road Trip from Lhasa to Kathmandu
One last important note: Foreigners are not allowed to take public transportation in Tibet. The land travel in Tibet are quite restricted for foreigners but once you are in Nepal border, you can travel independently.