Nepal to Tibet by Train: A Future Way to Travel from Kathmandu to Tibet
As fantastic and convenient as it would be to be able to travel directly from Kathmandu to Lhasa by train, as yet, there is no railway that links these two neighboring capitals.
However, there soon will be.
After the successful implementation of the Qinghai Tibet Railway, and the extension line from Lhasa to Shigatse, there are plans already in place to extend the line to Shigatse another 540 kilometers to the Sino-Nepal border at Gyirong Port.
This amazing China-Nepal railway will bring much-needed trade options to the Tibetan plateau, increase and improve tourism in the region, and extend China's trade and commerce all the way to India, and possibly beyond.
As a joint effort from the Chinese and Nepali governments, this awesome plateau railway will soon be a reality, and trips to Tibet will become even easier for travelers from around the world.
Come to see more about the China Nepal Railway project which will influence the way of travel in the future, and learn more about how to arrange a Tibet tour from Nepal now before the Sino-Nepal railway finished.
China Nepal Railway Project
The China Nepal Railway Project is just one part of the vast One Belt, One Road Initiative from the Chinese government, as a way to improve and increase trade between China and many other countries, from Nepal and India on into the Middle East and into Southern and Eastern Europe.
The Initiative takes on the ancient overland and maritime Silk Road routes, which are being re-used to improve infrastructures and developments across China and increase Chinese investments in Asia, Europe, the Middle East, and Africa.
What is China Nepal Railway
The China Nepal Railway is the proposed project that has been agreed between the governments of both countries to build a complete railway line that will link Kathmandu with China, via the border crossing at Gyirong Port, and opening up the whole of Nepal and China to better trade and tourism possibilities.
Part of the route to Nepal has already be completed, with the building of the Lhasa Shigatse Railway, and has been open since August 2016, covering two hundred and fifty-three kilometers of the distance to the border.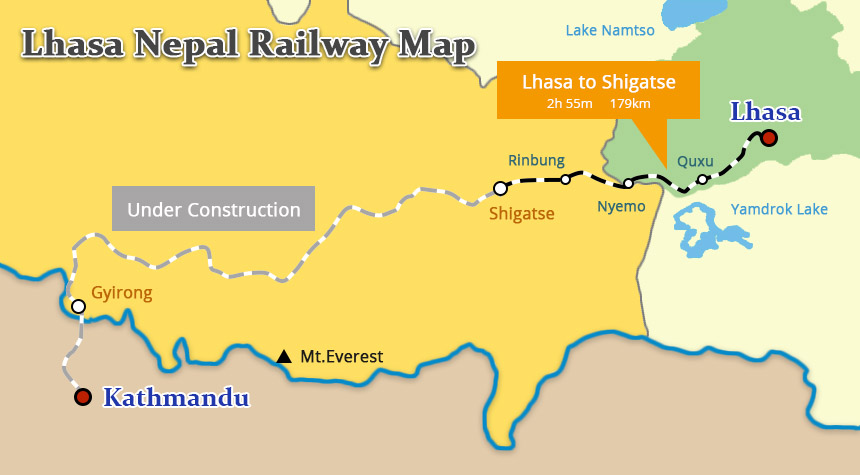 Lhasa Nepal Railway Map
This stunning line has become the main method of transport in the region for travelers from Lhasa to Shigatse, and vice versa, and making it easier and cheaper for travelers to get between the two cities.
Benefit of Chinese to Nepal Train
Having a train line that connects Lhasa with Kathmandu directly has more benefits than many people realize.
Not only will this track bring in more trade and commerce from the Nepali side of the border, but it will allow a better link for trade from Tibet to Nepal, India, and the west, and will make it easier to export the highly sought-after Tibetan handicrafts to the western world, increasing the income of many Tibetan families.
Tourism is another benefit of the Sino-Nepal Railway, as it will make it simpler to get to Lhasa from Kathmandu, without having to take an expensive flight or travel overland on a tour.
Many tourists entering Tibet by flight from Kathmandu do so because they want to take their tour in the traditional way, from Lhasa to Gyirong Port.
Having a train will not only allow them to travel direct overland to Lhasa, without stopping, but will allow for much cheaper travel than by flight.
And if the cost of the journey to Lhasa from Kathmandu is cheaper, then it will become much more popular, and increase the numbers of tourists coming to Tibet.
The line will also link many of the outlying and remote areas of Tibet, which are currently only accessible by the long and arduous road trip across the plateau from Lhasa, which takes days and costs a lot in fuel and expenses.
Goods can be transported to the outlying areas more easily and cheaply, and the whole system can help to drastically improve the way of life of the Tibetans in western Tibet, providing much-needed food and aid to help them survive the harsher winters.
Latest News and Construction History of China Nepal Railway
The first railway to Tibet was completed in 2006, running from Xining in Qinghai Province to Lhasa, the Tibetan capital. This line, known as the Qinghai Tibet Railway, is now one of the main routes for travelers to the plateau, both international and domestic tourists as well as locals traveling to and from the plateau for work.
In the same year, it was announced that the line would be extended to Shigatse, and eventually on to the Nepali border, and in 2010, construction began, completing the section to Shigatse in 2013 and opening for regular use on August 16, 2014.
In 2016, a new agreement was signed between Nepal and China, which included a planed strategy to build a high-speed railway link from Kathmandu to the border with China at Gyirong Port.
Currently, all of the planning stages of the railway to the border have been completed, and the construction of the railway is set to get underway within the coming year.
Construction of this vast extension to the border is expected to take around three years, thanks to the new ideas and technology that the Chinese engineers have come up with during the building of the Qinghai Tibet Railway and the Lhasa-Shigatse Line.
The line to Gyirong Port will extend another 540 kilometers from Shigatse, and the tracks to Kathmandu will cover just 72 kilometers, taking a more direct route than the roads.
How to Experience Tibet Train Journey from Nepal Now?
If you are planning on travelling from Nepal to Tibet, and want to experience the stunning feeling of traveling by Tibet train across the Tibetan plateau, then there are still ways to do so, despite the railway to Nepal not expected to be open for another three years.
Nepal to Mainland China and Then Train to Tibet
One way to go is to travel by flight from Nepal's Tribhuvan International Airport to mainland China, and then take the Tibet train from there to Lhasa.
Though there are seven gateway cities offers trains to Tibet, only Chengdu and Guangzhou have direct flights to/from Kathmandu.
It is suggested to take a flight from Kathmandu to Chengdu first, and then take a train to Lhasa from Chengdu.
The train from Chengdu to Lhasa departs every other day. You can check the latest Chengdu to Lhasa train schedule by following the link.
In the future, there will be another railway from Chengdu to Tibet, which will follow the same route of the Sichuan Tibet highway.
The train journey from mainland China to Tibet does give you the opportunity to travel by train across the vast Tibetan plateau, taking in the stunning plains and prairies of the region, as well as passing close by some of the most beautiful lakes in China and crossing the amazing Kunlun and Tanggula Mountains.
| Route | Flight Number | Time | Duration | Train to Tibet |
| --- | --- | --- | --- | --- |
| Kathmandu to Chengdu | CA 438 | 14:40-19:50 | 2h 55m | Z322 |
| Kathmandu to Chengdu | TV9900 | 17:00-21:55 | 2h 40m | Z322 |
| Kathmandu to Guangzhou | CZ6068 | 13:10-19:05 | 3h 40m | Z165 |
| Kathmandu to Guangzhou | CZ3068 | 23:40-05:45 +1 | 3h 50m | Z165 |
| Kathmandu to Kunming | MU2594 | 16:15-21:25 | 2h 55m | None |
| Kathmandu to Kunming | MU758 | 17:30-23:05 | 3h 20m | None |
Notice:
1. The schedule above is only for reference.
2. There are also some connecting flights from Kathmandu to Beijing, Shanghai, Xining, etc. Please feel free to contact us. Our professional travel consultant will help you arrange the best route to go.
Nepal overland to Tibet and then train to mainland China
Another way you can travel to Tibet from Nepal and still use a Tibet train is to take a Kathmandu to Lhasa overland tour via Gyirong Port, stopping at Mount Everest, Shigatse, and Gyantse along the way, and spending the last two days in Lhasa, instead of the first.
Then you have the opportunity to take the train out of Tibet. Compared with taking a train to Tibet, the train our of Tibet also provides the best scenery of Qinghai-Tibet railway in day time and it is easier to get a train ticket even in the summer holiday or during the national holiday from end of September to early October.
Notice:
1. To save much time, you can just take the train from Lhasa to Xining, which only takes about 24 hours. Then, you transfer to your next destination in mainland China from Xining either by train or by air.
2. To take the train from Lhasa, you don't need to show your Tibet Travel Permit.
Join in our best 2023/2024 Kathmandu to Lhasa Overland Tour Now!
We specially-designed the overland adventure from Kathmandu to Lhasa across the best part of Himalaya regions by 8 days. Tibet Travel Permit application and Nepal Tibet border crossing services are all included.
Sample Route: Kathmandu - Kyirong - Everest Base Camp - Tingri - Shigatse - Gyantse - Lhasa
Or, You Can Travel from Nepal to Tibet by Air
The third alternative, since there is NO train to Lhasa from Kathmandu yet, is to take a Kathmandu to Lhasa flight.
The journey takes just 90 minutes from the Tribhuvan International Airport in Kathmandu to the Lhasa Gonggar International Airport. The flight is also an amazing experience, as the flight path crosses directly over the summit of Mount Everest.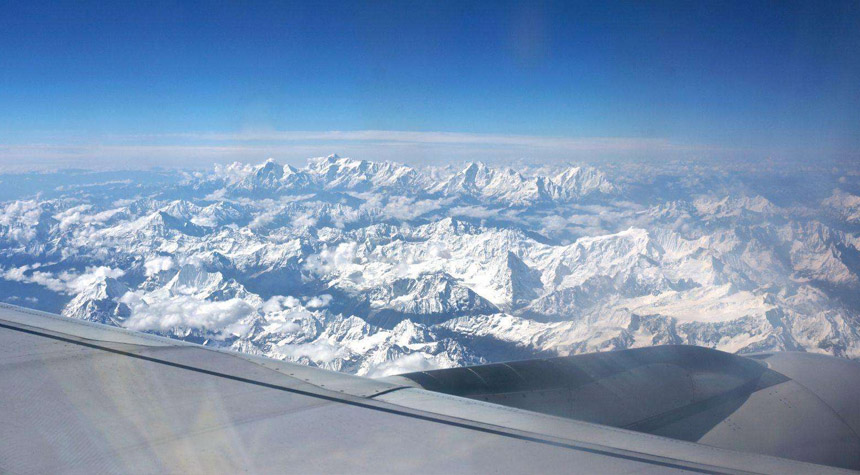 See the Himalayas from the Window of the Kathmandu Lhasa Flight
Nepal to Tibet Flight Schedule and Price
Flying to Lhasa from Nepal is a popular choice for tourists to the region, mainly thanks to the ease with which you can get a visa to enter Nepal from almost any country in the world, and the short travel time involved.
At only 90 minutes, the Kathmandu to Lhasa flight is short, compared to even the shortest flight from China to Lhasa, although the cost is often more.
There are currently only three direct flights per day from Kathmandu to Lhasa, run by Air China, Tibet Airlines, and Sichuan Airlines, which cost around US$220 to US$250 per person.
How to Get to Kathmandu Airport
The airport in Kathmandu, known as the Tribhuvan International Airport, lies around six kilometers from the city center, and takes only 20 minutes by road to get there.
Prepaid airport taxis can be booked through your hotel, which is the better option, though a little more expensive, and are regulated by the government so are safer for solo travelers.
Alternatively, you can get your own taxi and agree the fare with the driver. Taxi prices range from 400 to 750 rupees for the trip.
Buses also run from the city to the airport, but are local buses, not airport shuttles. They are cheap, costing only 15-20 rupees, but they stop outside the gates, and you need to walk to the terminal inside, which is a fairly long distance.
Upon Arrival at Lhasa Airport
When you arrive in Lhasa, our tour guide and driver will be there to meet you at the airport with your Tibet Travel Permit.
You will normally find them standing outside the arrivals lounge with a placard with your name on it, and will take you to the car which will transport you to your hotel.
Recommended Tibet Small Group Tours (Enter from Kathmandu by Air)
Q: How far in advance can I book a Kathmandu to Lhasa flight ticket at a better price?
If you are planning a Nepal Tibet tour from Kathmandu to Lhasa by air, you are better off booking the flight as early as possible, to get a flight ticket at a better price.
If you focus on the cheaper price, it really does not make much difference when booking the flight online, as the price of the flights is based on demand.
The flight cost is higher in the summer months, and lower in the winter months, and discounts are small, if any, based on price comparison websites.
Another Epic Way to Travel from Nepal to Tibet by Overland
Traveling overland from Nepal to Tibet is one of the most amazing journeys in the world, and is a great way to experience the wonders of the Tibetan plateau, before finishing this epic journey with a tour of the most beautiful city in China, Lhasa.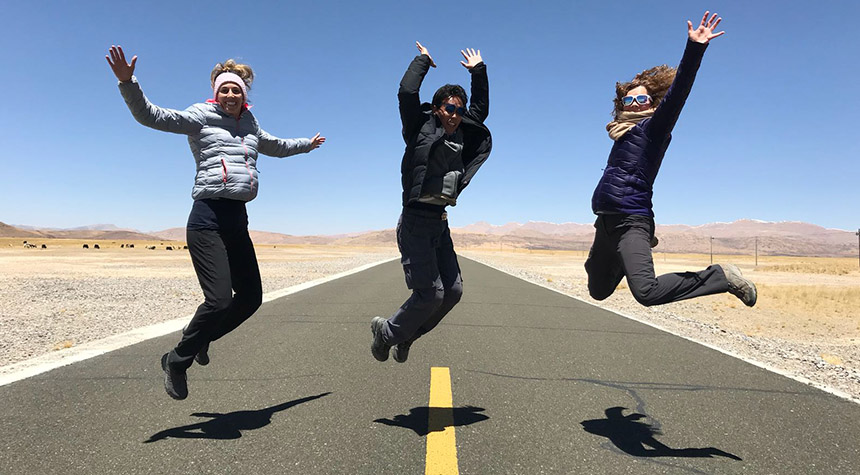 Enjoy the Overland Tour from Nepal to Tibet
Taking in the awesome sight of Mount Everest as the first part of your tour, the tour takes you through some of the most beautiful landscapes on the planet as you cross this vast open plateau, the highest plateau in the world, en route to the Tibetan capital.
Nepal to Tibet Overland Route and Itinerary
The route from Nepal to Tibet follows most of the famous G318 Sino-Nepal Friendship Highway, which runs from the former border crossing of Gyirong to the Tibetan capital, Lhasa.
The first part of the trip is on local roads until you reach the G318 close to Old Tingri, where you make the trip to Mount Everest.
The standard 8-day itinerary starts with you transferring from Kathmandu to Rasuwa Gadhi, the Nepali side of the border crossing, where you will stay for one night before crossing the border.
On the next day, you will cross the Resuo Bridge on foot to China. Once through customs and immigration, your driver will collect you and take you to Gyirong Town for the second night.
In the morning, you will drive from Gyirong to Everest Base Camp (EBC) and visit the Rongbuk Monastery, and then on to Shigatse, where you will stay overnight.
On day five, you will travel from Shigatse to Lhasa, via Gyantse, after visiting the sights of Tibet's second city, such as the Tashilhunpo Monastery.
In Gyantse, you will stop to visit the Pelkor Chode Monastery and the famous Gyantse Kumbum Stupa, before heading on to Lhasa and booking into your hotel in the evening.
The last two full days of your tour are spent exploring the amazing sights of the Tibetan capital, such as the Jokhang Temple, Potala Place, and the Sera and Drepung Monasteries.
In the last day of your tour, you will be taken to the airport or train station by your guide and driver, for your trip onwards from Lhasa and Tibet.
Q: How can I cross the border if I travel from Kathmandu to Lhasa by land?
#1 Transfer to Rasuwa Gadhi in Nepal
Getting to the border crossing can be done in one of two ways. We can organize your transport for you, or you can organize it yourself. We have a car service that can transport you from your hotel in the Nepali capital to the border crossing at Rasuwa Gadhi, which is charged as extra on your tour cost.
Alternatively, you have the option to organize your own transport, and have the choice of a private car, a shared car/jeep/van, or travel by public bus.
Cars to Rasuwa Gadhi take around 4 hours. Public buses only run once a day, and are hot and tiring, especially in the summer months. The cost is a lot cheaper, at around 11 dollars, but takes t least two hours longer.
#2 Pass Through the Customs
The working hours of Chinese Customs at Gyirong Port is from 12:15 to 19:45, based on GTM +5. Please make sure you will arrive at the border in time.
Once you cross the border, you need to bring the Group Visa, your Tibet Travel Permit, and of cause, you passport with you.
More Ways to Travel from Nepal to Tibet
Apart from traditional Kathmandu to Lhasa overland tour, there are more options for your Nepal to Tibet tour. And our ingenious travel experts never cease to come up with new ways to meet the varied needs of tourists.
Nepal to Tibet Bike Tour
Instead of entering Tibet from Kathmandu, many prefer to fly from Kathmandu to Lhasa first and later enjoy the cycling tour from Lhasa to Kathmandu. With years of mountain bike tour running experience, we provide you with seasoned cycling guides who will work with you to design tailor-made travel route. Besides professional know-how, an extra van, private chef, and staff will follow you throughout the cycling tour to give timely support.
Nepal to Tibet Motorbike Tour
You may also enjoy the motorcycle tour from Nepal to Tibet. Our staff in Kathmandu will offer a wide range of services: permit application, motorcycle rental, support van, translation, hotel booking, chef, etc.
Q: Can I trek from Nepal to Tibet?
There is NO trekking trail from Nepal to Tibet. But we can help you arrange Tibet trekking tours or Nepal trekking tours separately to experience the great mountain scenery of the Himalaya regions separately.
How to get Tibet Permit and Group Visa from Nepal
According to the policy of Tibetan Tourism Bureau, all international tourists have to apply for Tibet Travel Permit to enter Tibet and travel with the company of a guide during your stay in Tibet. And only registered travel agency can get Tibet Permit for tourists.
To make it easier for our clients, we offers free service for the application of Tibet Travel Permit, with 100% guarantee for our clients.
Once you confirm your travel itinerary and book your Nepal Tibet tour with us, you just need to email the scanned copy of your passport and your photos to your personal travel consultant; she or he will do the rest for you.
Besides, you need to have Group Tourist Visa from Chinese Embassy in Kathmandu. We suggest you arrive at Kathmandu at least 3 days earlier before your departure for Tibet. Then you can leave your passport in our office in Kathmandu and we will have enough time to help you get Group Tourist Vista.
Just follow the detailed guideline for getting your Tibet Travel Permit from Nepal successfully.
Conclusion
It will be possible to travel from Nepal to Tibet by train once the China-Nepal railway finished in 2022.
The first section of Sino-Nepal railway from Lhasa to Shigatse is already finished and was opened to service since 2014.
Before the whole project finished, there are two ways to experience a Tibet train journey from Nepal.
One is to get to mainland China from Nepal first and then take a train to Tibet, while the other is to take an overland journey from Kathmandu to Lhasa and then take a train out of Tibet to your next destination in mainland China.
Also, you can travel from Nepal to Tibet by air or by overland.
Following the Sino-Nepal friendships highway from Kathmandu to Lhasa, you can also take a cycling tour or a motorbike tour.
While you are planning your Nepal Tibet tour, please notice that, you need to apply for Tibet Travel Permit and the Group Visa in advance.
Recommended Nepal Tibet Tour Packages