Chongqing to Tibet Flight
Chongqing, formerly written in English as Chungking, is one of the seven major gateway cities to Tibet and one of the four major municipalities of China. The largest of China's inland cities, Chongqing in one of the most important cities in western China and is famous for its cruises along the Yangtze River.
A major terminal for flights into Tibet, Chongqing Jiangbei International Airport is a major international airline hub, and offers over 200 routes to countries around the world, including Bangkok, Los Angeles, London, and many other nations. There are also hundreds of domestic route to other cities in China, such as Shanghai, Beijing, Chengdu, and Xi'an, to name just a few. Here we will introduce you how to take the flight from Chongqing to Lhasa and some useful information about how to travel to Tibet from Chongqing that you need to know before your Tibet tour.
Chongqing to Lhasa and Lhasa to Chongqing Flight Schedule
With more than 10 daily non-stop flights to Lhasa, Chongqing is a major terminal for flights into Tibet. The average flight takes just 2 hours 50 minutes, and covers a distance of around 1,585 kilometers in a straight line. Flights can cost from as little as US$ 300, and good deals can often be found on the comparison websites.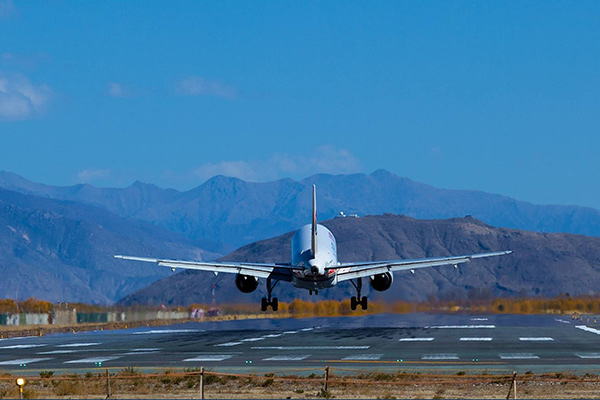 Flights from Chongqing to Lhasa
Flights from Chongqing to Lhasa depart daily, with the first flight leaving at 6:10am, and the last flight departing from Chongqing at 2:45pm. The return flights start at 10:00am daily, and the last flight leaves Lhasa for Chongqing at 10:00pm.
One of the busiest airports in China, Chongqing serves as an important gateway to southeast China, and tickets from Chongqing often have higher discounts available in the peak months than in other inland cities.
The Cheapest Way to Take Flight to Tibet from Chongqing
With flights from Chongqing to Lhasa starting at around 300 dollars, it is advisable to book your flights at the same time, as a return flight through the same booking agent, as this makes the two flights cheaper than booking them separately. For the average return flight, you can expect to pay as little as US$ 427 in the low season, which can be more expensive in the peak season for tourism. However, that said, if you have experience with finding the cheapest flights around, you can book the flights separately, and still make a saving.
Comparison websites that offer flight searches for the cheapest flight are a very useful resource when booking flights to Lhasa from China's airports. While the website does all the searching for you, covering all flights from all carriers, when booking you are directed to the travel agent's website. Since many of these have additional discounts available, you can actually get the flights even cheaper by selecting any additional discounts that you may be eligible for.
Useful Guide about Chongqing Jiangbei International Airport
Chongqing Jiangbei International Airport is one of China's top ten airports, and with the expansion in 2000 has now become the largest hub for aviation in western and central China. It is also the 9th busiest airport in terms of passenger traffic, and is run by the Chongqing Airport Group Company Ltd.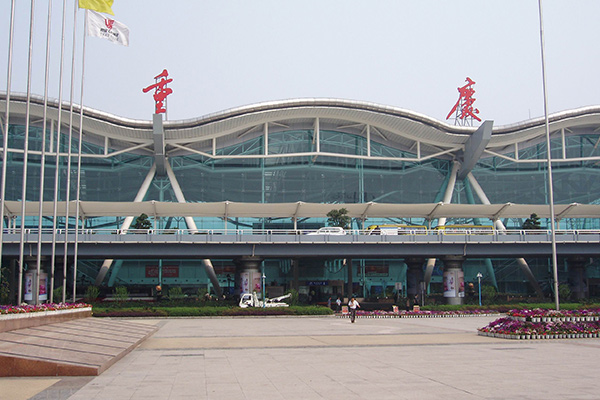 Chongqing Jiangbei International Airport
The airport is located in the Yubei District, around 21 kilometers to the north of Chongqing city center. The airport is the main hub for China Express Airlines, China Southern Airlines, Chongqing Airlines, Sichuan Airlines, and China West Air. The airport boasts two modern terminals, with Terminal 1 serving international flights while Terminal 2 mainly handles domestic flights, including the flights to Lhasa. The domestic terminal is actually capable of handling more than 30 million passengers a year, and it is expected that the airport will be the largest international hub in western China within the next ten years.
The airport has modern terminals, with free Wi-Fi available for Chinese mobile phones, and the user will receive the password through their phones. Other facilities in the airport include baby care facilities, currency exchanges, food concessions throughout the airport, convenience markets, massage chairs, mobile phone charging points, medical services, and water stations. Some of the lounges even have shower facilities available.
Getting to the airport can be done in several ways, and the easiest is to use the local subway to get you to the airport. Line 3 of the subway serves the airport, and is the main subway line in the city. The line runs southtonorth, beginning at Yu Dong and terminating at the airport. The subway line also connects with two railway stations at Cai Yuan Ba and Chongqing North, and links to four major bus depots that run long distance buses.
Shuttle buses also run from the airport to the city, which leave from Terminal 2. The shuttle leaves from Shangqing Si every thirty minutes, stopping at Waimao Dasha, JIazhou Bus Station, and the Yuting Hotel before terminating at the airport. The return journey is the same, without the hotel stop, and the trips cost up to 15 CNY each way, departing according to arriving flight schedules.
City buses also run to the airport, and if you are familiar with buses in China, you can get the local city bus for just one or two yuan. Chongqing has a good city bus service, which is convenient and organized, and runs between 5:30am and 9:00pm daily. However, since the buses are normally crowded during the peak hours, they are not ideal if you are in a hurry to get your flight.
Taxis are also available from downtown Chongqing and the trip to the airport costs from around 45 CNY. However, if you are coming from the airport, using the airport-based taxis, you can expect to pay as much as 70 CNY for the trip to the city center.
Tips for Flying from Chongqing to Tibet
Please make sure that you have got your Tibet Travel permit before you depart from Chongqing. The Tibet Travel Permit will be checked when you check in at the airport.
Chongqing Jiangbei International Airport has a 24 hour lounge in Terminal 2, for those who are waiting for delayed flights, and the benches have no armrests to make it easier to lie down. Comfortable seating is also available, with additional seats and TVs close to the boarding gates. However, the terminal can get busy and a little noisy, so earplugs are a good idea. You can also pay to enter the first-class lounge if you are on an economy flight and waiting a long time for your flight to start boarding. There are also several hotels nearby that are just a minute or two from the terminals.
Lhasa is at a much higher altitude than Chongqing, and you are advised to rest once you get to the Tibetan capital, to reduce the risk of altitude sickness. Eat small meals and drink plenty of water to regain hydration, and headaches can be easily treated with ibuprofen or paracetamol.
Chongqing airport can be busy, especially during the height of the tourist season. It is a good idea to leave a little extra time when heading to the airport, on top of the normal 2-3 hours booking in time.
China does not accept any currency other than its own, the Yuan (RMB/CNY), and International ATMs are often only available at airports and in major centers. Make sure you have enough Chinese Yuan with you before getting to Tibet, as you will get a better exchange rate in China that in Lhasa.