Lhasa Railway Station Guide: The Destination for All Tibet Trains to Lhasa
Lhasa Railway Station is the largest station in Tibet, and the end of the line for the Qinghai-Tibet Railway. It is the station where all trains to Tibet end, and where your adventure in Tibet truly begins. The station is located in Liuwu New Area of southwest Lhasa, at an altitude of 3,641 meters. It is linked to Lhasa city by the Liuwu Bridge, which crosses the notable Lhasa River.
Lhasa Railway Station is a major feat of modern engineering at the roof of the world. At the high elevation of Lhasa, over 3,600 meters above sea level, work on the construction of the building is harder than that at the lower elevations. A testament to the designers and workers built it, the station was completed less than two weeks before the opening, and the huge gold Chinese letters of the name were the last thing to be erected, on June20, 2006.
Station Facility of Lhasa Railway Station
The station is provided with 10 tracks – 8 for arrival and departure of passenger trains and 2 for freight trains – that are served by seven platforms, and the entire station is covered to protect from severe weather. The main building façade is designed in the traditional Tibetan style, with an influx of modern design, and are decorated in the traditional red and white of Tibetan architecture. It is an imposing building, set against a backdrop of the hills rising behind it, with the sign on the roof in 6-foot-high, gold-colored Chinese characters, which reads "Lhasa".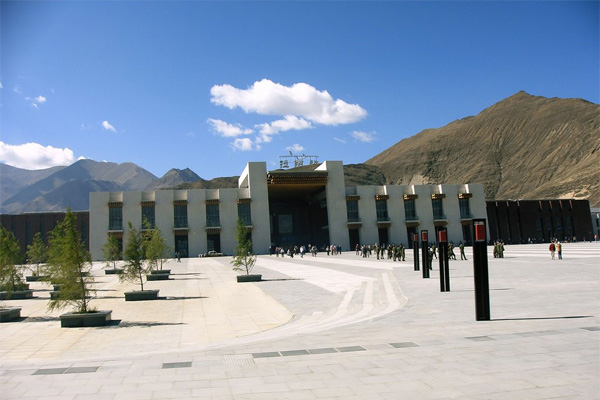 Facade of Lhasa Railway Station
Inside the building there are three floors, one below ground and two above. Walking through the huge entrance, one could be forgiven for thinking they were entering a Tibetan palace, until the modern interior drags you back to reality. The central hall on the ground floor has waiting rooms with soft seats and three VIP waiting rooms. The VIP rooms are decorated with soft carpets and hanging tapestries of Mt. Qomolangma (Everest), Potala Palace, and other famous scenes in Tibet. Waiting rooms for ordinary passengers are in the west end of the hall, along with the ticket hall.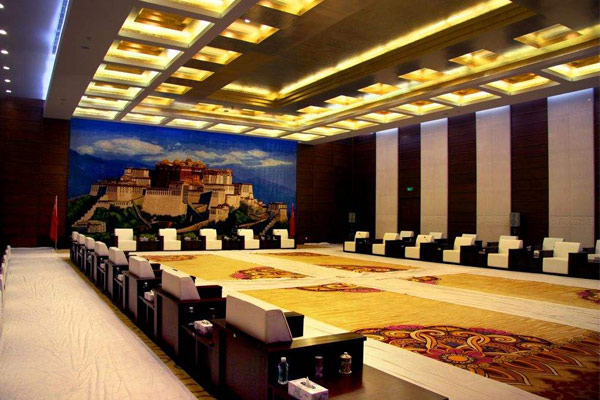 VIP waiting rooms decorated in Tibetan style of Lhasa Railway Station
On the second floor, there are waiting rooms for normal passengers, as well as soft-seated rooms, special mother and baby rooms, and military waiting rooms. There are also medical treatment rooms, which are fully staffed with nurses and a doctor, so anyone suffering from altitude sickness after their journey can get immediate treatment. It also includes a large market for shopping. The underground floor is for arrival passengers, and the entire building uses solar-powered heating to save the environment and reduce pollution. Internally, the general waiting room covers around 1,760 square meters, while the soft seat rooms cover 800 square meters and the VIP rooms 700 square meters.
Arrival Time of Tibet Trains at Lhasa Railway Station
Lhasa station is a tribute to the Tibetan tourist industry and is a first-rate facility for passengers and commodities in and out of Tibet. It receives trains from the major cities in China, such as Beijing, Shanghai, Chengdu, Guangzhou, Chongqing, Lanzhou, and Xining etc. The scheduled arrival time of Tibet trains to Lhasa ranges from morning to the late afternoon, shown as follows in the table. It is advised to take a good rest in your hotel on the first day upon your arrival in Lhasa, to accommodate yourself to the high altitude and get well-prepared for your following adventure in Tibet.
| Tibet Number | Train Route | Scheduled Arrival Time |
| --- | --- | --- |
| Z322 | Chengdu to Lhasa | 09:55 |
| Z223 | Chongqing to Lhasa | 09:55 |
| Z6801 | Xining to Lhasa | 11:23 |
| Z917 | Lanzhou to Lhasa | 12:00 |
| Z21 | Beijing to Lhasa | 12:40 |
| Z264 | Guangzhou to Lhasa | 16:45 |
| Z164 | Shanghai to Lhasa | 19:35 |
How to Get to Lhasa Downtown from Lhasa Railway Station?
By Bus or Taxi
Getting from the station to Lhasa downtown is easy, as there are both buses and taxis who can take you there. The city buses parked on the east side of the station and the long-distance bus station on the west side. Buses are numbered, like those in western countries, and the Bus No. 1, 6, 13 and 14 runs regularly from the parking area to downtown area. The average bus fare to the town is just 1 RMB per person.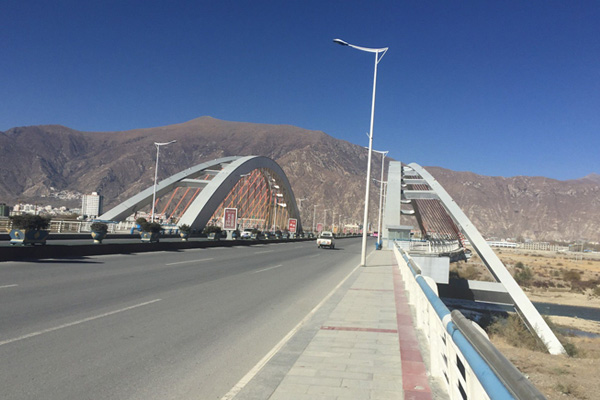 One can take either bus or taxi to Lhasa downtown from the station along the smooth highway.
Taxis also wait on the main road in front of the station for the convenience of passengers. For people who use the taxi services, the average fare from the station to Lhasa downtown is around 30 to 40 RMB, and much higher between midnight and 7:00 am.
Use our Free Shuttle Service
Although it is convenient to transfer to the downtown from Lhasa Railway Station, foreign visitors need to seek the other option, as they are not permitted to travel in Tibet alone and a tour guide is required for all their travel. In this case, you can contact a local tour agency like us. Once you book your Tibet tour from us, we will provide free shuttle service for the transfer between the station to downtown. Upon your arrival at Lhasa Railway Station, one of our Tibetan local tour guide will meet you at the exit and escort you to your hotel in Lhasa with a private car. Then your lifetime Tibet tour will start right from here.
How to Get to Potala Palace from Lhasa Railway Station?
Normally, tourists can take the Bus No.1, No. 13 or No.14 to get to Potala Palace from the train station. It takes around 50 minutes cross 8 kilometers. The best route with easy walking distance is the Bus No. 1 line, which stops at Lhasa Department Store, just 180 m to the southeast of the Potala Palace.
However, for foreign tourists who are forbidden to travel in Tibet alone, they are required to join in an organized tour while visiting Potala Palace or other famous sites in Lhasa. As the leading Tibet tourism operator, we provide well-designed Lhasa tours for our foreign clients to explore the essence of both Lhasa city and its surrounding areas, like Potala Palace, Jokhang Temple, Sera Monastery etc. Accompanied by our professional and thoughtful local guide, you will enjoy your Lhasa city sightseeing in a more pleasant way.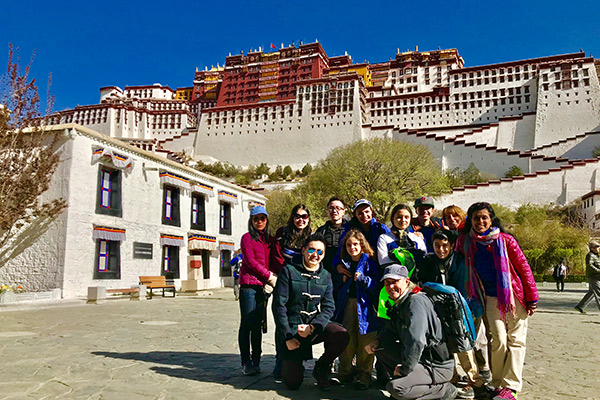 Our local guide will escort you to the Potala Palace from Lhasa Railway Station.
One thing to be noted for everyone is to avoid high altitude sickness while travelling to Tibet. And the best precaution is to stay in Lhasa city for one or two days, before ascending to other areas with higher elevation. Taking this point into consideration, all our itineraries are in reasonable arrangement, ensuring tourists a smooth and comfortable journey in Tibet.
Scheduled Trains from Lhasa Railway Station to Mainland China
Trains depart from Lhasa train station to mainland China several times a day. It is a good idea to book tickets in advance, as the volume of passengers taking the trains – especially in the peak months of summer – is extremely high. For anyone taking Tibet trains to mainland China, the schedule is easy to find, and the friendly staff at the station are always willing to help you find your waiting room and platform. There are scheduled trains from Lhasa to Beijing, Xining, Chengdu, Shanghai and other cities which correspondingly offer trains to Tibet. The following is the latest Tibet train schedule from Lhasa Railway Station.
Tibet Train Route
Dep./Ari.
Duration
Distance
Frequency
Details
Lhasa to Beijing
(Z22)
16:50/08:28
40:38
3,757 km
Every Day
Details
Lhasa to Shanghai
(Z166)
11:30/11:51
48:21
4,373 km
Every Day
Details
Lhasa to Guangzhou
(Z266)
12:55/20:17
55:22
4,980 km
Every Day
Details
Lhasa to Chengdu
(Z324)
18:40/06:25
35:36
3,070 km
Every Other Day
Details
Lhasa to Chongqing
(Z224)
18:40/06:42
36:02
3,030 km
Every Other Day
Details
Lhasa to Xian
(Z165)
11:22/19:35
33:13
2,864 km
Every Day
Details
Lhasa to Lanzhou
(Z918)
08:50/09:23
24:33
2,188 km
Every Other Day
Details
Lhasa to Xining
(Z6802)
09:00/06:33
21:33
1,972 km
Every Other Day
Details
Note:
The train schedule for Tibet trains from Lhasa to mainland China above is just for reference. When you make early reservation, please contact us for more details.
Recommended China Tibet Train Tour