Home
>
Tangula Luxury Train To Tibet
Tangula Luxury Train To Tibet
Travelers who choose to travel to Tibet by train are mainly encouraged by the idea to take in the breathtaking sceneries along the way. Besides, they also want to enjoy a more comfortable and safer tours to Tibet compared with flying to Tibet. And here is the Tangula Luxury Train, which will not only meet these demands but also surpass their expectations.
What is Tangula Luxury Train?
Different from the Tibet trains departing from the major cities of mainland China, Tangula Luxury Trains run by Tangula Railtours only have two routes. One is from Beijing to Lhasa, traversing the world's highest railway through the spectacular scenery of Tibet. The other will go between Beijing and Lijiang in Yunnan province, delivering the fantastic views of Guangxi and Yunnan Provinces of South China.
Tangula Luxury Trains are special custom-made trains. Each train has 15 passenger cars, including 12 accommodation cars. To maintain a level of exclusivity, a suite car has just four private suites - two passengers per suite. Thus each train can accommodate a maximum of only 96 guests in 48 spacious suites. The trains also offer ample space and convenience for lounging, with two dining cars and a scenic car located at the center of the train.
Suites
The suites feature a smart and contemporary design, offering en-suite bathrooms and all the technological conveniences of home including a full entertainment system. During the day each suite is converted into a tranquil lounging area where you can recline on a settee and enjoy the passing landscapes accompanied by a glass of wine and soothing music. At night, special lighting envelops you in an intimate setting ideal for reading, video watching, star-gazing or just a peaceful sleep.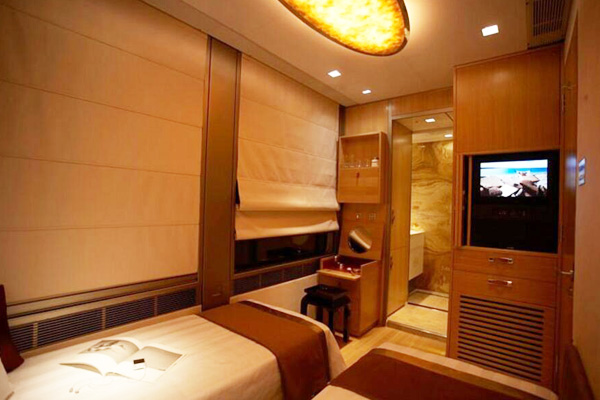 Sleeping suite interiors of Tangual Luxury Train
Oxygen enrichment system
Tangula's trains incorporate an onboard oxygen enrichment system allowing passengers to travel in comfort at altitudes of up to 5,072 meters. The system monitors oxygen and carbon dioxide levels in the passenger areas and automatically modulates oxygen-enriched airflow into the car as the altitude changes. Passengers who experience difficulty at high altitudes can also access oxygen directly in their private suites and at various points in the other train cars.
Food and drink onboard
As for the dinning, Guests onboard Tangula Luxury Trains can expect exquisitely prepared cuisine, using the finest ingredients, from one of Asia's most experienced chefs. Fresh and original Western and Asian cuisines will be served, accompanied by an excellent selection of wines, Champagne, spirits and soft drinks, satisfying discerning palettes from around the world. Meals as well as most beverages are complimentary throughout your entire journey.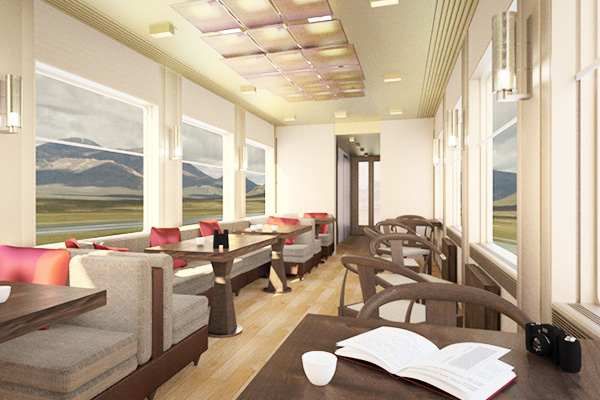 Scenic lounge and dining car interior of Tangual Luxury Train
Bar service is available in the dining and scenic cars throughout the day with a selection of local and international beers, wine, cocktails, cognacs, whiskies, digestives, port and sherry.
How to Take a Luxury Train Tour from Beijing to Lhasa?
Though it is keenly anticipated, the Tangula Luxury Train is still not in service now. It's a pity that we cannot take the train to Tibet along the Qinghai-Tibet Railway. However, we can still enjoy the luxury train tour from Beijing to Lhasa. Covering a distance of 3,757 km, the train from Beijing to Lhasa has been one of the three initial railway routes to Tibet. Stretching from Northern China Plain to the world highest Qinghai-Tibet Plateau, the train will let you enjoy an unforgettable journey to Tibet. Here are the guidelines about how to take the train from Beijing to Lhasa.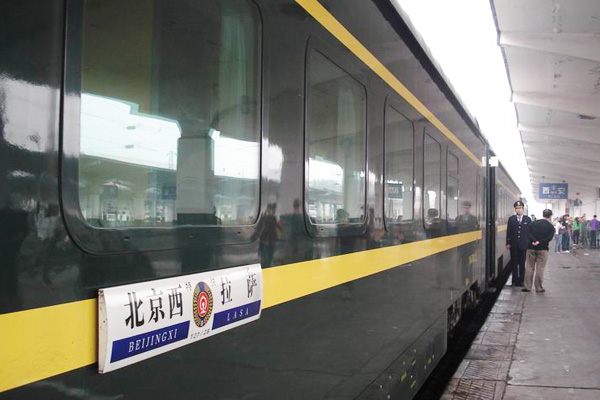 Beiing-Lhasa train
1. Prepare the required documents
Apart from the China Visa and your passport, you also need to get the Tibet Travel Permit before taking your Tibet tour. Without it, you will be not allowed to board the train to Lhasa, let alone travel around Tibet. With many years of application experience, we can help you to obtain the permit for free, as long as you book our tours.
If you plan to visit Mt. Everest or Shigatse, you will also need an Alien's Travel Permit, which is obtained by your tour operator using your Passport and Tibet Travel Permit once you get to Lhasa. Also, another important document you will need is the Military Area Entry Permit, if you are going to some sensitive military areas in Tibet, like the holy Mt. Kailash.
2. Book your tickets
As one of most popular train routes to Tibet, the train tickets from Beijing to Lhasa are usually of high demand. It is advised to book your ticket at least 1 month in advance, so that you can get the date of travel that your require. Considering its complexity for foreign tourists, you can leave this troublesome affair to us. To buy the train ticket, we just need your passport and birth date. Then our staff will deliver the ticket to your hotel in Beijing.
3. Arrive at the station and board the train
Get to the Beijing Railway Station early, since queuing is always required when boarding the train. Bring your train ticket and passport, as well as your Tibet Travel Permit. They are necessary during the check. As for the travelers who take the train for the first time, there is no need to worry too much on boarding. Large LED screens and signs can be found everywhere at the station, telling you where to wait for your train and which gate to go through for boarding, etc. If you still feel confused, you can just turn to the station staff, who are always ready to solve any problems of passengers.
4. The life onboard Beijing-Lhasa Train
Similar to other trains to Tibet, the Beijing to Lhasa train is special designed for the Qingzang Railway and Tibet Plateau. Firstly, the train is provided with the oxygen supply system which can help passengers to better acclimate the high altitude. There are oxygen outlets in your sleeper cabin and they are easy to use.
The washroom and toilet facilities on the train are of average conditions. At each end of every carriage, there are two types of toilets, Chinese style and western style, both clean and well sanitized. Next to the washroom, there are there public sinks with running water for washing.
The food served on the dining car is freshly prepared, being tasty and nutritious. With a mixture of Chinese and Tibetan dishes, you can choose what you want to taste. If you do not want to eat in the dining car, there is a food trolley brought to the cabins with a selection of Chinese dishes, packed in food boxes.
5. Arrive in Lhasa
Once your train arrives at the Lhasa Railway Station, our local guide will meet you at the station and take you to your hotel in Lhasa. Before starting your lifetime tour around Tibet, it is suggested to spend one or two days for rest in Lhasa, to better adapt to the high altitude on this highland.