Tangula Luxury Train To Tibet
Travelers who choose to travel to Tibet by train are mainly encouraged by the idea to take in the breathtaking sceneries along the way. Besides, they also want to enjoy a more comfortable and safer tour to Tibet compared with flying to Tibet.
To satisfy your need to enjoy both the life onboard and the amazing scenery along the railway, there is planning to be a luxury train from Beijing, the Tangula Luxury Train, which will not only meet these demands but also surpass their expectations.
You can check the details of the planned luxury train from Beijing to Lhasa.
Though the Tangula luxury train is not available now, there are still other comfortable trains to Tibet from mainland China.
What is Tangula Luxury Train?
Different from Tibet trains departing from the major cities of mainland China, Tangula Luxury Trains run by Tangula Railtours only have two routes. One is from Beijing to Lhasa, traversing the world's highest railway through the spectacular scenery of Tibet. The other will go between Beijing and Lijiang in Yunnan province, delivering the fantastic views of Guangxi and Yunnan Provinces of South China.
Tangula Luxury Trains are special custom-made trains. Each train has 15 passenger cars, including 12 accommodation cars. To maintain a level of exclusivity, a suite car has just four private suites - two passengers per suite. Thus each train can accommodate a maximum of only 96 guests in 48 spacious suites.
The trains also offer ample space and convenience for lounging, with two dining cars and a scenic car located at the center of the train.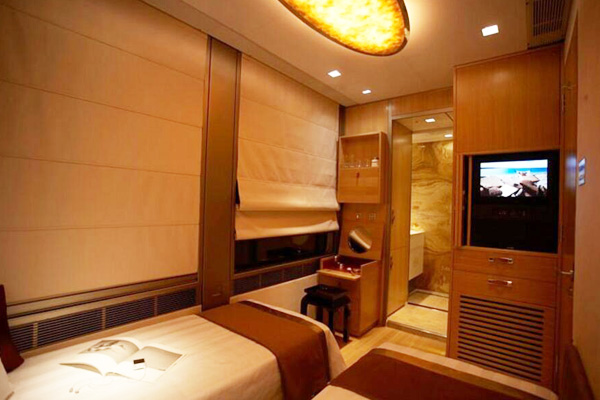 Sleeping suite interiors of Tangual Luxury Train
Suites on Tangula Luxury Train
The suites feature a smart and contemporary design, offering en-suite bathrooms and all the technological conveniences of home including a full entertainment system.
During the day each suite is converted into a tranquil lounging area where you can recline on a settee and enjoy the passing landscapes accompanied by a glass of wine and soothing music.
At night, special lighting envelops you in an intimate setting ideal for reading, video watching, star-gazing or just a peaceful sleep.
Oxygen Enrichment System Onboard
Tangula's trains incorporate an onboard oxygen enrichment system allowing passengers to travel in comfort at altitudes of up to 5,072 meters.
The system monitors oxygen and carbon dioxide levels in the passenger areas and automatically modulates oxygen-enriched airflow into the car as the altitude changes.
Passengers who experience difficulty at high altitudes can also access oxygen directly in their private suites and at various points in the other train cars.
Food and Drink onboard
As for the dining, Guests onboard Tangula Luxury Trains can expect exquisitely prepared cuisine, using the finest ingredients, from one of Asia's most experienced chefs.
Fresh and original Western and Asian cuisines will be served, accompanied by an excellent selection of wines, Champagne, spirits, and soft drinks, satisfying discerning palettes from around the world.
Meals, as well as most beverages are complimentary throughout your entire journey.
Bar service is available in the dining and scenic cars throughout the day with a selection of local and international beers, wine, cocktails, cognacs, whiskeys, digestives, port, and sherry.
Lhasa Express Train - Another Luxury Train to Tibet
Recently, only Lhasa Express train runs from mainland China to Tibet. The Lhasa Express Train, normally known as the Tibet train, or Sky train, is a specially designed train to Tibet.
With two oxygen supply systems onboard, the train to Tibet offers a safety and comfortable environment for passengers living onboard during the long journey on the Tibet plateau at the altitude over 4000 meters.
Though the recent Tibet train is not as luxury as the Tanggula train, it still better than most common trains in mainland China.
Here, you can check the detailed information about the sleeping cabins, as well as other facilities on trains to Tibet.
Sleeper Cabins on Tibet Train
There are two kinds of sleeping cabins on trains to Tibet, namely the soft sleeping cabin and the hard sleeping cabin.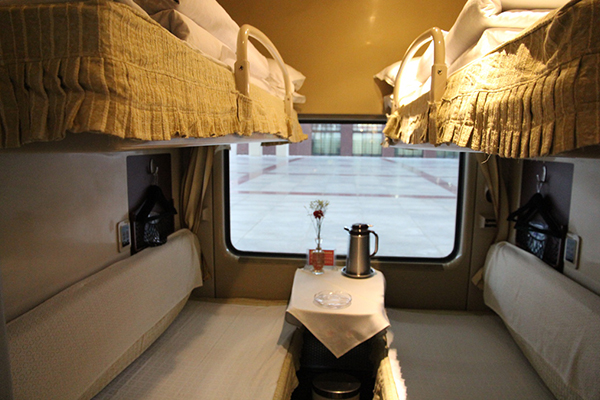 The Soft Sleeping Cabin on Lhasa Express Train
The soft sleeper cabin is the first class cabin on Tibet trains. In each soft sleeper cabin, there are four soft sleeper berths with a room door that can be closed for a private cabin.
The second class cabin on Lhasa express train is the hard sleeper train, which has six hard sleeping berths in each compartment. It is a half-open area, so you may have more chances to communicate with other passengers.
There are also hard seats offered on trains to Tibet. However, since it is a long journey to Tibet by train, usually over 24 hours and even over 50 hours, it is not suggested to choose the hard seat for your Tibet train journey.
Oxygen Supply System on Lhasa Express Train
What makes the train to Tibet so different is the oxygen supply system onboard. In order to take passengers traveling through the world' highest Qinghai Tibet plateau, all trains to Tibet are equipped with the unique oxygen supply systems onboard.
In fact, there are two kinds of systems onboard that pump oxygen to the cabins. One is a public supply system, which starts to work once the train passes through the Golmud Railway Station. Another one is the individual oxygen supply outlets.
More Facilities on Lhasa Express Train
Besides the sleeping berths on the train, there is also a dining car that offering three meals a day with local snacks and soft drinks.
At the end of each car, there are toilets and washing basins. But there is no private bathroom onboard, so you cannot take a shower during the Tibet train journey.
Tangzhu Ancient Route Train – Only Serviced for Lhasa Shigatse Train Route
Besides the ordinary Lhasa express train to Tibet, there is a featured train running between Lhasa and Shigatse, which is called the Tangzhu Ancient Route Train.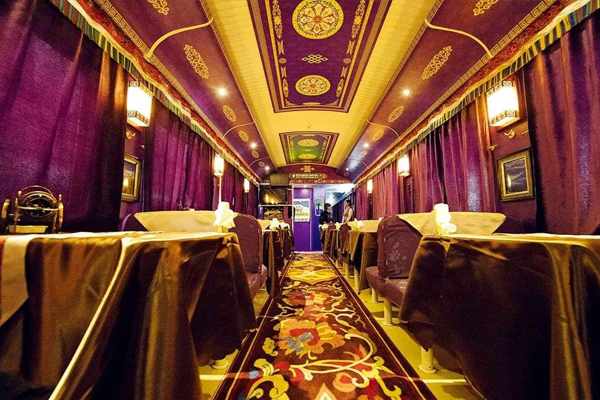 The Tangzhu Ancient Route Train with Tibetan style decoration
This specially designed tourist train is decorated in traditional Tibetan style. Tibetan carpets are placed inside the compartment. The ceiling and walls are decorated with traditional Tibetan patterns and patterns. You can see many pictures of the famous attractions in Tibet hanging on the cabin walls.
On each Tangzhu Ancient Route Train, there are soft sleeper berths, hard sleeper berths, and hard seats. Also, a dining car is on the train. And there are some more facilities that you can't find on ordinary Lhasa express trains, such as the Mother and Child Room, the Fitness Room and so on.
Lhasa Shigatse Train Schedule
| Train Number | Departure | Arrival | Duration |
| --- | --- | --- | --- |
| Z8801 | 11:07 | 14:00 | 2h 53m |
| Z6811 | 18:10 | 20:58 | 2h 48m |
There are two pairs of Tangzhu Ancient Route Trains running between Lhasa and Shigatse every day. You can check more details about these Lhasa Shigatse train.
Latest Tibet Train Schedule
Recently, there are seven cities in mainland China offering trains to Tibet, including Beijing, Shanghai, Chengdu, Guangzhou, Xining, Chongqing, and Lanzhou.
The shortest railway to Tibet is from Xining to Lhasa, while the longest journey is from Guangzhou to Lhasa. There is the latest train schedule of trains to Tibet in 2021.
How to Take a Tibet Luxury Train Tour
The most convenient way for international tourist booking Tibet train tickets is to book your Tibet train ticket online with a reliable local travel agency.
Handling the Tibet train ticket issue for decades, we are the most professional team to book the Tibet train ticket.
To buy the train ticket, we just need your passport and birth date. Then our staff will deliver the ticket to your address in mainland China, or give you the booking number so that you can collect your ticket from the railway station by yourself.
Notice: The train tickets from Beijing to Lhasa are usually of high demand. It is advised to book your ticket at least 1 month in advance so that you can get the date of travel that you require.
Required Documents for a Tibet Train Tour
Of cause, the basic documents required for taking a train from mainland China to Tibet include your passport and China Visa.
Apart from these, you also need to get the Tibet Travel Permit before taking your Tibet tour.
Without it, you will be not allowed to board the train to Lhasa, let alone travel around Tibet.
With many years of application experience, we can help you to obtain the permit for free, as long as you book our tours.
If you plan to visit Mt. Everest or Shigatse, you will also need an Alien's Travel Permit, which is obtained by your tour operator using your Passport and Tibet Travel Permit once you get to Lhasa.
Also, another important document you will need is the Military Area Entry Permit, if you are going to some sensitive military areas in Tibet, like the holy Mt. Kailash.
Chinese Railway Station Guide
In large cities, like Beijing, Shanghai, Chengdu, Guangzhou, Chongqing, etc. , there are more than one railway stations. Once you book your train ticket, make sure which railway station is the right one for you.
It is suggested to get to the proper railway station at least two hours in advance since queuing is always required in Chinese railway stations.
You need to bring your train ticket and passport, as well as your Tibet Travel Permit when you check in at the railway station.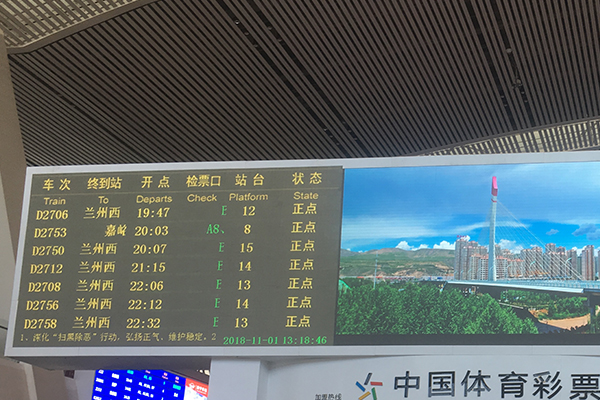 Train Schedule in both Chinese and English at China Railway Stations
After passing the security check and getting into the waiting hall, there are large LED screens and signs everywhere at the station, telling you where to wait for your train and which gate to go through for boarding.
If you still feel confused, you can just turn to the station staff, who are always ready to solve any problems of passengers.
Pick-up Service at Lhasa Railway Station
Once your train arrives at the Lhasa Railway Station, our local guide will meet you at the station and take you to your hotel in Lhasa.
Before starting your lifetime Tibet tour, it is suggested to spend one or two days for rest in Lhasa, to better adapt to the high altitude on this highland.
Conclusion
Tanggula Luxury train from Beijing to Lhasa is a planned train that still NOT in service now (till 2018).
For those who want to experience a train journey to Tibet, Lhasa Express train is currently the only choice.
All of the Lhasa Express Train from mainland China to Lhasa are equipped with a unique oxygen supply system so you don't need to worry about getting the altitude sickness onboard.
There are both soft sleeper cabins and hard sleeper cabins for you to choose onboard. Also, there is a dining train offering three meals a day as well as local snacks and drinks.
Besides the ordinary trains to Tibet, there is another tourist train from Lhasa to Shigatse, called Tangzhu Ancient Route Train. Different from the trains to Lhasa, the Tibet train running between Lhasa and Shigatse is decorated in Tibetan style.
No matter which train you take, it is suggested to book your Tibet train ticket as early as possible because the train tickets are always sold out quickly.
For your convenience, we provide Tibet train ticket online booking service, and all of our Tibet train small group tour packages include a guaranteed Xining to Lhasa train ticket.
Please feel free to tell us your Tibet train tour ideas, or leave any questions about taking a train to Tibet below. Our professional Tibet travel consultant will contact you within 24 hours.
Recommended Tibet Train Tours