Tibet Train Facts and Records
Official Guinness World Record: Highest Railway Line in the world.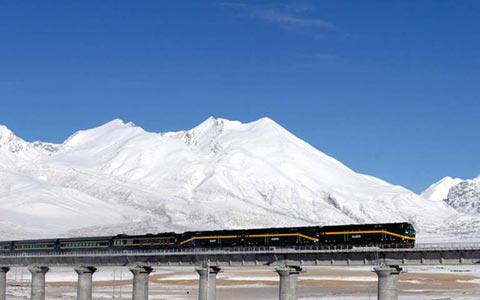 Experience the world highest railway!
1. The Tibet train is the world's highest railroad. The tracks consist of 960+ km's built across land 4,000m above sea level, with the highest point reaching 5,072m.
2. The Qinghai-Tibet Railway is also the world`s longest plateau railway with a total mileage of 1,956km.
3. The Tanggula Station, also known as Dangla, is the world`s highest railway station at 5,068m above sea level.
4. The Fenghuoshan Tunnel is the highest tunnel in the world that is constructed over permafrost at 4,905M above sea level.
5. The Kunlun Mountain Tunnel at 1,686m, is definitely the earth's longest plateau tunnel built on permafrost.
6. The maximum speed that the Tibet Train can reach is 100 km/h, in the permafrost areas, and 120 km/h on non permafrost areas.
7. There are 45 stations along the Qinghai-Tibet Railway as of 2012. The railway is slated to be extended further into Tibet with construction already in progress.
8. The average altitude along the tibet railway is 4,600m with temperatures dipping down to -30C. The air oxygen content is half of what it is in lower sea level areas.
9. The Amdo construction site is the highest railway construction base in the world at 4,704m above sea level.
10. The Qingshuihe Bridge is the longest railway bridge on the tibet railway line at 11.7km in length. The bridge is constructed over the Hoh Xil Nature Reserve which is at 4,600m above sea level.