Festivals in Tibet
Tibetan people are an ethnic group good at singing, dancing and horsemanship. Tibetan people are also a group with devout religious belief and a long history of worship nature, like mountains and lakes. Deeply influenced by these elements,festivals in Tibet are also closely connected with religions and nomadism.
Since Tibetan people always lead a life under harsh natural environment and hard working conditions, they are strongly eager of a better life and believe that God and Buddha can protect them. Therefore, they express their prayer to deities, Buddha and nature on certain festivals.
There are more than 100 major or minor festivals throughout a year. As long as you stay in Tibet for half month in any season, you will certainly to come across a festival there, and you will be amazed by festal revelry of the Tibetan people. But Tibetan people have their own calendar and they usually celebrate festivals according to Tibetan calendar. The followings are some major Tibetan traditional festivals.
Tibetan New Year
One of the most important Tibet festivals is Tibetan New Year, just like the Chinese Spring Festival. The Tibetan New year is also known as Losar Festival during which Tibetan people celebrate by some ancient ceremonies representing the struggle between good and evil. Lamas are chanting and passing fire torches through the crowds. People perform the dance of the deer and amusing battles between the king and his ministers, and so on. People are cheering for the coming new year by dancing, singing, and merrymaking.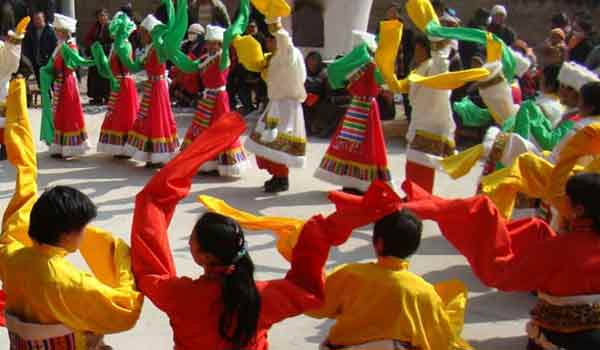 The Tibetan new year, also known as Losar, is the most important festival in the Tibetan calendar
Great Prayer Festival
Originated from Tsongkpa in 1409, Great Prayer Festival is one of the greatest religious festivals in Tibet, with prayers, ritual dances, traditional foods and giant tapestry-like paintings. On this festival, Monks from Drepung, Sera and Ganden monasteries will assemble in Jokhang for prayer to Shakyamuni's image as if it were the living Buddha. Buddhists throughout Tibet will also come to Jokhang to worship the Buddha and make kora around the Jokhang temple. The Great Prayer festival last nearly a whole month from the 4th day to the 25th day of the first month in Tibetan calendar.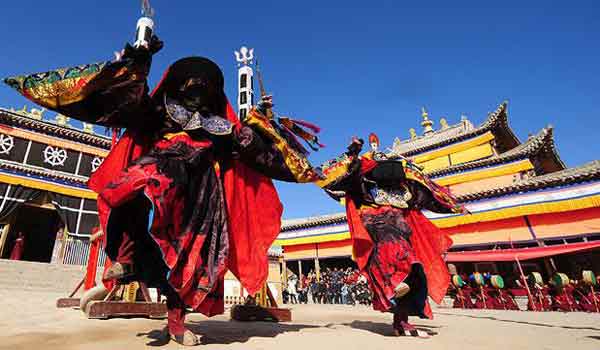 Tibetan Buddhist monks are dancing to celebrate the Great Prayer Festival
Butter Lamp Festival
Celebrated on the 15th day of the first month in Tibetan calendar, the Butter Lamp Festival is to honor the victory of Sakyamuni in a debate against Heretics. On that day, thousands of Tibetan people assemble at the Barkhor Street to worship the Buddha in the daytime and by nightfall. People usually light thousands of lamps filled with butter in an intriguing assortment of designs including immortals, animals, flying birds, beasts, and flowers. The whole festive will last all night with joyful singing and dancing performances.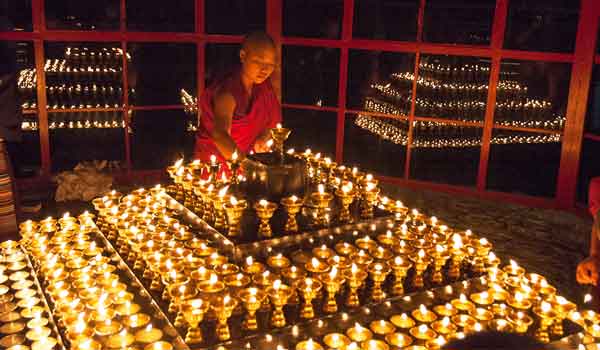 A monk is lighting butter lamps in the monastery
Saga Dawa Festival
Saga Dawa Festival, another important religious festival in Tibet, is to celebrate the birth of the Buddha. Saga means "the fourth" and Dawa refers to "month" in Tibetan. So it is easy to guess that this festival falls in the fourth month of Tibet. This festival is celebrated for whole month, but the fifteenth day of the month is very special as Sakyamuni was born, attained Nirvana (enlightenment), stepped into Parinirvana (death). Tibetans believe that it would accumulate immense of merits during that particular day by giving generosity, stop killing animals, stop eating meats, monks chanting in monasteries, cham dancing and other religious activities dominate the occasion.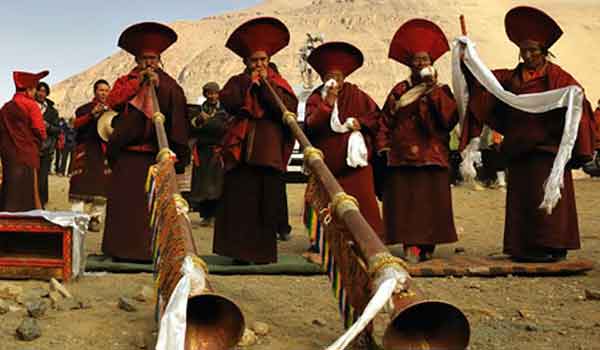 Monks are doing religious activities to celebrate the birth of the Buddha
Shoton Festival
Shoton festival, a grand Tibetan traditional festival in Tibet, means "Yogurt Banquet". It is time to have fun on the banquet. Sound great, right? The banquet is usually held from the last day of the sixth month in Tibetan calendar and lasts for a week. The highlight of this festival is not yogurt, but other interesting activities, including Tibetan opera performance, horse racing, Buddha exhibition, etc.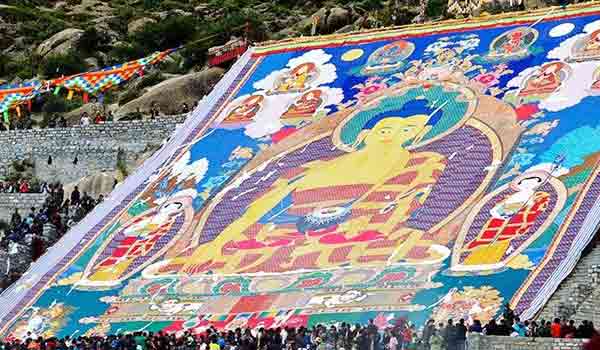 Grand Tangka unfolding ceremony in Drepung monastery during shoton festival
Bathing Festival
The Bathing Festival lasts for one week in the early part of the 7th month in Tibetan Calendar. In Tibetan it is called "Gamariji," meaning Qishan star, or Venus. As the star rises to the sky, the mass bathing starts. As the star sets, the bathing ends. It is said by Tibetan Legend that bathing at this period is beneficial to health.
According to Tibetan Buddhism, the water in Tibet at this timehas eight advantages: sweet, cool, soft, light, clear, clean, unharmful to throat, nor to belly. Judged from the natural environment and climate of Tibet, the river water has a relatively high temperature and is suitable for bathing. During the seven days, tens of thousands of Tibetan men and women go to river or lake to have baths. The tents, big or small, dot the beach and Lingka into a colourful world.
Ongkor Festival
Each August in Tibetan Calendar, the Ongkor Festival is held in farming areas to celebrate the bumper harvest; "Ongkor" in Tibetan means "surrounding the farmland." The celebrations include horse racing, shooting, dancing and singing, Tibetan traditional Opera, stone lifting and wrestling, people show all their contentment and happiness on bumper harvest during the festival celebration. The "Ongkor" is also a good time for farmers to have a rest. Since crops ripen in different times, the festival is held accordingly.
The Ongkor Festival is come from the middle and lower reaches of the Yarlung Zangbo River. In the village, people initially offered sacrifices to gods to pray for a good harvest.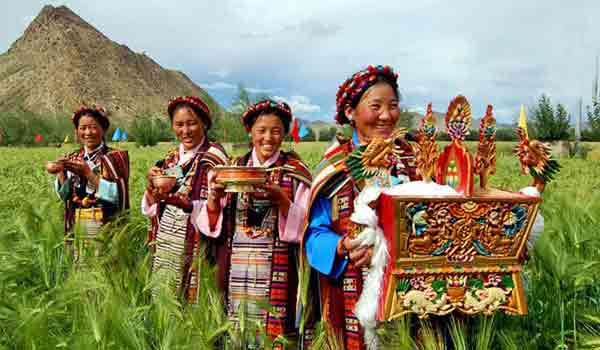 Ongkor Festival is held in farming areas to celebrate the bumper harvest
Nagchu Horse Racing Festival
Another grand occasion in Tibet, Nagchu Horse Racing Festival is a great opportunity to witness the excellent horsemanship of Tibetan nomads. Tens of thousands of herdsmen gather at grassland outside of Nachu city on a vast grassland dotted with tents to celebrate the horse riding competition. After a grand opening ceremony, various activities will start, such as horserace, yak race, tug of war, lifting stones, performs Tibetan operas, trading of local stuff among Tibetan people.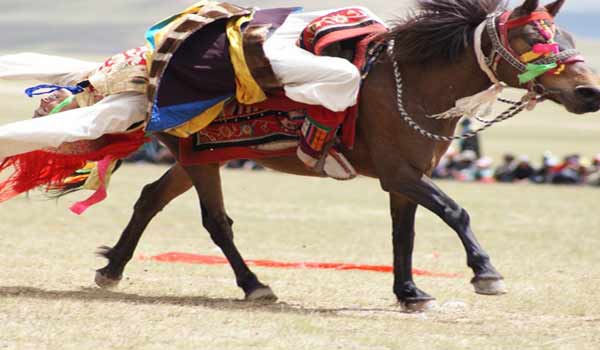 Furious horsemanship performance in Nagchu horse racing festival
Tsongkhapa Butter Lamp Festival
It is held on the 25th day of the 12th month of Tibetan calendar. It is the day on which Tsongkapa, the founder of the Gelug Sect met his demise. Every house and every monastery hold light lamps on the roofs of their houses and windowsills chanting prayers in memory of Tsongkapa in the night.
Gyantse Damar Festival
Damar festival in Gyantse is also known as Gyantse Horse Racing Festival established in 1408. During this festival, farmers and herdsmen from every parts of Tibet gather in Gyantse for horse racing, archery competitions, horsemanship display followed by few days' entertainment or picnicking. These days, ball games, track and field events, tug of war are also playing at the field for about a week. The businessmen from every part of the Tibet display some local products and butter system is still there.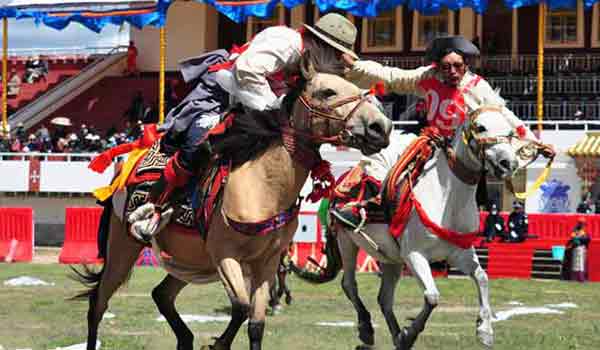 Gyantse Damar Festival is also known as Gyantse Horse Racing Festival
Damxung Horse Festival
The Damxung Horse Festival was originally created to celebrate the harvest. It was also a chance for Tibetans, as well as Mongols, to exchange the agriculture and animal husbandry products. Later, Tibetans added more entertainment and some recreational activities into the celebration of Damgxung Horse Racing Festival.