Tibet Books
The following are books about Tibet and Tibet travel that are extremely useful and popular amongst travellers. The books are for sale through Amazon.
As there are literally thousands of Tibet books available, we have listed only select few that have provided unbiased information about Tibet travel, history, and of cultural influence.
Tibet Lonely Planet Guide Book
The Tibet lonely planet guide book is an essential guide book and the only one you need to travel into Tibet. And we, Chinatibettrain.com, are recommended by lonely planet for our professional and detailed information about Tibet train and Tibet train tour.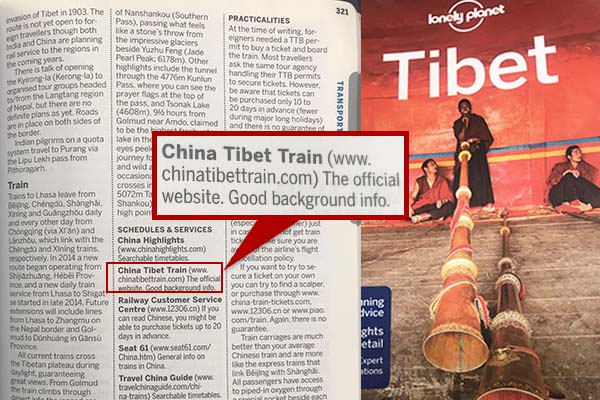 Chinatibettrain.com on Lonely Planet Guide Book
Tibet Trekking Guidebook
In the new edition of this indispensible trekking guide to Tibet, travelers will learn the necessities of pre-trip planning and how to seek out the most rewarding treks in a region of the world few get to visit. New features of the 3rd edition include: New five-day trek in the popular Lhasa region of the pilgrimage circuit of Lhamo Latsho. New trek route over a pass used by George Mallory in 1921 on his first reconnaissance of Everest. New two-day trek in the Shishapangma region. Four new treks in the Mount Kailash region.