Damgxung Horse Racing Festival
The Damxung Horse Festival was originally created to celebrate the harvest. It was also a chance for Tibetans, as well as Mongols, to exchange the agriculture and animal husbandry products. Later, Tibetans added more entertainment and some recreational activities into the celebration of Damgxung Horse Racing Festival.
Tibet Festival Dates: Damgxung Horse Racing Festival would be held between July 10th and July 12th according to the Tibetan calendar.
In the first three days of Damgxung Horse Racing Festival, the herdsman would dress on their best costumes, especially the girls and boys. They would collect here and chase for their lovers with singing and dancing. All Tibetans would immerse themselves in the festal atmosphere. According to the rule of Sera Monastery, all the entertainment activities would be prohibited after the first three days. Politics activities and business exchanges would be held in the following days of the month.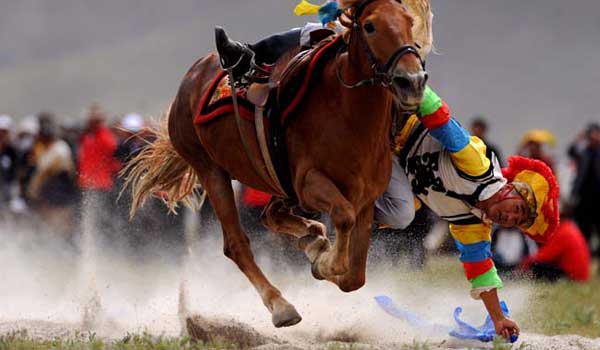 You can appreciate furious horse racing competition on the festival.
July and August (according to Tibetan calendar) is the harvest season of agriculture and animal husbandry products. Tibetans would do some exchanges during the Damgxung Horse Racing Festival. This exchanging festival also attracts a large number of business men from other regions of Tibet. Thousands of people would enroll in the exchange meeting everyday.
Book Your Damgxung Horse Racing Festival Tour with Us
China Tibet Train does not only offer Tibet train tickets reservertion service, but also kinds of Tibet Tours. You can contact us to tell us your travel idea and requirements. We will get back to you within 24 hours.