Tibet Hotels: Where to Stay During Your Tibet Tour?
Accommodation is one of the most important things to consider when planning a trip to Tibet. And there are many hotels in Tibet now more than ever. Hotels range from five stars to budget guest houses, from international modern design to traditional Tibetan style. Tourists have enough choices to decide what kind of hotels to stay in Tibet. Check this article to get to know where to stay for your Tibet trip.
Hotels in Lhasa Tibet
As the provincial capital of Tibetan Autonomous Region, Lhasa ranks the top in terms of the hotel number and hotel type. The accommodation in Lhasa is diversified, with luxury five-star hotels to budget double-room guesthouses. No matter you are travelling to Lhasa alone, or with your families or friends, you can find the one that best suits your needs.
a. Hotels near Potala Palace
Many tourists inquire us if there are good hotels near the Potala Place, and the answer is yes. There are luxury hotels like St. Regis Lhasa Resort and Shangri-La Hotel Lhasa, both being five-star hotels with only a few minutes' walking distance to the Potala Palace. For four-star hotels, one can go to the Xinding Hotel, which is also close to the Jokhang Temple and Barkhor Street in Lhasa.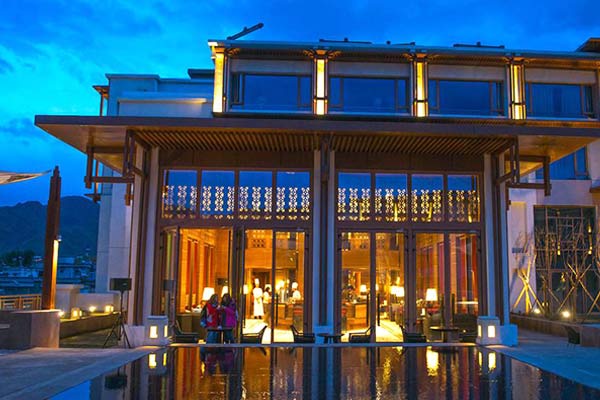 Shangri-La Hotel Lhasa
Besides, there are also some guesthouses and youth hostels that are located in the old town of Lhasa city, like the Dong Cuo International Youth Hostel. The hostel is located behind the Jokhang Temple and is near to the Potala Place too. For more hotels, you can also consult us about the best appropriate one for you.
b. Luxury Hotels in Lhasa
Lhasa provides the best accommodation in Tibet, and there are some top hotels offered for tourists who want to enjoy a luxury experience during their Tibet tour. The five-star hotels in Lhasa include St. Regis Lhasa Resort, Shangri-La Hotel, Brahmaputra Grand Hotel, Manasarovar Hotel, Four Points Sheraton Hotel, and Intercontinental Lhasa Paradise.
Taking the Luxury St. Regis Lhasa Resort for example, it is the most luxurious garden hotel in Tibet. Located near the Jokhang Temple and Barkhor Street, the hotel has a modern indigenous design, an indoor swimming pool, with garden views and views of the historic Potala Palace three kilometers away. St. Regis Lhasa has three restaurants offering hearty buffet and a la carte service.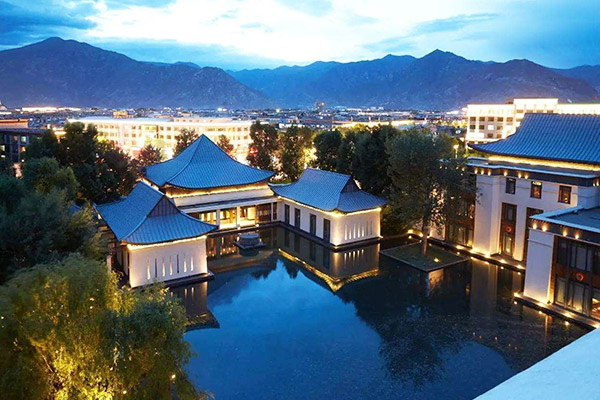 Luxury St. Regis Lhasa Resort
One thing needs to noted is that the five-star hotels in Tibet will not be equal to those in other destinations, since the plateau region is lack of resources and supplies. But it is still an amazing experience to stay in a luxury hotel at the roof of the world.
c. Budget Guesthouses in Lhasa
There are many economical hotels in Lhasa for budget-mind travelers. Phuntsok Kasang International Youth Hostel is the one of traditional Tibetan-style quadrangle courtyard. It is located in the city center near Potala Palace, Jokhang Temple, and Ramoche Temple. The hotel is close to supermarkets and bus stations, but not facing the street, being the ideal place for travelers to stay.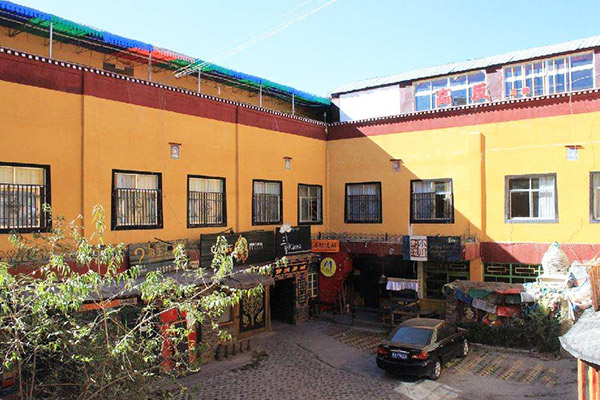 Dong Cuo International Youth Hostel
Dong Cuo International Youth Hostel is also a good-valued guesthouse in Lhasa. Opened in 2005, the hotel has a total of 48 rooms (sets). And the standard room area is 26 square meters. The hotel is well-equipped, being tidy and neat, providing some Tibetan-style landscapes like leisure lawn in its yard.
Hotels in Shigatse Tibet
Shigatse is the second largest city in Tibet, only next to Lhasa. There are no luxury hotels in Shigatse, but one can also find many 3 to 4 star rated hotels here to have a decent night stay. For remote areas beyond the city center, like the road to the Everest Base Camp, there are also guesthouses or tent hostels for stopover.
One of the best valued hotels is the Shigatse Manasarovar Hotel, which is located in the downtown area. As a four-star tourist hotel, the hotel combines Tibetan style with modern decoration. It has 78 deluxe standard rooms, suites, and economic rooms. The rooms are elegant and comfortable to live in. The rooms are equipped with independent air conditioning and humidifying oxygen supply system.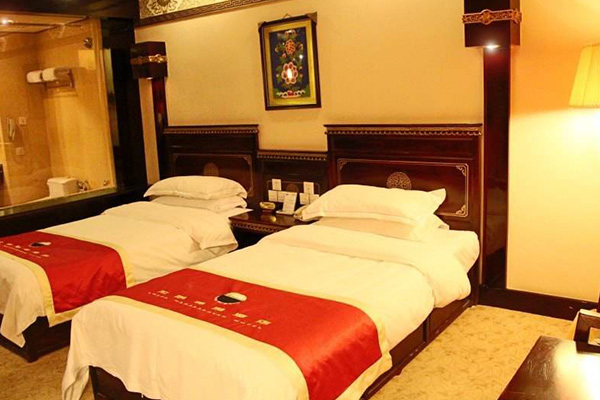 Shigatse Manasarovar Hotel
Shigatse Yak Hotel is a three-star hotel located in the quiet area of the city. The hotel has more than 60 rooms of luxurious suites, deluxe standard rooms, single rooms etc. The guest rooms are equipped with split air conditioning system and oxygen supply system to relieve your worries during your highland travel. There is also a laundry room, business center, sauna, KTV rooms and other supporting facilities, provide you with perfect service.
Hotels in Nyingchi Tibet
Nyingchi is the lowest region of Tibet lying in the eastern part of the plateau. Most hotels gather in the Bayi town, the administrative center of Nyingchi. Tourists can also find 4-star hotels like Nyingchi Shangbala Hotel, which not only has good location but also provides perfect amenities. The six-floor hotel has specialty restaurant, offering authentic Sichuan cuisine and local Tibetan food, as well as western, Chinese, and Tibetan breakfasts.
If you are looking for a lower-priced hotel in Nyingchi, then the Nyingchi Holiday Hotel may be your choice. The hotel is two-star rated, located in the heart of the green mountains, with Nyingchi River and National Highway G318 running aside it. There are more than 80 rooms, including deluxe suites, standard rooms, economy rooms, etc., meeting different needs of tourists. And all rooms are equipped with IDD telephones and Internet access.
Hotels in Tsedang Tibet
Compared to the accommodation conditions in Lhasa and Shigatse, the hotels in Tsedang may be not that stylish. But there are also good-quality hotels that offer favorable facilities. Especially on the Naidong Road of Tsedang, one can find comfortable 4-star hotels, economic hotels, budget guesthouse or hostels, as well as Tibetan style hotels.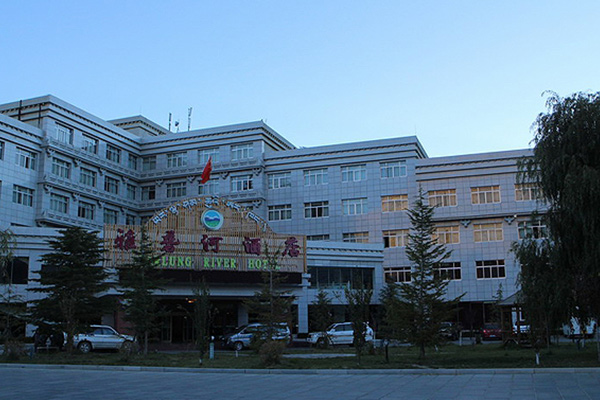 Yarlung River Hotel
Yarlung River Hotel is the one that ranks top in this region of Tsedang. Being four stars rated, the hotel is located adjacent to Yungbulakang Palace, the first palace in the history of Tibet. It is 30 kilometers away from Samye Monastery, with convenient transportation. The restaurant of the hotel has 20 deluxe private rooms, and a banquet hall that can accommodate 250 people at the same time, offering Cantonese cuisine, Sichuan cuisine, Tibetan cuisine, Western cuisine, and Japanese and Korean cuisine. There are also conference rooms, KTV rooms, recreation center can provide sauna, foot washing, massage, and other services.
Where to Stay When Visiting Mount Everest?
Mount Everest is located about 238 kilometers to the southwest of Shigatse city. Tourists who visit Mount Everest always take the route from Lhasa to Everest Base Camp, via Shigatse and Tingri. Although it is convenient to find good-valued hotels in Shigatse, the accommodation in and around the Everest Base Camp is basic and simple.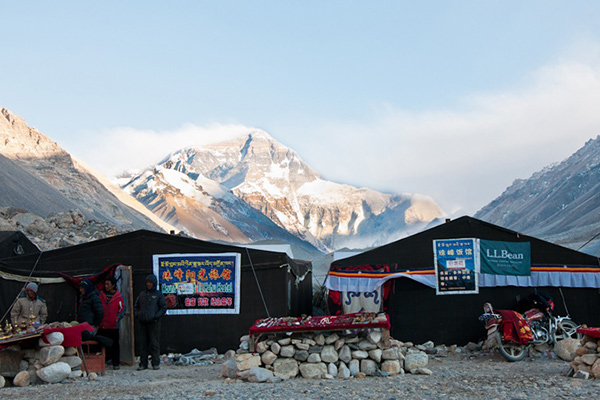 Tent House at EBC
The tent house is normally the top choice for night-stay at Everest Base Camp. It is the closest accommodation to the Mount Everest, and only available from April to November. In winter month with frozen coldness, the tents will be removed. The tents at EBC may be a temporary shelter for tourists, but it also offers relatively comfortable beds, hot waters, simple dinners, and breakfasts. It is suggested to bring a good sleepbag and thick clothes to keep warm.
Besides the tent house, one can also stay in the Rongbuk Monastery guesthouse. The guesthouse is open all the year round, and is the only accommodation at EBC during the winter season. One can appreciate the gorgeous view of Everest peak from the guesthouse. The facilities here are also basic, no showers or heating in the rooms. A single room can be shared by up to five or even ten adults. But there are electric blankets and hot water bottles.
Where to Stay When Do Mount Kailash Kora?
Many tourists come to Tibet for a pilgrimage trip to the holy Mount Kailash. And the three-day Kailash kora is a popular tour experience. On Day One and Day Two of the trek, one can stay in the guesthouses of two monasteries, namely Drirapuk Monastery and Dzultripuk Monastery.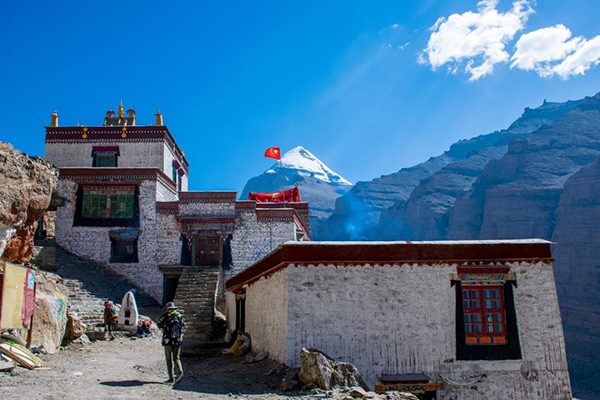 Drirapuk Monastery
The Drirapuk Monastery is where one will end the kora for the first day, and is located 22 km away from Darchen, the start and end point of the trek. There are neat and tidy rooms, but no bathroom, and the toilets are located outside the guesthouse. Similarly, the guesthouse of the Dzultripuk Monastery is basically equipped. There are four or eight beds in a room, with no electricity or WI-FI. It is recommended to bring your own sleep bags as the rooms may be full owing to its limited supply.
Conclusion
Hotels in Tibet can vary from luxury hotel resort to budget hostel or guesthouse. Lhasa has the best accommodation, followed by Shigatse, then Linzhi and Tsedang. In remote regions of Tibet, like EBC or Mount Kailash area, one may need to stay in the rough guesthouse, or tent house. If there is still any question about staying in Tibet, please feel free to contact us for details.