How to Travel from Kashgar to Lhasa by Train
Kashgar is one of the gateway cities for those traveling to Tibet from the far-northern part of mainland China. Besides the classic overland journey from Kashgar to Lhasa, is that possible to take a train from Kashgar to Lhasa? How to take a Tibet train experience if coming from Kashgar? For you, who are looking for a lifetime Tibet tour with train experience, it is a pity that there is no direct train from Kashgar to Lhasa. But there are options for you to choose, such as traveling to one of the many cities in China that have direct trains to Tibet, or you can travel directly by flight or overland to Lhasa from Kashgar.
Kashgar to Lhasa by Train via Xining
Xining is the closest of all the cities with direct trains to Lhasa, which makes it the best option for travelers taking the trip from Kashgar to Lhasa. A distance of around 2,900 kilometers, you have a variety of options for traveling to Xining from Kashgar to meet your train to Lhasa. And with all trains to Tibet stopping in Xining, you have a greater choice of trains to Tibet from this departure location than from anywhere else in China.
Kashgar to Xining by Train and by Flight
The two main ways to get from Kashgar in Xinjiang to Xining in Qinghai Province are train and flight. It is possible to drive, but this would be a very arduous trip.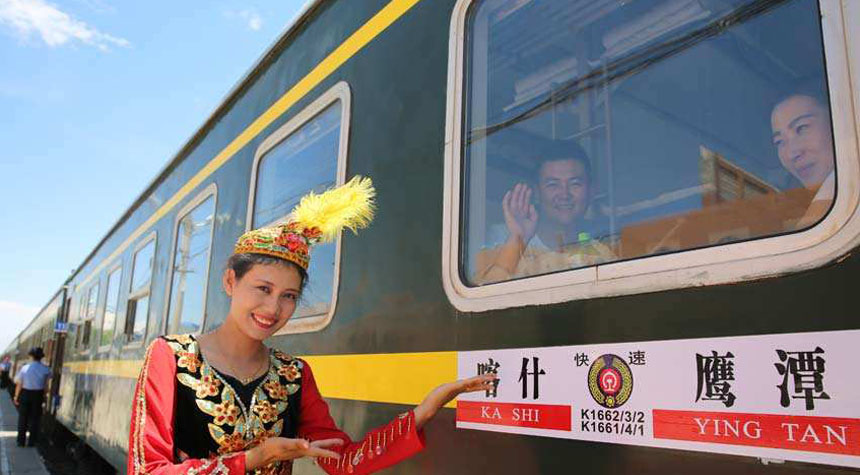 The Train from Kashgar to Xining
The trains to Xining from Kashgar require you to first transfer to Turpan, near Urumqi, as there is no direct train to Xining. The trains depart daily from Kashgar five times a day and arrive in Turpan after a trip of around 7 hours 36 minutes. Prices for this leg generally cost from 17-45 dollars per person, depending on the seat type.
From Turpan, you will transfer on a short 45-minute trip to Shanshan North Station, where you can catch the train to Xining, which departs three times a day. The whole trip takes around 8 hours 16 minutes and costs from 55-75 dollars per person.
Flights from Kashgar to Xining run daily from Kashi Airport, with several flights per day. However, there are no direct flights, so all flights connect through either Urumqi or Turpan. Flights cost from as little as 130 dollars per person to as much as 550 dollars each, and the flights take from around 5 hours 35 minutes to as long as ten hours.
Xining to Lhasa by Train
From Xining Railway station, you can get a Xining to Lhasa train that runs directly to Lhasa daily, and in the low season, you have a wider choice of trains, including those that pass through from other gateway cities in China. The train staring from Xining to Lhasa (Z6801) depart daily at around 2:01 pm and arrive in Lhasa at around 11:20 am the following day, a trip of around 21 hours 19 minutes. Covering a distance of around 1,972 kilometers, the tickets cost from 74-116 dollars per person.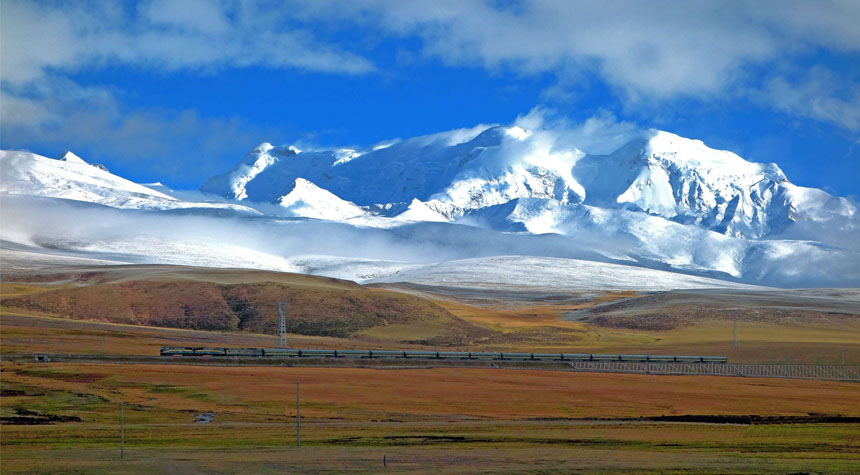 The Xining Tibet Train with the Great Landscape along Qinghai-Tibet Railway
Kashgar to Lhasa by Train via Chengdu
For those that want to spend a day visiting the pandas first, a trip to Lhasa via Chengdu is a great opportunity to spend some time in Sichuan's provincial capital. Direct flights run from Kashgar to Chengdu, a major transport hub in Southwest China.
Kashgar to Chengdu by flight
Flying is the only real option for travel from Kashgar to Chengdu, and the flights to Chengdu Shuangliu International Airport run daily from Kashi Airport more than 6 times a day, including both direct flights and connecting flights via Urumqi.
The direct flights from Kashgar to Chengdu take around 4 hours and 30 minutes, while the connecting flights via Urumqi take around 6 hours 15 minutes.
The Kashgar to Chengdu flight can cost from US$130 to more than US$500 per person, depending on the flight and connections.
Chengdu to Lhasa by Train
The Chengdu to Lhasa train departs every other day, departing on the odd days of the month for six months of the year, and the even days for the other six months. The trip to Lhasa from Chengdu generally takes around 41-42 hours, departing at around 9:37 pm and arriving at around 9:55 am on the third day of travel. Hard sleeper berths cost from around 99 US dollars per person, with soft sleepers starting at around 158 US dollars each.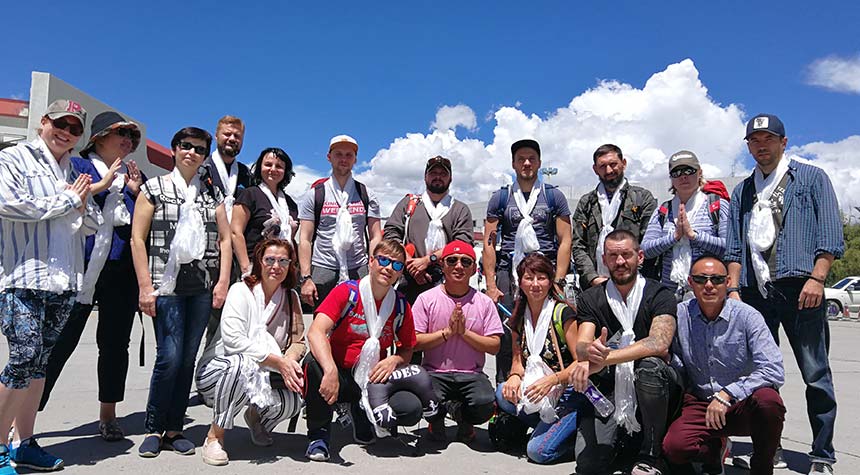 Arrive at Lhasa railway station
Kashgar to Lhasa by Train via Lanzhou
Another option for a shorter train ride to Lhasa from Kashgar is to travel to Lanzhou (Ningxia Province) first. The train from Lanzhou to Lhasa is the second shortest train journey to Lhasa from mainland China.
Kashgar to Lanzhou by train and by flight
You have two options for travel to Lanzhou from Kashgar, by flight or by train. If you opt for the trains, then you will take almost the same route as the train to Xining, as the train to Lanzhou runs through the Qinghai provincial capital.
The train runs first from Kashgar to Urumqi and costs from 18-45 US dollars per person for this 9-hour trip. From Urumqi, you can get a connecting train to Lanzhou for between 75 dollars and 110 dollars per person, depending on the seat type. It pays to have a sleeper berth ticket for this trip, as it takes around 12 hours to reach Lanzhou.
As with most flights out of Kashi Airport, there are no direct flights to Lanzhou, but you do have several connecting flights that run daily via Urumqi Airport. Around five flights depart from kasha Airport daily, with flight times ranging from 5 hours 20 minutes to as much as 10 hours 55 minutes for the longest connecting flights.
Lanzhou to Lhasa by Train
As the second shortest train to Lhasa from mainland China, Lanzhou is a relatively popular departure location for getting to Tibet. The trains from Lanzhou to Lhasa depart every other day, though they are not as defined as those from Chengdu.
Generally, the Lanzhou to Lhasa train takes around 24 hours 13 minutes to cross the 2,188 kilometers to Lhasa, and cost from US$78 per person for hard sleeper berths and from US$123 per person for soft sleeper berths. It is best to check local timetables first while planning your train tour to Tibet.
Alternative Ways to get from Kashgar to Lhasa
Traveling to those transit cities to get the trains to Lhasa is not the only way you can travel to Tibet from Kashgar. You also have the option of traveling overland on an epic adventure or taking a flight to the Lhasa Gonggar International Airport from Kashgar.
Kashgar to Lhasa by Overland
Probably an overland trip from Kashgar to Lhasa is the best way to travel from Xinjiang to Lhasa, which is also an adventure of a lifetime, and a journey of immensely epic proportions.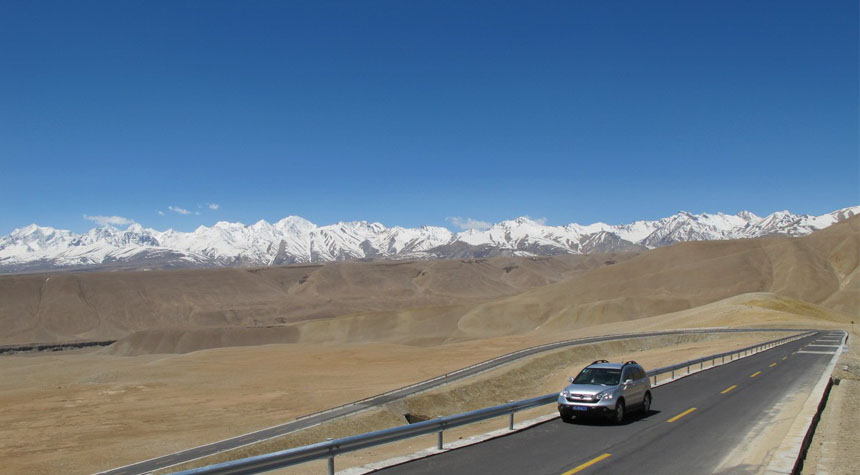 Kashgar to Lhasa Overland view
The overland tour to Tibet does require you to be on a pre-arranged tour, as it is not possible to make this trip driving yourself in Tibet. The route from Kashgar to Lhasa heads south along the G219 National highway all the way down into Tibet, passing through Ngari prefecture to reach Shigatse prefecture and the G318 Friendship Highway, not far to the north of Mount Everest. From here, it is a short run east to reach Lhasa.
The whole journey from Kashgar to Lhasa covers a distance of 3,011 kilometers and is normally done on a tour in around 16 days, including the trek around Mount Kailash and a couple of days sightseeing in Lhasa. For those traveling direct, the trip can be done in around 8-9 days.
Kashgar to Lhasa by Flight
Flights to Lhasa from Kashgar are the fastest way to travel, despite there being no direct flights to Tibet from Xinjiang. All flights from Kashgar to Lhasa run through either Xi'an or Chengdu as connecting flights but can still take a lot less than driving or taking the train.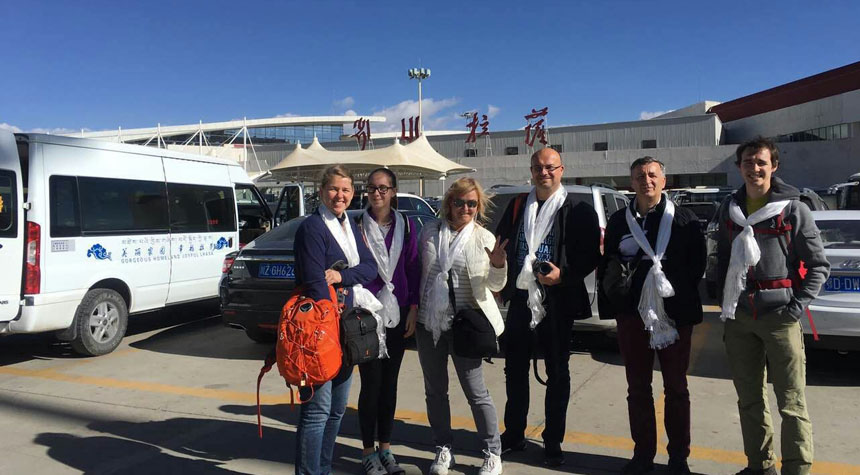 Arrive at Lhasa Gonggar airport
Flights for Chengdu or Xi'an from Kashgar depart 3-4 times a day each, with Chengdu being the most popular connection to Lhasa. The flight to Chengdu normally takes around 3 hours 35 minutes, with flights to Xi'an taking as long as 4 hours 30 minutes. From either of these airports, you can get a flight to Lhasa, as both have several flights departing daily. From Xi'an, the flights to Lhasa depart 8 times a day and take around 3 hours 5 minutes, while Chengdu has 14 daily flights that take from 2 hours 15 minutes to reach Lhasa.
Important to Get Required Travel Documents before you go
No matter which way you choose to travel from Kashgar to Lhasa, i is important for you to make sure that you have all the right documents for your Tibet tour before you depart. Unlike most of the rest of China, you cannot get into Tibet without having the infamous Tibet Travel Permit. This is only available when booking a tour with a registered Tibetan travel agency, who will make the permit application on your behalf.
For all entry to Lhasa by train or flight, you only need the Tibet Travel Permit to enter Tibet. However, for those traveling overland from Kashgar to Lhasa, you will also need to have the Alien's Travel Permit, the Military Permit, and the Frontier Pass before leaving Xinjiang. These are obtained in advance by your travel agency, who will also handle your tour to Tibet.
Conclusion
If you are coming to Tibet from Kashgar and looking for a Tibet train experience, you can choose to travel by train from Kashgar to Lhasa via Xining, Chengdu, or Lanzhou since recently there is no direct train from Xinjiang to Tibet. Or you can fly to those transit cities first and get a train to Tibet.
The best way for adventures is to take the epic overland tour across the vast Tibetan plateau from Kashgar to Lhasa.
Whichever way you choose to travel, you are set for the trip of a lifetime on the Roof of the World.
Last but not the least, please remember to apply for all the required travel documents for your trip to Tibet in advance.
Most Recommended Tibet Group Tours