How to Get to Lhasa from Shanghai - By Train or Flight
Tibet is growing from all sides and the region has become an international tourism hotspot. Lhasa is known for many things and its offerings have pleased travellers all over. Once you get inside this city, the magical atmosphere of Tibet kicks in. The monasteries, the picturesque natural landscape and the breathtaking beauty of the city mesmerize the senses. Transportation is an important aspect of Tibet's developmental plan and over the years, serious progress has been made. Tibet's cultural position in South Asia is quite strong and some areas have become major trade centres. So Lhasa's importance is massive and major cities are connected with it. Railways and airports are being developed in a rapid pace and in a few years, Tibet will be more connected than ever.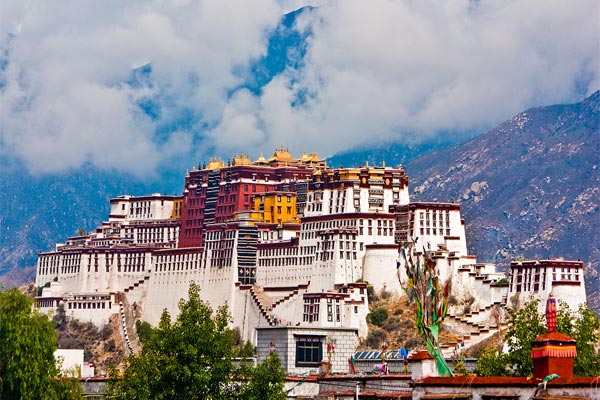 Potola Palace in Lhasa
Getting to Lhasa from Shanghai by Train
Lhasa can be reached from other places and train journeys are always the preferred option. Shanghai is known for its amazing connectivity and train travel to Lhasa is really an absolutely extraordinary journey. Train tickets are easily available in Shanghai and the ticket office must be contacted well in advance. Shanghai's main train station is situated separately and this building is a few blocks way. The ticket seller communicates in English and foreigners can speak through a completely separate window. For this journey, soft sleeper car should be selected and this is indeed the best. The journey is long and tiring, but soft sleeper berths are quite comfortable and it never makes you feel exhausted.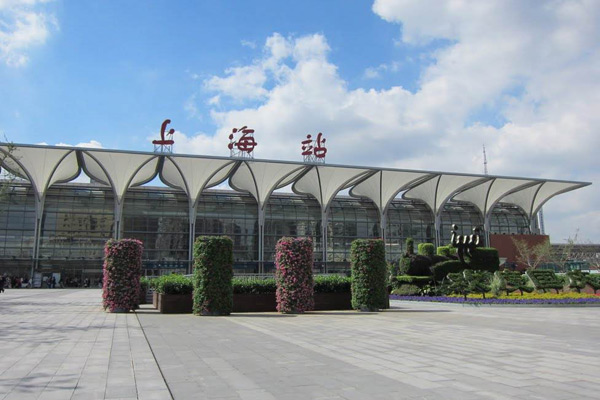 Shanghai Railway Station
This is a journey for those individuals who simply love travelling and want to enjoy every moment of it. The highlands of Tibet are waiting to be explored and the train journey will give the perfect opportunity to get lost in the amazing environment. The trains are not that frequent and travellers must plan smartly to get the most out of it. One train leaves from Shanghai every day and after 3 days it reaches Lhasa. Trains depart from Shanghai at around 20:10pm and it arrives on the railway station of Lhasa at around 19:20pm. These three days can be completely magical and it gives an experience of a lifetime. The total time taken for travel is 47 hours and approximately 10 minutes. Passengers can spend each day differently and engage in a lot of fun activities to enjoy every moment of the train ride.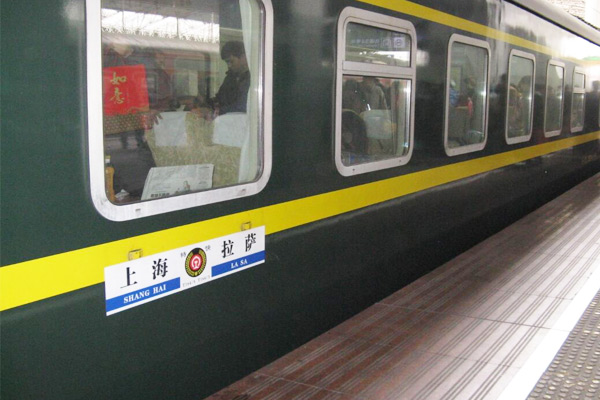 Shanghai to Lhasa train
In peak seasons, the final price always exceeds the ticket's net price and travellers have to spend some extra money to secure the tickets. The ticket price is directly influenced by the fluctuations in the market and the railways authorities are transparent about that. From the electric outlets to the oxygen ports, every facility is there. Three days are covered, but the time span is roughly 48 hours. The bathrooms and hallways are always kept clean and these aspects are always given added importance. The mornings are absolutely beautiful and it will give you ample time to take a sip of nature and enjoy the marvellous ride. Take pictures, admire nature's beauty and bond with your loved ones. It doesn't get better than this. As the train climbs up the mountains, the real excitement begins. This is an adventure in the beginning and every moment should be enjoyed. The plateaus are in permafrost, but it never affects the rails. The vastness is absolutely serene and it touches a very special area of the soul.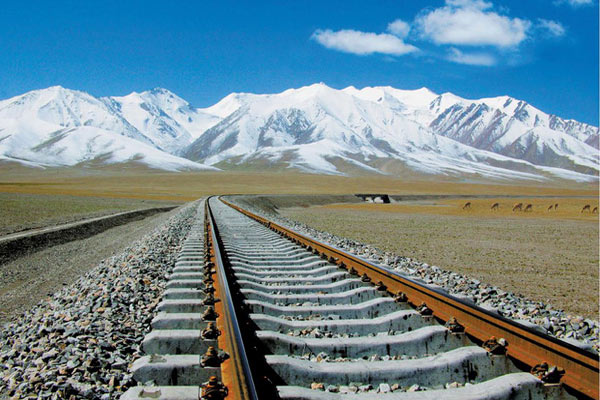 Travel to Lhasa from Shanghai by train
Getting to Lhasa from Shanghai by Flight
Flight trips are always magical and it can set a traveller's soul on fire. Taking the aerial route is extremely adventurous and it has the power to thrill explorers. In order to reach Lhasa, a flight can be taken from Shanghai and this is a recommended option for people, who are bounded by the time constraint. The number of direct flights available presently are three and they touch Xi'an on the way. Tibet Airline along with Air China offers this facility. However, China Eastern Airline has also announced some flights. The journey is completed in 7 hours and one full hour is reserved for stopover. Passengers can also take connecting flights from Kunming Airport or Chongqing airport. The booking websites offer all types of information and travellers can access them easily.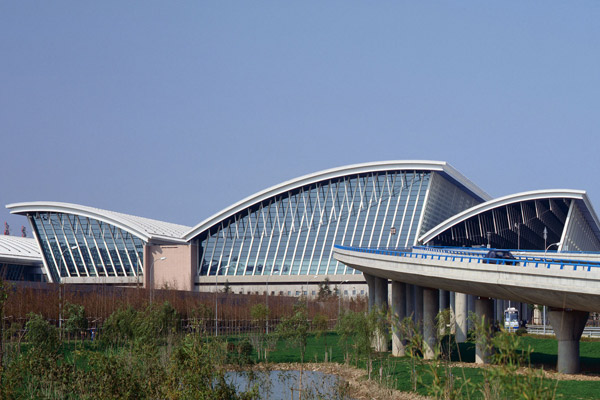 Shanghai Pudong International Airport
The real trick is to find the most affordable flights and this can be done quite easily. Travelling becomes a fun experience, when you pay attention to the basic things and follow the useful tips. Plenty of flying options are present and as a traveller, you have to select the right one. Lhasa's Airport has become extremely developed too and a total of 9 airlines are operating here. The different Tibet tour consultants can give useful information regarding this and they should always be contacted before buying the tickets. Some tourists have a packed schedule and they love this option.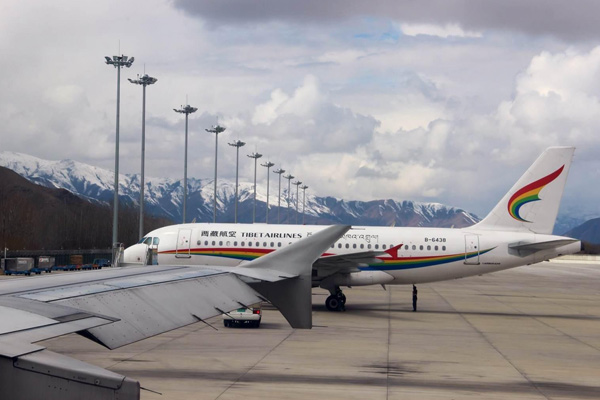 Planes on Lhasa Kongga International Airport
The domestic as well as foreign travellers are becoming keener visiting Lhasa and the different airlines have made it very convenient for them. In the global tourism industry, Shanghai plays an important role as well and its importance is growing exponentially. There are many scenic sites present here and the cultural significance is massive.
Get to Lhasa from Shanghai by Flight and Train
For travellers, there is no shortage of options. They can travel in any way they like and convenient means of travel are present. We have already discussed about reaching Lhasa from Shanghai by means of train or by a flight. But, these two modes of transportation can be combines together to create a more comfortable trip. Travellers from Shanghai can easily reach Xining by flight and it takes just 3 hours and 25 minutes. The airlines are constantly adjusting their prices and the time of booking matters greatly. However, cheap flights can be easily obtained.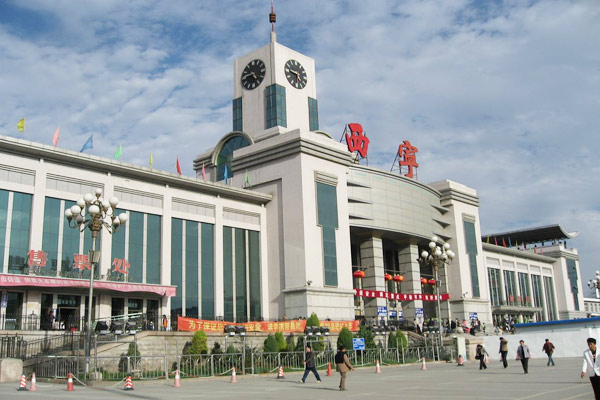 Xining Railway Station
After reaching Xining, a simple but rewarding train journey can take you to Lhasa easily. Tourists can have the best of both worlds by having a flight + train trip. They can experience both things at once and this is indeed amazing. The flight saves the time greatly and the train offers a calm and peaceful experience. The facilities are superb in both the cases and foreign tourists never have to worry about a single thing. Tibet train offers some unique facilities to the passengers and they will always feel at home.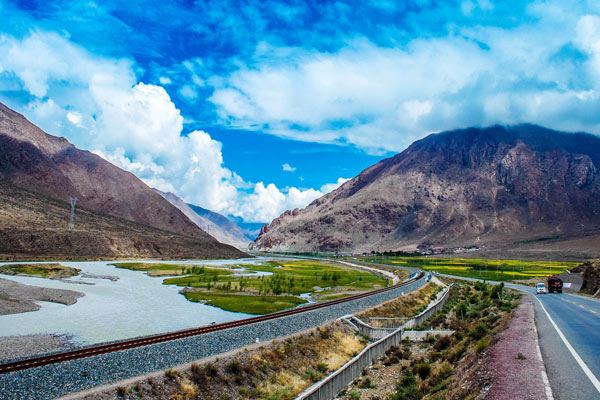 Scenery along Xining-Lhasa route
Xining is 1233 miles away from Lhasa and the train passes through several rocky landscapes. The train journey lasts for just one day and it better than the direct train from Shanghai. Travellers will not get bored at all and there are different entertainment facilities to keep them engaged. However, some altitudes challenge the passengers and they can feel the lack of life-saving oxygen. The train is highly pressurized and oxygen altimeters are supplied in abundance. These things must be kept in mind all the time, before travelling. Moreover, train widows contain UV filters to prevent the harmful radiation from reaching the passengers.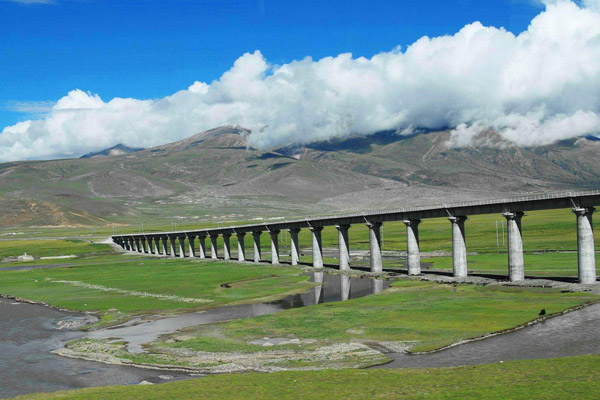 Scenery along Xining-Lhasa route
The journey can be completed in any way possible and it all depends on the convenience of the traveller. Analyze each transportation mode and get to your destination easily. The time in hand and the budget are two main factors that influence the choice.