Shigatse Railway Station Guide: Take Lhasa to Shigatse Train across Tibetan Plateau
Shigatse Railway Station (Xigaze Railway Station), located 253 km away from Lhasa Railway Station, is the final station of Lhasa-Shigatse Railway. It was officially opened for operation on August 15, 2014 with the opening of Lhasa-Shigatse Railway. The station is provided with 6 tracks for arrival and departure of trains, served by 3 platforms. Its station buildings are divided into two floors and can accommodate about 300 passengers in the waiting room.
Lhasa to Shigatse Railway
Lhasa to Shigatse Railway starts from Lhasa Railway Station and ends at Shigatse Railway Station, covering an overall length of 253 kilometers. It is an extension of Qinghai-Tibet Railway in Tibet and forms an important part of the Tibet Railway network. The whole railway lies at an altitude of 3600 to 4000 meters, almost half of which are bridges and tunnels. Following the famous Lhasa River down to the southern part of Doilungdêqên District, the railway line runs westwards to the Yarlung Zangbo River, and finally arrives in Shigatse, the second largest city in Tibet, after traversing nearly 90 kilometers of canyon areas.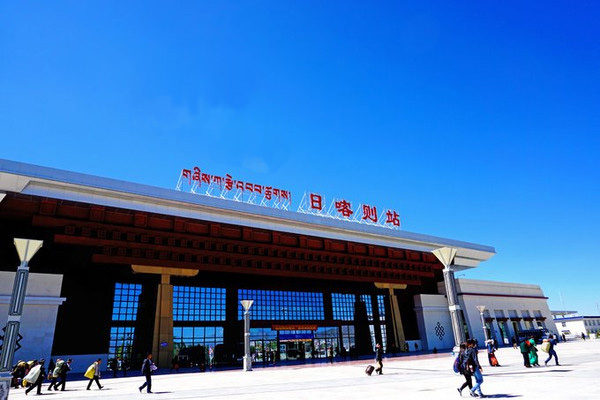 Recentely, Shigatse Railway Station is the only train stationi in Shigatse city and southern Tibet.
Since the opening of the Lhasa to Shigatse Railway, tourists now can get an easier access to many of the world-famous attractions as Tashilhunpo Monastery and Mount Everest in the southwestern region of Tibet. At the meantime, it makes the Qinghai-Tibet Railway closer to the border of China and Nepal and will hopefully create a "golden passage" for land trade between China and South Asian countries. By 2020, an extension line of the Lhasa-Shigatse Railway will be built to Gyirong Port, the border between China and Nepal, to complete the sections in China of the China-Nepal Railway.
Shigatse Railway Station Train Schedule
Shigatse Railway Station operates the Lhasa-Shigatse train running through the new Lhasa-Shigatse railway. There are two trains in service between Lhasa and Shigatse every day, one departing in the morning and one in the afternoon. It takes about 2.5-3 hours to get to Shigatse train station from Lhasa and vice versa. Check the following detailed train schedules from Lhasa to Shigatse and Shigatse to Lhasa.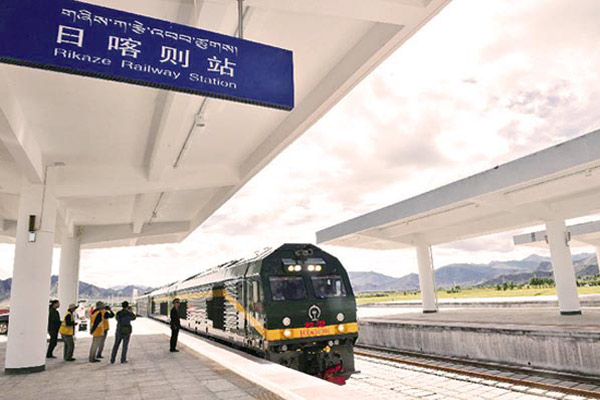 There are 2 trains in service between Lhasa and Shigatse every day and takes 2.5-3 hours.
Schedule for Lhasa to Shigatse Train
| Train Number | Departure | Arrival | Duration | Frequency |
| --- | --- | --- | --- | --- |
| Z8801(Lhasa-Shigatse) | 08:30 | 11:25 | 2hr, 55min | Daily |
| Z8803(Lhasa-Shigatse) | 15:20 | 17:59 | 2hr, 39min | Daily |
Schedule for Shigatse to Lhasa Train
| Train Number | Departure | Arrival | Duration | Frequency |
| --- | --- | --- | --- | --- |
| Z8804 (Shigatse-Lhasa) | 12:05 | 14:40 | 2hr, 35min | Daily |
| Z8802 (Shigatse-Lhasa) | 18:40 | 21:33 | 2hr, 53min | Daily |
Note: The train schedule shown above is just for reference. When you make early reservation, please contact us for more details.
Choose the Proper Train Route for Your Lhasa Shigatse Tour
If you have just finished your Tibet tour and plan to explore Shigatse or other remote areas in southern and western Tibet, like Ngari region, taking the Lhasa to Shigatse train will be a good choice for you. Compared with an overland or cycling trip along the highway, the train only needs less than 3 hours, greatly shortening your time on the way.
On the other hand, you can also choose to go to Shigatse by car, and then take the Shigatse to Lhasa train as the return route to Lhasa. By taking an overland trip from Lhasa to Shigatse, you will spend much time on the highway, however you will be able to visit quite a few amazing attractions, like Yamdrok Lake, Korala Glacier, Palkor Monastery etc. After getting back to Lhasa by train, you can continue your sightseeing of Lhasa city.
How to Get from Shigatse Railway Station to Famous Shigatse Attractions?
From the Station to Tashilhunpo Monastery
The celebrated Tashilhunpo Monastery is the resident place of the successive Panchen Lamas. It is a dream of many Tibetan Buddhism believers to visit the Tashilhunpo Monastery in Shigatse, as well as the Potala Palace and Jokhang Temple in Lhasa. The opening of Lhasa Shigatse train not only enables these believers to complete the long-cherished wish through the modern railway, but also gives more chances to ordinary tourists to appreciate this holy architecture of Tibetan Buddhism.
After reach Shigatse Railway Station, tourists can get to the Tashilhunpo Monastery by taxi. It takes around 30 minutes with a distance of about 8 km. City buses are also provided for the transfer from Shigatse railway station to Tashilhunpo Monastery, but it needs a long walk, not so recommendable for first visitors to Shigatse city.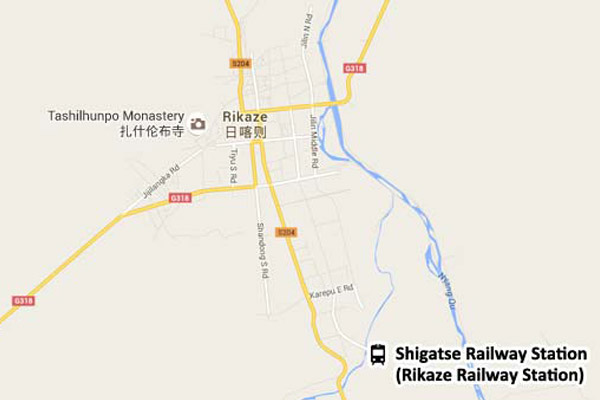 Shigatse Railway Station is located southeast of Shigatse city.
From the Station to Palcho Monastery
The Palcho Monastery is situated in northeastern corner of Gyantse County, about 230 km to the south of Lhasa, and 100 km to the east of Shigatse. Founded in the early 15th century, the monastery is famous for its exquisite architecture, special religious values, and well-preserved frescoes and statues. The most notable feature of Palcho Monastery is its Kumbum, also known as one hundred thousand pagodas.
Currently, there are shuttle buses running from Shigatse to Gyantse every day, departing every hour from 8:30 to 19:00. Tourists can take a taxi to the Bus Terminal from the train station, and then enjoy the bus ride from Shigatse to Gyantse. Upon your arrival in Gyantse bus station, you will just walk a few minutes to Palcho Monastery.
How Far is the Everest Base Camp from Shigatse Railway Station?
The famed Everest Base Camp is one of the best location to appreciate and photograph the magnificent view of world's highest peak, Mount Everest. It is located about 350 kilometers to the southwest of Shigatse city. Since there are no shuttle buses from Shigatse to the region of Mount Everest, tourists need to charter a car or choose carpooling for the transfer, and the expenses are usually very high. Most people are inclined to start their journey to Everest Base Camp from Lhasa city, as the possibility of successfully renting a car in Shigatse is quite small.
In this occasion, you are recommended to join in our well-designed Everest Base Camp Tour. With our experienced local Tibet guide and comfortable travel vehicle, you can enjoy a worry-free and cost-effective road trip from Lhasa to Everest Base Camp, even to the border of Tibet and Nepal. Please feel free to contact us for more details.
Recommended Tibet Tours including Shigatse