How to Travel from Lhasa to Nyingchi
Nyingchi is a prefecture-level city in southeastern Tibet, famous for its natural scenery, steep cliffs, crystal clear lakes, as well as long and flat valleys. It is the lowest area of Tibet, with an average elevation of around 3,000 meters.
The best way to travel from Lhasa to Nyingchi is to take an overland trip via the Lhasa to Nyingchi Highway. Covering a distance of about 400 kilometers, the road along Lhasa to Nyingchi Highway is well-paved and offers scenic sights along the way.
The train from Lhasa to Nyingchi is a future choice worth the wait. With the construction of Lhasa to Nyingchi railway, tourists will enjoy the train journey from Lhasa to Nyingchi in the near future.
Although there is no direct flight from Lhasa to Nyingchi, tourists can choose to fly directly to Nyingchi from some cities in mainland China, like Chengdu or Xi'an.
As a better choice, tourists can join in our Nyingchi tour to enjoy free transfer from Lhasa to Nyingchi, and get the required travel permits obtained easily through us. Check the following passage to know details on how to travel from Lhasa to Nyingchi and more information about the Nyingchi trip you may concern.
Where is Nyingchi in Tibet?
Located in the southeastern part of Tibet, Nyingchi lies in the middle and lower reaches of the Yarlung Zangpo River. It is connected to Lhasa in the west, Shannan in the southwest, Chamdo and Nagchu in the north. In the southern part, Nyingchi borders India and Myanmar.
Nyingchi has an undulating terrain, with a high altitude difference. The average altitude of Nyingchi region is 3,100 meters. Its lowest points are below 800 meters, although Namcha Barwa Peak soars up to a heady 7,782 meters. The Bayi town is located on the banks of the Niyang River and is the political, economic and cultural center of the region.
Distance between Lhasa and Nyingchi
Taking the highway mileage as reference, Nyingchi is about 400 kilometers away from Lhasa, the capital of Tibet autonomous region. And the straight line distance between Lhasa and Nyingchi is about 300 kilometers. From Lhasa to Nyingchi, travelers can travel in different ways, by air, road trip or other ways.
Lhasa to Nyingchi by Overland
Driving to Nyingchi from Lhasa is popular among many travelers touring Tibet. Thousands of people take the road trip from Lhasa to Nyingchi every year. There are mainly two road routes available, the north route and south route.
For most tourists, taking the north route along Lhasa to Nyingchi Highway will be the perfect option, for its short distance and good road condition. While if you want to appreciate more fine sceneries along your overland journey to Nyingchi, you can choose the south route from Lhasa to Nyingchi via Tsedang. Check more details as follows.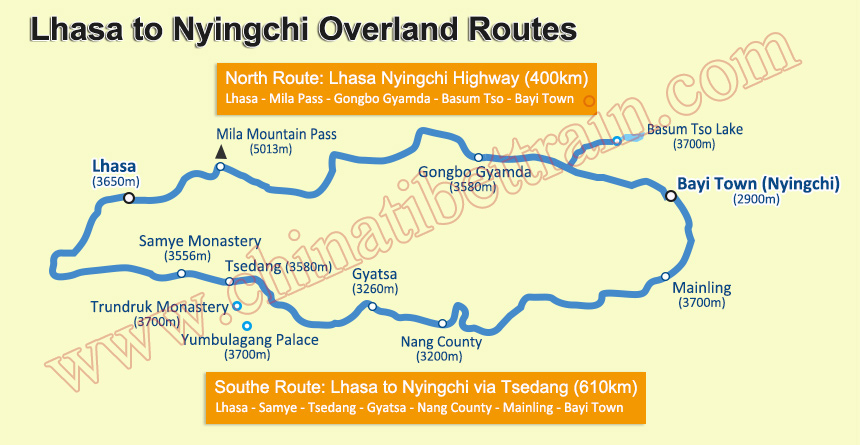 Map of Lhasa to Nyingchi Overland Routes
Classic Overland Route via Lhasa to Nyingchi Highway
The route of Lhasa to Nyingchi Highway is a classic one that follows the famous G318 National Highway. It covers a length of about 400 kilometers, stretching from Lhasa city to Bayi Town of Nyingchi Prefecture. Normally it takes 8 hours to complete the whole ride.
Since it is a road route with spectacular sights, travelers can stop off at many points along the way to get the most out of the amazing landscapes and wildlife of Tibet.
Road Route: Lhasa – Mila Pass – Gongbo Gyamda – Basum Tso – Bayi Town
Departing from Lhasa, you will first drive along the Lhasa River valley for many miles. After passing Mila Mountain (5013m), you will reach Gongbo Gyamda town, and then head to Basomtso Lake. Then drive on to Bayi town along the Niyang River.
Mila Mountain Pass (5013m) is the highest point of the Lhasa to Nyingchi Highway, located at the boundary between Lhasa and Nyingchi. Standing on the pass, one can feel the strong wind and see colorful prayer flags swaying under the blue sky and white clouds. Tourists can have a rest here before heading to Gongbo Gyamda town of Nyingchi.
Keeping moving on, you can take a detour to the Basomtso Lake, before reaching Bayi town along the Niyang River. Basomtso Lake is a sacred site for the Nyingma Sect of Tibetan Buddhism, also known as the Red Sect, and sits at an elevation of over 3,700 meters.
Lying quietly between snowy mountains and thick natural forest, the lake is a peaceful place, and a popular holiday destination for Tibetans who are bored of the endless Gobi and glacier-covered mountains. The peace and tranquility of the lake, along with its humid weather, makes for a welcome change.
Road Condition from Lhasa to Nyingchi
The road from Lhasa to Nyingchi is one of the busiest for tourists entering Tibet. Though winding and circuitous, most of the road along the route is asphalted and well paved to make driving safer and easier. For first-timers travelling from Lhasa to Nyingchi, it is recommended to take this route to enjoy a much relaxing road journey.
As July and August are the rainy seasons in Tibet, natural disasters such as mudslides, landslides, and landslides will occasionally occur in some sections of the Sichuan-Tibet Highway line. It is recommended to pay attention to the weather condition during this time.
Sightseeing Overland Route from Lhasa to Nyingchi via Tsedang
In addition to the line of Lhasa to Nyingchi Highway, tourists can also drive southwards to Tsedang first and then head to Nyingchi, following the southern adventurous route with more sightseeing attractions. Tsedang is the fourth largest city of Tibet and is reputed as "the cradle of Tibetan Civilization", located to the south of Lhasa city, about 87 kilometers away from Lhasa Gonggar Airport.
The total driving distance for this route is about 600 kilometers. While if you want to cover all the highlights on the way during your ride, you will spend three days on the whole road trip.
Road Route: Lhasa - Samye Monastery – Tsedang – Mainling – Bayi Town
Starting from Lhasa, you will first drive about 170 km along the Yarlung Zangpo River to Tsedang. On the way, you can pay a visit to the Samye Monastery, which is the first Buddhist monastery in Tibet and houses three Buddhist jewels of Buddha, Dharma and Sangha.
Then move on to Tsedang, where you can head to visit the Yumbulagang Palace and Trundruk Monastery for a day tour, depending on your time schedule. The Yumbulagang Palace is the first imperial palace built on the rocky hill for the first Tibetan king, and you can have a nice view of the whole valley from there. Trundruk Monastery is one of the oldest monasteries in Tibet, with a history of about 1300 years.
After that, tourists can drive through the way from Tsedang to Nyingchi, passing through Nang County and Mainling on the way. It is a long ride that will last 8 hours across a distance of 450 kilometers. Then you will finally reach Bayi Town of Nyingchi.
Road Condition from Lhasa to Nyingchi via Tsedang
Except for the short section from Gyatsa to Nang County, which is mostly gravel road, the major part of the southern route is asphalt road with good conditions. Compared to the north route following the broad national highway, the south route is much more challenging, suitable for experienced drivers.
New Overland Route via Lhasa to Nyingchi Expressway
Since 2017, tourists can also take the route along the newly-opened Lhasa to Nyingchi Expressway. Lhasa to Nyingchi Expressway is an intercity high-grade road and is parallel to the Lhasa section of G318 National Road.
This expressway stretches from Liuwu New District of Lhasa city to Bayi District of Nyingchi Prefecture. It is provided with a design speed of 80 kilometers. By taking the route, the driving time between Lhasa and Nyingchi will be shorted from 8 hours to 5 hours.
Shuttle Bus Available for Solo Travelers
For solo travelers from mainland China or Hong Kong, bus travel is also a good option to get from Lhasa to Nyingchi. There are two main types of buses that run along the route. The ordinary bus, which has standard seats and can fit around 60 passengers, and the business-class coach, which has soft, reclining seats, air-conditioning, and only carries around 45 passengers.
There are regular buses from Lhasa to Nyingchi that depart every morning, starting at 8:00am. The road from Lhasa to Nyingchi is 400 km long, and takes 7-9 hours. The cost of the ticket is around 155CNY for the bus or 180CNY for the business-class coach, and it is best to book in advance.
Lhasa to Nyingchi by Train
Lhasa Nyingchi Railway under Construction
Currently, there is no train that goes from Lhasa to Nyingchi, though it is already being built, and is expected to open in 2020. The Qingzang Railway is the first, and only, railway that runs from China to Tibet, and is the main route for travelers going to Lhasa, and beyond. This track is now being extended to Shigatse, Tibet's second largest city, and other extensions and branch lines from Lhasa are planned for the future.
The project for trains to Nyingchi was started in 2014, and will cut the travel time down to just 2-3 hours once completed. The train route will be near by the Lhasa River and going east through Gonggar. Towns near the railways are Nedong, Nang, Mailing, and eventually ending up in Nyingchi County.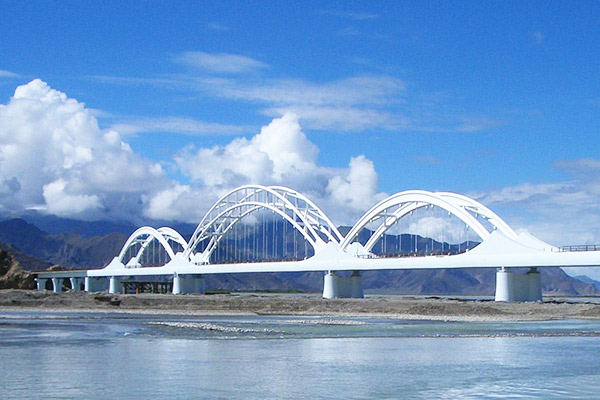 The Lhasa Nyingchi Railway will be constructed near by the Lhasa River Bridge.
There are 17 planned stops along the projected route, as well as 47 tunnels and 118 bridges. Two of the major landmark projects are the Dagala Tunnel, which will cover 17.31km, and the first weather-proof steel bridge (without protective coating), Zhangmu Grand Bridge. These are definitely things to look forward to in Tibet's bright future.
Construction in the area is hard, and building the railway through the different climates is a challenge. Transportation to and from the railway line route is extremely difficult, and many workers suffer from high altitude sickness in the higher elevation stretches. The building of the railway has had to contend with landslides, collapses, flooding, icing disasters, and earthquakes since it was first started.
Can I Take a Flight from Lhasa to Nyingchi?
Currently, there is no direct flight scheduled from Lhasa to Nyingchi Mainling Airport. Tourists taking the flights from Lhasa to Nyingchi need to take a transfer in other cities, like Chengdu or Xi'an. It will take about 10 hours to get to Nyingchi from Lhasa by air in total.
Nyingchi Mainling Airport
Nyingchi Mainling Airport is the civil airport located in Mainling Country, Nyingchi Prefecture of Tibet. It is 50 kilometers to the south of Bayi Town, the downtown area of Nyingchi. The runway is 3000 meters long and 45 meters wide, and can be used for takeoff and landing of Boeing 757.
Since Nyingchi Airport is perched in the mountain valley, surrounded by misty mountains above 4000 meters, the aircraft can only take off and land in narrow and curved river valleys. The narrowest part of the flight channel is less than 4 kilometers away from the ridges on both sides of the canyon.
In addition, the airport has low cloud weather with variable wind direction and accompanied by other turbulent airflows. The flight can only take off and land in the morning. The total airworthiness time all through the year is only 100 days.
Direct Flights to Nyingchi
At present, tourists can take a direct flight to Nyingchi from Chengdu, Chongqing, Xi'an, Shenzhen and Lanzhou. If you are interested in entering Tibet from Nyingchi by flight, you can take advantages of these flights to shorten your travel time en route.
Schedule of Xi'an to Nyingchi Flights
| Airline | Flight Route | Flight No. | Depart | Arrival | Schedule |
| --- | --- | --- | --- | --- | --- |
| Sichuan Airlines | Xi'an-Nyingchi | 3U8603 | 06:30 | 09:20 | Daily |
Schedule of Chengdu to Nyingchi Flights
| Airline | Flight Route | Flight No. | Depart | Arrival | Schedule |
| --- | --- | --- | --- | --- | --- |
| Tibet Airlines | Chengdu-Nyingchi | TV9873 | 06:15 | 08:40 | Daily |
| Air China | Chengdu-Nyingchi | CA4431 | 07:30 | 09:45 | Daily |
| Sichuan Airlines | Chengdu-Nyingchi | 3U8693 | 07:45 | 10:00 | Daily |
Schedule of Chongqing to Nyingchi Flights
| Airline | Flight Route | Flight No. | Depart | Arrival | Schedule |
| --- | --- | --- | --- | --- | --- |
| Sichuan Airlines | Chongqing-Nyingchi | 3U8439 | 06:50 | 09:40 | Daily |
Schedule of Shenzhen to Nyingchi Flights
| Airline | Flight Route | Flight No. | Depart | Arrival | Schedule |
| --- | --- | --- | --- | --- | --- |
| Sichuan Airlines | Shenzhen -Nyingchi | 3U8457 | 06:55 | 12:50 | Daily |
Schedule of Lanzhou to Nyingchi Flights
| Airline | Flight Route | Flight No. | Depart | Arrival | Schedule |
| --- | --- | --- | --- | --- | --- |
| Tibet Airlines | Lanzhou -Nyingchi | TV6061 | 09:10 | 11:15 | Daily |
Please Note: The above timetables and schedules are just for your reference. Please check the exact information with your travel consultant.
Can I Cycle from Lhasa to Nyingchi?
The road from Lhasa to Nyingchi is an attractive one with fine scenery. If you are a cycling enthusiast or good in physical strength, you can also take a cycling trip from Lhasa to Nyingchi along the asphalt road.
It normally takes 4 days to cycle from Lhasa to Nyingchi. There are towns and villages where you can drop off to take a rest or enjoy the mealtime on the way. Hotels and guest houses are also available for accommodation. But tourists should also prepare some food and drinks in your backpack in case of needs.
One thing should be noted that, since foreign travelers are not allowed to travel alone in Tibet, you will be required to be accompanied by your guide during your trip from Lhasa to Nyingchi. In this occasion, we can help to arrange the cycling experience for your needs during your tour.
How to Tour around Nyingchi and its Surrounding?
Nyingchi is a popular tourist destination, and has many wonderful sights to take in, from sacred mountains to holy monasteries, and even a ruined palace. The land is alpine, though not as high as the rest of the region. It has become known as "Switzerland in Tibet", for its lower elevation alpine landscape, reminiscent of the Swiss Alps.
Bayi Town - Lulang Forest - Bome - Ranwu Lake
If you get to Nyingchi via the Lhasa to Nyingchi Highway, you can just extend your road trip eastwards to Bome and Ranwu, along the 318 National Highway. Taking the route, you can pay a visit to the famous Lulang Forest and the turquoise Ranwu Lake to enjoy the natural beauty of Nyingchi.
Lulang Forest is a 15km-long valley full of wild flowers and old forests. In Tibetan, Lulang means Dragon Valley, and can be directly translated to "the place where you will not be homesick". High, green mountains tower over the valley on both sides, covered by pine trees, spruce, and brush. Winding stream flow down past wooden houses, and wild flowers in a multitude of colors fill the meadows. The Dragon Valley is a true dream land.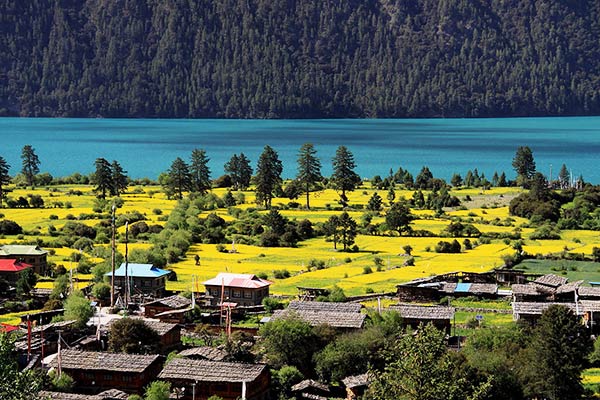 Lulang Forest is a must-see site you should not miss for a classic Nyingchi tour.
Ranwu Lake is one of the most spectacular lakes in Nyingchi, and is the largest lake in southeastern Tibet. With glaciers extending to the lakeside, the lake is provided with abundant water sources, whenever the snow melts, the snow water is poured into the lake. There are grassy meadows and green crops on the edge of the lake, and winding forests on the mountain side. While the mountain top is snow-capped all year round.
Bayi Town - Great Cypress Nature Reserve Area
Only 15 kilometers southeast of the Bayi Town lies the famous King Cypress, a giant cypress tree that is around 50 meters tall and over 2,600 years old. Tibetans call it the "God of Trees", and it is surrounded by other giant cypresses that are up to 44 meters tall. It is believed to be the "life tree" of Tonpa Shenrab Miwoche, the founder of the Bon religion in Tibet.
Bayi Town – Mainling - Yarlung Zangpo Grand Canyon & Namcha Barwa Peak
To enjoy an adventurous discover of Nyingchi region, tourists can also travel from Bayi Town to Namcha Barwa Peak, via Mainling, diverging from the highway route. The Yarlung Zangpo River Grand Canyon is the largest canyon in the world. Located in Mainling County and Metuo County in Nyingchi, the Grand Canyon is 496.3 kilometers long in total, with the deepest area being 6009 meters.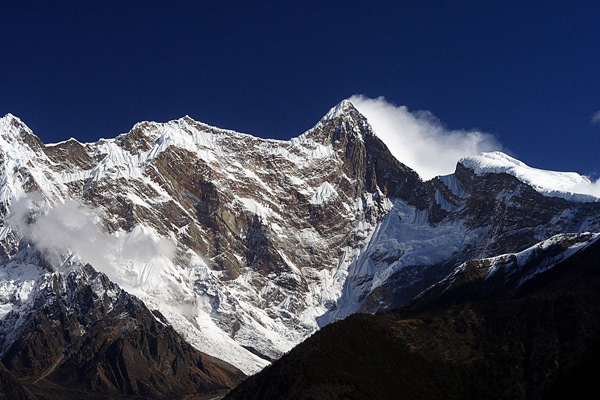 Namcha Barwa Peak is the 15th highest mountain in the world.
The entrance to the canyon lies at the foot of the Namcha Barwa Mountain, which is the 15th highest in the world, with an elevation of 7782 meters. In Tibetan language, Namcha Barwa literally means "burning thunders". In The Epic of King Gesar, Mt. Namcha Barwa was described as a "spear pierced into the sky". It is worshiped as one of the residences of gods.
The mountain has towering glaciers in beautiful shapes at the top. While at the foot of the mountain, it is overlaid with lush forest. There are several main viewing spots in Namcha Barwa Peak, namely the Observation Deck of the Yarlung Zangbo Grand Canyon Scenic Area, Zhibai Village, Sejila Mountain Pass, Susong Village, etc.
Note:
To travel around Nyingchi Prefecture, foreign tourists need to apply for the required travel documents, like Alien's Travel Permit for Basum-tso, Military Permit for Bome area etc., together with the Tibet Travel Permit. As a better choice, we can help to obtain your travel documents on behalf of you to ensure a hassle-free trip in Nyingchi Tibet. Contact us for more details.
Join in our Group to Enjoy a Hassle-free Tour in Lhasa and Nyingchi
The best time to visit Nyingchi is from October to April, as the weather is not too hot, though the deep winter months can still be quite cold. From May to September, the weather is a lot warmer than the rest of Tibet, although part of this is the monsoon season, so some heavy rain can be expected.
As the pioneer of Tibet Tourism with years of experiences, we have tours that take in wondrous sights of Nyingchi area, including the lakes, monasteries, and forests. All our tours offer excellent services on transportation, hotel arrangement and permit application etc.
Tourists can choose from a series of itineraries to experience a wonderful Nyingchi tour, or join in our classic Tibet tours containing the sightseeing in Nyingchi area. If you still have some questions on travelling from Lhasa to Nyingchi or your tour in Nyingchi, please feel free to make a comment or contact us for professional help.