Annapurna Circuit - Ultimate Guide on Annapurna Circuit Trek
If you are planning a trekking tour in Nepal, Annapurna Circuit could possibly be a good choice. As a classic long-distance trek in the mountainous county of Nepal, Annapurna Circuit passes dozens of lowlands and high mountain villages, featuring some of the most spectacular natural scenery in the world. There are several routes available to suit different tourists as beginners or experienced trekkers. And the best time to trek this circuit will be the dry and warm seasons of Nepal. Read this passage to know more detailed guides on Annapurna Circuit trek, including the trekking route and itinerary, trekking map, altitude sickness prevention, packing list, food and accommodation etc.
Overview of Annapurna Circuit
First opened to foreigners in the early 1980s, the Annapurna Circuit is wildly recognized as one of the best long-distance treks in the world, located within the Annapurna mountain range of central Nepal. The horseshoe-shaped circuit has a total length of 160m to 230m, depending on where you begin or conclude the trek, and whether you take optional side treks or not. The trek passes two different river valleys: Marsyangdi Valley and Kali Gandaki Valley, and cross the highest point at Thorung La pass (5,416m), which touches the edge of the Tibetan plateau.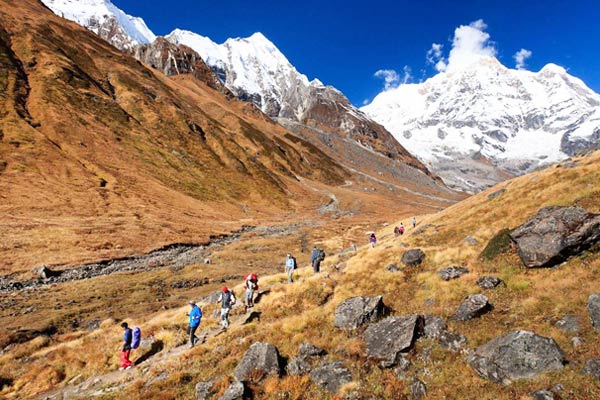 Annapurna Circuit offers outstanding mountain views of Annapurna in Nepal.
Annapurna Circuit offers outstanding mountain landscape of Annapurna range, and presents itself in different regional scenery across the trail. During the trek, you can see breathtaking mountain views of Annapurna peaks above 7000 meters, including the Annapurna Massif. There are also Hindu villages in the hilly areas, as well as Tibetan cultural villages in the Manan Valley and Lower Mustang.
Annapurna Circuit Trek Route
The Annapurna Circuit trek is both physically and mentally challenging for hikers, considering its long duration and high elevation. To make it less arduous and safer, we recommend you to trek this route counterclockwise, since in this way the daily increase of the altitude will be slower and it will be relatively safer and easier to pass the Thorung La pass as the summit of the circuit.
How many days you will need to complete the Annapurna Circuit trek depends on which route you will take. Normally, the trek will take between 10 to 20 days, depending on when you decide to end the tour or use transportation vehicles, or whether you choose to take side treks. For different tourists have different travel needs and scheduled time, here we list several commonly used trekking routes of Annapurna Circuit for your reference. Whether you are a beginner with little trekking experience, or an adventurous trekker looking forward to digging out more hidden beauty of the trail, you may find the proper route for your own needs.
(1) Annapurna Panorama Trek (Ghorepani Poonhill Trek) in 10 Days
The Annapurna Panorama Trek is also known as the Ghorepani Poonhill Trek or Poonhill Trek, and is generally regarded as one of the best short treks in the Annapurna Region of Nepal. The route is one of the easiest short treks in Nepal, as it only covers the southwestern part of the Annapurna Circuit, with the highest altitude at 3,210 m. However, the trek offers stunning views of Annapurna Panorama, making it quite popular among various tourists.
The Ghorepani Poonhill Trek can generally be accomplished in five days, excluding the transportation time between Kathmandu and Pokhara. Within this short trekking experience, you will pass through beautiful local villages, lush forest, and get access to Poon Hill to appreciate the golden sunrise amidst the towering peaks of Annapurna. Check the following recommended itinerary for Annapurna Panorama Trek in 10 days.
Itinerary
Day 01 - Arrive at Tribhuwan International Airport in Kathmandu
Day 02 - Kathmandu Valley Sightseeing
Day 03 –Drive from Kathmandu to Pokhara (910m
Day 04 –Drive from Pokhara to Nayapul and then Trek to Tikhedhunga (1,570m)
Day 05 –Trek to Ghorepani (2,850m)
Day 06 - Hike Up to Poon Hill and onto Tadapani (2,610m)
Day 07 – Trek to Ghandruk (1,950m)
Day 08 – Trek to Nayapul and then drive back to Pokhara
Day 09 - Pokhara to Kathmandu
Day 10 – Departure from Kathmandu
(2) Short Annapurna Circuit Trek in 14 Days for Beginners
For tourists who don't have enough time, this 14-day route can make you complete the whole trail of Annapurna Circuit in a more relaxed way, for it shortens the total trekking distance by taking the off-road drive from Besishar to Chame and adding flight transportation after the trek. The route is a relatively easy one for beginners with average physical fitness, and will allow you to take in all the highlighted parts of Annapurna Circuit.
Itinerary
Day 01 - Arrive at Tribhuwan International Airport in Kathmandu
Day 02 - Kathmandu Valley Sightseeing
Day 03 –Drive from Kathmandu to Besisahar (820m) via private vehicle or public bus
Day 04 - Drive to Chame (2630m)
Day 05 - Trek to Upper/Lower Pisang (3190m)
Day 06 - Trek to Manang (3520m)
Day 07 - Rest day in Manang (3520m)
Day 08 - Trek to Letdar (4250m)
Day 09 - Trek to Thorung Phedi (4500m)
Day 10 - Trek to Muktinath (3800m), crossing the Thorung La Pass en route
Day 11 - Trek to Jomsom (2713m) via Lupra or Kagbeni
Day 12 – Flight from Jomsom to Pokhara (850m)
Day 13 - Drive from Pokhara to Kathmandu
Day 14 - Departure from Kathmandu
(3) Classic Annapurna Circuit Itinerary in 18 Days
Despite its long-lasting duration, this 18-day trekking route of Annapurna Circuit is a typical choice for most tourists who want to trek through the entire trail of Annapurna Circuit from the very beginning point to the end point. Starting from Besisahar in Marshyangdi River Valley, the trek route heads north until crossing the Thorung La pass, before descends to Kali Gandaki Gorge and ends at Nayapul.
Itinerary
Day 01 – Arrive at Kathmandu and drive to Besisahar (820m) via private vehicle or public bus
Day 02 - Trek to Khudi (790m)
Day 03 - Trek to Bahundanda (1310m)
Day 04 - Trek to Jagat (1290m)
Day 05 - Trek to Dharapani (1920m)
Day 06 - Trek to Chame (2630m)
Day 07 - Trek to Upper/Lower Pisang (3190m)
Day 08 - Trek to Manang (3520m)
Day 09 - Rest day in Manang (3520m)
Day 10 - Trek to Letdar (4250m)
Day 11 - Trek to Thorung Phedi (4500m)
Day 12 - Trek to Muktinath (3800m), crossing the Thorung La Pass en route
Day 13 - Trek to Marpha (2665m)
Day 14 - Trek to Lete (2470m)
Day 15 - Trek to Tatopani (1160m)
Day 16 - Trek to Ghorepani (2775m)
Day 17 - Trek to Birethanti (1050m) and drive to Pokhara
Day 18 – Drive back from Pokhara to Kathmandu
(4) Annapurna Circuit Itinerary with Highlighted Side Treks for Experienced Trekkers
If the regular trail of Annapurna Circuit trekking route cannot satisfy your deep desire of exploration or you just feel energetic to discover more about this majestic route, there are side treks for you to choose. It is recommended to take the side trips to Tilicho Lake or Annapurna Base Camp during your trek. By adding a couple of days on your trekking tour, you will see a more highlighted and different sides of the Annapurna Circuit.
Tilicho Lake:
A trek to Tilicho Lake (4,920m), the highest lake in the world, is a popular route variation on the Annapurna Circuit. It will also allow you to get better acclimatized to the altitude before challenging the Thorung La Pass. The short trek usually starts from Tilicho Base Camp and will take 5-6 hours for the round trip.
Annapurna Base Camp:
With a more extra time of 6 or 7 days, you can try the side trek to Annapurna Base Camp. The ABC trek is more physically challenging since it has constant rises and falls along its route. However, you will see the incredible views, including the gorgeous sunrise over the mountains. The best option is to start from Manang, where you will spend 4 to 5 days for the trek.
Let's Start Your Hassle-free Annapurna Circuit Trekking Tour with Us!
With professional travel consultants and thoughtful local trekking guide, we can help to work out the Annapurna Circuit trekking itinerary that best fits your needs, and arrange the hotels, trekking permits and booking of flight tickets, to ensure you a worry-free and pleasant trekking experience in Nepal. Contact us now to start your nepal trekking tour.
Annapurna Circuit Trek Map
The Annapurna Circuit is situated in the Annapurna and Mustang regions of central Nepal. Check the following map to get a general idea of how the trekking route looks like.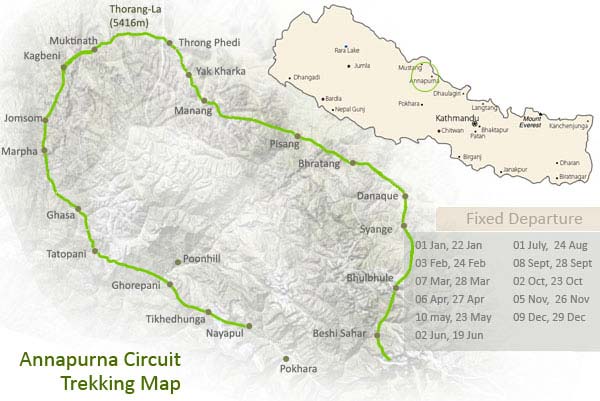 Annapurna Circuit Trekking Map
When to Do Annapurna Circuit Trek?
The weather condition of Annapurna Circuit is quite different from that of other regions in Nepal, owing to its special location in a "rain-shadow" area. Therefore, it receives less rain than other regions in Nepal during the monsoon season, making the trekking possible throughout the year. The Annapurna Circuit weather can be divided into four distinct seasons, and the best time to trek Annapurna Circuit is from April to May and October to November. During these periods, the weather is generally stable and warm, and the rain fall is very low with more sunny days than other seasons. You will have more chances to get clear views during the trek, and even to witness the amazing night sky with shining stars.
In the winter months of January, February and December, the temperature in Annapurna region can descend to as low as -10 ℃. And the snowfall during this season will be obstacles along the trails of higher elevation. Some parts of the trails will even be closed due to bad weather in winter. While in the summer season of the monsoon period, the southern section around Pokhara will get heavy rainfall, although the northern Mustang region lies within the rain-shadow area. If you plan to trek Annapurna Circuit during the summer months of June to September, you'd better to pay attention to the mud-slides and prepare yourself to the dim landscape obscured by rain clouds.
What to Prepare for Annapurna Circuit Trek?
Permits Required for Annapurna Circuit Trek
In order to enjoy a trekking tour in Nepal, tourists need to first obtain the required permits, including the Annapurna National Park Permit (ACAP permit) and Trekking Information Management System Permit (TIMS card). Both permits will be checked at points all along the Annapurna Circuit. ACAP permit and TIMS card can be purchased at Nepal Tourism Board offices in Kathmandu or Pokhara. You need to provide 3 passport photos, as well as your Health insurance policy information and Basic route information. Usually, the whole process of obtaining the permits will be only several hours. In addition, if you haven't got your ACAP permit in Kathmandu or Pokhara, you can also purchase one in Besisahar at the ACAP entry fee office.
Annapurna Circuit Packing List
To make it more smooth and successful during your Annapurna Circuit trek, it is necessary to pack the essential trekking clothing and equipment. Since the Annapurna Circuit is long in distance with varying altitudes, you will go through dramatic temperature change throughout the trek, especially between the night and day. However, as there are numerous teahouses for board and lodging along the trail, you will not have to carry tents, cookware or other cumbersome items. Below is the detailed Annapurna Circuit packing list that you will possibly need for your trek.
Clothing for Annapurna Circuit
1. Hiking pants;
2. Sturdy boots or trail shoes;
3. Teahouse shoes or flip flops;
4. Underwear and socks (numbers of the pairs depends on your own needs and trekking duration)
5. Thermal tops and bottoms;
6. T-shirts;
7. Sun hat and sunglasses (for sun protection);
8. Gloves;
9. Raincoat;
10. Warm down jacket;
11. Waterproof pants;
12. Comfortable and warm pants (for change after you finish your hiking of the day) etc.
Trekking Gear and Accessories
1. Backpack;
2. Trekking poles;
3. Camera & extra battery for the camera (the cold drains your battery faster)
4. Sleeping bag;
5. Pillowcase;
6. Water filter/purifier or water purification tabs;
7. Water bottle;
8. Headlamp;
9. Lip balm;
10. Sunscreen etc.
How to Get There?
In most cases, the Annapurna Circuit begins in Besisahar. To get there, you can take the tourist bus from either Kathmandu or Pokhara. The bus from Kathmandu to Besisahar will take about 6 hours, and a one-way ticket will cost 350 npr ($3.75) per person. While the bust from Pokhara will take around 5 hours and cost 250 npr ($2.75) per person. Besides, you can also choose to take a taxi, but the fees will be much more expensive.
Food and Accommodation during the Trek
There are a number of teahouses and guesthouses distributed along the entire route of Annapurna Circuit. The teahouses generally provide comfortable but basic living condition of beds, blankets or quilt. All lodges have electricity and most of them also offer WiFi. And running water will be always provided, even sometimes it may not be hot water. Trekkers can choose from a single room or double room, or dormitory. And the toilets in tea houses are basic and are always outside the room.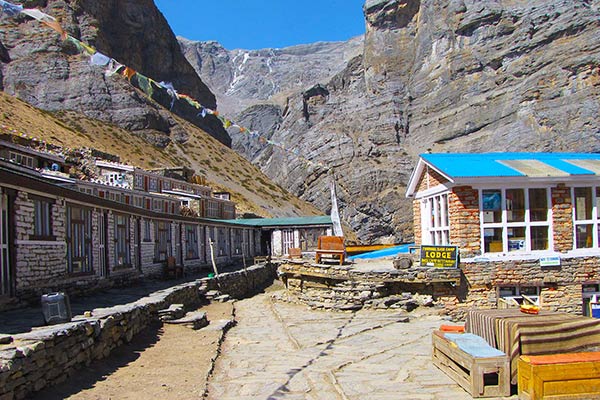 Teahouses can always be found along the trail of Annapurna Circuit.
Most teahouses along the trail offer a range of food, like pasta, noodles, sandwiches, potatoes, eggs, bread, soup, desserts etc., mostly being vegetarian meals. You will normally be expected to eat breakfast and dinner in the same teahouse where you are spending the night. Considering the huge energy consumption during the trek, it is also recommended to bring some chocolate, energy bars, soft drinks or crisps in your backpack.
FAQ about Annapurna Circuit Trek
(1) How physically fit do I need to be to hike Annapurna Circuit?
As a matter of fact, the Annapurna Circuit trek is not as hard as you suppose. The trek is suitable for average people with moderate fitness, and does not require any previous experience on trekkers. But it is suggested to contact your doctor or do some medical examination before the hike, to exclude any potential unfavorable factors.
Once you decide to challenge yourself to trek the Annapurna Circuit, it is also suggested to do some training for preparation, no matter which route you will take. Doing aerobic exercise three to four times per week will be quite helpful. If conditions allowed, you can also try bushwalking which involves steep ascents and descents.
(2) Do I need a guide or porter to complete the trek?
If you feel confident in hiking and have made full preparation, you can just choose to trek the Annapurna Circuit alone. But a quality guide can be very helpful. For example, they always know the shortcuts of the route, and will save your time and energy by helping to arrange the lodges and places to eat.
A porter, on the other hand, will help to relieve the burden off you by carrying your heavy backpacks. This will make your time-lasting hiking less difficult and smoother. A guide will normally cost $25 a day and a porter will charge as little as $18 a day. And it is also customary to tip guides and porters when you are satisfied with their services.
(3) How to prevent altitude sickness during Annapurna Circuit trek?
The altitude of Annapurna Circuit ranges from 820m at Besisahar to 5416m at Thorung La Pass. It is important to make some precautions from altitude sickness. It is recommended to take rest days and ascend slowly during the trek. Drink plenty of water and avoid alcohol. If you have headaches, insomnia, or nausea at higher altitude, don't worry too much as these symptoms will often recede in a day or two. If these symptoms remain or become worse, you'd better descend to a lower altitude for good rest and adaption.
(4) How about the cost to do Annapurna Circuit trek?
The cost of Annapurna Circuit trek roughly comprises visa and permits, transportation, flights to Kathmandu, trekking equipment, food and accommodation, tour agency, porter, tips etc. It will vary depending on which route you choose, which season to take the trek, and whether you trek with a guide or alone etc. As a reference, the cost of permits is 2,000 Nepali rupees (US $21.74) for ACAP and US $20 for TIMS. And a guide and porter will respectively charge at least $25 and $18 per day.
(5) Where to start Annapurna Circuit trek?
The starting point of the Annapurna Circuit can be varied based on different trekking itineraries as mentioned above. Usually, the Annapurna Circuit trek starts from Besisahar. But in recent years, there are more options for tourists to start the trek. The section from Besisahar to Ngadi can be avoided due to road and dam construction. And you can continue to drive to Dharapani or Chame after arriving in Besishar, so as to shorten the whole trekking distance of the trail.
Conclusion
As a classic and adventurous trek in Nepal, the Annapurna circuit is challenging but suitable for most travelers, even if you have no trekking experience before. The trek usually starts from Besisahar and requires a duration of 10 to 20 days. Tourists can choose from different trekking routes, being easy or difficult, to suit your own travel needs and physical condition.
If conditions allowed, it is suggested to do the trek during the period from April to May and October to November, so that you can enjoy a smoother trip and see more visible breathtaking scenery. Important trekking gears and clothing are suggested to pack for your trekking. You can also hire a guide or porter with you to help you go through this expedition. For more information about the Annapurna Circuit trek, please feel free to contact us for inquires or just leave your comment below.
Recommended Nepal Trekking Tour Packages