How to Get to Lhasa from Zhongdian (Shangri-La) – by Overland, Train or Flight
Zhongdian, or Shangri-La as it is now known, is a city in the province of Yunnan in southwest China, on the border of Tibet. Set in Deqen county, in northern Yunnan, it is one of the gateways to Tibet, and popular with travelers from the region traveling there by plane or overland.
Zhongdian (Shangri-La) to Lhasa by Overland
While there is an option to take an overland trip to Tibet, this option is one of the longest and most expensive ways to get to Lhasa from Zhongdian. However, it is also one of the most amazing and adventurous options, traveling more than 2,000 kilometers along the Yunnan Tibet Highway and the southern route of the Sichuan Tibet Highway.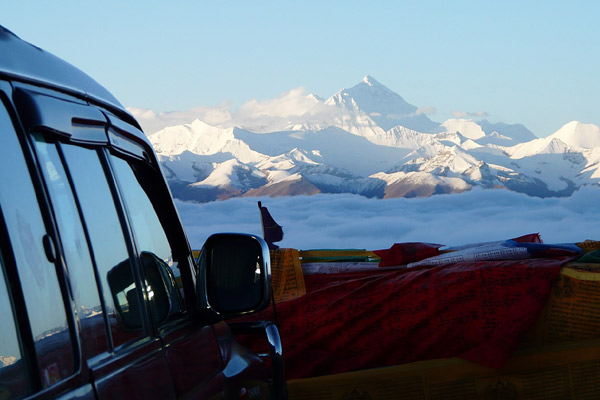 Drive along the ancient southern Silk Road from Shangri-la to Lhasa
The road from Zhongdian to Lhasa runs first northwest along the Yunnan Tibet Highway to Bangdazhen - a 14 hour drive covering over 650 km, before heading west towards Lhasa along the Sichuan Tibet Highway. While there are a lot of mountains, and the scenery is spectacular, the bus does not stop often along the route, so you can sit back and enjoy the uninterrupted view of the world's highest mountains. Along the route you will see stupas and prayer flags nearby, and hilltop monasteries next to rock formations that can seem like an alien planet.
The route along the Sichuan-Tibet Highway is one of the most scenic drives in the Asian continent, and possibly the world. There are plenty of things to see along the route, from the misty mountains to the majestic rivers, and if you are in a car you can stop at any time to take in the amazing sights.
It should be noted that the road from Zhongdian to Lhasa is a high-altitude highway, which passes along the ridges of high mountains and alongside cliffs with tremendous drops to the valley floor below. Extreme care should be taken when driving along the road at all times.
>> Check our 12 days Yunnan to Tibet Overland Tour via Shangri-La to Lhasa
Zhongdian (Shangri-La) to Lhasa by Flight
Shangri-La has a small airport around 3km outside the town, although there is no airport shuttle, as in bigger cities. However, it only costs around 15-20 CNY to get a taxi to the airport. There are currently only two daily flights to Lhasa from Shangri-La.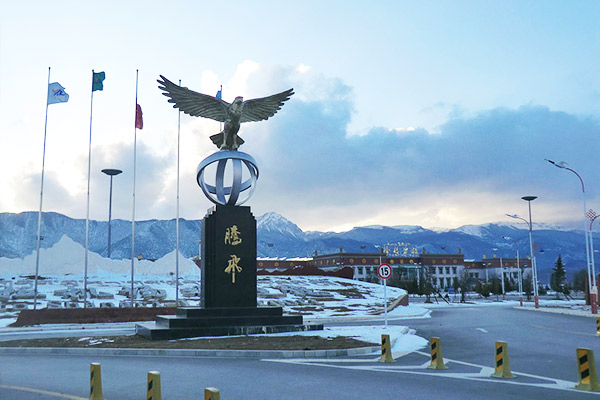 Shangri-La Diqing Airport
Shangri-Lhasa Lhasa Flight Schedule and Timetable
The flight from Tibet Airlines to Lhasa leaves Diqing Airport daily, at 09:35 am, and arrives in Lhasa at 11:35 am. The other flight is run by China Eastern Airlines, which departs from Diqing Airport at 10:20 am and arrives in Lhasa at 12:25 pm.
Shangri-la to Lhasa Flight Schedule
| Flight No. | TDeparture | Arrival | Duration |
| --- | --- | --- | --- |
| TV9840 | 09:35 | 11:35 | 2h |
| MU5939 | 10:20 | 12:25 | 1h 55m |
Flights from Lhasa to Shangri-La also run twice a day, offered by the same two carriers, Tibet Airlines and China Eastern. The flights depart at 9:45am and 1:30pm and arrive in Diqing Airport at around 11:30am and 3:20pm respectively. The return flights from Lhasa to Zhongdian only take around 1 hour 45 minutes.
Lhasa to Shangri-La Flight Schedule
| Flight No. | TDeparture | Arrival | Duration |
| --- | --- | --- | --- |
| TV9839 | 07:00 | 08:50 | 1h 50m |
| MU5940 | 13:10 | 15:00 | 1h 50m |
Cost of Shangri-La Lhasa Flight
The average cost of a one-way flight between Shangri-la and Lhasa is around US$230, although this is subject to change depending on the season. Flights in the summer months from June to September are often more expensive due to high demand.
How to Get to Lhasa Downtown from Lhasa GonggarAirpot
Once in Lhasa Gonggar International Airport, it is not hard to get to the city center, and there are daily shuttle buses that run in schedule with the flight arrivals.
Alternatively, you can get a private taxi from the airport to the city and vice versa, or you can have your tour operator arrange for you to be picked up or dropped off.
Zhongdian (Shangri-La) to Lhasa by Train
As there is no train station in Zhongdian at this time, the closest railway connection is in Lijiang, 170km away, until the link to Zhongdian and on to Lhasa is completed. Work began on the stretch from Lijiang to Zhongdian in 2014, and is expected to be completed by 2020. Once this extension is complete, the next step will be the stage from Zhongdian to Lhasa, though there is no definite timetable for it yet.
In the meantime, there are other ways to get to Lhasa from Zhongdian by train. Regular trains depart from Chengdu and Chongqing along the Qinghai Tibet Railway, and are ideal options for traveling to Lhasa from Zhongdian until such time as the entire new railway is completed.
Schedule of Trains to Tibet from Chengdu and Chongqing
| Train No. | Route | Dep. / Arr. | Duration | Distination |
| --- | --- | --- | --- | --- |
| Z322 | Chengdu - Lhasa | 21:37/09:55 | 36h 18m | 3070 km |
| Z223 | Chongqing - Lhasa | 22:25 / 09:55 | 35h 30m | 3030 km |
Please Note:
1.The trains from Chengdu to Lhasa and from Chongqing to Lhasa depart every other day. Please feel free to contact us to check whether there is a train available or not on your preferred travel date.
2.Trains run from Chengdu and Chongqing every other day, and getting to both locations from Zhongdian is easy. Flights run daily from Zhongdian to Chengdu and Chongqing, with the flight times being 1h 20m for Chengdu and 1h 35m for Chongqing.
From there, you can get the Chengdu to Lhasa train, which takes around 36 hours from Chengdu North Railway Station to Lhasa Railway Station, or the Chongqing to Lhasa train, which takes around 35hours and 30 minutes from Chongqing North Railway Station to Lhasa Railway Station.
Required Documents for Tours from Zhongdian (Shangri-La) to Lhasa
The Tibet Travel Permit is required for all foreign travelers entering Tibet, and you need the original permit to board the flights to Lhasa. All tourists can get it through a local travel agency except for diplomats, journalists and government officials. They have to go through the Tibet Foreign Affairs Office.
For flights and trains to Lhasa, only the Tibet Travel Permit is required, along with your passport and Chinese Entry Visa.
However, for those traveling overland from Shangri-La to Lhasa, you will also need to have the Alien's Travel Permit and the Restricted Areas Permit before leaving Zhongdian, as these are required for the areas you will be driving through in Tibet in order to reach Lhasa overland.
More Travel Guide about Zhongdian (Shangri-La) to Lhasa Tour
About Shangri-La
Zhongdian, which dates back over 1,300 years, was one of the stops of the traders along the ancient southern Silk Road, the caravan route that ran across China, Tibet, and on into India. Tea would be transported from the southern part of Yunnan Province to Tibet, where it would be traded with war horses and other valuable goods that had been brought from India and beyond.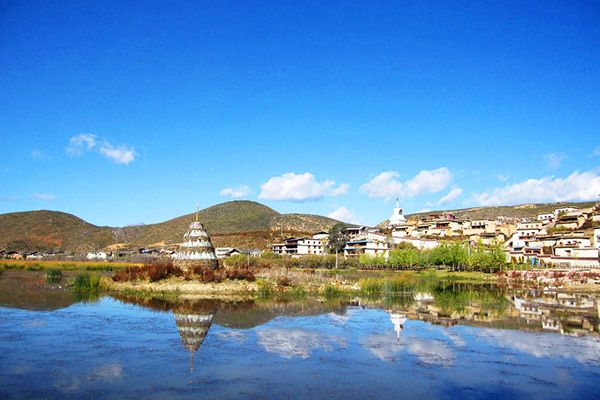 Shangri-La city
Traveling to Shangri-La is not always easy, as there is no train station. Most visitors travel there by plane or car, and there is the opportunity to see part of the outer edge of Tibet, and its culture, as many of the residents are Tibetan. With the beautiful Pudacuo National park, Songzanlin Monastery, and Dukezong Old Town, there is plenty to do there before traveling into the main part of Tibet.
What to Do in Shangri-La before Heading to Lhasa
As a traditionally Tibetan town, Zhongdian has seen a large of Han Chinese for several decades, and majority of the town now has a distinct Chinese feel to it. However, the old town and the surrounding countryside has managed to hold on to its traditional Tibetan roots, and many locals can be seen throughout the day, going about their business in the traditional clothes that are customary to their local Tibetan heritage.
While the main town has become a major tourist destination, with tour buses and tour guides showing their foreign visitors around, much of the town still has a very Tibetan feel to it. A short ride from the town is Ganden Sumetseling Monastery, a large place that houses around 700 monks. The lush fields around the town are used for growing barley and raising yaks, and the farmers still work the land in traditional ways.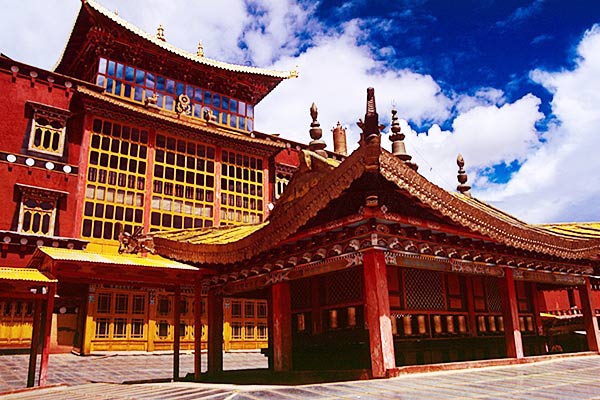 Ganden Sumetseling Monastery
Bita Lake is the highest lake in Yunnan Province, with an elevation of 3,500 meters, and lies 40km east of the town. It is well known for the beautiful forest and mountain scenery that surrounds it, and its limpid waters. At the edge of the lake lies a small hill, which is shaped like a perfect pyramid of natural rock and earth.
The White Water Terrace is located at the foot of Baha Snow Mountain, 103km further along the route to Lhasa. This natural phenomenon was built by the natural calcification of calcium carbonate in the spring water, and is an important part of the Naxi folklore in the nearby village of Baidi. It is the annual spot for the celebration festival of the Naxi Minority Group, and is the birthplace of the Dongba culture of the Naxi people.
Top Things to Do after Arriving in Lhasa from Shangri-La
Once you reach Lhasa, there is a wealth of attractions that you can explore, from the stunningly picturesque Potala Palace, on its high Red Hill, and the ancient and Sacred Jokhang Temple, to the monasteries of Sera and Drepung, major monasteries of the Gelugpa School of Tibetan Buddhism.
Pay Attention to High Altitude Sickness while Traveling from Shnagri-la to Lhasa
It is possible that you may suffer from some of the symptoms of altitude sickness when traveling from Zhongdian to Lhasa, especially if you are traveling by flight.
However, with Zhongdian being at an altitude that is almost comparable to that of the Tibetan capital, then that possibility is slim. But it is not impossible, as Altitude sickness can affect everyone in different ways. If you are spending a few days in Zhongdian first, and spend a few days in Lhasa at the beginning or your Tibet tour, then you may not feel any affects of altitude sickness at all.
Conclusion
With a wealth of attractions to visit and plenty of things to see and do in the area around Shangri-La, it is one of the ideal locations in Southwest China from which to leave for Tibet.
The altitude is comparable, which means you can acclimatize before traveling to Lhasa, and with daily direct flights from Diqing Airport to Gonggar Airport, getting to Lhasa is simple and quick.
The area around Shangri-La is also ideal for those that want to explore the local Tibetan culture of the lower edge of the plateau, outside the TAR, which is a little different, and slightly more traditional than the present culture in the region itself.
Popular Tibet Overland Tours