Beijing Railway Station Guide: How to Take Tibet Train from Beijing
Among all the railway stations in Beijing, Beijing West Railway Station is the only one that operates trains to Tibet from Beijing. Being completed in early 1996, the station once ranked No.1 among all the railway stations across Asia. Trains departing from Beijing West Railway Station connect the major cities in the south, southwest and northwest of China, including Hong Kong, Guangzhou, Shenzhen, Xi'an, Chengdu, Guilin, Shanghai etc.
Beijing-Tibet Train Schedule
The Beijing-Lhasa train (No. Z21) departs from Beijing West Railway Station every day at 20:00 and arrives at Lhasa Railway Station at 12:20 on the third day. There are ten stops for the whole line, covering a total distance of 3757 km. Check the following latest schedule of Beijing to Lhasa train.
| Train Number (Route) | Departure | Arrival | Duration | Frequency |
| --- | --- | --- | --- | --- |
| Z21 (Beijing to Lhasa) | 20:00 | 12:20 | 40hr, 20min | Every Day |
| Z22 (Lhasa to Beijing) | 16:30 | 08:28 | 39hr, 58min | Every Day |
Please note:
The train schedule from Beijing to Lhasa above is just for reference. When you make early reservation, please contact us for more details.
How to Collect Tibet Train Ticket at Beijing West Railway Station
Location of Beijing West Railway Station Ticket Office
Beijing West Railway Station is provided with two squares, the South Square near Lianhuachi Park and the North Square, which is only one km from the China Millennium Monument. There are ticket offices on the east side of North Square and west side of South Square. Besides, the group ticket office is on the east side of the station building at 2F. And the working hours for the ticket office are for 24 hours a day, 7 days a week.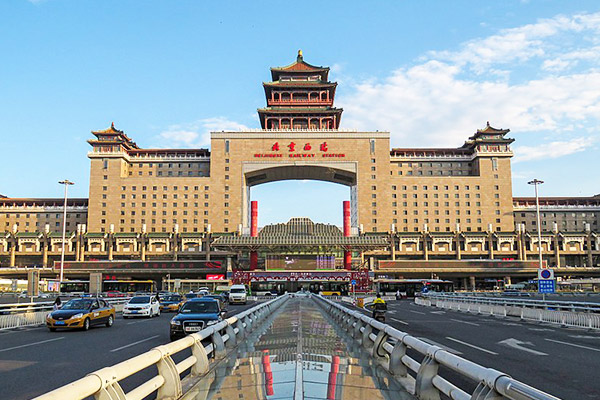 Ticket offices are available on both squares of Beijing Railway Station.
Collect Tibet Train Ticket for Online Booking
There are ticket windows and automatic ticket machines in the ticket office, both offering ticketing services for Chinese ID card holders. For foreign travelers who have booked tickets online, they can only collect the tickets from a ticket window. If you want to get your Tibet train ticket at Beijing West Railway Station, you need to show your booking number, passport, as well as your Tibet Travel Permit to the staff to get your ticket.
Can I Buy Tibet Train Ticket at Beijing West Railway Station by Myself?
According to the laws and regulations, passengers should show their valid identity certificates when buy tickets at a railway station in China. As a foreigner, if you want to buy Tibet train ticket at Beijing West Railway Station, you need to present your valid passport and Tibet Travel Permit.
As a better option, we can help you to book your Tibet train ticket and send it to you, to save your time from the complex procedure. We can also help you to obtain your Tibet Travel Permit, ensuring that you can successfully start your Tibet train journey as you scheduled.
How to Board the Tibet Train at Beijing West Railway Station
1. Prepare your Travel Documents and Train Tickets
For the huge passenger flow in Beijing West Railway Station, you are suggested to get to the station at least 2 hours ahead of the departure time. Make sure that you have prepared the Tibet train ticket, Tibet Travel Permit and your valid passport, along with your belongings.
2.Pass through Security Check & Wait in the Waiting Hall
Passengers need to pass through security check before entering the waiting hall of the station. All your luggage and carry-ons will be checked, and you will not be allowed to carry any dangerous items like explosives, inflammables etc. During the security check, the staff will also check your train ticket, passport and travel documents.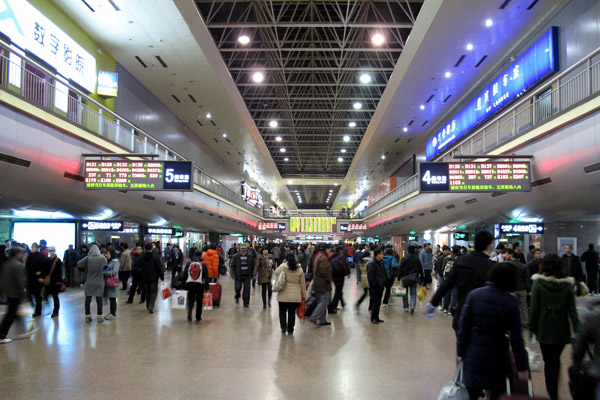 Get into the waiting hall to find the matching waiting room for your train to Tibet.
There are 13 waiting rooms on the second floor. You can find the right waiting room for your train with the train number listed on the LED screens. Also, the related information like time for departures are shown on the screen. There are soft-sleeper waiting room for soft-sleeper tickets holders, waiting room for mother and baby etc. And there is also a special waiting room for passengers going to board Tibet trains to Lhasa.
3. Find Your Platform & Get Onboard
The ticket check-in usually begins 30 minutes before the departure time and stops 5 minutes before departure. After that, you need to walk for several minutes to the platform. Find the matching carriage according to your ticket. As you get onboard, mind the steps for the train is higher than the platform.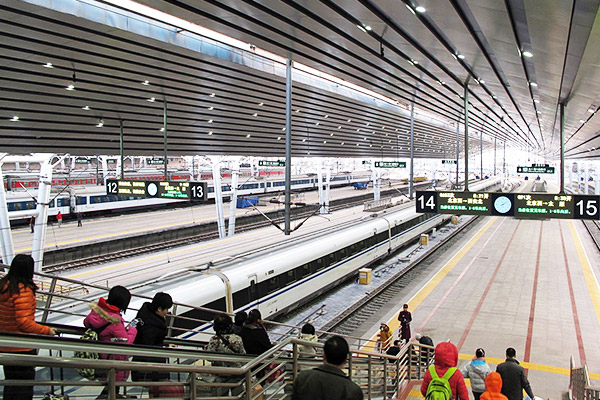 Descend to the platform to board the Tibet train after ticket checking at Beijing Railway Station.
The last step is to find your berth. If this is your first time to board the train in China, you may spend some time finding the correct seat or berth for yourself. As indicated on the train ticket, the corresponding berth number is to be discovered on the compartment door of sleeper compartments. You can put your luggage under the lower sleeper berth or on the luggage rack above the corridor.
Luggage Storage in Beijing West Railway Station
There are electronic cabinets distributed along both east and west sides of the waiting hall. Luggage can be stored within 24 hours and charged by size and storage time. You need to go through security check with your luggage before entering the waiting hall. If you have difficulty in carrying your bulky luggage, you can turn to the staff wearing red hats or red clothes for paid service. They can help to carry your luggage and will usually charge you a few bucks as return.
How to Get to Beijing West Railway Station from Beijing Airport
If you want to get to the station from Beijing Capital International Airport, you can take the No.7 shuttle bus from the airport. The ticket price for the shuttle bus to Beijing West Railway Station is 30 RMB, and the journey takes about one hour. The buses run every 30 minutes from 6:00 a.m. to 1:00 a.m. of the next day during peak season and from 7:00 am to 24:00 in low season.
The distance between the airport and the train station is about 40 km, which takes about 50 minutes by taxi. As there is always a lot of traffic jams in the city of Beijing, the taxi fee may be quite expensive, especially during the high travel season.
How to Get to Beijing West Railway Station from Downtown Area
Located near the Lianhuachi East Road of Fengtai District, near the West 3rd Ring Road, Beijing West Railway Station is only 8km from the Forbidden City, with easy access from all districts in the downtown. Passengers can get to the station by Metro Line 9, in addition to plenty of city bus lines.
From Temple of Heaven
The best option from Temple of Heaven to the station is Metro Line 7, which only takes about half an hour and costs 4 RMB per person. The starting point is Qiaowan station, which is 1km north to the Temple of Heaven. If you exit from the eastern side, you can take Metro Line 5 at Tiantan East Gate station and transfer to Metro Line 7 at Ciqikou station. Also, travelers can take Bus No.53 which stops at Tiantan West Gate station.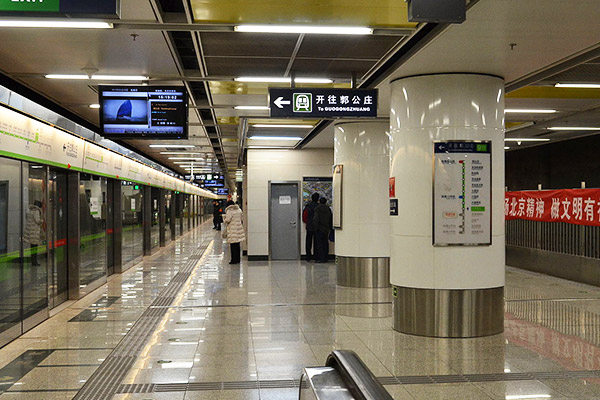 Beijing West Railway Station can be reached by Metro from Temple of Heaven.
From Forbidden City
There is no direct bus for transfer between the Forbidden City and the railway station, thus it is suggested to take the subway. Travelers can first take Metro Line 1 towards Pingguoyuan at Tiananmen East Station, and then change to Metro Line 9 at Military Museum Station, and finally reach Beijing West after one stop. It takes 30 minutes and costs 4 RMB one way.
From Summer Palace
The Summer Palace is about 15km to the north of Beijing West Railway Station. You can take Metro Line 4 Daxing Line at Beigongmen Station, and transfer to Metro Line 9 at National Library, and then reach Beijing West Railway Station. The subway journey covers 12 stops and will cost 12 RMB. It takes about 45 minutes to get to the station.
From the Badaling Great Wall
Located in the suburb district of Beijing city, the Great Wall (Badaling section) is quite far away from the train station, therefore travelers may go through several transfers on the way. You can take Bus No.877 from Badaling Great Wall and change to Bus No.Te13, and then arrive at the destination after passing 11 stops. This route is relatively convenient with fewer transfers than the rest, and it takes about 2 hours and costs 15 RMB each person.
Alternative Ways to Take Tibet Train from Beijing
As there is only one Tibet train departing from Beijing every day, travelers may miss the train to Lhasa on the scheduled day. It is also quite a long train journey from Beijing to Lhasa, requiring much patience. In such cases, travelers can choose alternative routes to Tibet from Beijing or just break your train journey on the way.
1.Take Beijing-Xian Train and then Enjoy Tibet Train from Xi'an to Lhasa
Currently, there are 15 daily high-speed trains running from Beijing to Xi'an. It takes about 5 hours to arrive at Xi'an North Railway Station. And there are two Tibet trains departing from Xi'an every day, which take about 30 hours to get to Lhasa. Therefore, it is recommended to take a Beijing-Xi'an train first and then experience the Tibet train from Xi'an to Lhasa. In this way, you can not only cut down your time onboard, but also get more chances to obtain a Tibet train ticket. Besides, you can also stay a couple of days in Xi'an city for sightseeing, before continuing your train journey to Lhasa.
2. Fly from Beijing to Xining and then Take Tibet Train from Xining
Xining is the starting point of Qinghai-Tibet Railway, and provides the shortest train journey to Tibet, with the most beautiful sceneries along the railway. It is also the stopping point for every train to Tibet, offering the most possible chance for tourists to take the Tibet train. Therefore, if you want to shorten your time on the way and experience the essence of Tibet train journey at the same time, you can first fly to Xining from Beijing, and then start your Tibet tour from Xining by train.
Recommended China Tibet Train Tours from Beijing