Xian Railway Station Guide: How to Take Tibet Train from Xian
Xian Railway Station is a major railway junction where trains go to northwest and southwest China. As an important gateway to access to the western region of China, Xian Railway Station mainly operates trains running through Longhai Railway, Xikang Railway (Xi'an -Ankang), Ningxi Railway (Xi'an- Nanjing), and Baoxi Railway (Baotou-Xi'an), and can reach all the major cities in China, including Lhasa in Tibet.
Xian Lhasa Train Schedule
There are two trains to Lhasa that stop over at Xi'an railway station, including Shanghai-Lhasa train and Guangzhou-Lhasa train. The Xi'an to Lhasa train takes about 30 hours and arrives at Lhasa Railway Station on the second day. Usually, it is quite difficult to get a Tibet train ticket in peak season, thus an advance booking for your Tibet train ticket is highly recommended.
| Train Number (Route) | Departure | Arrival | Duration | Frequency | Details |
| --- | --- | --- | --- | --- | --- |
| Z265 (Guangzhou to Lhasa) | 09:45 | 16:19 | 30hr, 34min | Every Day | Details |
| Z165 (Shanghai to Lhasa) | 11:24 | 18:25 | 31hr, 01min | Every Day | Details |
Please note: The train schedule from Xi'an to Lhasa above is just for reference. When you make early reservation, please contact us for more details.
How to Collect Tibet Train Ticket at Xian Railway Station
The train station mainly consists of two parts. The two-story terminal building was built in Tang-dynasty style with four main waiting rooms, ticket offices, left luggage store and food stands. Passengers can easily find the Ticket Hall that is next to the entrance of the waiting hall. For foreign travelers who have booked a Tibet train ticket online, you need to collect the paper ticket from the ticket office, with your passport, booking number and Tibet Travel Permit.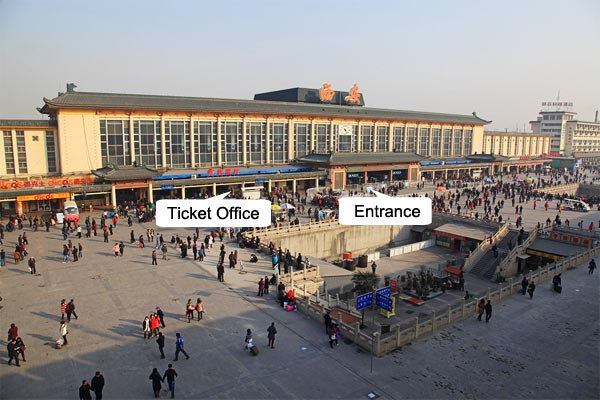 Passengers can easily find the ticket hall that next to the entrance.
To save more time and get rid of complicated booking procedure, you can contact us for professional help. We will not only help to obtain the ticket you want, but also send it to you personally. You can also enjoy the one-package service of Tibet travel permit application and tour arrangement.
How to Board the Tibet Train at Xian Railway Station
Prepare your Travel Documents and Train Tickets
Before leaving for the train station, you should get the necessary items prepared, including the most important Tibet train ticket and Tibet travel permit, as well as your ID (passport). Without these, you will be not allowed to board the Tibet train to Lhasa. Also, remember to get to the station at least one hour early before the train's departure, since Xi'an Railway Station is the fourth station in China regarding passenger flow, long queues will be unavoidable before your boarding.
Pass through Security Check
Different from some other countries in the west, the security check is a must as passengers enter the station to board the train. Both your luggage and carry-ons will be checked, and no dangerous items should be carried. You will also be asked to show your train ticket, Tibet permit and passport for check.
Wait in the Waiting Hall
As you enter the waiting hall, you need to find the right waiting room for your train. There are altogether 12 waiting rooms on both floors of Xi'an Railway Station, including normal waiting rooms, soft-berth room, special waiting room for mothers and infants etc. You can check the train information shown on the big LED screen to find the matching waiting room of your train. Or, you can turn to the station staff for help. Show them your train ticket and they can direct the right way to your waiting room.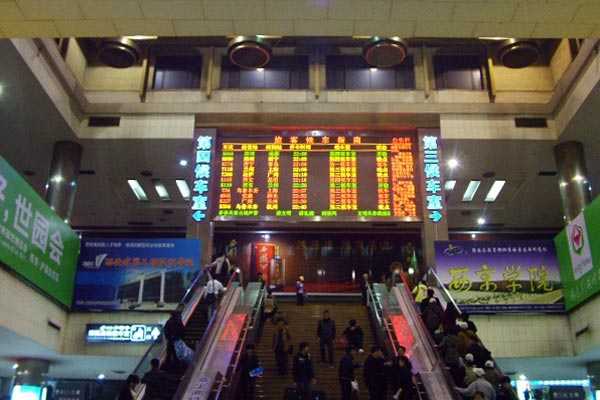 There are stairs and escalators reaching to the waiting rooms upstairs.
Find your Platform and Get Onboard
After ticket checking, tourists can follow the LED screens to reach the boarding platform. A few minutes' walking will be required from the ticket checking gate to the platform, with some upstairs or downstairs. You need to find the correct carriage according to your train ticket. As you get onboard, you may get your train ticket checked again by the train staff standing at the carriage door.
Find Your Berth
The train ticket is indeed full of useful information, and you can tell which seat or berth you will occupy according to it. The corresponding berth numbers are printed on each compartment door of sleeper carriages. After find your berth, put your luggage on the luggage rack or under the lower sleeper berth. Then you can rest yourself and wait for the departure.
How to Get to Xian Railway Station from Xianyang International Airport
Located at No.151 Huancheng North Road, Xian Railway Station is just north to the Ancient City Wall, 3.5 km from the Bell Tower, which is at the center of Xian city, and 39km away from Xianyang International Airport. The non-stop Airport Shuttle Bus Line 2 runs between Airport Terminal 2 Station and the Railway Station (Longhai Hotel). The bus from airport to railway station leaves every 30 minutes from 7:50 am to 20:20 pm. While the working hour of the return bus is from 7:00 am to 22:00. It takes about one and a half hours and the ticket price is CNY 25 per person.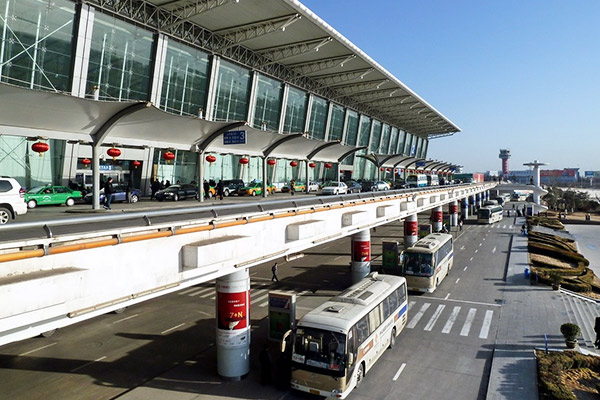 Tourists can take the shuttle bus to Xi'an train station from the airport.
Currently, there are no direct subway lines that connecting the station and airport. If you go want to save time on the transfer, you can also take a taxi. It takes about one hour and costs about 150 CNY by taxi.
How to Get from Xian Railway Station to Terracotta Warriors
The distance from the train station to Terracotta Warriors and Horses is about 40km. Travelers can take Tour Bus No.5 from the train station to the Terracotta Warriors. The bus station is in front of the Post Office on the East square of Xi'an Station. It takes about 2 hours and costs CNY 7 per person. The bus runs from 07:00 to 19:00, departing every 5 to 10 minutes.
It will take about one hour by taxi from the train station to the Terracotta Warriors and the taxi fee will be about CNY 150 for the long distance, or much higher during high travel season.
Can I Break My Train Journey to/from Lhasa at Xian Railway Station?
Many tourists would like to visit more other China cities before or after their Tibet tours. And Xi'an is one of the perfect places worth sightseeing. So, a few of tourists may wonder whether it is possible to break their train journey at Xi'an Railway Station and stay a couple of days in Xi'an, then get back to take another train with the same Tibet train ticket.
Although it is indeed a long train journey that takes time and patience, travelers cannot stop halfway at certain sites for a night or two. When the Tibet train arrives at Xi'an Railway Station, it will stop for several minutes. You can get off the train to enjoy some fresh air, take some photos, or buy some snacks from local vendors on the platform. But you should get back on the train before it leaves again. Thus, for tourists want to visit Xi'an city en route, you need to buy the tickets for Xi'an -Lhasa train and other sections respectively.
More Popular Railway Routes from Xian Railway Station
Beijing to Xian Train: One of the Hottest Train Travel Routes for China Tours
Xi'an Railway Station is one of the central hub connecting the most popular railway lines across China, including the trains from Beijing to Xi'an. Numerous foreign tourists tend to take a Beijing-Xi'an train first and then experience the Tibet train from Xi'an to Lhasa, to fulfil a perfect China Tibet tour through railway lines. Currently, there are more than 20 trains running between Beijing and Xi'an every day, including 16 high-speed G trains and bullet D trains. It takes about 4.5 to 6 hours by high-speed train to arrive at Xi'an North Railway Station.
The return route of Xi'an to Lhasa Train nearly applies to the same situation in terms of the schedule. And there are 5 overnight trains, including nonstop Z trains and express T trains, which are quite popular among tourists. The overnight train departs from Xian Railway Station at evening and arrives at Beijing West Railway Station in the morning, mainly running for 13-14 hours. By taking the overnight train from Xi'an to Beijing, tourists can not only spend a comfortable night on the train, but also start their Beijing tour right from the early morning after the train journey.
Xian to Chengdu Train: The Newly-opened Popular High-speed Line in Western China
In the past, the railway line from Xi'an to Chengdu is one of the earliest mountain railroads. The trains departing from Xi'an normally take 14 to 17 hours to arrive at Chengdu Railway Station. While it has become much more convenient to transfer between two cities at present, due to the opening of Xi'an-Chengdu high-speed trains. There are about 36 G-series high-speed trains and D-series bullet trains provided every day, running from Xi'an North Railway Station to Chengdu East Railway Station. It only takes about 4 hours for tourists to get to Chengdu city. And the Xian-Chengdu high-speed railway line has become a new favorite for tourists travelling between Xi'an and Chengdu, even across the vast land of Western China.
Recommended Tibet Group Tours from Xi'an by Train