How to Enjoy a Tibetan Shoton Festival Tour
The Tibetan Shoton Festival started in early 17th century. Shoton literally means Yogurt in Tibetan language. Traditionally monks remain isolated within their monasteries for practicing Buddhism. The immediate family members of these monks break their fast by preparing sour milk at home for them. Many dancing ceremonies are also held during this period to celebrate their cultural influence.
General Time of Tibetan Shoton Festival in 2024
If you are planning to visit the Tibetan Shoton festival in 2024, then you'd better check the time of celebration and make your travel plan early. The Shoton Festival is celebrated in late June and early July of the Tibetan calendar. The well-known Buddha Exhibition Ceremony of Shoton Festival takes place on the 30th day of June in the Tibetan calendar.
In 2024, the Shoton Festival begins on August 4 (the 30th day of the 6th month in Tibetan calendar). So, don't miss this opportunity if you want to experience the grand celebration. It is recommended to arrive in Lhasa in early August to get acclimatized to the climate and altitude beforehand, and then experience the festive atmosphere of the event.
Highlights of Tibetan Shoton Festival
The traditional Shoton Festival is prefaced by the exhibition of Buddhas, featuring Tibetan opera performances and garden activity, as well as exciting yak races and horse shows etc. You will see a lot of dances, taste yummy Tibetan food, and enjoy cultural events and other Tibetan Buddhist activities.
The unveiling of the giant Buddha Thangka is the most impressive ceremony during the festival. The ceremony of Thangka unfolding takes place at the hillside of Drepung Monastery, with tens of thousands of devotees and deeply infected tourists all folded their hands and worshipped.
The Tibetan opera performance is another important event. From the second day of the festival, in Norbulinka Palace, Tibetan opera groups sing from 11 a.m. to dusk every day. Because of time constraints, the performances will be an extract of the best parts of the repertoire, which would otherwise go on for days.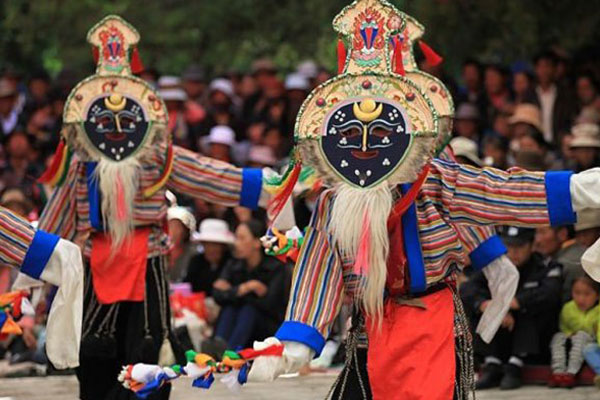 Tibetan opera performance of Shoton Festival
You'll feel lot of love, warmth and feeling of gratitude within this festival. During this time lot of monks and lamas can be encountered by the tourists. They perform various kinds of Tibetan operas and chants to thank Buddha.
Classic Itinerary for Tibetan Shoton Festival Tour
Unlike any other regular trip, it is highly advisable to keep an itinerary before planning to join in the festival. You should plan at least a 7-day itinerary for your Shoton Festival tour. Here is a sample itinerary recommended for your choice as follow:
Day 1: Arrive in Lhasa
Reach at Lhasa via your choice of transport. You may choose train or airplane to reach your destination at your convenience. The place is amazing. It is suggested to book your living accommodation in advance. Each year a lot of tourists visit Lhasa for the festival therefore hotels may run out of rooms soon. Book your accommodation at least 5-6 months in advance. It will come at a good price for you and you'll be at least safe.
Lhasa is near by 3 rivers which are Brahmaputra River, Yarlung Tsangpo River and Lhasa River. There is a fountain nearby the great Potala Palace, known as Potala Square. It's a good place for photography. You shouldn't miss this place. You can stroll around the square on your first day after your arrival, to have a relaxing exploration around the city.
Day 2: Lhasa City Sightseeing
On the second day of your tour you can visit Dalai Lama's winter palace which is Potala Palace. The kings of Tibet have been using this place since 7th century. The place is occupied with some of the most valued possessions like the cave where the 33rd king used to meditate, the gilded burial stupas of all the Dalai lamas till date, etc.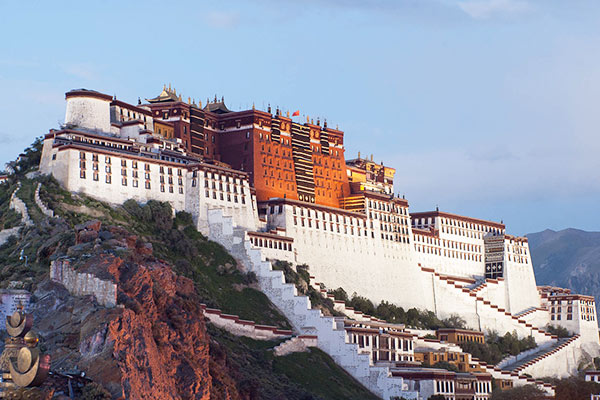 Visit Potala Palace during your Lhasa city sightseeing
Another famous must-see landmark is Jokhang Temple. It is devoutly visited by many tourists and Buddhist believers. The temple is the most sacred place in many Tibetan's hearts and it was built in 7th century by the 33rd king. You can do a religious circle also known as Kora around the temple following the local Tibetans' steps. The street around the Jokhang is known by the name of Barkhor Street. The place is good to buy souvenirs for your family and relatives too.
Day 3: Attend Shoton Festival: Thangka Painting Display
Your third day of your trip will be full of surprises. You can immediately go to Drepung Monastery to watch the Buddha Thangka unfolding there. A lot of lamas perform Thangka for Buddha at the dawn. Lamas show their devotion for Buddha by performing various disciplines, praying, and reading various scriptures. In the afternoon, you can also drive to Sera Monastery, to visit another beautiful grand Thangka there, and watch the famous monk debates played in the courtyard of the monastery.
Watch the unfolding of the Giant Thangka at Drepung Monastery
Day 4: Attend Shoton Festival: Norbulingka and Tibetan Opera
On the fourth day, you can continue to take part in the gala of the festival in Norbulingka Palace. A lot of professional and amateur troupes gather to perform various kinds of Tibetan operas there. You can join in local people, who are friendly and hospitable, and love to share you with cookies, yak meats, yogurt etc.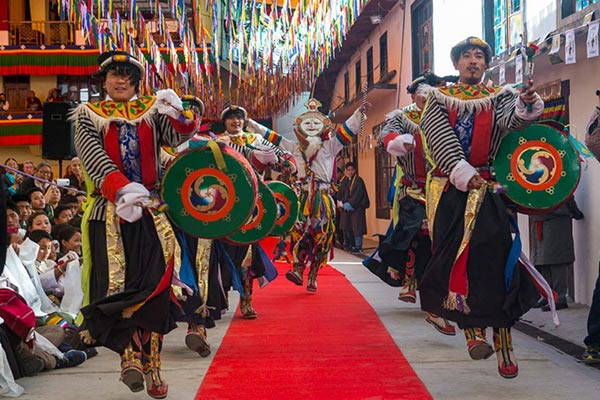 Shoton Festival dance performance
Along with other religious activities a lot of other events are also a part of the culture which includes sports activities like yak racing, horse racing along with singing and dancing. In a nutshell, your fourth day will be full of colors and activities.
Day 5: Travel to Namtso Lake
Today, you can travel further beyond Lhasa. Take a good sleep a day before and prefer to have light breakfast. You will be travelling 250 km ahead which will be roughly 5 hours' drive for you to see the Lake Namtso. You will see a lot of grazing yaks, snow mountains, sheep, nomads, tents, etc. Sheep's can be easily traced around the mountains as they occupy a dense cover. Namtso Lake is the holy lakes of Tibet. There are 4 holy lakes in Tibet and Namtso is one of them. It is also one of the highest known salt lakes.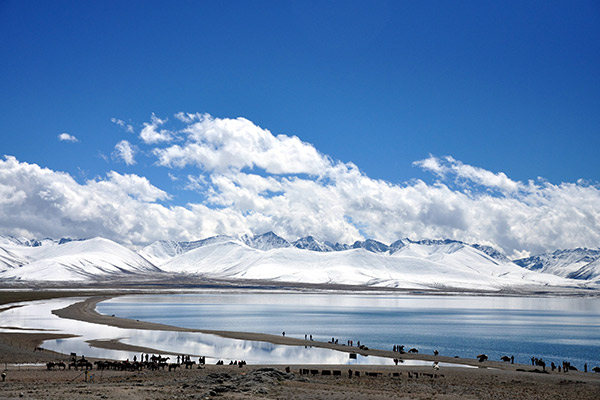 Lake Namtso is about 250 km away from Lhasa.
You may sit and relax after reaching your destination. For trekkers, the place is full of adventure. You should carry extra pair of clothes, your trekking shoes, sticks, jackets, and some light food to eat. After that, drive back to Dumxung or Yangpachen for the night stay.
Day 6: Drive back to Lhasa
There is a hot water spring called Yangpachen hot spring. Keep it optional for yourself. You may want to have a relax spa in the outdoor warm pools, or directly return Lhasa.
Day 7: Tour ends
The beautiful journey of your lifetime will come to an end here. You will be heading back your home with some beautiful memories. Pack your bags and leave early for departure.
Notes: On Day 5, you can also choose to travel to other places like Shigatse and Gyantse, if you want to visit more cultural sites like Tashilhunpo Monastery, Pelkor Monastery etc. It will be a rewarding experience for you no matter which route you choose.
Travel Tips for Tibetan Shoton Festival Tour
There are certain checklists recommended to do before your Shoton Festival tour:
1. As advised earlier book your hotel in advance. The festival is celebrated by a lot of people, including both tourists and Tibetans from other cities, so there are chances that you may not be able to find a good accommodation for yourself.
2. Since Tibet is a land full of mountains, keep a good pair of shoes with yourself during your tour, especially when you go to explore beyond the Lhasa city. You may require to trek a lot.
3. Hire a local guide for yourself. He/she will be your local agent during your complete journey. If you know little about Tibetan language or Mandarin, you can get a lot of help from a native local guide.
4. Keep some packets of instant energy bars, they will help you while walking or trekking on mountains. Keep a water bottle handy with yourself too.
5. Please get your Tibet Travel Permit before your tour if it is required for you. The permit can be obtained through your travel agency, with your passport and Chinese Visa copies. It is recommended to apply for it at least two weeks before your tour begins.
6. Carry a good camera with you. Tibet has some really good landscapes to capture. Keep your camera batteries charged. Keep an extra pair of storage card and batteries too for backup. You'll be clicking a lot of pictures here.
7. Show honor to the local customs and traditions. Tibet is a land of devout religion, where all Tibetans have strong religious beliefs. Do not break some religious taboos, like taking pictures of the monks and buddhas in the temple.
Conclusion
Taking participating in the Shoton Festival can bring you more real and closer experiences of Tibetan culture and traditions. To make it simpler, you can book your tour with a trustworthy travel agency like us, and we can help to arrange all the things concerning your tour, including the permit, local guide, accommodation, itinerary plan etc. Please feel free to contact us for details.